Global Deflation and Currency Manipulation Boosts the U.S. Dollar
Currencies
/
US Dollar
Apr 19, 2009 - 11:14 AM GMT


Bryan Rich writes: This week there was plenty of data to digest from the financial markets and the overwhelming theme was — more of the same.
If you missed it, here's a run-down …
Global deflation, lifeless global trade, spiking residential foreclosures, capacity utilization running at the lowest level on record, foreign capital continuing to move into U.S. Treasuries, and now commercial real estate is in the crosshairs. Throw in a few pom-pom toting bankers, and another week par for the course.
At the same time, the perplexing divergence between growing investor optimism (those listening to the cheerleaders) and the fundamentally abysmal economic situation (those looking at the facts) continues to build.
This tells me a top in this wave of risky assets is near, if not already here, and a sharp reversal will follow.
My proxy of risk appetite in the currency markets is the Australian dollar/ Japanese yen exchange rate. This pair was a high flyer when the carry trade was performing and was smashed back down to earth when the economic and financial crisis kicked off.
Now, even as global central banks are slashing interest rates, this pair still has a nearly 300 bps interest rate differential — the widest among the G-10 currency complex. And over the last week the AUD/JPY has rallied 33 percent as the environment for risk taking has improved.
But as you can see in the chart below, this week the pair put in a key reversal signal, which tells me that it is vulnerable to a sharp move lower. It also implies other risky assets — such as stocks — are vulnerable, too.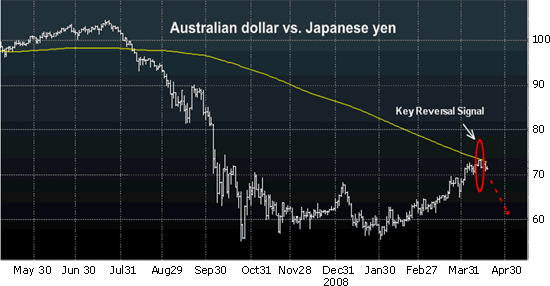 Source: Bloomberg
More Signs of Floundering Global Trade …A Boost for the Dollar
The U.S. trade deficit narrowed last week to the lowest level since 1999. This is positive for the dollar and negative for U.S. trading partners.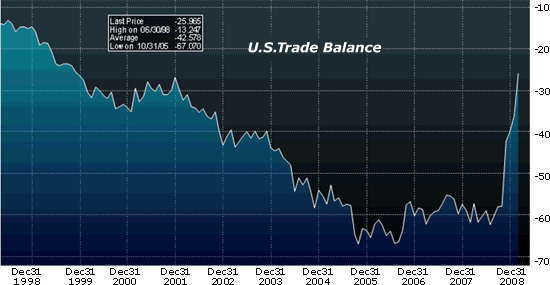 Source: Bloomberg
Furthermore, this number illustrates the damage being done to export-centric economies. For example, Japan has reported that auto exports to the U.S. are down more than 60 percent. And China just reported a 50 percent haircut in its economic growth from two years ago.
Recovery for these countries doesn't come without recovery in the United States. And that message is becoming clearer and clearer as time passes.
Treasury Says China Not A Currency Manipulator (Wink, Wink)
Mr. Geithner is a busy man. And in the midst of doling out billions of dollars to banks, managing stress tests, building his staff and spending hours a week in unrelenting obligatory briefings before a badgering, camera-seeking Congress — this week Geithner's Treasury Department managed to churn out its bi-annual report on foreign exchange.
What's interesting about this report is that it requires the U.S. Treasury to make a statement on China: Currency manipulator or not a currency manipulator.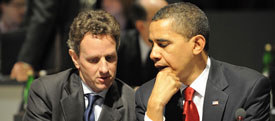 After just a few months on the job, Obama and Geithner no longer believe that China is manipulating its currency.
And this is a touchy subject. (See my March 21, Money and Markets column for more background.)
Just three months ago, and prior to being confirmed as the Secretary of Treasury, Mr. Geithner and the new administration took a sharp stance with this written statement to the Senate Finance committee:
"President Obama — backed by the conclusions of a broad range of economists — believes that China is manipulating its currency … Countries like China cannot continue to get a free pass for undermining fair-trade principles."
But this week, the Treasury backtracked, concluding that NO major trading partner was found to be a currency manipulator!
What a difference a few months makes.
Of course, taking the official stance that China is a currency manipulator would require action. And an official claim would imply that China is violating WTO rules.
So for now the Treasury has enough on its plate, particularly when the trade gap with China is actually narrowing and the yuan has remained stable throughout the global economic crisis — while other emerging Asian currencies have declined and, in some cases, dramatically.
But the Treasury report did call the Chinese currency undervalued. And the IMF followed suit, calling it significantly undervalued.
Since the inception of this reporting mandate in 1988, the Treasury has found three violators of currency manipulation: China, Korea, and Taiwan. All were prior to 1994. Since 1994, according to the U.S. Treasury, it's been a fair game … a level playing field.
And since 1994 …
China has grown four-fold, while the size of the U.S. economy has doubled.
The U.S. has gone from importing just 4 percent of its total imports from China to 18 percent.
China has become the third largest economy in the world, on pace to become the second largest as early as next year.
China has accumulated the world's largest foreign exchange reserves. At $1.9 trillion, it owns 29 percent of the world's reserve assets.
China has accumulated the largest stake of U.S. government debt.
Meanwhile, for over a decade, the value of the Chinese yuan went unchanged relative to the U.S. dollar. And under its new, managed exchange rate regime, the yuan has appreciated just 20 percent against the dollar.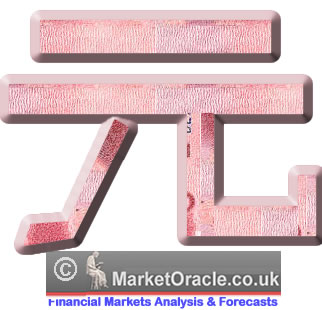 Devaluing the yuan could be a politically and economically threatening move.
This week, China reported a growth rate of 6.1 percent for the first quarter … the slowest growth since 1999 … just half the growth in the economy's output since June of 2007.
Yet even with the souring global demand, China's global trade surplus is growing, AND its foreign exchange reserves are growing.
This all points to one thing: An undervalued yuan.
And as I said back in my March 21, Money and Markets column, I think it's well within the realm of possibility that if the Chinese are staring down the barrel of recession, they may take the opposite tack with their currency: A DE-valuation. Such a politically and economically threatening move would create major waves.
Regards,
Bryan
This investment news is brought to you by Money and Markets . Money and Markets is a free daily investment newsletter from Martin D. Weiss and Weiss Research analysts offering the latest investing news and financial insights for the stock market, including tips and advice on investing in gold, energy and oil. Dr. Weiss is a leader in the fields of investing, interest rates, financial safety and economic forecasting. To view archives or subscribe, visit http://www.moneyandmarkets.com .
© 2005-2019 http://www.MarketOracle.co.uk - The Market Oracle is a FREE Daily Financial Markets Analysis & Forecasting online publication.

Only logged in users are allowed to post comments.
Register/ Log in