UK General Election Forecast 2010, Seats Per Political Party
ElectionOracle
/
UK General Election
Jun 02, 2009 - 02:18 AM GMT


Thursdays European Elections are expected to deliver an horrendous result for the Labour government that will likely see a major restructuring of the cabinet on Friday that could even claim the Chancellor of the Exchequer as Gordon Brown seeks to put in place a team untainted by the the expenses scandal to muster at the next general election. Whilst many now openly question whether Gordon Brown himself can survive as panic spreads amongst Labour MP's that will clutch at anyone that could help prevent them from losing their seats at an general election.
However, my ongoing analysis over the past 6 weeks in advance of the update to the UK recession forecast of Feb 2009, has clearly illustrated that the UK economy is showing signs of having put the worst behind it and that Britain is on track for a strong economic bounce going into the Summer 2010 election deadline. My most recent analysis (Labour Governments Bankrupt Scorched Earth UK Economy for the Conservative Government ) showed that the government is borrowing to spend a net deficit of more than £500 billion to generate growth of just £67 billion and concluded that:
The Labour government's primary objective now is to deliver David Cameron's Conservative government a scorched earth economy whilst at the same time engineering a debt fueled economic bounce to maximise the number of seats the party will be able to muster in opposition, therefore current opinion polls and projections of seats at the next election grossly under-estimate the actual number of seats Labour will win.
General Election Forecast
In 2005 the three mainstream parties polled:
Labour 35%
Conservatives 32%
Lib Dems 22%
The most recent poll in the Daily Mail puts Labour on a 20+ year low of just 18%, Conservatives on 40% and Lib Dems also on 18%. The mainstream press are running with headlines of a Tory landslide victory at the next general election, such as the Sun newspaper forecasting a landslide Conservative majority of 192 or 414 seats in total.
Therefore considering the projected debt fueled economic recovery, the current opinion polls and this weeks European Election results can be disregarded as not reflective of the prospects for the major parties at the next general election, which I suspect will prove to deliver the Conservatives a far smaller majority as the below forecast graph illustrates.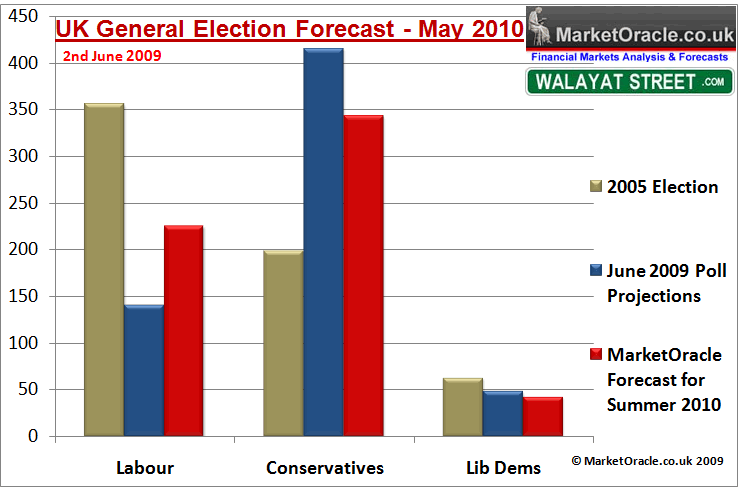 The general election forecast is for 225 seats for Labour and 343 seats for the Conservatives which implies a Tory government with a much smaller majority of 36 than the 192 being bandied about in the mainstream press this week, which would mean that the next Conservative government will not be able to implement many of the more radical reforms necessary to restructure the economy in terms of deep cuts in public spending and therefore suggests a weaker government that could by mid-term at the the mercy of rebel euro-skeptic MP's much as John Majors government of 1992 to 1997 experienced. This is potentially bad news for the economy as it confirms my expectations of continued stagnation for most of the term of the next government i.e. low average growth coupled with above average inflation as a consequence of not being able to mend countries finances which is likely to continue to see large year on year budget deficits and therefore achieves the Labour parties strategy of delivering a scorched earth economy to a Conservatives one term crippled government, that sows the seeds for a landslide Labour victory come the 2014-2015 election.
Meanwhile the Lib Dems are expected to see their strong gains of 2005 all but disappear due to the fact that many of the Lib Dem marginal seats are against the Conservatives rather than Labour, and given the strong swing to the Tories the Lib Dem's blood bath could even be worse than that for Labour with potentially as many as half of Lib Dem seats being lost.
When Will the Next General Election be Held?
Way back in October 2007 when Gordon Brown bottled out of calling a general election, I warned that he had blown his chances of winning the next election and given that the economy was on the crest of the wave of a housing market crash which implied that the next election could not take place until May 2010.
The statement clearly indicates that there will be no election during 2007 or 2008, and given the economic circumstances of expectations for sharply lower growth during 2008 and 2009, it is highly likely that Gordon Brown will now postpone an election until the full five year term is over. Which now suggests the next UK general election will be in April or May 2010.
As things look today, Gordon Brown appears to have well and truly blown his chances of getting re-elected at the next Election in 2010. - Nadeem Walayat - October 2007.
The forecast housing market crash of 2007 to 2009 has come to pass with all of the economic consequences and much worse. However now given the anticipated trend for economic recovery well into 2010 the best strategy for the Labour government still remains to delay calling the general election for as long as possible, this therefore continues to suggest that the next general election will probably take place in May 2010 i.e. just a few weeks before the June 3rd 2010 Deadline, as further confirmation the odds for a May 2010 election has fallen from 30-1 in October 2007 to just 1/2 today (Ladbrokes).
The updated in depth analysis and forecast for the UK economy is near completion, to receive this by email subscribe to my always free newsletter.
By Nadeem Walayat
http://www.marketoracle.co.uk
Copyright © 2005-09 Marketoracle.co.uk (Market Oracle Ltd). All rights reserved.
Nadeem Walayat has over 20 years experience of trading derivatives, portfolio management and analysing the financial markets, including one of few who both anticipated and Beat the 1987 Crash. Nadeem's forward looking analysis specialises on the housing market and interest rates. Nadeem is the Editor of The Market Oracle, a FREE Daily Financial Markets Analysis & Forecasting online publication. We present in-depth analysis from over 250 experienced analysts on a range of views of the probable direction of the financial markets. Thus enabling our readers to arrive at an informed opinion on future market direction. http://www.marketoracle.co.uk
Disclaimer: The above is a matter of opinion provided for general information purposes only and is not intended as investment advice. Information and analysis above are derived from sources and utilising methods believed to be reliable, but we cannot accept responsibility for any trading losses you may incur as a result of this analysis. Individuals should consult with their personal financial advisors before engaging in any trading activities.
© 2005-2022 http://www.MarketOracle.co.uk - The Market Oracle is a FREE Daily Financial Markets Analysis & Forecasting online publication.
Comments
Charlie
02 Jun 09, 10:37
Labour Out


I have had enough of this government - it's time for change!



P.
02 Jun 09, 10:41
Reforms


What we need by way of reform is:

1. Get MP numbers down to 400

2. Have 100 elected members in the Lords

3. Proportional Representation

4. A fixed 4 year term

5. A binding EU referendum

There's absolutely no chance of any of the above with the current crew in Westminster though.



MICK UKIP
04 Jun 09, 03:59
UKIP UKIP


VOTE THE UKIP



DS
04 Jun 09, 19:27
Election


We want an early Autumn General Election to rid ourselves of this disasterous Government led by Mr. Brown. We can then have an independent, legally constituted new set of expenses and allowances. We also need a new set of standards for the selection of MPs.



Sky
06 Jun 09, 01:05
Sky elelection forecast


A professor on the sky news site - Professor Michael Thrasher is forecasting the following on the basis of the local election results -

Conservatives would enjoy a majority of 28 seats in the Commons if the results of the local elections were repeated in a General Election.

After analysing the results of more than 700 council wards, Labour would have 215 seats in the Commons, while the Tories would be on 339 seats.

And the Liberal Democrats would have 63 seats.

Other parties, including the SNP, Plaid Cymru and the Northern Irish parties, would have 33 seats.

Sky News' election expert Professor Michael Thrasher said the Tories picked up lots of council seats in what will be key battleground areas in the next General Election.

He said: "In the South West, it was crucial for the Tories to take control in Somerset, which they did, and Devon was a bonus.

......................

Well done for beating the prof to the punch before the local election results.



Liam
06 Jun 09, 01:09
Gordon Brown


What would be the impact of Gordon Brown going on the election date ?



Alex French
11 Jun 09, 16:50
Leave the country if labour win


Personally if labour win the 2010 general election most people would leave the country, thus leaving labour with no people to govern.

VOTE CONSERVATIVE,

ALAN B'STARD (THE NEW STATESMAN)



Ed Addis
08 Nov 09, 10:25
Learned article but ..


"...could by mid-term at the the mercy of rebel euro-skeptic MP's much as John Majors government of 1992 to 1997 experienced."

1 MPs is a plural not a possessive. Plurals do not use apostrophes in English.

2 Major's is a possessive and requires an apostrophe in English.



d j s
05 Jan 10, 18:45
labour party to win


I think the labour party need to win Tories only in it for them self's think Cameron and the other 1 Osborn net 6m if they win that's off us the taxpayer wtf is wrong not going to get my vote in for the rich not for average normal people like me think of all the people that need HELP!! not for what labour did and it was all major parts that played a part in the expenses but every one takes it out on the party in power



Sharon
11 Feb 10, 14:06
Gordon to Stay!!!


If you have have money - vote Conservative

If you are a normal, everyday working person trying to make ends meet and pay your mortgage / rent, why on earth would you even be considering voting tory? If Cameron has his way, interest rates will rise leaving a huge majority who are unable to meet the monthly cost of living.

Considering things went pear shaped just as Gordon came into power, why are so many all too quick to criticise. He has done an amazing job for the working class, keeping interest low - VOTE LABOUR if you want to have any chance of survival in this economic climic, which incidently Labour have saved us from the repeat tortore of the 80's under Conservative rule.....



Nadeem_Walayat
11 Feb 10, 14:15
UK debt


Whilst you watch greece on the brink of bankruptcy, rioting in the streets etc.

Know this that Britain is on the SAME path, UNLESS URGENT action is taken.

The rich will be able to hedge themselves against debt default risk and inflation, it will be the working class that will pay the price in terms of loss of value savings and earnings.

LABOUR is ONLY DELAYING the inevitable for electioneering purposes, but the longer action is delayed the worse will be outcome !



Richard
11 Feb 10, 18:13
Help Labour trolls even to be found here


Sharon, wake up. There are billions in unliquidated debt bearing down on the economy plus well-founded fears in the market about Britain's long term credit status if firm and decisive action is not taken within a few months. Low interest rates and the housing boom which supported the debts, coupled with a exploding public deficit are the result of a fatal cocktail of Labour redistributionism and vote hunting. Labour actually harms working people (95% of the population) having sold a dream which felt nice at the time, but just doesn't pay the rent.



Tony
13 Feb 10, 08:52
Gorden Brown


Sharon, Why criticize Gorden?

Wasn't it Gorden that sold nearly 400 tonnes of our gold at rock bottom prices?

Didn't he scrap tax relief on dividends paid into pension funds wreaking most peoples pensions?

The 10p tax?

VAT cut?

50% tax rate?

End of boom and bust?

All the way upto this resession he's operated as if it could never happen and then when it did he decided to dig the country out by borrowing and continuing as if all was normal.

Well, the Goverment's debt is now above 70% of GDP and the goverment has a what, £16bn deficit per month? The trade deficit is £7bn?

Inflation is going up even though the economy is stagnating.

Should we turn the sterling printing presses back on and just carry on borrowing until the pound is worth a couple of Zimbabwe dollars?

Or start cutting public spending and paying off his debt?



chinmay
16 Apr 10, 07:55
2010 poll winner


the britain is definitely going to see a hung parlament.the much hated labour is losing its vote share to the surging lib dems.the dichanted labour voters have turned to lib dems.the conservatives are deeply distrusted and feared.this is not helping cameroon.the labour might still do wellas their immigrant votebank is very loyal and influential in about 200 constituencies.the likely scenario

conservatives-240-250

labour-220-230

lib dems-150-160



Nadeem_Walayat
16 Apr 10, 09:33
General Election


The UK election will be decided by just 20% of voters that inhabit the 120 marginal constituencies out of a total of 650. The politicians obviously recognise this which is why resources have been plowed into the 120 marginal's with little effort being put into communicating with the voters of the other 530 seats. So as is usually the case, most voters will be ignored by the politicians as they woo the electorate of marginal constituencies with promises of new hospitals, health centres, schools, nurseries and more over the coming 4 weeks, which goes a long way to explain why government spending and services results in aberrations such as the NHS post code lottery which usually penalise Labour constituencies with strong majorities that repeatedly return jobs for life MP's.



DK
16 Apr 10, 18:01
clegg costs labour and damages himself


Nadeem - exactly right. Cameron won't fight the tv debates, his only job is not to bring up the spectre of the nasty party, have useless conversations about society while Aschcroft's millions work the magic in the marginals to give the tories their dream.

The IH tax and NI promise should protect the tories from the Lib Dems in the south (I would find it hard to resist their tax promises if I had an old parent with house) and Clegg can only damage labour in the North = home run for the tories.

I bet the tories can hardly believe their luck with Clegg taking votes from labour in the North.

The national debate is a sideshow - only so long as prvileged rich doesn't enter the debate. The real election is being decided in the marginals.

Me - we need the party best able to give us growth (to sustain a higher public deficit) because without it we can't imagine the scale of necessary cuts combined with high interest rates/ falling currency and therefore £2 / litre petrol.

You have been warned.



Nadeem_Walayat
18 Apr 10, 12:26
Hung Parliament


The clear winner in the first Prime Ministerial debate was Nick Clegg, the primary reasons for this were:

a. David Cameron had been coached by tory strategists into NOT attacking his opponents and to try portray the Conservative party as the friendly party which did not work.

b. Gordon Brown embarrassingly trying to ingratiate himself with the Lib Dem leader. How many times did he say "I agree with Nick", only to be immediately rebuffed by Nick Clegg.

Given the robotic performances of Brown and Cameron by contrast Clegg came across as very human.

The net result of this was to virtually immediately boost the Liberal Democrats by an average of 5% in the opinion polls which firmly pushes the election results into hung parliament territory.

The latest opinion poll by ICM for the Sunday Telegraph puts the Conservatives on 34%, Labour on 29% and Liberal Democrats on 27%.

The Conservatives require an election result of a minimum of 40% to win. Whilst the Conservatives were recording a poll leads of 38% and 39% there was still a chance of an overall majority due to the margin of error and the fact that the election result will be decided in the bitterly fought out 120 of marginal constituencies (20%), however losing 4-5% for a drop to 34% means the Conservatives would have virtually a zero chance of an overall majority.

The Liberal Democrats should not be prematurely celebrating as Britain's first past the post system ensures that being third in the polls does NOT translate into many more seats i.e. the latest opinion poll would translate into Labour being the largest party in parliament on 280 seats, Conservatives second on 260 seats and Liberal Democrats third on just 72 seats, so the 27% poll does not translate in anywhere near the gains that some Lib Dems may be deluding themselves of, to achieve a political earthquake the Liberal Democrats need to be polling 2% ahead of Labour.

However the Liberal Democrats opinion poll boost may prove short lived as especially worried Conservative party strategists sharpen their knives and go on the offensive against Nick Clegg in the remaining two prime ministerial debates. Given Nicks lack of experience there is a high probability that the Liberal Democrat poll surge will mostly evaporate over the next 2 weeks, therefore I am holding off making any revision to my long standing and unchanged UK general election forecast as of June 2009 which called for small Conservative majority of 343 seats against Labour on 225 and Liberal Democrats on about 45.

Clearly from a strategic point of view a rise in the Lib Dem vote plays into the hands of the Labour party that will ironically retain more seats the better the Lib Dems perform in the election (upto a limit) as the Liberal vote will prevent Labour seats from swinging over to the Conservatives. Therefore Gordon Browns ever calculating mind may have conceived of such a strategy on the realisation that a Labour win is not probable and therefore Labour is ingratiating itself with the Liberal Democrats both to maximise Labour seats and in advance of a post election Lib-Lab pact that on the recent polls would but the Lib-Lab government on 352 seats.

Labours strategy puts the Conservatives at a huge disadvantage as Conservatives pandering to a party that is to the left of Labour is not going to work and is just going to further dilute the Conservatives appeal amongst potential voters, therefore it will increasingly come down to the Conservatives having to battle against both Labour and the Lib Dems, which increases the probability of a hung parliament.

Labour will shortly be playing its Election ace which will be an economic growth surprise to the upside on release of UK GDP Data for the 1st quarter of 2010 on 23rd April as per the forecast (31 Dec 2009 - UK Economy GDP Growth Forecast 2010 and 2011, The Stealth Election Boom ) and in depth analysis in the Inflation Mega-Trend Ebook (FREE Download) and illustrated by the below forecast graph that called for strong economic growth for 2010.

Which is set against the mainstream press / academic economists expectations of a potential double dip recession -

Daily Mail - British Chambers of Commerce - Jan 2010

Britain could be pitched into 'double-dip' recession because of a 'disturbing weakness' in the services sector, the British Chambers of Commerce has warned.

Despite the recent bounce in manufacturing, activity across the broader economy weakened between October and December, compared to the previous quarter, the BCC reported

There was no 'conclusive evidence' that the recession had even ended by the end of 2009, it added.

David Frost, the BCC's director general, said: 'We're on the cusp of recovery, but not firmly out of recession.' The UK could even succumb to 'double-dip recession' unless businesses regain the confidence to start investing for the future, he said.




Gaurdian - Feb 2010

Double-dip recession may not be far off

With retail sales, mortgages, business loan approvals, output and confidence so low, the double-dip may come sooner than expected

New Statesman - David Blanchflower - Jan 2010

Hold on tight, it's the double dip

A double-dip recession remains possible and with it far higher unemployment

This is definitely turning out to be an exciting and highly volatile election with voter loyalties in constant flux as a consequence of the expenses scandal. The too hard to call election is less than 3 weeks away, the likes of which we have not seen since the 1992 surprise when Labour blew their virtually assured election win of ousting John Major primarily as a consequence of Neil Kinnocks triumphalist public performance at the Sheffield Arena just prior to voting day which turned many voters away from Labour at the very last minute.

It will be interesting to see if the Lib Dems will be able to hold on to a poll rating anywhere near as high as today's 27% for another 19 days.

Source: http://www.marketoracle.co.uk/Article18740.html

By Nadeem Walayat

Copyright © 2005-10 Marketoracle.co.uk (Market Oracle Ltd). All rights reserved.



MR K H ROBERTS
03 May 10, 15:12
SKY/ NOT NEUTRAL


HI

IM A SKY SUSCRIBER AND BELIVE THAT SKY SHOULD BE NEUTRAL

MOST PEOPLE THAT PAY FOR SKY ARE EITHER LABOUR OR LIBERAL

SUPPORTERS SO WHY DO SKY SUPPORT THE TORIES IF THEY WERE THAT GOOD WITH ALL THE MEDIA AGAINST LIBRAL AND LABOUR AND OTHER PARTIES THE TORIES WOULD BE WAY AHEAD IN THE POLS

LET FAIR COVERAGE COMENCE LIBRAL SUPPORTER

KEN



Bradley J
06 May 10, 12:40
Seats Per Political Party


The majority of Europe needs austere reform in the next few decades. Future debt to fix past problems is not the answer. In past centuries war and imperialism helped expand an economy of scale. Now look at Japan and developed Europe in comparison to China and India.

Two options:

1/ To force growth in fully developed countries it takes ruthless business prospecting - Deflate Pound to compete in manufacturing, drop labour costs via immigration/outsourcing/local IR reform, acquiring foreign enterprise via business or direct land interest (war), or extend core market base with population... Most methods are unhumanitarian, make the country annoyed, and inevitably unsustainable. But hey it worked in the past centuries.

2/ The alternative to 'forced growth' is to spend within fiscal and monetary capacity. Which no developed country is doing and is political suicide!! Afterall buying 'toys' makes people happier compared to responsibility (boring).

Moral is to vote Conservatives and hope for the future!.

Isn't it selfish to request more spending on ONE generation (social security, pension fallbacks etc), rather than looking at the health of the country for future generations? We should all take responsibility in our own finances and not rely on the government to bail us out. Maybe superannuation rates should be 40%, just because we don't trust you Labour supporters with money!

So don't give Brown credit card to spend on lollies to make the children happy.

Signed the Australian. God save the Queen and my motherland.

Bradley J



Thomas Boyd
27 Oct 10, 07:43
UK Politics


I hope coalitlion government will keep their promises in 2010 UK election. I support electoral reform for House of Lords. An elected second chamber. I support the coalition government to reduce the szie of House of Commons to

600 MP's. I voted Labour Party in 2010 Uk election.

The Labour will work with British coalition government

on elected second chamber. Labour Party will fight for fairer Britain.




Only logged in users are allowed to post comments.
Register/ Log in