Chinese Consumption of Agri-Foods has Changed the Dynamics of the Global Agri-Food Situation
Commodities
/
Agricultural Commodities
Jun 15, 2009 - 02:48 PM GMT


The governments of China and Russia keep trying to get the attention of the Obama Regime. With a "Money Grows on Trees" attitude, those overtures on the desperate financial situation of the U.S. are being ignored. When the IMF cashes the first checks from the central banks of China, Russia, and Brazil, the trend toward the demise of the U.S. dollar will be validated.
Alternatives to the dollar will be developed, but will those alternatives be paper based or real? Has not the world had enough of the foolish experiment with fiat money? Quite simply, fiat money should be declared a failure, and allowed slowly to disappear from the world. Central banks of China, Russia, and Brazil have started the trend toward something else. What that something else will be is the question that needs answering.
In addition to Gold, the Chinese have indeed found other places to put their money reports The New York Times, "Chinese Commodity Buying Spree" by K. Bradsher on 11 June 2009,
"According to J.P. Morgan, China's iron ore imports were 33 percent higher in April than a year earlier. Crude oil imports were up nearly 14 percent, aluminum oxide imports climbed 16 percent and refined copper imports jumped 148 percent. Imports of coal soared 168 percent as Chinese utilities bought more foreign coal while trying to negotiate better prices with domestic producers."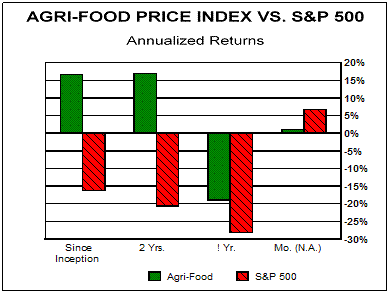 Which will hold value better in the future, copper or U.S. debt?
Street strategists seem to have a near-perfect record on commodities. That near-perfect record of getting it wrong is due to a failure to understand that the epicenter for commodity consumption, at the margin, over the next 10-20 years is China. Urbanization in China is about 40%, which about matches that of the U.S. in 1900. As urbanization continues to increase in China, consumption of all commodities, and in particular Agri-Foods, will strain the world's ability to produce commodities of many types.
Chinese consumption of Agri-Foods has changed the entire dynamics of the global Agri-Food situation. The impact of that consumption can be observed in the chart above. Higher demand meeting a somewhat inelastic supply curve means higher prices. Chinese consumption of soybeans, for example, will leave the bins quite bare before the next North American crop is harvested in the Fall. Ending stocks for the old crop, that already harvested, will fall to a 30+ year low. More than that, the characteristics of that remaining old crop are less desirable. The "good" soybeans have already been sold. As that chart shows, listening to the Street on Agri-Food commodities has been a complete mistake. A basket of Agri-Food commodities has been outperforming the U.S. stock market for some time.
The media continues to ply us with reports on Chinese exports, as if that was the meaningful measure of the China of tomorrow. The domestic economy of China is being converted into a massive consumption machine. In the 2006-2010 time period, global coarse grain production will have expanded by 96 million tons, per the USDA. Chinese consumption in that same period will have expanded by 19 million tons. At the margin, and that is what is important, China will have consumed 20% of the increase in global coarse grain production!
Growth of demand in India and Brazil represents another 11% of that production. Three nations will increase consumption by more than 30% of incremental global coarse grain production. Someone somewhere may be about to be priced out of the global Agri-Food system by the demand from these nations.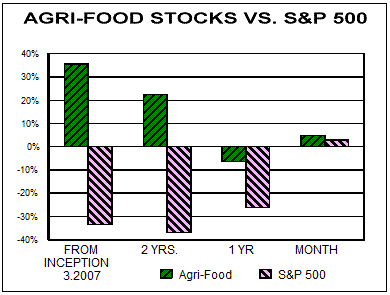 While the discussion continues on government controlled banks and the first bankruptcy of GM, how have the Agri-Food companies been doing? If the above chart is any indication, they have been doing quite well. Do not let the popular business media continue to distract your attention. How many years did they attempt to discredit, incorrectly we might add, buying Gold and Gold Bugs? Coming to understand that Agri-Food investments are an offensive complement to your wealth defending Gold should be a Summer goal for all investors.
All financial markets have been over extended due to the excessive dollar liquidity provided by the Federal Reserve in order to finance the massive deficits of the Obama Regime. Nothing continues forever, and that is also true with the injection of dollar liquidity. The Federal Reserve has now been withdrawing liquidity for several weeks. Such a development should cause some weakness in financial markets, from stocks to Gold to corn. That weakness would provide another opportunity for investors to add to their holdings of Agri-Food investments, and also serve as validation of the previous short-term low. Read more at http://home.att.net/~nwschmidt/Order_AgriValueRECENT.html
By Ned W Schmidt CFA, CEBS
AGRI-FOOD THOUGHTS is from Ned W. Schmidt,CFA,CEBS, publisher of The Agri-Food Value View , a monthly exploration of the Agri-Food grand cycle being created by China, India, and Eco-energy. To receive the most recent issue of this publication, use this link: http://home.att.net/~nwschmidt/Order_AgriValueRECENT.html
Copyright © 2009 Ned W. Schmidt - All Rights Reserved
© 2005-2019 http://www.MarketOracle.co.uk - The Market Oracle is a FREE Daily Financial Markets Analysis & Forecasting online publication.

Only logged in users are allowed to post comments.
Register/ Log in