Why Food Prices Are Set To Rocket
Commodities
/
Agricultural Commodities
Jul 31, 2009 - 07:26 AM GMT


Sean Brodrick writes: China leads the world in many things, including the amount of ground lost to desertification or ecological disaster.
At the same time, the Chinese are changing their eating habits … eating more food and especially more beef. As a result, despite bumper crops, China is becoming more at risk of being unable to feed itself.
According to China's General Administration of Customs, for the first six months of this year, China's soybean imports rose 28 percent to 22.09 million tons. In June alone, it shot up 31 percent!
And since Argentina, one of the world's major soybean exporters, is suffering from a severe drought, China is buying more and more soybeans from the U.S.
I have no problem with the U.S. selling soybeans to China. Likewise, it's fine with me that China is the world's biggest wheat-consuming country. To keep up with the demand, wheat imports soared 172 percent in June to hit the highest monthly volume (192,905 metric tonnes) since 2005. And the U.S. is selling them a lot of that grain.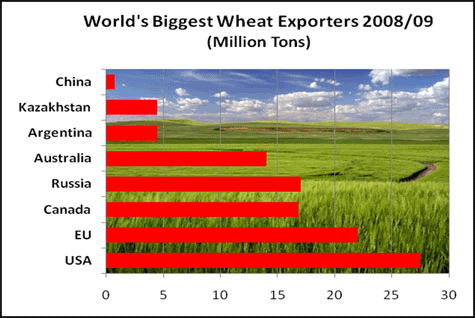 In fact, when it comes to exports, the U.S. is a major exporter of wheat … as well as soybeans and other grains. China exports a little, but imports much more than it exports. Moreover, severe droughts in China's wheat growing areas have also caused grains imports to accelerate.
It's expected that the rest of the world's farmers will produce wheat and soybean surpluses this year. What worries me, though, is when we DON'T have surpluses. And according to researchers, if China's grain harvest falls by just five percent, the world's surpluses would vanish.
So what we've got here are the ingredients for incredible price volatility. And when you throw in the expectation that the world's grain harvest should fall this year … I see incredible profit opportunities!
On top of that … prices for wheat, soy, and other grains are well off their highs, which tells me that the great agriculture boom that started in 2007 is about to get its second wind.
Here's the good news: You can start profiting now. There are a small handful of select companies that will ride the next surge higher in grain prices. Many are already racking up nice gains, but there's a lot more to come … a LOT more.
I'll get to those companies in a bit. First, let's talk about some other things that'll drive food prices going forward …
The New Threat: A Global Wheat Killer
A destructive black stem rust known as Ug99 is spreading out of Africa. Carried by the wind, Ug99 jumped the Red Sea, the Persian Gulf and Saudi Arabia to land 700 miles away in western Iran.
Everywhere it goes, it damages up to 70 percent of the wheat crop and, according to UN's Food and Agriculture Organization, Ug99 has become more destructive since it started to spread.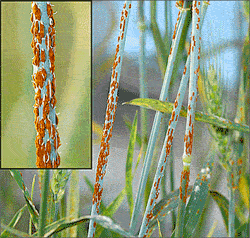 "Ug99 is really tough because so much of the world's wheat, including ours domestically, is susceptible to this, and it is dangerous." — Dr. Michael Edwards, USDA research leader
To stem this path of agricultural peril, wheat breeders are going to cross a newly developed strain with commercial varieties. But that can cause other complications, and it still remains to be proven as a cure.
The last time stem rust plagued North America was in the 1950s. It ruined 42 percent of the North Dakota crop and smaller portions of the rest of the U.S. crop.
On a global level, five of the countries now in Ug99's path produce about 160 million acres of wheat annually, or about 25 percent of the world wheat crop. About 80 percent of the varieties available there are based on the SR24 gene, which actually makes stem rust more resistant!
According to a United Nations report, the fungus "recently invaded Iran faster than predicted and could cause mass starvation if it hits India before new resistant strains are ready."
Now, 17 international research organizations have joined forces to find an answer for Ug99.
The saving grace for the U.S. is the vast distance from current Ug99 outbreaks.
However, if the disease did find its way to the Northern Plains, it would find fertile fields in which to spread. Every one of the wheat varieties raised in North Dakota, South Dakota and Minnesota are based on that same SR24 gene that Ug99 is destroying in African and the Middle East.
Ug99 is a new threat and a virulent one. But there is already a triple-threat to the global food supply …
The 1-2-3 Problem: Drought, Rising Population, And Shrinking Farmland
Heat and drought have been hammering, on-and-off, the bread baskets of Australia, Argentina, China and other major grain growers.
In Texas, crop losses have tallied $2.6 billion, and livestock producers have lost another $974 million since the drought began, according to state figures. If losses continue to mount, some expect that they could surpass the $4.1 billion record set in Texas in 2006.

In Texas, the worst drought in 50 years has cost farmers $2.6 billion.
Meanwhile, many parts of Europe are alternately suffering from floods or droughts. The situation is so bad that the U.S. Foreign Agricultural Service (FAS) recently released a grain production report slashing 5.5 million tonnes (1.9 percent) off its previous estimate of two months ago for the European Union.
Of course, there have been severe droughts and floods before. The problem now is that we have a lot more people. So when something goes wrong in one of the world's major breadbaskets, a lot more of us are suddenly going hungry.
This problem will only get worse …
While population growth is slowing down, we are still adding 77 million hungry mouths to the planet every year.
In 1950, the world had 2.5 billion inhabitants. In 1999, it passed 6 billion, and we're quickly working on 7 billion. Most of this population growth is in developing countries.
At the same time, the world's arable land — land that is used for farming — is shrinking. Right now, only 10 percent of the world's surface is arable land. Good land is lost to urbanization and other uses every day. As a result, the world is losing one hectare (about 2.5 acres) of arable land every 7.67 seconds.
Of course, all the land in the world won't save you if nature won't cooperate. Guess what? Mother Nature is acting really hacked off!
The Big Picture: Weather Weirding
It's been a weird summer in North America. Parts of the Midwest have experienced their coolest summer in 42 years, while places in the Southwest, like Phoenix, are having their hottest summer since records have been kept.
South Central Texas is in the grip of a drought so severe that lakes have dried up. While here in Maine, there has been so much rain, a local farmer said that plowing the water-saturated earth was "like cutting into fudge brownies."
So let's not use the phrase "global warming." Let's use the phrase "weather weirding," because the weather seems to be getting weirder all the time. That said …
On average, U.S. temperatures have increased by almost 2 degrees over the past 50 years.
NOAA announced that the world's ocean surface temperature in June 2009 was the warmest on record.
Worldwide, land surface temperature for June 2009 was 1.26 degrees F (0.70 degree C) above the 20th century average of 55.9 degrees F (13.3 degrees C), and ranked as the sixth-warmest June on record.
MIT climate modelers, averaging 400 possible scenarios, have calculated that Earth's surface temperatures will jump 9.4 degrees Fahrenheit by the end of this century unless rapid and massive measures are taken to slash greenhouse gas emissions.
I doubt that that's going to happen, so get ready for a warmer world. Will this increase drought and lower crop yields? You betcha!
Researchers say that yields for the six most widely grown crops in the world — wheat, rice, corn, soybeans, barley and sorghum — fall by 3 percent to 5 percent for every 1 degree Fahrenheit increase in temperature.
These are just some of the problems threatening global agriculture; I cover more of them in my new report "Harvest of Gains." The important thing is that, while there are problems, there are also solutions … big, fat, profitable solutions.
The Solution: New Seeds, More Fertilizer
The "Green revolution" was about using modern farming methods and high-yield seeds to grow more food per acre. Between 1950 and 1990, world grain yield per hectare climbed by 2.1 percent a year, ensuring rapid growth in the world grain harvest. However, revolutions have their limits …
From 1990 to 2008, grain yields rose only 1.3 percent annually. This is partly because the yield response to the additional application of fertilizer is diminishing and partly because irrigation water is limited.
Meanwhile, the global population keeps growing. Today, grain yields are rising at something like 0.7 percent, scarcely half that of the preceding decade and far behind world population growth.
But now we're entering a second green revolution. Agriculture scientists are starting to create new seeds that increase yields while making plants more drought resistant and more able to resist pests.
Plant breeders now know the sequence of nearly all of the 50,000 or so genes in corn and soybean plants and are using that knowledge in ways that were unimaginable only four or five years ago.
Biotech is already making it possible to breed crops with beneficial traits from other species. This will lead to new varieties with higher yields, reduced fertilizer needs, and increased drought tolerance.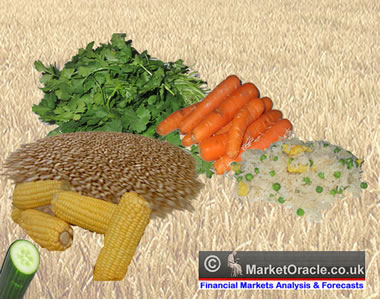 Farmers are using more and more fertilizer in order to maximize production from each acre of arable land.
Those new seeds are on the way. In the meantime, farmers turn to fertilizer to make plants grow faster and have higher yields. So they're using a LOT of it.
This year, there was an eyeballing contest between farmers and fertilizer suppliers … the farmers stopped buying fertilizer until fertilizer manufacturers lowered their prices.
The farmers won — prices went down — but now their fertilizer stockpiles are depleted. And that means that fertilizer suppliers are probably going to do a booming business.
How You Can Play This Trend …
There are lots of good agricultural stocks to choose from. You can also use exchange-traded funds (ETFs) or exchange-traded notes (ETNs) that track grains or commodities.
For example, the iPath DJ AIG Grains TR Sub-Index ETN, symbol JJG, tracks a basket of grains, and it looks cheap now. Caution: This is a thinly traded ETF, so you have to be careful getting in and out.
What's more, in my new agriculture report, "Harvest of Gains," I'm dishing up my favorite fertilizer maker, grain processor and seed company in the U.S., Canada and China. Plus, I'll be picking my two favorite ETFs that should ride the coming surge in agriculture prices.
I'm going to recommend these select stocks and ETFs in this special, limited-edition report on August 3 — just three days from now.
These will be my best picks … the hottest stocks … the power-packed funds. These are the picks that can help you reap bushels and bushels of gains over the next 12 to 18 months.
I'll be offering this report, "Harvest of Gains" — including three follow-ups — for $198, and I think it would be cheap at triple the price. But if you call us at 1-800-814-3047 and pre-order the report, and mention my name, you can reserve your copy for the low pre-publication price of just $99.
You can also order the report online by clicking here.
That way, I can rush you a PDF copy of the report so you can jump on the recommendations just as soon as they come off the press.
Yours for trading profits,
Sean
P.S. Call 1-800-291-8545. Just say you want "Harvest of Gains," plus all my follow-up reports on all my picks. Or CLICK HERE.
This investment news is brought to you by Uncommon Wisdom. Uncommon Wisdom is a free daily investment newsletter from Weiss Research analysts offering the latest investing news and financial insights for the stock market, precious metals, natural resources, Asian and South American markets. From time to time, the authors of Uncommon Wisdom also cover other topics they feel can contribute to making you healthy, wealthy and wise. To view archives or subscribe, visit http://www.uncommonwisdomdaily.com.
© 2005-2019 http://www.MarketOracle.co.uk - The Market Oracle is a FREE Daily Financial Markets Analysis & Forecasting online publication.
Comments
Brad
30 Aug 09, 11:53
Global Warming BS


I cant believe you are spreading this Global Warming crap.

Weather ALWAYS changes. Period.

ONLY in an ICE AGE does Earth have Ice anywhere on its surface. We are in an Ice Age and hopefully slowly come out of it over the next hundred/thousand years.

Global Warming crap is MARXIST propaganda that is trying to create a GLOBAL TAX to fund their sick Marxist desires.




Only logged in users are allowed to post comments.
Register/ Log in