Global Food Crisis 2010 Means Financial Armageddon
Commodities
/
Food Crisis
Dec 25, 2009 - 04:12 PM GMT

If you read any economic, financial, or political analysis for 2010 that doesn't mention the food shortage looming next year, throw it in the trash, as it is worthless. There is overwhelming, undeniable evidence that the world will run out of food next year. When this happens, the resulting triple digit food inflation will lead panicking central banks around the world to dump their foreign reserves to appreciate their currencies and lower the cost of food imports, causing the collapse of the dollar, the treasury market, derivative markets, and the global financial system. The US will experience economic disintegration.
The 2010 Food Crisis Means Financial Armageddon
Over the last two years, the world has faced a series of unprecedented financial crises: the collapse of the housing market, the freezing of the credit markets, the failure of Wall Street brokerage firms (Bear Stearns/Lehman Brothers), the failure of Freddie Mac and Fannie Mae, the failure of AIG, Iceland's economic collapse, the bankruptcy of the major auto manufacturers (General Motors, Ford, and Chrysler), etc… In the face of all these challenges, the demise of the dollar, derivative markets, and the modern international system of credit has been repeatedly forecasted and feared. However, all these doomsday scenarios have so far been proved false, and, despite tremendous chaos and losses, the global financial system has held together.
The 2010 Food Crisis is different. It is THE CRISIS. The one that makes all doomsday scenarios come true. The government bailouts and central bank interventions, which have held the financial world together during the last two years, will be powerless to prevent the 2010 Food Crisis from bringing the global financial system to its knees.
Financial crisis will kick into high gear
So far the crisis has been driven by the slow and steady increase in defaults on mortgages and other loans. This is about to change. What will drive the financial crisis in 2010 will be panic about food supplies and the dollar's plunging value. Things will start moving fast.
Dynamics Behind 2010 Food Crisis
Early in 2009, the supply and demand in agricultural markets went badly out of balance. The world experienced a catastrophic fall in food production as a result of the financial crisis (low commodity prices and lack of credit) and adverse weather on a global scale. Meanwhile, China and other Asian exporters, in an effort to preserve their economic growth, were unleashing domestic consumption long constrained by inflation fears, and demand for raw materials, especially food staples, exploded as Chinese consumers worked their way towards American-style overconsumption, prodded on by a flood of cheap credit and easy loans from the government.
Normally food prices should have already shot higher months ago, leading to lower food consumption and bringing the global food supply/demand situation back into balance. This never happened because the United States Department of Agriculture (USDA), instead of adjusting production estimates down to reflect decreased production, adjusted estimates upwards to match increasing demand from china. In this way, the USDA has brought supply and demand back into balance (on paper) and temporarily delayed a rise in food prices by ensuring a catastrophe in 2010.
Overconsumption is leading to disaster
It is absolutely key to understand that the production of agricultural goods is a fixed, once a year cycle (or twice a year in the case of double crops). The wheat, corn, soybeans and other food staples are harvested in the fall/spring and then that is it for production. It doesn't matter how high prices go or how desperate people get, no new supply can be brought online until the next harvest at the earliest. The supply must last until the next harvest, which is why it is critical that food is correctly priced to avoid overconsumption, otherwise food shortages occur.
The USDA—by manufacturing the data needed to keep supply and demand in balance—has ensured that agricultural commodities are incorrectly priced, which has lead to overconsumption and has guaranteed disaster next year when supplies run out.
An astounding lack of awareness
The world is blissful unaware that the greatest economic/financial/political crisis ever is a few months away. While it is understandable that general public has no knowledge of what is headed their way, that same ignorance on the part of professional analysts, economists, and other highly paid financial "experts" is mind boggling, as it takes only the tiniest bit of research to realize something is going critically wrong in agricultural market.
USDA estimates for 2009/10 make no sense

All someone needs to do to know the world is headed is for food crisis is to stop reading USDA's crop reports predicting a record soybean and corn harvests and listen to what else the USDA saying.
Specifically, the USDA has declared half the counties in the Midwest to be primary disaster areas, including 274 counties in the last 30 days alone. These designations are based on the criteria of a minimum of 30 percent loss in the value of at least one crop in the county. The chart below shows counties declared primary disaster areas by the secretary of Agriculture and the president of the United States.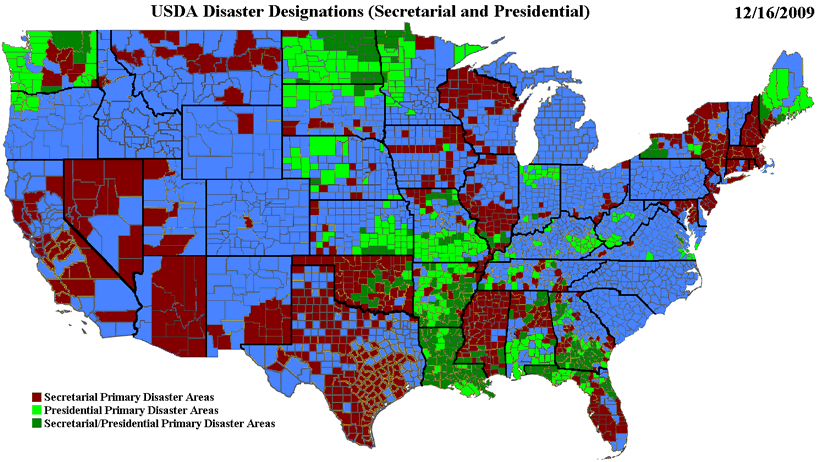 For a list of Secretarial disaster declarations, see
here
.
For a list of Presidential disaster declarations, see
here
.
The same USDA that is predicting record harvests is also declaring disaster areas across half the Midwest because of catastrophic crop losses! To eliminate any doubt that this might be an innocent mistake, the USDA is even predicting record soybean harvests in the same states (Oklahoma, Louisiana, Arkansas, and Alabama) where it has declared virtually all counties to have experienced 30 percent production losses. It isn't rocket scientist to realize something is horribly wrong.
USDA motivated by fear of higher food prices
The USDA is terrorized by the implications of higher food prices for the US economy, most likely because it knows the immediate consequence of sharply higher food will be the collapse of the US Treasury market and the dollar, as desperate governments and central banks dump their foreign reserves to appreciate their currencies and lower the cost of food imports. Fictitious USDA estimates should be seen as proof of the dire threat posed by higher food prices, as the USDA would not have turned its production estimates into a grotesque mockery of reality if it didn't believe the alternative to be apocalyptic.
While the USDA may be the worst offender, the United States isn't the only government trying to downplay the food situation out of fear. As one Indian reporter writes,
governments are lying about the looming food crisis
.
… some experts and governments, in full cognizance of the facts, want us not to create panic and paint a picture of parched crops and a looming food crisis. This, they say, would push up food prices unnaturally, lead to hoarding and ultimately result in a situation where many more millions across the world would go hungry. And whether it is the developing world or the developed, it is those at the bottom of the pyramid who are the most affected in such scenarios.

This leads to a confusing divide between reality and government pronouncements, or even between the perspectives of government departments
Confusing divide between reality and government estimates
For months now, the media has been reporting two distinctly, contradicting realities. One of these realities is filled with record crops and plentiful supply, and the other is filled agricultural devastation and ruin. It has been a mad, frustrating experience to read about agricultural disasters and horrendous crop losses in virtually every state combined with predictions of a US record harvest, sometimes in the same article.
A Reality of record crops and plentiful supply
The accepted, "official" reality is found in USDA crop and WASDE reports. Here, the United States Department of Agriculture is projecting the largest US soy crop on record, at 3.3 billion bushels, and the second-largest corn crop at 12.9 billion bushels.

Below are the government's numbers for US soybean production by state. The USDA is expecting record high soybean yields across the Midwest in 2009, leading to production numbers significantly higher than the 5 year average. The large increase estimated between the August and November also indicates that the USDA doesn't believe crops suffered much damage during the fall harvest.
Soybean Production by State and United States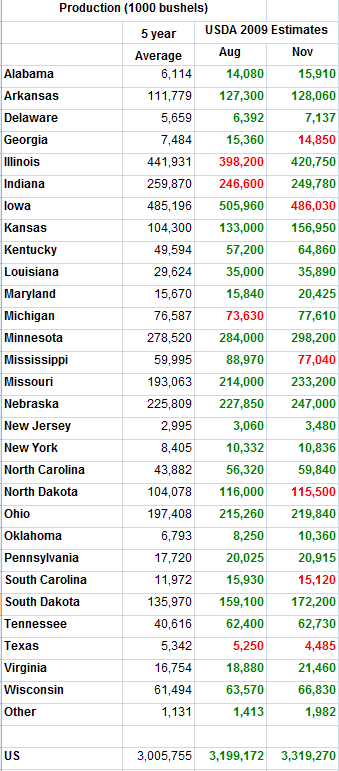 Since the United States is the leading exporter of corn and soybeans, producing 40 percent of the global corn crop and 38 percent of all soybeans, the USDA's production numbers have an enormous impact on the global supply/demand picture.
A Reality of Agricultural Devastation and Ruin
In this reality, the US farmers have suffered the worst harvest season ever seen. For those who have not been following my blog or developments in the agricultural world, below are a few of extracts, in chronological order, showing the full extent of the devastation experienced by farmers during 2009's hellish harvest season. (to keep this short, I have limited it to 2 extracts per state)
[Iowa, June 29]

"I'd say this year is one of the most unusual years we've had in the last 20 years," said Don Fry, executive director of the Des Moines County USDA Farm Services Agency. "Because it seems like it rains every second or third day, the ground is constantly kept wet. We've heard a lot of reports from people with wet spots turning up in fields that they and their parents ... don't ever remember being a wet spot."

The combination of constant rain and cool temperatures this spring kept farm fields saturated, making planting difficult and hampering crop growth. Also, frequent rains have rinsed a portion of nitrogen fertilizers from fields and hindered the application of herbicides, all of which cuts into yields, Kester said.

"This spring has just been a terrible struggle," Kester said. "Anybody that mowed hay within the last three weeks probably lost their hay crop because it got wet."
[Nebraska, July 3]

Lethal heat, hailstones as big as baseballs, rain seemingly without end and tornadoes, some reported to be a quarter- to a half-mile wide. After a relatively placid May, Nebraska's weather went from meek to mad in June.

"I don't know where that switch in the sky is, but it turned on," said Ken Dewey, an applied climatologist with the University of Nebraska-Lincoln.
…
"It rained somewhere in Nebraska every day of the month," Dutcher said. For 25 of those days, some part of the state got more than an inch of rain; for seven of those days, some part received more than 3 inches.

The Panhandle received so much rain, damage reports could end up showing that 1,000 miles of roadway were washed out, according to the Nebraska Emergency Management Agency.

Widespread hail was reported across the state, with one rancher telling the National Weather Service that he found dead animals along the road. In the far western Panhandle, it hailed so much that the roads had to be plowed, as hail reached 6 to 8 inches deep.
…
According to the federal Farm Service Agency, some 750,000 acres of crops were damaged and a small percentage destroyed.
[Maine, July 25]

This has been a bad year for dairy farmers: Milk prices have plummeted and rain has prevented them from getting onto their fields to harvest hay. Fertilizer they applied simply washed away in the rain.

The longer hay grows without a cutting, the poorer the nutritional quality and the more money farmers will spend this winter to supplement it. Cornfields are rotting without enough sun or heat to ripen the plants.

"The season is lost," Julie Marie Bickford of the Maine Dairy Industry Association said Friday. "With milk prices so low and this feed disaster on top of it, farmers are like deer in the headlights."
…
Hay and corn are critical components of livestock feed, Bickford said. "This stunted corn and alfalfa is forcing farmers to purchase grain and feeds. That is a very bad situation. Prices are extremely high because of the Midwest floods earlier this year. Maine's farmers couldn't come up with a worse situation in their worst dreams."

On Thursday, a 75-year-old former dairy farmer visited the Wright Place in Clinton. He recalled delivering glass bottles of milk and told Brian Wright that he never remembered a rainier summer.

"This is unreal," Wright said.
[Wisconsin, July 28]

For Kevin Leahy, it's a total loss. He doubts any of his 600 acres — of what used to resemble corn — north of Shullsburg will be harvested.
…
Kamps was at home during the storm and knew his crops would be in trouble when the oak leaves around his house started falling to the ground. The wind blew a drift of hail more than 2 feet high in front of his patio door, he said.

"It was like a big sand blaster," Kamps said. "I've seen damage before but not near so widespread and so major. This took everything we had."
[Iowa, August 4]

When hail decimated crops near Lawler and Waucoma in June, it was the worst Iowa State University Extension field agronomist Brian Lang had ever seen.

Until July 24.

"I've never really seen bad hailed corn at tassel state and I've never seen it this bad, this widespread," Lang said. "There were 400,000 acres damaged with 10 percent totally destroyed. Even for the crop that didn't get hurt too much, this came at the worst possible time, tasseling."
…
"I've never seen a hail storm this big," said Julie Vulk, Farm Service Agency executive director in Winneshiek County and interim director in Fayette County. "It's just hard to wrap your brain around it."

Vulk estimated that 50 percent of farmers don't have insurance.

[Iowa was then hit by another devastating hail storm on August 9]
[New York, Aug 14]

WEST WINFIELD - A panel of political representatives and aides sat for over three hours at a rally Friday in Mount Markham Middle School gym as over 200 upstate New York dairy farmers pleaded for action on a range of issues crippling their industry.

One after another dairy farmers and others involved in the industry took a microphone to berate county, state and federal representatives from throughout the region.

Some were brought to tears describing their inability to make a living, a few simply screamed in frustration and others demanded answers. But the dire situation facing the men and women speaking was painfully clear.

"We are in a disaster," declared Ken Dibbell, of Chenango County.
…
"The people who feed the nation can't feed themselves," Gretchen Maine, a dairy farmer from Waterville, "what's wrong this picture."
…
The time frames for both solutions seemed in contrast from farmers need for help, with many emotionally explaining they have either already abandon businesses or are on the brink.

"I don't think they get the message yet," Tewksbury said, referring politicians unaware of the uncharacteristic display of emotions from prideful farmers. They don't have until 2010. They have the next couple of months to decide if they can stay in business, he said.
[Texas, August 14]

Texas state climatologist John Nielsen-Gammon said Friday that at least nine of the 254 counties in Texas — the nation's most drought-stricken state — are suffering through their driest conditions since modern record-keeping began in 1895.

Making matters worse are the relentless 100-degree days across the southern portion of Texas that has been under drought conditions since September 2007.

The impact has been felt most by farmers and ranchers in the nation's No. 2 agriculture-producing state. Texas officials estimate statewide crop and livestock losses from the drought at $3.6 billion.

"We've had some dry spells, but not as bad as this," said Rod Santa Ana with the Texas AgriLife Extension Service. "It hurts bad. A lot of these cotton fields didn't even come up. It's just bare ground. You'd never know cotton was even planted there."
[Wyoming, August 21]

That's little comfort to David Kane, a rancher near Sheridan, Wyo., who said the grasshoppers on his ranch are the worst they've been in more than 20 years. Kane already sold off part of his herd because the pests ate his cows' food.

"They're devastating," Kane said. "They were so bad here on the ranch that we sprayed our meadows because the second-cutting of alfalfa wouldn't green up because they were eating it as fast as it was trying to grow."
[Wyoming, September 10]

The Big Horn Basin dry bean harvest is beginning, but cool, rainy weather and diseases have taken tolls on yield.

Mike Moore, manager of the University of Wyoming Seed Certification Service, said his agency is just starting windrow inspections, and some fields are not doing well.

"It's sort of tough out there right now," he said. The only area that seems less affected by disease is the far southern end of the Big Horn Basin, Moore said. His inspectors have found blight and mold around Powell, Byron, Emblem and Burlington.

"It doesn't look like location is going to allow you to escape it," he said.
[Texas, September 23]

Bruce Wetzel has been a farmer in Sherman all his life, learning from his father back in the 1960's.

He's seen all the ups and downs of producing wheat and corn in Texoma, and he says this was one of the worst years for corn.
…
"All the rain we got back in April and May, we got 20 inches of rain in a two week period there, really just damaged our corn. Our corn just never quite recovered from too much water," said Wetzel.

Wetzel says he lost about 50% of his wheat and corn crops this harvest season, a trend that farmers are experiencing across Texoma.
[New Jersey, September 26]

"The rains have just killed me this year," said Tucker Gant, 51, a vegetable and fruit farmer in Elk, who estimates his total losses this year at nearly $220,000.
…
"Nobody has ever seen rain as drastic as this year, even talking to old-time farmers," said Grasso, a third-generation farmer who estimates losses so far at roughly $50,000.
…
"It's never been that bad as far as I can remember," said Gant, pointing to water pooling in a field as he drove his pickup truck along a bumpy dirt trail toward 35 acres of barley overrun by tall weeds. "I have never seen water lay there more than two days. It should have been harvested, but you can't harvest weeds taller than barley."
[North Dakota, October 5]

North Dakota`s wet spring and summer is being followed by a wet and snowy fall.

Two snowstorms have already turned the ground in much of the state white, and while the early snows will melt before winter sets in, many farmers may not get row crops harvested before the seasons change again, unless Mother Nature provides them with some dry weather.

In North Dakota, it`s common to see autumn snow coat the state`s sunflower and corn crops, but acres and acres of soybeans covered in white is an unusual sight. October snowstorms have stopped many of the state`s combines right in their tracks, delaying the harvest of many late season crops.
…
Precipitation totals in some areas of North Dakota have already surpassed yearly averages, but farmers are more concerned about wet weather damaging the condition of the soybean crop than corn and sunflowers.
[Louisiana, October 8]

Three weeks of heavy rains are threatening northeastern Louisiana's soybean, sweet potato and cotton crops, some of which have already shown significant deterioration in the fields.

"It's killing us," said Ouachita Parish producer Gary Mathes. "We cut some beans a week ago that we had to sell at a salvage price of $3 a bushel."
…
"We fought a short corn crop, but we had one heck of a bean crop and the rain is taking it away from us," Mathes said.

Venoy Kinnaird said his farm has been drenched by about 20 inches of rain since Sept. 12.

"I've got some beans that I won't cut; they're not salvageable," Kinnaird said. "And I've got some sweet potatoes that are halfway out of the ground. Cotton has taken a terrible hit, too, even though we don't have that much planted around here this year.

"We're absolutely waterlogged. What's really bad is we're coming off of a disaster last fall."
[Nebraska, Minnesota, October 12]

Weekend snow may have dealt a heavy blow to prospects for soybean harvest in Nebraska and other nearby states.

Weather adversity could shave as much as 200 million to 300 million bushels from expectations for a 3.25 billion bushel crop nationally, a Nebraska soybean official said Monday.

"Our part of the country got snow," said Victor Bohuslavsky of the Nebraska Soybean Board Monday. "And I talked to people in Minnesota this morning and they hadn't hardly started harvest and they were blasted with snow."
[Louisiana, October 17]

Northeastern Louisiana farmers finally saw the sun Friday afternoon, but it might be too late to save the bulk of the soybean, cotton and sweet potato crops.

"It's pitiful," said Caldwell Parish producer Drew Keahey. "I think it's going to be worse than last year."
…
But some parishes, like Morehouse, have received more than 30 inches of rain since Sept. 12, literally drowning crops that were mature and ready for harvest when the rain began.
…
Soybeans may have suffered the most, producers said.

"There will be a lot of beans that never come out of the field," Keahey said.
[Northern Kansas, October 16]

Harvest so far has been about as awful as the new Bob Dylan Christmas album.

Typically USDA's November yield forecasts increase, but this is not a typical year, as freezing weather has dinged yields and caused major crop quality problems.

A colleague of mine sent me some snapshots of an Iowa farm that had seven inches of snow last Saturday. Northern Kansas had over 10 inches of snow.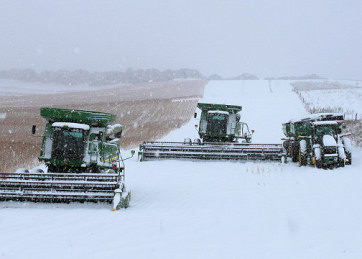 [Mississippi, October 21]

Corn will suffer from quality issues. Soybeans will have significant quality and yield losses if harvested. Rice will suffer quality and yield losses with much of the crop is on the ground. Cotton crop will suffer yield and quality losses and cottonseed will have essentially no value.
…
Bolstering this is a fact-sheet released the week of Oct. 12 by Delta Council. The release says, "Large areas of the Mississippi Delta have received 15 to 20 inches of rain over the last 30 days with many areas receiving 25 to 40 inches of rainfall over the past 60 days since Aug. 15. In places this is anywhere from 400 to over 600 percent of normal."

The Delta Council release also quotes Steve Martin, interim head of the Delta Research and Extension Center (DREC) in Stoneville, Miss.: "Crop conditions are rapidly deteriorating. The USDA weather service at Stoneville reports that October has seen the second highest level of rainfall ever recorded (record was set in 1941).
[Illinois, November 2]

The autumn monsoons are hard to figure, said Benjamin Sittrell, a meteorologist for the National Weather Service office in suburban St. Louis.

"Typically during the late-year period, it's our driest portion of the year," Sittrell said. "To see such astronomically high amounts of precipitation, where we got several inches above the previous record levels, is very abnormal.

Sittrell said thousands of acres of farmland are under water, particularly in the flat areas of southern and western Illinois, where the Illinois, Ohio and Kaskaskia rivers are among several that are flooding.
[Arkansas, November 4]

On Monday and Tuesday, Gus Wilson, Chicot County Extension staff chairman for the University of Arkansas Division of Agriculture, made the rounds, visiting farmers and getting a first-hand look at what record rain has left of crops in the state's southeasternmost county.
…
"It's bleak," Wilson said. "It's going to really hurt these poor Delta counties because here, agriculture is all that we've got."

Earlier this season, the harvest outlook was promising.

"In September, I was pretty happy with what I was seeing in the fields," he said. "Now we are going to be lucky to make half a crop compared to the last couple of years, all because of the weather."

"Seven or eight weeks ago, we were looking at 1,100- to 1,200-pound cotton" lint yield per acre, Wilson said. "Now we're 500 to 600 pounds."

The soybeans are just as bad. Back in September, "we had a good soybean crop. The yield was there," he said. "We have lost at least 60 percent to 80 percent due to the weather."

"Our rice is going to be half," Wilson said.
…
"This is the worst I've ever seen and I've been a county agent for eight years and around farming all my life," Wilson said.
[Alabama, Georgia, north Florida, November 6]

Alabama Commissioner of Agriculture Ron Sparks is calling it a "potential crisis" — the rainy weather conditions throughout most of September and October that have frustrated growers who were eyeing pretty good cotton, peanut, soybean and corn crops.

The same holds true for producers in Georgia and north Florida, where harvest has been delayed by almost continuous rainfall, during what is usually the driest months of the year.

"Prior to September, many producers were expecting to harvest a bumper crop and were very optimistic for the upcoming harvest season," says Sparks. "Uncommon and unfavorable precipitation during September and October have degraded various crops and caused poor harvesting conditions, which caused the harvest to be behind schedule by around four to six weeks."

The major crops affected by the recent rainfall are cotton, soybeans, corn and peanuts, says the Commissioner. "Reports indicate that our state is in dire need of dry weather within the next two weeks, which may eliminate a potential state disaster [Area was then hit by 5+ inches of rains from Topical Storm Ida]," he said in early November. "Producers are already suffering from heavy September and October rainfall and dry conditions will not eliminate damage that has already taken place to crops across the state. Many producers are experiencing a sharp decrease in crop yield, lower grading, and crop damage from recent rainfall."
…
"The bottom line is that Alabama producers are uncertain as to what the commodity markets will bring forth and where agriculture in our state is going," says Sparks. "The recent weather conditions over the past two months will definitely have a negative impact on Alabama's crop harvest."
…
William Birdsong, agronomist at the Wiregrass Research and Extension Center in southwest Alabama, reported that wet and rainy conditions continued to delay harvest for row crops. Cotton yields and lint quality continued to suffer as a result of the wet conditions, he said. Less than 5 percent had been harvested in his area, and this could go down as the worst crop in years if the rain does not subside.
[Alabama, November 10]

What had started as a good season for cotton could be a complete loss for some farmers if heavy rains hit fields before harvest, said Richard Petcher, agent with the Alabama Cooperative Extension Service.

"It's been a 30 percent loss so far in southwest Alabama, and more rain could make it 40 to 50 percent," Petcher said Monday. "Some fields are already a 100 percent loss."

Financial damage from Ida could be in the millions of dollars for Alabama farmers, he said. Rains have delayed harvests by about three weeks affecting not only cotton but also leaving some peanut crops vulnerable to early frosts.

"The majority of the cotton crop is still in the fields," he said. "Peanuts are about 60 percent harvested. There's been concern about rain, but now it's almost panic."

Soybeans have also been hurt by rain, with crops rotting and sprouting in the fields, Petcher said.
[Illinois, November 12]

"I've been doing this for 30 years and I've never seen a year like this," said Ron Waldschmidt, a vice president with farm equipment dealer A.C. McCartney in Wataga, Illinois.

"It's not unusual in any given year to have wet conditions, or maybe a variety that tends to mold, or maybe the moisture is a little bit high. But this year, you've got it all," he said.
[Arkansas, November 12]

On Nov. 4, Gus Wilson took a sample of soybeans with 100 percent damage.

"It was the first time I've seen that," says the Chicot County, Ark., Extension staff chair. "The situation here is bad, bleak. We'll be lucky to make half the crop we've made in the last three to four years. That's strictly due to the weather."

Chicot County in extreme southeast Arkansas has caught huge rains all fall. Now, watching crops deteriorate, Wilson says he's not seen "a group of growers who've been more discouraged. Those who were planning to plant wheat may be out of luck. If there's wheat planted and emerged in Chicot County, I don't know where it's at."
…
Faced with a seemingly unceasing deluge in 2009, veteran farmers are struggling to come up with a similar year in the past.

"My father is 82 years old and he's farmed 55 to 60 years," says Wilson. "He says this is the worst harvest season he's ever seen. Out of his career, he said only one year comes close — he can't remember if it was in the late 1950s or early 1960s.
[Virginia, November 17]

Last week's torrential rainfalls have caused damage and delays to some Virginia farm crops, but the extent of losses is unknown, some agriculture experts said yesterday.

Several crops that were recently planted or still in the fields were hurt by the widespread, three-day deluge, including winter wheat, barley and soybeans, said Molly Payne Pugh, executive director of the Virginia Grain Producers Association.

"There is definitely going to be damage," Pugh said. "I don't have a good feel for how much yet. Right now, we are assessing."
[Mississippi, November 23]

On the dashboard of his truck, Allen C. Evans III, a farmer near Clarksdale, has a sheaf of receipts from the grain elevator, showing the damage levels of each load of soybeans: 39.9 percent, 67.9 percent, 51.8 percent. A born fretter, he is afraid to call, he said, to find out the final reckoning of the disastrous season.

"You're just kind of walking around like a zombie," Mr. Evans said, "saying, never could I have guessed that the best crop I've ever raised in my entire life - the one I never worried about - of all the crops to have taken away from us, how can this be the one?"

In the Delta, those elevator receipts have become talismans of the times. Michael Patterson, who helps pay for his farming with the proceeds from his grain hauling company, displayed one showing a farmer who brought in 1,110 bushels of soybeans, but got paid for 11. The rest were damaged.

That farmer was distraught, Mr. Patterson said.

"You don't want to be the generation," he said, "that loses the family farm."
These two realities can't coexist!

Farmers can't be going bankrupt across the US thanks to the worst harvest season ever seen while at the same time producing the USDA's Biggest Crop Ever! Someone is lying, and evidence supports the farmer's story.

Adverse weather conditions across the globe

American farmers weren't alone in their suffering this year. Abnormal weather has ruined crops around the world in 2009:
By Eric deCarbonnel
http://www.marketskeptics.com
Eric is the Editor of Market Skeptics
© 2009 Copyright Eric deCarbonnel - All Rights Reserved
Disclaimer: The above is a matter of opinion provided for general information purposes only and is not intended as investment advice. Information and analysis above are derived from sources and utilising methods believed to be reliable, but we cannot accept responsibility for any losses you may incur as a result of this analysis. Individuals should consult with their personal financial advisors.
© 2005-2019 http://www.MarketOracle.co.uk - The Market Oracle is a FREE Daily Financial Markets Analysis & Forecasting online publication.
Comments
jim
26 May 10, 22:56
Real survivalists


Thanks for the dis-information. Real survivalists prepare in a different way ... using reality and non whole graines packed in a 5 HDPE gallon pails ....using oxygen absorbers and mylar packaging. 30 years plus .....Who cares if it happens before then... more trad-able than gold or silver .... helps you out of your rut till you get your garden going... stop sidetracking people with this sales talk...



September 2010!!! LOL price are the same
05 Sep 10, 15:04
LOL!!!


You got 3 month to make that crisis happen XDDDD




Only logged in users are allowed to post comments.
Register/ Log in