Weekly Financial Markets Analysis - Greenspan Subprime Credit Crunch is Not My Fault
Stock-Markets
/
Credit Crunch
Sep 15, 2007 - 02:57 AM GMT

" GREENSPAN SAYS HE KNEW ABOUT ABUSES IN SUBPRIME LENDING BUT FAILED TO FORSEE THEIR PARALYZING MARKET EFFECTS UNTIL LATE 2005."
Former Federal Reserve Chairman Alan Greenspan admits he "didn't really get it" that the subprime lending trend was significant enough to hurt the economy until very late 2005, but still defends his lowering of interest rates from 2001 until 2004 that critics say caused the crisis in the first place.
Greenspan, who led the U.S. Federal Reserve Bank through 18 years and four presidents, speaks to Lesley Stahl in his first major interview, to be broadcast on 60 MINUTES Sunday, Sept. 16 (7:00-8:00 PM, ET/PT) on the CBS Television Network. (Source: DRUDGE REPORT FLASH 2007® )
Really? Back in February 2004 ( USA Today ), he said, "… a Fed study suggested many homeowners could have saved tens of thousands of dollars in the last decade if they had ARMs. Those savings would not have been realized, however, had interest rates shot up." Unfortunately, his comments were taken out of context and he never corrected the error. Without mentioning that interest rates might possibly go back up (starting in June 2004) and only looking at past history a statement was made that encouraged the acceptance of adjustable rate mortgages at precisely the wrong time in history.
Money market freeze – the new monster that nobody saw coming.
Generals are trained to fight the last war. So, too, with financiers. In the past decade – or ever since Long-Term Capital Management imploded – the banking world has devoted commendable effort to worrying about hedge fund collapses. But while risk managers have been obsessively watching hedge funds, another problem has been brewing , unnoticed – conduits and structured investment vehicles (SIV).
What we need here is a guide to the commercial paper market . The problem is, regulators failed to notice that the conduits and structured investment vehicles, which are carried off-the-books, were terribly mismatched. They were issuing short term debt, called asset backed commercial paper (ABCP) based on intermediate and long term obligations held in their conduits and SIVs. The buyers of commercial paper have gone on strike, reducing the market by over $216 billion in the past month. That means these mismatched assets are going on sale at substantial discounts (losses) to the banks that hold them.
The Nikkei rallied last night…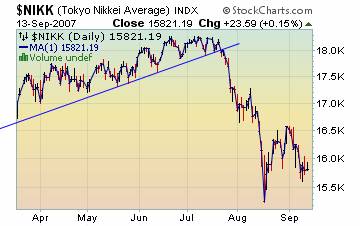 …but the media makes much ado about nothing. The reason? The article above states that investors cheered the 133 point jump in the Dow Jones Industrial averages as Countrywide lined up additional financing. The conclusion was that any sign of improvement for Countrywide would be a good sign for the economy. The truth is that volatility increases in a declining market and the nearly 2% rally has done little to get the Nikkei out of its slump.
The party may be over.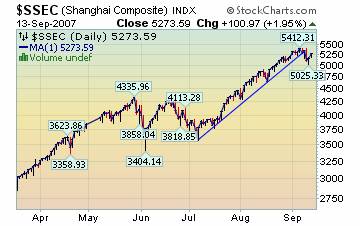 The Sydney Morning Herald reports, " China's long march doesn't miss a beat ." The article focuses on Dai Yunping, a salaried worker making US$650 per month spending $7700 on a trip through South East Asia . He is one of the new breed of day-traders in China who has amassed $200,000 from his trading activities in the Shanghai Composite index. Unfortunately he and the Sydney Morning Herald missed the recent change in trend in the Shanghai Composite index. It's called an asset bubble and the party's over, folks.
An "inside" week.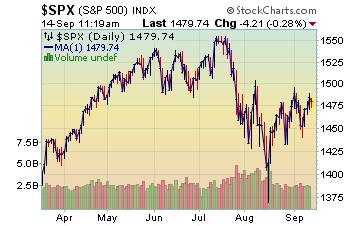 Wall Street did its best to stage a comeback in the equity markets this week. However, the bull market only resumes when the S&P 500 climbs back above 1500. The headlines this morning read, " Wall Street trims losses as consumer sentiment brightens ." The fact is, retail sales were off .4% in August, the worst showing in over a year. The headline doesn't mention this or the fact that a U.K. lender had to go to the Bank of England for a bailout.
The $64,000 question…will Bernanke cut rates?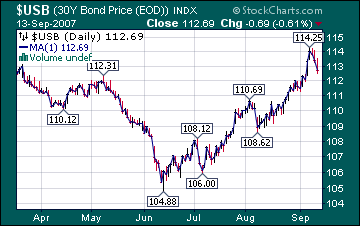 The summer credit crisis along with signs of a weakening economy has the market betting on a minimum .25% rate cut next week. However, you can see that bonds have been rising since June. Much of the expectation of a rate cut is already priced into the bond market. Could it be that bond investors might be in for a disappointment next week?
Massive Motown foreclosure auction.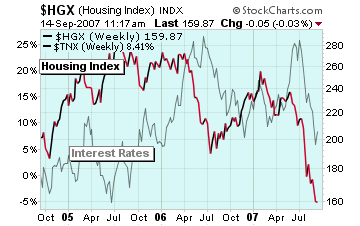 Nearly 700 homes in the Detroit area will be auctioned on Sept. 21 through Sept. 23, one of the biggest home auctions ever.
Rising default rates in the economically hard-hit, auto-industry town have riddled the Detroit housing market. There's an abundance of bank-owned properties available for sale.Because many of these properties have been on the market for a year or more, banks are very anxious to find buyers . . . it's not unusual for the properties to sell at auction below their price list," said Dave Webb, one of the owners of Hudson & Marshall's home auction division, the property auction giant that is conducting the auction.
"Right now, it's a buyer's market and there are tons of inventory. I expect prices to come way down," he said.
The U.S. Dollar affected by economic worries.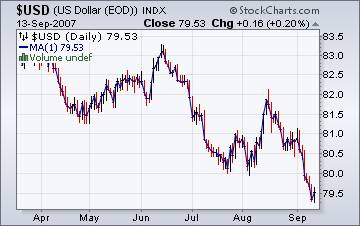 "The slowdown in spending , and a drop in industrial production shown by separate data, are being taken by many analysts as further signs of a slowdown in the US economy - particularly after a surprise slump in US jobs figures last week. Analysts feared the loss of 4,000 jobs in August meant that the recent market turmoil had spread to the wider US economy." (Source: BBC News)
Is the gloom and doom over the dollar overdone?
Gold hit fresh highs for the year...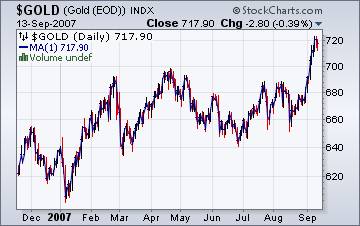 But it hasn't bettered last year's high of 730.40 (Source: www.stockcharts.com ) That leaves this high as a secondary high and the gold index vulnerable to a sell-off. With a further liquidity crisis in the offing, this market may, at least, take a rest.
Roll out the barrels…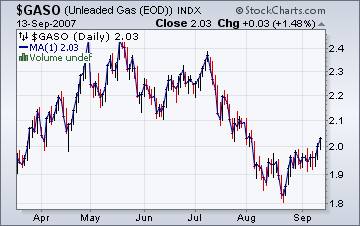 The EIA's report on Wednesday announced that, "Yesterday, the Organization of Petroleum Exporting Countries (OPEC) decided to follow the lead on that song, announcing plans to increase production by 500,000 barrels per day effective November 1. The move reverses OPEC members' recent statements indicating the group planned to hold production steady. OPEC's September 11 press release noted that while there had been a build-up in global crude oil inventory levels, ongoing tightness in U.S. products markets and the high-demand winter season necessitated keeping the market adequately supplied."
Supply: Large, Demand: Small.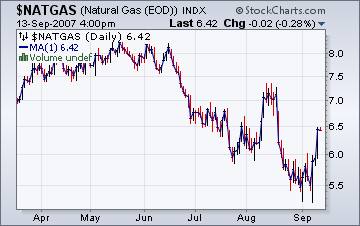 "Hurricane Humberto is still active and tropical depression #8 is on its way to the Gulf of Mexico ", says the Energy Information Agency . However, companies have not yet announced significant shut-in production or damage from the weather. Numerous companies said they expected little or no disruption of operations from the storm.
Hurricane season is still here for another month, which should add to price volatility in natural gas, but the trend is still down.
Why the subprime mortgage bust will spread…
In the era of industrial capitalism, a low interest rate was a stimulant. But in this era of finance capitalism flirting fearlessly with debt, lowering rates creates complex problems, especially when most big borrowers routinely hedge their interest-rate exposures. For them, even when short-term rates drop or rise abruptly, the cost remains the same for the duration of the loan term, the only difference being that they pay a different party. While debtors remain solvent, investors in securitized loans go under. Credit derivatives have been the hot source of profit for most finance companies and will be the weapon of massive destruction for the financial system, as Warren Buffet warned. (Source: http://www.henryckliu.com/page126.html ) Henry Liu has a cogent explanation of what is going on today. This article was written March 16, 2007 .
Back on the air again.
Tim Wood of www.cyclesman.com , John Grant and I have had a running commentary on the markets again this week. You may listen to our comments by clicking here .
Please make an appointment to discuss our investment strategies by calling Claire or Tony at (517) 699-1554, ext 10 or 11. Or e-mail us at tpi@thepracticalinvestor.com .
Regards,
Anthony M. Cherniawski,
President and CIO
http://www.thepracticalinvestor.com
As a State Registered Investment Advisor, The Practical Investor (TPI) manages private client investment portfolios using a proprietary investment strategy created by Chief Investment Officer Tony Cherniawski. Throughout 2000-01, when many investors felt the pain of double digit market losses, TPI successfully navigated the choppy investment waters, creating a profit for our private investment clients. With a focus on preserving assets and capitalizing on opportunities, TPI clients benefited greatly from the TPI strategies, allowing them to stay on track with their life goals
Disclaimer: It is not possible to invest directly into any index. The use of web-linked articles is meant to be informational in nature. It is not intended as an endorsement of their content and does not necessarily reflect the opinion of Anthony M. Cherniawski or The Practical Investor, LLC.
© 2005-2019 http://www.MarketOracle.co.uk - The Market Oracle is a FREE Daily Financial Markets Analysis & Forecasting online publication.

Only logged in users are allowed to post comments.
Register/ Log in