Silver Continues to Outpace Gold
Commodities
/
Gold and Silver 2011
Apr 17, 2011 - 12:14 PM GMT


Once again silver is out pacing gold in the weekly performance. Is it too much of a good thing? Only time will tell. Lower gold volume versus higher silver volume seems to suggest the betting is really on silver.
GOLD : LONG TERM
The week started on the down side but ended on the up side. The long term indicators remained positive throughout. Gold remains above its positive sloping moving average line. The long term momentum indicator remains in its positive zone above its positive sloping trigger line. The volume indicator continues to move above its positive trigger line but remains below its previous high of late March. This is the one indicator still holding back. All in all the long term rating remains BULLISH.
INTERMEDIATE TERM
The intermediate term is just as easy as the long term was. Gold continues above its positive moving average line. The momentum indicator continues in its positive zone above its positive trigger line. The volume indicator continues to move higher above its positive trigger line. The intermediate term rating therefore remains BULLISH. This is confirmed by the short term moving average line remaining above the intermediate term line.
SHORT TERM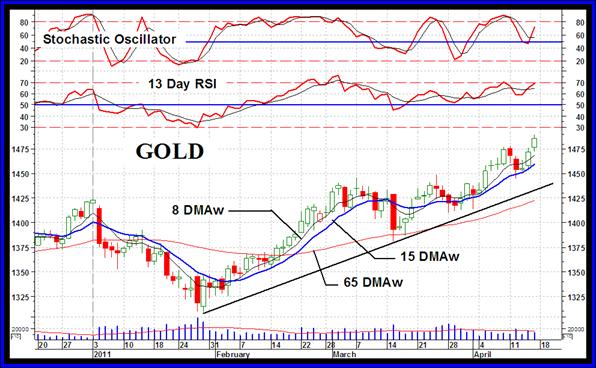 I guess the global environment is still not all that great as the gold investors and speculators continue to send gold into new high ground. It will be interesting to note who has the more power behind the move, investors or speculators. We'll probably know that on the next serious correction. A serious correction will end with gold eventually moving into even higher highs if the investors have the upper hand. If the speculators have the upper hand gold would continue declining into a bear market move. So, we'll just have to wait until that time, which is not yet here.
The weekly action was down and up BUT on low relative volume. Gold action volume has remained below its 15 day average even as the average has been steadily declining. Over the past 15 days there were only three days where volume exceeded the 15 day average and those were on down price movement days. This is what professionals mean when they say the price is moving up higher on a wall of worry. No one seems to be too enthusiastic about the move but on the other hand no one wants to be left behind either.
Gold continues to move above its short term moving average line and the line slope remains in a positive slope. The momentum indicator remains in its positive zone and is once more above its positive trigger line. It is just about to enter its overbought zone so do not be surprised if we get some lateral or negative action over the next short period. The daily volume action has already been mentioned. The upside enthusiasm seems to be somewhat suspect. Anyway, all told the short term rating remains BULLISH. This is confirmed by the very short term moving average line remaining above the short term line.
As for the immediate direction of least resistance, that seems to be to the up side but one should be on guard for some lateral or negative motion. Gold is once more getting quite far above its short term trend line and one might expect a move back towards the trend. The Stochastic Oscillator is positive and not yet in an overbought position but that could be just a day or two of more upside action. I'll go with the up side for another day or two but the lateral or downside does not look like it's far away.
SILVER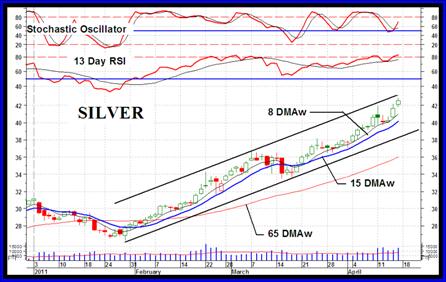 Silver continues to out perform gold but with the Friday boost into new highs it looks like the thrust is just about ready to take a breather. The latest action is butting up against the upper resistance trend line of a three month channel and that means either a lateral move or a reaction back to the lower support. The intermediate term momentum indicator is entering its overbought zone which further suggests a possible rest or reaction ahead. However, a decisive break above the resistance line would mean a new more aggressive up trend and much, much higher prices.
For now everything is positive with the ratings for all three time periods being BULLISH.
PRECIOUS METAL STOCKS
Gold and silver up, stocks down. It looks like speculators have decided that the stocks have moved too high too fast and have started taking some profits. Declines were generally in the order of 3% to 4% with the Merv's Spec-Gold Index taking the biggest hit at 7.0%. Of course, the speculative silver stocks have been the biggest beneficiaries over the past several weeks so a bigger decline during a bad week was no surprise.
I have been mentioning the potential negative divergences in the various Gold and Silver Indices. It looks like the reversals of trend may be coming due although one week does not make a reversal trend. We need a little more convincing than one week.
Merv's Precious Metals Indices Table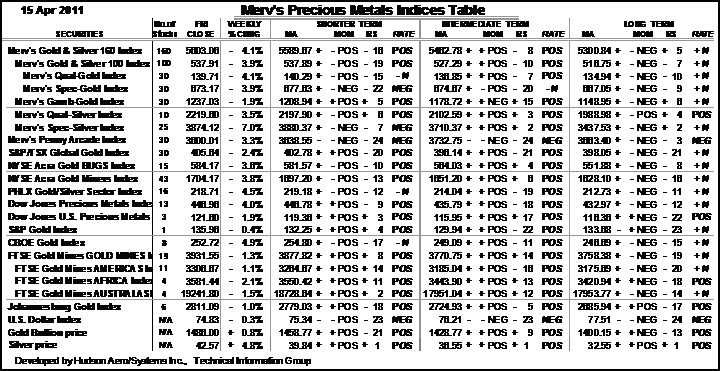 Well, that's it for this week. Comments are always welcome and should be addressed to mervburak@gmail.com.
By Merv Burak, CMT
Hudson Aero/Systems Inc.
Technical Information Group
for Merv's Precious Metals Central
For DAILY Uranium stock commentary and WEEKLY Uranium market update check out my new Technically Uranium with Merv blog at http://techuranium.blogspot.com .
During the day Merv practices his engineering profession as a Consulting Aerospace Engineer. Once the sun goes down and night descends upon the earth Merv dons his other hat as a Chartered Market Technician ( CMT ) and tries to decipher what's going on in the securities markets. As an underground surveyor in the gold mines of Canada 's Northwest Territories in his youth, Merv has a soft spot for the gold industry and has developed several Gold Indices reflecting different aspects of the industry. As a basically lazy individual Merv's driving focus is to KEEP IT SIMPLE .
To find out more about Merv's various Gold Indices and component stocks, please visit http://preciousmetalscentral.com . There you will find samples of the Indices and their component stocks plus other publications of interest to gold investors.
Before you invest, Always check your market timing with a Qualified Professional Market Technician
© 2005-2019 http://www.MarketOracle.co.uk - The Market Oracle is a FREE Daily Financial Markets Analysis & Forecasting online publication.

Only logged in users are allowed to post comments.
Register/ Log in