$70 Trillion U.S. Debt Means The Door is About to Shut for Americans
Interest-Rates
/
US Debt
May 27, 2011 - 01:50 PM GMT


Anyone aware of the US Government's real financial situation knows that time is running out. The Government has $15.5 trillion in admitted debts but those debts, when calculated under Generally Accepted Accounting Principles (GAAP), or 'honest accounting', is over $70 trillion. $70 trillion divided by 300 million+ Americans works out to $233,000 per person in US Federal Government debt and obligations. Or nearly $1 million per family of four.
That does not included personal debt, state debt or municipal debt.
This debt plus an economy that has been completely hollowed out by the Federal Reserve system ensures that there is no way the US Government can ever pay off this debt. And, everyone knows it.
The indications that the US Government is moving very quickly to enact any legal measure or fine against Americans and to make it nearly impossible for any American to escape payment to pay for their sins are everywhere.
We recently commented on how It Is now Easier to Enter the US Than It Is To Leave. Customs agents and cash sniffing dogs stand on guard at most international US airports checking to make sure no one has more than $10,000 in cash without declaring it. The standard response to this is: "They are only making it difficult for criminals to move about and to transfer money".
Well, the problem is, the US Government is moving very quickly to make it so almost everyone is seen as a criminal in the eyes of the US legal system.
Now We Are All Criminals
It is already said that there are so many laws, rules and regulations in the US that each person in the US breaks at least one law per day, if not much more - without even knowing it. But the US Government is becoming more obvious in how it will go about making everyone a criminal and fining them ridiculous amounts of money in doing so.
This week, an American family who said they were just trying to teach their son about responsibility and entrepreneurship was fined $90,000 by the USDA because the teenager sold $4,600 worth of bunnies in one calendar year without a license. Not only were they demanded to pay $90,000, but if they did not pay within a short period of time the fine could increase to as high as $4 million.
This one case only goes to show how easy it is, within the system, to take any small transgression and to blackmail someone for, for all intents and purposes, every penny they have - or more.
Students to be Forced into the Military to Repay Debts
We also recently commented on how the US college system draws people into large debts (Debtucation) and how student debt is now larger than credit card debt in the US. It is the US Government itself that has made college education so expensive by offering student loans to anyone who can fog a mirror but again they have shown their intentions by making student loan debt the only debt which can not be forgiven. A 2005 decree from the Bush Administration stated that student loan debt could not be dissolved through bankruptcy proceedings. The only other scenario where this "no-escape" clause exists is debt from criminal acts and debt from fraud. In other words, student loan debt is seen, by the US Government, as being similar to proceeds from crime!
What will this mean with more young Americans in student loan debt than any other time? It's anyones guess but it would not be out of the realm of possibility to force students who can not pay off their debt into the military to repay their debt.
And with the US military with 800 military bases worldwide with US military personnel in 156 countries and US Military bases in 63 countries and currently occupying or attacking Iraq, Afghanistan, Libya and with other drone operations in places like Yemen and Pakistan, the US is all but ensuring that it is screwing around in enough places to eventually draw in one of the big boys. Russia, China or Iran.
And, hey, we Gotta Support the Troops, right?
US Government Eyeing Pensions and Retirement Funds
On the other end of the spectrum, seniors and those in retirement, the US Government recently made it very obvious that funds held in retirement accounts are going to be the first to be taken when times get tough.
In the recent scuffle over raising the debt ceiling, the US Government was short of some funds after reaching the United States' $14.3 trillion debt ceiling last Monday. Where was the very first place the US Government went to find new sources of funds? Last week they dipped into state pension funds in order to make payments.
It is no great leap to think that as things worsen in the US Government's financial situation, which is all but guaranteed, that the first thing that will be nationalized will be all tax sheltered retirement accounts. After all, we all have to do our part to pay for the debts of the Government, right?
Anyone living off of US pensions should be very worried. And anyone with significant funds in retirement accounts should be running, not walking, to get any funds they can outside of the direct control of the US Government. We recommend looking at "Unleash Your IRA", a great program for diversifying your IRA internationally.
Get a 2nd Passport
There are two ways to look at the upcoming battle between the US Government and US citizens. You can stay and fight or you can run and hide.
If you plan to stay and fight we wish you good luck and will try to support your efforts in any way we can.
If you would rather run and hide then one of the first things you should be looking to do at this time is to at least get a second passport. This is still legal for Americans and there are many options. We discuss many of them, regularly in our newsletter.
As well, if you have the financial capability, we highly recommend buying some foreign real estate - preferably somewhere you like to live. Our favorite place, at the moment, is La Estancia de Cafayate in Argentina (email them for more information at tdv@lec.com.ar).
2011 Last Year to Get Out
Most things are still legal in the US. It is still legal to have foreign bank accounts - although you are required by law to report them to the Government. It is still legal to get a second passport. It is still legal to move assets in your IRA outside of the country. It is still legal to move money outside of the country and buy foreign real estate.
The window of opportunity is closing. If you live in the US and still have all your assets inside of the US, you likely have months, not years, to internationally diversify your assets and to get your affairs in order. Anything much after 2011 is taking a big risk of losing it all.
The Government Can
After all, we, as individuals have to live within our means and it is considered a crime if we forcibly take money from others to pay for our debts. The Government, on the other hand? The Government Can.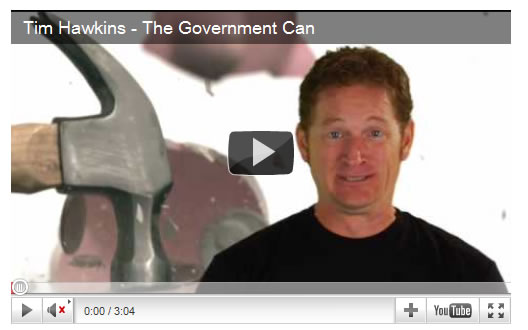 Subscribe to TDV today (90 day moneyback guarantee) to access our Special Report on How to Own Gold as well as get complete access to our newsletter and portfolio selections.
The Dollar Vigilante is a free-market financial newsletter focused on covering all aspects of the ongoing financial collapse. The newsletter has news, information and analysis on investments for safety and for profit during the collapse including investments in gold, silver, energy and agriculture commodities and publicly traded stocks. As well, the newsletter covers other aspects including expatriation, both financially and physically and news and info on health, safety and other ways to survive the coming collapse of the US Dollar safely and comfortably. The Dollar Vigilante offers a free newsletter at DollarVigilante.com.
© 2011 Copyright Jeff Berwick - All Rights Reserved
Disclaimer: The above is a matter of opinion provided for general information purposes only and is not intended as investment advice. Information and analysis above are derived from sources and utilising methods believed to be reliable, but we cannot accept responsibility for any losses you may incur as a result of this analysis. Individuals should consult with their personal financial advisors.
© 2005-2019 http://www.MarketOracle.co.uk - The Market Oracle is a FREE Daily Financial Markets Analysis & Forecasting online publication.
Comments
Dr David Hill
13 Mar 12, 06:48
Applied Leading-Edge Innovation and Inventive Might is the ONLY answer to the USA's and the West's Dire Economic Debt Problems


The problem will just keep growing I am afraid to say with the political and economic mindsets that we have. Unfortunately again there appears to be no change on the horizon. The only way that the USA and the West can get out of this terrible and really frightening debt nightmare is over several decades and where we have to start thinking out of the box and address the problem full on with the innovative might that the USA and the West commands. In reality the force of Innovation and technological invention is the only way that we can get out of the horrible mess created by bankers and inept political leaders, decade upon decade.

With China always knocking on the door we simply have to change our fixed thinking that has brought us to this incredible decline.

For the USA and the West to regain its economic freedom we have to get our heads around what history has told us and what has made us economically pre-eminent in the past?

For the West's future it has to stop putting forward the unfounded theory that only highly intelligent people can deliver economic success. For this is a misdemeanour of the first order and where it is vital that we understand this figment of our imagination for our good.

For present thinking is wrong as we are looking at the wrong way to create a meaningful future in the West. It depends ultimately for a nation if higher intelligence or higher innovative thinking is the driving force of Humanity.

There is a great misconception in the minds of many business and education Gurus, through lack of understanding what innovation really is, that innovation is somehow linked to higher intelligence. This misdemeanor is thrown at all and sundry. Unfortunately intelligence in itself does not lead to major global breakthroughs as the history of S&T shows. Indeed some people may be highly intelligent in solving problems but can never come up with an idea that revolutionizes the future. For solving existing problems is not the same as creating a totally new concept or idea. This thinking comes from people who in the main were not excellent scholastic students but were different in their thinking and had the ability to link things together to produce something new and really outstanding.

What we have not learnt in the West yet is that it is not the so-called highly intelligent people that we have to find but the creative individuals who are the primary asset in creating the successful tools of the future, whether they be better education systems or revolutionary technologies. The two are very different indeed. That is why the World Innovation Foundation has been saying for the past decade and a half to western governments that the West has to create the ORE-STEM complex so that these special individuals can have a place to flourish and work. In this respect it is estimated that there are between 500,000 and 1million of these 'special' average-intelligent people in the West who have the capacity to change 'Our' economic fortunes.

But, no-one is listening and especially in western governments where the intelligent people reign there supreme also. The reason of course is because these people are perceived as being highly intelligent also, but where they lack the main ingredient to why a country will be economically dynamic in the future; that little known seed in the certain individuals that transforms nations through totally new revolutionary thinking. Not to bore people but Newton and Einstein are clear examples of poor to medium quality scholastic students. In fact in the case of Newton his contemporaries stated at the time that nothing would ever come of Newton after he lost his 'grouts' and was awarded the lowest BA degree at Cambridge. No, it is those illusive individuals that we have to concentrate on in finding within our western society, who are not seen as highly intelligent people, but engage and provide vast wealth through their innovative thinking, not highly intelligent thinking. The two are totally different animals. For this is the 'golden' secret of creating a future dynamic environment for the West and where through such thinking, the West would recapture its pre-eminence in wealth creation.

Unfortunately western politicians have lost their way because they are possibly too intelligent and therefore we look in part at the decline that we now see. For an example here, bankers are supposed to be one of the most intelligent species within humanity and where they usually come with the highest degrees passes possible and top-of-the-class honours from such establishments as Harvard, Berkeley, MIT, Cambridge and Oxford et al. Therefore the question has to be asked, how did they and their highly intelligent government counterparts get is so horribly wrong globally and locally? The reason is that intelligence does not guarantee for a better world and where the opposite has been the case with the West reeling from trillions of accumulated debt that the people in the west now owe.

We have therefore to stop concentrating on the misconception that high intelligence is the best driver of humanity but where others have the real answers to our dire problems. Therefore the sooner we get such vast concepts as the ORE-STEM under way, the sooner the West will stop the inevitable decline of our nations and its people. For in another 30>40 years if we do not start thinking differently, the West will be totally reeling from a state of our economic affairs which will mirror many of the dire problems associated with some of the emerging economies now. This future situation to counter-balance the economic forces building in the East will not emerge from high intelligence as history has shown us, but from special and unique individuals who are not seen as highly intelligent at all. But what they possess is of far, far more important that just mere high intelligence, for they hold the golden key of our economic redemption!

Dr David Hill

Chief Executive

World Innovation Foundation




Only logged in users are allowed to post comments.
Register/ Log in