U.S. Dollar Collapse? Euro Crisis? Both, says Gold
Commodities
/
Gold and Silver 2011
Jul 01, 2011 - 03:31 PM GMT


The gap between gold in dollars vs other currencies has widened...
MANY factors determine the gold price – some transient, some more sustained.
By far the oldest driver of gold demand is gold's role as a monetary metal.
With that in mind, let's take a look at how the yellow stuff has fared so far the year against its newer upstart rivals, the paper currencies.
Here at BullionVault our gold price chart tracks the spot market gold price tick by tick in seven major currencies. Of these currencies, only two have "beaten" gold over the first half of 2011 – that is, the gold price has gone down in those currencies.
One, the Swiss Franc, is not a huge surprise. The Swiss does, after all, have a reputation as a "safe haven" currency – though whether it deserves this reputation is open to question.
But the other "gold-beating" currency may surprise you. Because that currency is the Euro. Yes, the permacrisis, sovereign debt-riddled Eurozone has actually seen its currency rise in value against gold since the end of last year.
Of course, the Euro gold price saw an especially big run up in late 2010, so it was starting from a higher base. And, as you'll see below, gold did set a record Euro price at the London Fix.
Furthermore, looking over the last five years, the gold price in Euros has shown a steady uptrend, suggesting investors would rather hold gold bullion than paper, even paper with pretty colors on it.
Now we come to the five currencies that have lost ground against gold this year. The commodities-backed Australian Dollar put in a creditable performance. Australian investors were paying only 0.9% more for their gold at June's end than they were at the end of last year.
The Pound Sterling gold price rose 2.1% in the first six months of the year – again coming off the back of a big run up at the end of 2010 – while the Canadian Dollar and Japanese Yen gold prices saw 3.1% and 4.8% gains respectively.
Now we come to the real dog of the bunch, and the front runner at the half-way point of 2011's ugliest currency competition.
Yep, you guessed it – it's the US Dollar.
The US Dollar gold price rose 6.1% on the spot market in the first half of 2011 – another way of saying the greenback lost 6.1% against the world's oldest form of money. This despite the pressures facing its largest competitor the Euro.
It is worth regularly reviewing the gold price in different currencies – gold does, after all, have monetary properties, so it's a good way to tell if a price move is because of one currency's weakness, or a broader rise or fall against all paper money.
Let's now look at how the gold price has done on the London Fix – the price that gets entered into the history books.
Based on the London PM Fix – the global benchmark for wholesale pricing and reserves valuation – gold in the first half of 2011 set new all-time highs against the US Dollar ($1552 per ounce), Euro (€1076), Sterling (£962), South African Rand (ZAR 10,757), Canadian Dollar (C$1518), Chinese Yuan (over CNY 10,000 per ounce), Indian Rupee (INR 22,736 per 10 grams), Korean Won (just shy of 1.7m per ounce) and Mexican Peso ($18,349 per ounce).
Investors in Australia, Brazil and Russia missed out this spring, but Japanese gold-owners got a fresh 28-year high above ¥4030 per gram.
The Dollar, though, sticks out. Another way of seeing the Dollar's terrible performance against gold is to compare it against BullionVault's Global Gold Index.
Global Gold Index maps the price of gold against the world's top 10 currencies by size of issuing economy. So it's led by the Dollar, but also includes a hefty weighting to the Euro, Yuan and Yen price of gold, plus the British Pound, Canadian Loonie, Aussie Dollar, Indian Rupee, Brazilian Real and Russian Rouble prices too.
And just like the US Dollar price, BullionVault's Global Gold Index hit a new record high on June 22nd. But when measured (and thus rebased and weighted to 100) from the start of the century, gold now shows a substantially sharper rise vs. the Dollar than against the world's money at large - an outperformance of more than 13 percentage points, in fact, for a total return of 452% since New Year 2000.
The gap between the US Dollar – when viewed through the prism of gold – and the rest of the world's currencies yawned in spring 2011 to its widest level since August 2008...just before the end of the world (aka Lehmans' collapse), as you'll no doubt recall.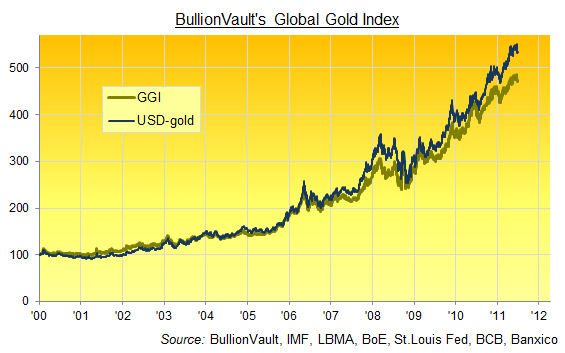 All this with Currency No.2, the Euro, facing a genuine debt crisis and/or disintegration. Good job QE2's just ended, eh?
Adrian Ash & Ben Traynor
Gold price chart, no delay | Buy gold online at live prices
Editor of Gold News, the analysis and investment research site from world-leading gold ownership service BullionVault, Ben Traynor was formerly editor of the Fleet Street Letter, the UK's longest-running investment letter. A Cambridge economics graduate, he is a professional writer and editor with a specialist interest in monetary economics.
(c) BullionVault 2011
Please Note: This article is to inform your thinking, not lead it. Only you can decide the best place for your money, and any decision you make will put your money at risk. Information or data included here may have already been overtaken by events – and must be verified elsewhere – should you choose to act on it.
© 2005-2019 http://www.MarketOracle.co.uk - The Market Oracle is a FREE Daily Financial Markets Analysis & Forecasting online publication.

Only logged in users are allowed to post comments.
Register/ Log in