S&P U.S. Credit Rating Downgrade: Where to Now?
Stock-Markets
/
Credit Crisis 2011
Aug 09, 2011 - 12:34 PM GMT


The credit rating of the world's largest economy has been downgraded. That is a fact. Neither hand wringing nor stone throwing nor "I told you so" will be constructive under current circumstances. The overriding question is: What is the appropriate response?
Unfortunately, on a personal level, the answer will be dependent on personal circumstances. There are no "canned" answers. Fortunately, on a society level the pathway forward is somewhat clearer. Historical experience leads to the unequivocal conclusion that "e pluribus unum" (out of many, one). If we focus on fixing our problems at community level, the issues at personal level will become more easily addressable. Therefore, at community level, we need to begin weaving – once again – the weak individual threads into a strong rope.
Let us understand the core drivers that gave rise to the towering mountain of debt in the world's "supposedly" developed countries.
They were:
A tripling of the world's population since the end of World War II without the appropriate long term infrastructural planning that should have accompanied this population explosion. In short: The edifice rose ever higher whilst the foundation was allowed to erode. (The population explosion did not only occur in the under-developed countries.)
This put pressure on per capita resource availability – in particular land, potable water, food and oil
It also led to a deterioration of "Energy Return on Energy Invested" (EROEI) which, in turn, led first to a flattening and, more recently, a reduction of energy output per capita across the planet as Peak Oil came and went.
All the while, we nurtured a misdirected (religiously dogmatic) belief that "the markets" would superimpose wisdom on rampant selfishness and, thereby, somehow magically address the issue of scarcity.
We fell in love with the idea of enriching ourselves by "leveraging" off the energies and resources of others. This led to a mindlessly foolish preoccupation with the concept of wealth "engineering" as opposed to wealth "creation". It also led to unethically self centred behaviour.
Eventually, this became so widespread that it led to dislodgement of The Rule of Law from the Ethical Foundation on which it was originally constructed.
Finally, we ran out of accumulated wealth because we engineered it out of existence. Accumulated Equity was replaced by Worthless Debt.
So, you think you are amongst the few who emerged victorious? Well, I have some news for you:
"A Pyrrhic victory (/ˈpɪrɪk/) is a victory with such a devastating cost to the victor that it carries the implication that another such victory will ultimately cause defeat." (Source: http://en.wikipedia.org/wiki/Pyrrhic_victory )
The BRIC countries (Brazil, Russia, India, China), who have essentially moved to embrace legacy industries, will not be the victors. All that has happened is the weakening engine of economic growth has shifted from the high labor cost countries to the low labor cost countries.
On a personal level, it doesn't matter whether you have accumulated a mountain of paper dollars or you have accumulated a mountain of gold ingots. It doesn't matter if the gold price is $1 an ounce or $1 million an ounce. What matters is how much grain there is in the ageing granaries and whether the grain production can grow faster than the consumption.
It seems that the world's central bankers – and those who have been playing by the rules of their game – have lost sight of this reality. Messing with the money supply is not a solution. Neither is the choice of currency of any particular significance. The reality is that the grain levels decrease as a consequence of single minded focus on either the quantity or the form of money as a "solution". Furthermore, the grain does not accumulate in the granary purely because of the superior intellect of the thinkers. Neither is it put there purely by the sweat of the doers. It is put there by weaving the skeins of visionary thinking, entrepreneurial endeavour, accumulated technical expertise, capital, labour; and disciplined management and resource planning into an unbreakable rope called society. It is put there by teamwork. It is put there by applying the most appropriate capabilities where they can add the most value and by ensuring an "ethical fairness" of outcome which is related to input.
Before we throw out the baby with the bathwater, it does not follow that, therefore, capitalism and free enterprise are flawed; or that, therefore, we need to move to central planning. To the contrary, a free enterprise system is a demonstrably superior social system that serves to unlock individual talent and motivation better than any other. One core issue has been the erosion of the ethical foundation on which society was built. Another has been the snowballing conviction that free lunches are our right. There is no such thing as a free lunch. To mangle the metaphor, for every quid you receive, there needs to be pro quo that you give; for every quid that you give, there needs to be a pro quo that you receive.
Let's try to be constructive here. Yes, the markets are falling apart. Yes, if we look at the 80 year chart below, it seems very possible that the S&P industrial index might fall as much as a further 300 – 400 points, before it finally stabilises near the lower red line. But it needs to be emphasised that the lower red line is pointing upwards.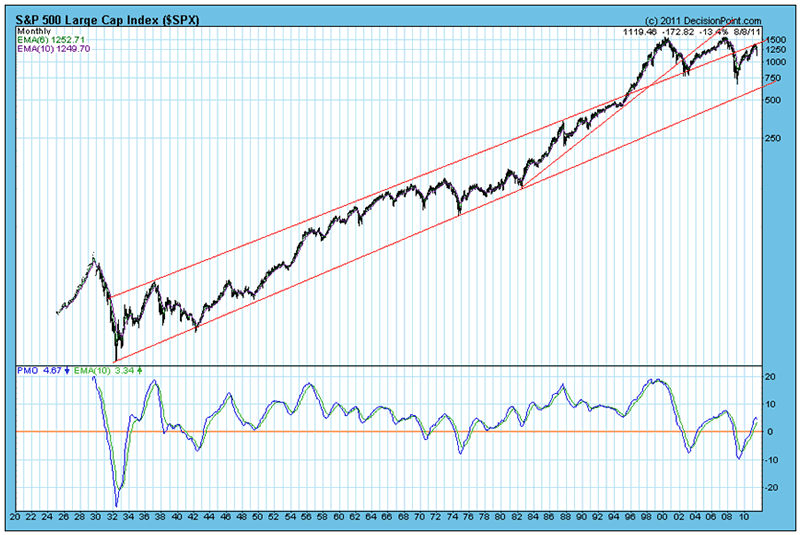 (Source: Decisionpoint.com)
There will doubtless be questions raised as to whether that line will be penetrated on the downside. My own view is that if that happens we will, in short order, witness a breakdown of the existing system. Will that be a bad thing? Perhaps not. Arguably the idea of "growth to the sky" has passed its use-by date. Arguably it's time to ease up on our preoccupation with accumulating trophy tangibles. Arguably, for the next 15 to 20 years "the markets" will force that orientation in any event.
But let's not forget that "assets" can be both tangible and intangible. You and I might be temporary, but our accumulated knowledge is permanent; and perpetually growing. Barring total social collapse, that knowledge cannot be taken away from us and it has a life of its own. It represents one of the foundational cornerstones of future society. Another will be "fire in the belly" – which tends to get stoked when times get uncomfortably tough. Another will be a predisposition to co-operate with our neighbours in our mutual interests, rather than try to beat our neighbours to the punch in an all or nothing grab. Historically, ethical values have been another cornerstone of civilisation. That's why ethical values, which have been eroded, now need to be shored up. Without ethical values there can be no civilisation. The predisposition to co-operate with our neighbours will grow as the ethical foundation is shored up.
And so, as a matter of pure logic, the first step to digging our way out of this mess in which we now find ourselves will be to get to know our neighbours on a personal level. From the individual skeins will emerge the twine; from the twine will come the cord and from the cord the rope will emerge.
The Table below evidences a particularly noteworthy development: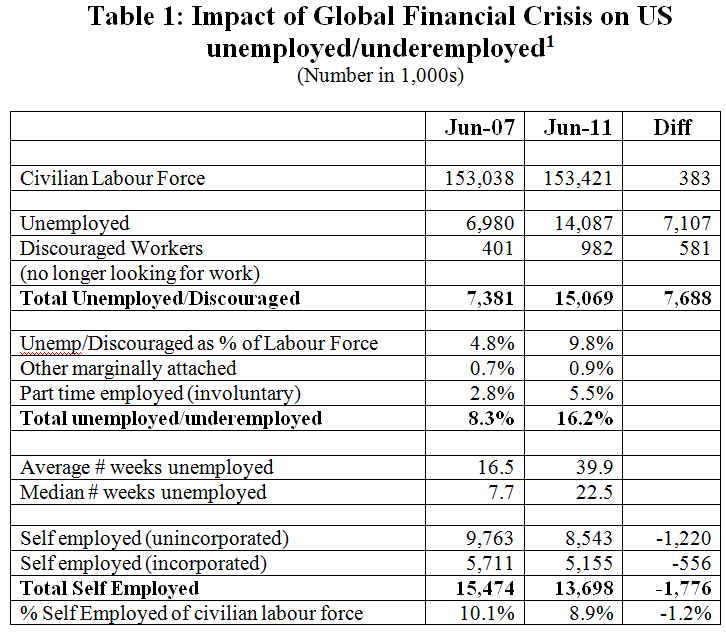 What it shows, apart from the true level of underemployment of the US labour force, is that the numbers of self employed have been decreasing even as unemployment has been rising. In context of deteriorating ethics, perhaps we would be well advised to recognise that these are the numbers of people who are prepared to "declare" that they are self employed.
Nevertheless, assuming the trend direction is substantially true, what this implies is that people are losing faith in the future. Fewer see any purpose in attempting to generate their own income. Well, if that's true, it will be a consequence of the erosion of ethical behaviour at top levels within society – which odious attitude has been noticeably cascading downwards into the trenches. Entrepreneurial activity is fraught with associated risk. If this risk is compounded by a lack of trust in the system, then the historical driver of employment opportunities – entrepreneurs and small businesses – will lose their potency. And society will disintegrate.
Conclusion
The problems facing the world today will not be fixed by our current batch of political leaders or by ethically challenged captains of industry. They will be fixed from the bottom up, at grass roots level, by people of integrity who band together in small groups to ensure self sufficiency. Over time, with commitment, focus and dedication – and leveraging off a formidable bank of accumulated technological knowhow – the momentum of success will grow. New, less ethically challenged leaders will emerge and the nightmare will recede.
Author Comment
Three of the more relevant "hot buttons" on which we need to focus to ensure that society gets itself back onto the rails are "energy", "ethical behaviour at all levels of society" and "a more responsible attitude" – towards others, towards husbanding our resources; and towards climate change (as opposed to global warming). All these hot buttons (and more) are investigated in some depth via the entertaining storylines of my two factional novels, Beyond Neanderthal and The Last Finesse. The former was published in June 2008 (three months before the Global Financial Crisis became visible) and the latter is due for publication in e-book format in late September 2011, when the third (panic) leg of the Primary Bear Market in equities will be well visible. The two books cut through the smokescreen of political disinformation and media sound bites and lay bare the salient facts. Together, they may be looked upon as providing a basis for informed discussion on the core issues which humanity now faces; and what might be done to claw our way out of the economic quagmire. They also make some specific longer term oriented suggestions. Anyone interested in acquiring a copy of either/both books should email the author at info@beyondneanderthal.com .
By Brian Bloom
Once in a while a book comes along that 'nails' the issues of our times. Brian Bloom has demonstrated an uncanny ability to predict world events, sometimes even before they are on the media radar. First he predicted the world financial crisis and its timing, then the increasing controversies regarding the causes of climate change. Next will be a dawning understanding that humanity must embrace radically new thought paradigms with regard to energy, or face extinction.

Via the medium of its lighthearted and entertaining storyline, Beyond Neanderthal highlights the common links between Christianity, Judaism, Islam, Hinduism and Taoism and draws attention to an alternative energy source known to the Ancients. How was this common knowledge lost? Have ego and testosterone befuddled our thought processes? The Muslim population is now approaching 1.6 billion across the planet. The clash of civilizations between Judeo-Christians and Muslims is heightening. Is there a peaceful way to diffuse this situation or will ego and testosterone get in the way of that too? Beyond Neanderthal makes the case for a possible way forward on both the energy and the clash of civilizations fronts.

Copies of Beyond Neanderthal may be ordered via www.beyondneanderthal.com or from Amazon
Copyright © 2011 Brian Bloom - All Rights Reserved
Disclaimer: The above is a matter of opinion provided for general information purposes only and is not intended as investment advice. Information and analysis above are derived from sources and utilising methods believed to be reliable, but we cannot accept responsibility for any losses you may incur as a result of this analysis. Individuals should consult with their personal financial advisors.
© 2005-2019 http://www.MarketOracle.co.uk - The Market Oracle is a FREE Daily Financial Markets Analysis & Forecasting online publication.

Only logged in users are allowed to post comments.
Register/ Log in