Germany Prepares for Eurozone Debt Default, ECB Resignation Hammers Stocks
Interest-Rates
/
Global Debt Crisis
Sep 09, 2011 - 12:07 PM GMT


Once again news from Europe resonates in the markets. The 2-day stock rally led by the German court ruling has been nearly wiped out.
European Equities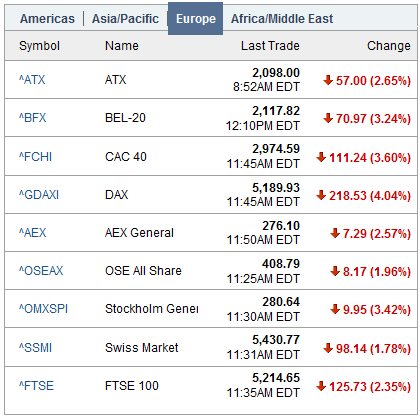 The German DAX is near but not quite at a fresh low.

Germany Prepares "Plan B" Default

Bloomberg reports
Germany Said to Ready Plan to Help Banks If Greece Defaults
Chancellor Angela Merkel's government is preparing plans to shore up German banks in the event that Greece fails to meet the terms of its aid package and defaults, three coalition officials said.

The emergency plan involves measures to help banks and insurers that face a possible 50 percent loss on their Greek bonds if the next tranche of Greece's bailout is withheld, said the people, who spoke on condition of anonymity because the deliberations are being held in private. The successor to the German government's bank-rescue fund introduced in 2008 might be enrolled to help recapitalize the banks, one of the people said.

The existence of a "Plan B" underscores German concerns that Greece's failure to stick to budget-cutting targets threatens European efforts to tame the debt crisis rattling the euro. German lawmakers stepped up their criticism of Greece this week, threatening to withhold aid unless it meets the terms of its austerity package, after an international mission to Athens suspended its report on the country's progress.

Greece is "on a knife's edge," German Finance Minister Wolfgang Schaeuble told lawmakers at a closed-door meeting in Berlin on Sept. 7, a report in parliament's bulletin showed yesterday. If the government can't meet the aid terms, "it's up to Greece to figure out how to get financing without the euro zone's help," he later said in a speech to parliament.

Longer term, euro countries will "only preserve the common currency if there is more integration" in the European Union, Merkel said in a speech in Berlin today. The EU "won't be able to avoid treaty change." While intensive discussions lie ahead and the path won't be easy, policy makers "shouldn't be afraid" of tackling the challenge, she said.

Discussion of Eurozone Breakup

Merkel's statements admitting the possibility of a Eurozone breakup are the first by a major figure from Germany, France, the EU, or ECB.

Note how throwing money at Greece made the problem far worse for everyone, including Greece. A Greek default a year ago may have cost in the range of $25-50 billion, now it may be triple that.

Thank ECB president Jean-Claude Trichet who emphatically and repeatedly stated "We say no to default". Central bank arrogance cannot override markets.

Top ECB Official Abandons Ship

Yahoo! Finance reports Top ECB official Stark resigns unexpectedly

The European Central Bank says that top official Juergen Stark is resigning well before the end of his term, removing a key voice for tougher rate policy and raising questions about the bank's course during Europe's debt crisis.

The ECB said Friday that, Stark, 63, is leaving "for personal reasons" almost three years before the end of his eight-year term.

European stock markets and the euro fell sharply amid uncertainty over leadership at the eurozone's top monetary authority.

Stark is a former official with Germany's Bundesbank and is regarded in central bank jargon as a "hawk" -- an advocate of higher interest rates to fight inflation and less expansionary monetary policy.

His departure is the second unexpected personnel change at the ECB this year, after governing council member and Bundesbank head Axel Weber, regarded as front runner to succeed bank President Jean-Claude Trichet, dropped out of the running and did not seek another term.

Bond Yields

Italian 10-Year Government Bonds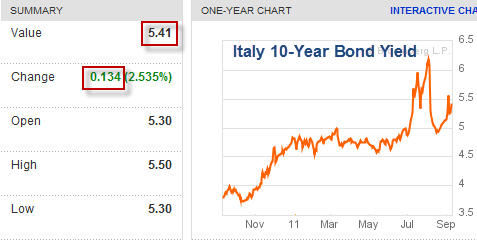 German 10-Year Government Bonds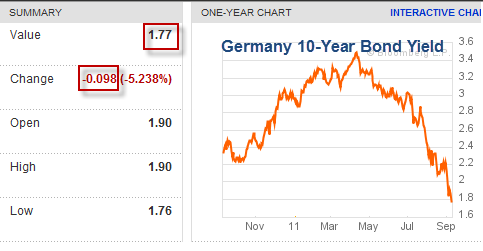 That is a new all-time record low yield on 10-year German government bonds.

Moreover, the US dollar index is up a full point to 77.72 and the Euro down .0234 to 136.46.

Anyone who sees inflation in this mess is (at a minimum) not thinking clearly. Anyone calling for hyperinflation is certifiably in Fantasyland.

I repeat the case Yes Virginia, U.S. Back in Deflation; Inflation Scare Ends; Hyperinflationists Wrong Twice Over

By Mike "Mish" Shedlock
http://globaleconomicanalysis.blogspot.com Click Here To Scroll Thru My Recent Post List
Mike Shedlock / Mish is a registered investment advisor representative for SitkaPacific Capital Management . Sitka Pacific is an asset management firm whose goal is strong performance and low volatility, regardless of market direction.

Visit Sitka Pacific's Account Management Page to learn more about wealth management and capital preservation strategies of Sitka Pacific.
I do weekly podcasts every Thursday on HoweStreet and a brief 7 minute segment on Saturday on CKNW AM 980 in Vancouver.

When not writing about stocks or the economy I spends a great deal of time on photography and in the garden. I have over 80 magazine and book cover credits. Some of my Wisconsin and gardening images can be seen at MichaelShedlock.com .
© 2011 Mike Shedlock, All Rights Reserved.
© 2005-2022 http://www.MarketOracle.co.uk - The Market Oracle is a FREE Daily Financial Markets Analysis & Forecasting online publication.
Comments

10 Sep 11, 00:49
deflation


So then, deflation it is. Cash Is King. (Stay in cash). Right?




Only logged in users are allowed to post comments.
Register/ Log in