Nouriel Roubini: Germany to Eurozone - You Lost Your Virginity, Can't Commit to Marriage Today
Politics
/
Eurozone Debt Crisis
Jun 27, 2012 - 09:54 AM GMT


Nouriel Roubini and Ian Bremmer of Eurasia Group appeared on "Bloomberg Surveillance" with Tom Keene, Sara Eisen and Ken Prewitt today to discuss Europe's debt crisis.
On Germany bailing out other euro zone countries, Roubini said, "The Germans say, 'you lost your virginity. Now you sign a contract. You say, 'I'm a born again virgin.' Be abstinent for the next two years. Show me your soul and two years from now, we're going to get married. But today, I commit to marriage today? Forget it.'
Roubini on the European Redemption Fund proposal:
"It is a limited proposal for e-bonds that will only be temporary for 20 years with all sorts of caveats. The Germans and Merkel have said no. Why? They worry about three things. one is about moral hazard. they say if we could agree on these things there will not be enough effort by Italy and Spain. Secondly is a time consistency problem. If you agree on that stuff and then they don't deliver, then Germany is going to take a lot of risk. Three, there is a huge amount of credit risk the Germans will take by backstopping both the debt on one side and the deposits. The Germans say moral hazard, time inconsistency and credit risk--I don't want to do it. They say, 'you lost your virginity. Now you sign a contract; you say, 'I'm a born-again virgin.' Be abstinent for the next two years. Show me your soul and two years from now, we're going to get married. But today, I commit to marriage today? Forget it.' The Germans don't believe and they don't trust the periphery."
Roubini on how to get decisive action in the euro zone:
"The European leaders already had 18 summits of the leaders in the past two years. The last summit, the headline newspaper was the leaders decided to postpone key decisions. Now there are 19 summits. Now they're supposed to come up in one summit with a political union, with a banking union, with a fiscal union, with a transfer union, with a growth compact and resolve the problems that haven't been resolved for years. Changes are the Germans are want to say no to European-wide deposit insurance."
Bremmer's view on global problems:
"First of all, I see that irrespective of whether you are a Democrat or a Republican in the United States, you are basically telling the Germans, "come on guys, you have to do something." But we're not going to play a role in that. I look at the Chinese government despite that they are awash in liquidity right now. They're not prepared to actually provide any concrete support for the Europeans, so the Europeans must do this themselves. We're not going to act as the lender of last resort for the euro zone. At the same time, I see plenty of other global problems banging along where everyone is kicking the can down the road. The willingness to kick the can right now for the United States, Japan, Europeans, the Chinese, has been an elite motif really since 2008."
Roubini on the persistency of real economy slowdown:
"It's not just a slowdown...The recession will become a depression. Output has fallen from the peak 15% in Greece. The same thing in Spain...This could become like Japan, but worse. Japan did not have a sovereign debt crisis because it was a net creditor country. But all of these countries are net debtors. They would be lucky to end up in stagnation like Japan. It's getting worse, there's already a sovereign debt crisis, a banking crisis, a balance of payment crisis, an economic crisis and all of those things together are getting worse."
Roubini on German leadership:
"There is this gap between them saying we don't want to take all this credit risk of backstopping of $3 trillion of Spanish and Italian debt. We don't want to take all the credit risk of backstopping all the deposits of the euro zone. But then the other side says, unless you do something about it, in spite of our fiscal effort, the spreads are so high, the disintegration fragmentation of the banking system is becoming worse, and therefore we're going to end up in a complete cliff. The German one side the one guarantees that these guys do enough reform and austerity, the other side says we're doing it, but spreads are so high that it's become unsustainable."
Bremmer on whether Germany is removing itself from the conversation in Europe:
"I would not go that far. I do think they are engaged in a very difficult negotiation...The fact that the Germans at this point are not yet prepared to accept the kind of economic fixes that are required does not tell as much about their ultimate predisposition. They have their own domestic constituencies they have to play with. They also have very strong political constituencies across the euro zone that are acting in a very intractable way. We've seen some forms of German capitulation over the course of the past months...Who is to say that there will not be dramatically more capitulation when they're actually forced to do it."
Roubini on what matters most right now politically:
"All of it matters in the sense that we're kicking the can down the road. The Europeans do not want to make the decisions and there will be political elections in Germany, Italy and other parts of Europe. We have the U.S. presidential election and until then, we're not going to do anything about our fiscal problem. In China, there is a stall right now because of the leadership transition that happens once in a decade and important decisions about their growth model has to be done. The problem is that every part of the world is kicking down the road to 2013. At this time we're reaching a point in which by next year, you could be in a scenario in which we hit a brick wall, and then euro zone breaks up, in the U.S. you have a fiscal cliff, in China the landing could be hard and in the Middle East you could have a war. That is a perfect storm."
Roubini on the complexity of the central banks response:
"Everyone is going to do more monetary easing...We live in a world in which the problems of the advanced economies are not problems of liquidity. Banks have plenty of liquidity. The problems are fundamental solvency. So just throwing money at it implies that the loss will continue to collapse and banks will hold extra money in the form of excess reserves. The credit mechanism is broken and there is no creation of growth in most advanced economies. So it doesn't affect real economic activity."
Roubini on Merkel saying euro bonds are "the wrong way" and whether she was speaking to European leaders or voters in Germany:
"She was talking to both of them. The trouble is if there is not going to be an agreement on some point on having e-bonds I think the situation in Europe is going to become disorderly. Italy and Spain were are doing massive fiscal adjustment, but their spreads are still very high...At some point the Germans will decide, do I take the credit risk of backstopping Spanish and Italian debt in exchange for some loss of national fiscal sovereignty by Italy and Spain in which case the euro zone has a chance to survive. Otherwise, this will become disorderly in the next few months."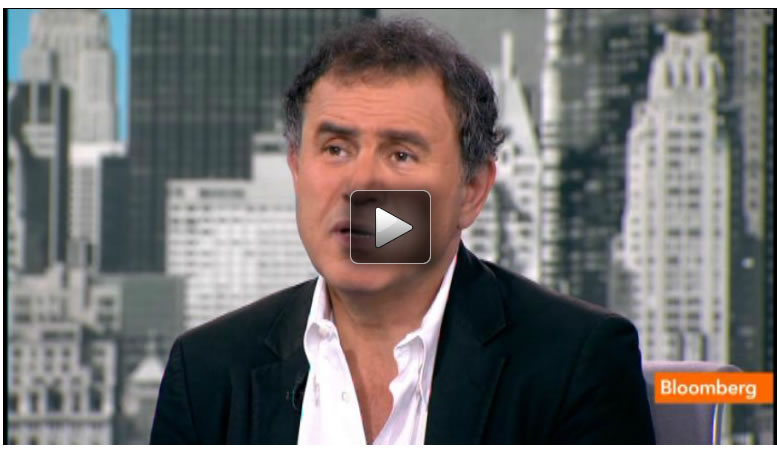 Copyright © 2012 Bloomberg - All Rights Reserved Disclaimer: The above is a matter of opinion provided for general information purposes only and is not intended as investment advice. Information and analysis above are derived from sources and utilising methods believed to be reliable, but we cannot accept responsibility for any losses you may incur as a result of this analysis. Individuals should consult with their personal financial advisors.
© 2005-2022 http://www.MarketOracle.co.uk - The Market Oracle is a FREE Daily Financial Markets Analysis & Forecasting online publication.

Only logged in users are allowed to post comments.
Register/ Log in