Was India's Worst Black Out in Human History Triggered by a Solar Flare?
Economics
/
Environmental Issues
Aug 01, 2012 - 05:07 AM GMT


Asia's third-largest economy -- INDIA -- was hit by three more huge power grid failures, one day after a similar, but smaller power failure covered half the country -- leaving more than 650 million people without electricity in the world's biggest blackout according to the ATCA Research & Analysis Wing. More than half the population of India has been affected, which is roughly 10% of the world's population and bigger than the entire population of the European Union or the United States, Russia and Brazil combined. In parallel, hours of power outage in the scorching summer sparked protest in most parts of Pakistan and angry protesters attacked offices of power supply departments in some areas.
Solar Flare or Coronal Mass Ejection (CME)?
Is a "Solar Flare" partially responsible for India and Pakistan's massive power outage? Could it have been a Coronal Mass Ejection (CME) since most of Pakistan, along with northern India, also suffered long blackouts? Given that rains had arrived, temperature was down in north India so there was less requirement for a power overdraw. For example, the temperature in New Delhi on 31st July was 25.4 degrees Celsius, more than ten degrees below what it had been during the peak of the summer heat. If electricity overuse was the sole cause of the power failure, because of too many people drawing power, this would have happened before now.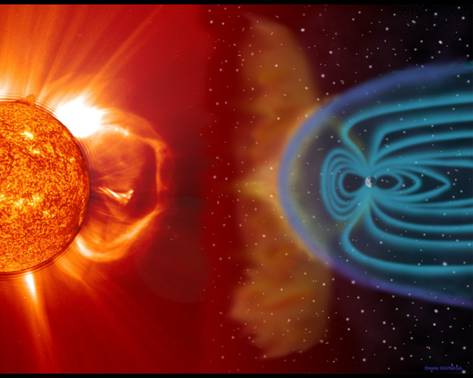 Solar Flare: Coronal Mass Ejection (CME)
Solar Coincidence
A medium-size solar flare erupted from the sun this weekend, hurling a cloud of plasma and charged particles towards Earth on a cosmic path that was expected to deliver a glancing blow to our planet on July 31st, according to space weather forecasters, the day the massive power outage took place across India and Pakistan. The M6-class solar flare exploded from the sun on Saturday -- July 28th -- unleashing a wave of plasma and charged particles, called a coronal mass ejection (CME), into space. "This is a slow-moving CME," astronomer Tony Phillips wrote on Spaceweather.com, which regularly monitors space weather events. "The cloud's low speed (382 km/s estimated) combined with its glancing trajectory suggests a weak impact is in the offing. Nevertheless, polar geomagnetic storms are possible when the cloud arrives."
Coronal Mass Ejections (CME) and Electro-Magnetic Pulse (EMP)
The most dangerous type of solar flares for humanity are the Coronal Mass Ejections (CMEs) that occur during the most active period of the sun's 11-year cycles. This time, the zenith of CMEs is set for 2012 as the solar cycle #24 reaches a crescendo. A CME happens when gas erupts from the solar corona -- "crown" of outer atmosphere surrounding the sun -- and carries a massive amount of radioactive material that can reach earth in three to five days. One potentially catastrophic disruption humanity is not prepared for is an Electro-Magnetic Pulse (EMP) or a burst of electromagnetic radiation from a major Coronal Mass Ejection (CME) from the sun. This would create a sudden, massive fluctuation in the earth's electromagnetic field similar to the detonation of a High-altitude Electro-Magnetic Pulse (HEMP) nuclear device. The resulting electric and magnetic fields would then couple with electrical grid systems to produce damaging current and voltage surges. [Ref ATCA 5000: Could Super Solar Flares Take Us Back To 5000 BC? 17th June 2010]
Disaster Movie in Real Time
The colossal power cuts across 2,000 miles -- from the border with Burma in the East to the border with Pakistan in the West -- in such a widespread area of the world's second most populous nation appeared to have been like a disaster movie unfolding in real time with every aspect of modern life grinding to a sudden halt. They hurt India's pride given that the country aspires to become a regional economic superpower.
Cascading Failure
In cases when demand outstrips the power supply, the system of circuit breakers must be activated, often manually, to reduce some of the load in what are known as rolling blackouts. But if workers cannot trip those breakers -- because their immediate masters won't let them -- a set of small failures can cascade into a much larger blackout. Rabindra Nath Nayak -- chairman of the state-run Power Grid of India -- said, "tripping at several interconnectivity points of the [northern] grid could have had a cascading effect." It is difficult to say whether this was a manmade disaster compounded by natural phenomena. The truth is that India has failed to build up enough power capacity to meet soaring demand as its GDP has grown at a break-neck 8 to 9 percent in recent years. As a result, India's demand for electricity has soared along with its economy, but utilities have been unable to meet the growing needs. India's "Central Electricity Authority" reported power deficits of between 8% and 10% in recent months, which are dragging on the country's economic growth. This despite the fact that between 25 percent and 40 percent of Indians are not connected to the national grid at all.
Outdated Infrastructure
This power outage, unusual in its reach, raises serious concerns about India's outdated infrastructure and the government's inability to meet India's huge appetite for energy although its impact was softened by Indians' familiarity with frequent blackouts and the widespread use of backup generators for major businesses and essential services. PM Manmohan Singh had vowed to fast-track stalled power and infrastructure projects as well as introduce free market reforms aimed at reviving India's flagging economy. Power Minister Sushilkumar Shinde conveniently blamed the systemic power collapse on some states drawing more than their share of electricity from the over-burdened grid. Uttar Pradesh's top civil servant for energy responded by stating that outdated transmission lines were at fault.
Conclusion
We all know that blackouts happen in India and Pakistan somewhat regularly, but not on this massive scale. Is such an unprecedented regional blackout down to increased use only? It is interesting to note that a medium class "Solar Storm" was expected to hit Earth on Tuesday, 31st July, the day of the massive power outage in India. This colossal power outage is a stark reminder of the intractable problems still plaguing India:
1. Inadequate infrastructure;
2. Crippling power shortages; and
3. Absence of government leadership.
Key Question
Is this going to have a substantial adverse impact on the overall economic activity and output of India? Power failure on such a massive scale for two consecutive days is likely to hit sentiment and output very badly according to distinguished members of the ATCA 5000 based in India.
What are your thoughts, observations and views? We are hosting an Expert roundtable on this issue at ATCA 24/7 on Yammer.
By DK Matai
Asymmetric Threats Contingency Alliance (ATCA) & The Philanthropia
We welcome your participation in this Socratic dialogue. Please access by clicking here.
ATCA: The Asymmetric Threats Contingency Alliance is a philanthropic expert initiative founded in 2001 to resolve complex global challenges through collective Socratic dialogue and joint executive action to build a wisdom based global economy. Adhering to the doctrine of non-violence, ATCA addresses asymmetric threats and social opportunities arising from climate chaos and the environment; radical poverty and microfinance; geo-politics and energy; organised crime & extremism; advanced technologies -- bio, info, nano, robo & AI; demographic skews and resource shortages; pandemics; financial systems and systemic risk; as well as transhumanism and ethics. Present membership of ATCA is by invitation only and has over 5,000 distinguished members from over 120 countries: including 1,000 Parliamentarians; 1,500 Chairmen and CEOs of corporations; 1,000 Heads of NGOs; 750 Directors at Academic Centres of Excellence; 500 Inventors and Original thinkers; as well as 250 Editors-in-Chief of major media.
The Philanthropia, founded in 2005, brings together over 1,000 leading individual and private philanthropists, family offices, foundations, private banks, non-governmental organisations and specialist advisors to address complex global challenges such as countering climate chaos, reducing radical poverty and developing global leadership for the younger generation through the appliance of science and technology, leveraging acumen and finance, as well as encouraging collaboration with a strong commitment to ethics. Philanthropia emphasises multi-faith spiritual values: introspection, healthy living and ecology. Philanthropia Targets: Countering climate chaos and carbon neutrality; Eliminating radical poverty -- through micro-credit schemes, empowerment of women and more responsible capitalism; Leadership for the Younger Generation; and Corporate and social responsibility.
© 2012 Copyright DK Matai - All Rights Reserved Disclaimer: The above is a matter of opinion provided for general information purposes only and is not intended as investment advice. Information and analysis above are derived from sources and utilising methods believed to be reliable, but we cannot accept responsibility for any losses you may incur as a result of this analysis. Individuals should consult with their personal financial advisors.
© 2005-2019 http://www.MarketOracle.co.uk - The Market Oracle is a FREE Daily Financial Markets Analysis & Forecasting online publication.

Only logged in users are allowed to post comments.
Register/ Log in