U.S. Stock Market Rally Continues
Stock-Markets
/
Stock Markets 2012
Sep 09, 2012 - 10:38 AM GMT


A good week for the bulls as the bull market made new highs in the SPX/NDX/NAZ. Oddly enough the DOW is lagging again, having failed to reach its May high of 13,339. For the week the SPX/DOW gained 1.95%, and the NDX/NAZ were +2.10%. Asian markets gained 1.4%, European markets gained 3.9%, and the DJ World index gained 2.6%. Forty two months into one of the most disliked bull markets in history, and it is still making new highs. On the economic front the reports continue to improve: this week 7 to 4 positive. On the uptick: monthly Auto sales, the ADP index, ISM services, long term Investor sentiment, the WLEI, and both the Unemployment rate and weekly Jobless claims improved. On the downtick: ISM manufacturing, Consumer spending, monthly Payrolls, and the Monetary base. Next week is FOMC meeting week wed/thurs. During the week we also get reports on Consumer credit, the CPI/PPI and Industrial production.
ECONOMIC REPORTS
We have been covering the weekly economic reports for a number of years now. During this period we have been noticing what reports are relevent, and what reports are consistently misleading or quite volatile. For example. The ADP employment change is constantly out of sync with the monthly Payrolls report. The monthly Consumer confidence reading is often out of sync with the bi-weekly Consumer sentiment reading. Even the Leading indicators report is often out of sync with the WLEI. And, there are many others. Unfortunately the market does not always react to the proper report, which adds to the confusion concerning the economy. We track and report on all these indicators, but we pay close attention to just a few.
The WLEI, for example, has been quite good in tracking the economy. Every spring, since 2010, the US economy has run into a contracting soft patch. During mid-2010 the economy appeared to be heading back into recession, the WLEI headed into significantly negative territory, and the FED started QE 2. During mid-2011 the economy again appeared to be heading into recession, again the WLEI headed into significantly negative territory, and the FED started Operation Twist. This spring, however, the downturn was quite minor, and the FED only extended Operation Twist out to December. Since that extension the WLEI, which is hardly followed, has been rising and turned positive just a week ago. The economy is expanding again. Yet, many market pundits are expecting the FED to initiate QE 3. While we do agree the probabilities of a QE 3 program are now at its highest since mid-2010. The economy, as measured by the WLEI, suggests it is not needed.
LONG TERM: bull market
Clearly the bull market made a statement this week by making a higher high. While many have disliked this market it has already risen 116% in the past 42 months. According to our analysis, there is not a whole lot more to go on the upside. This market is already within 8% of our expected bull market high of SPX 1536-1556. There are several more waves/trends before this market does peak. The remaining waves may form what is called a broadening top. If the FED does take additional monetary action, before the bull market ends, our target will be adjusted higher accordingly.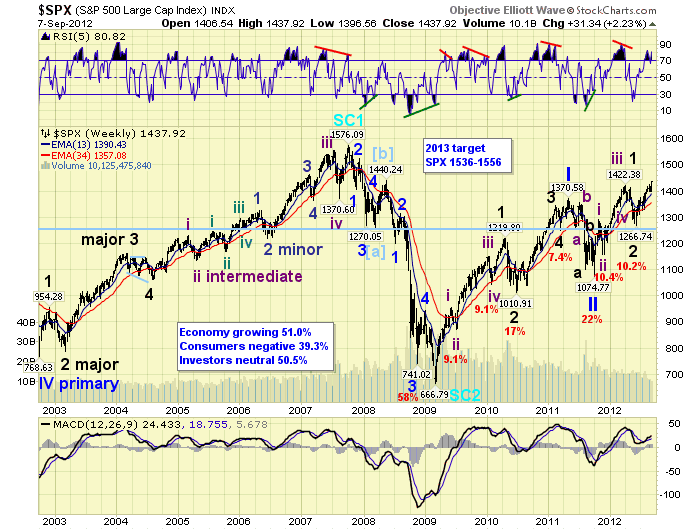 The weekly chart continues to display our OEW count. Primary waves I and II, of a five primary wave bull market, completed in 2011. Primary wave III has been underway since October 2011. Primary wave I divided into five Major waves, with a subdividing Major wave 1. Primary wave III is following the same path. The subdivided Major wave 1 ended in early May 2012, and Major 2 ended in early June. Major wave 3 has been underway since then. Our technical indicators continue to display bull market characteristics. The MACD remaining mostly above neutral, and the RSI often getting extremely overbought. Both appear to be still climbing during Major wave 3. We have been expecting, since June, Major 3 to top around the OEW 1499 pivot. It has already risen from SPX 1267 to 1438 on friday.
MEDIUM TERM: new uptrend high
This uptrend, Major wave 3, began at SPX 1267 in early June. At first it impulsed fairly well to SPX 1363 in a matter of weeks, then pulled back to SPX 1309. We labeled these first two waves Intermediate i and ii of a five Intermediate wave Major wave 3. The next rally to SPX 1375 we labeled Minor wave 1 of Intermediate iii. Then the market became somewhat choppy as Minor wave 2 took on the form of an irregular failed flat: SPX 1325-1380-1329. After that the market started impulsing again until it recently hit SPX 1427. We labeled that high Minor wave 3, and the pullback to SPX 1397 a triangular Minor wave 4.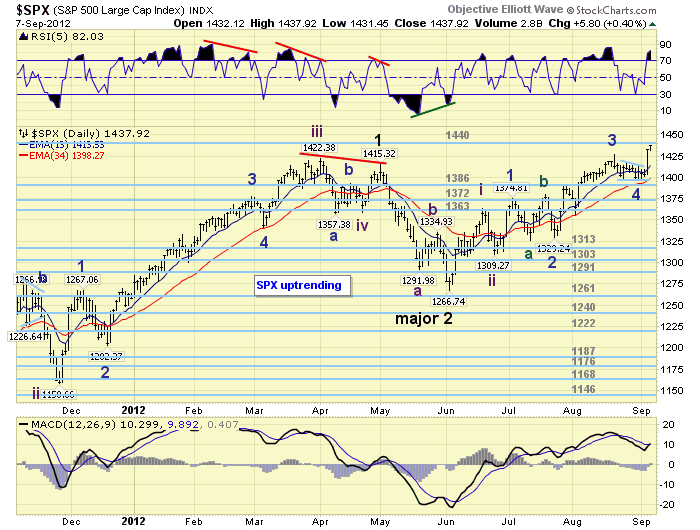 The market is now advancing in Minor wave 5 of Intermediate iii. When this current rally concludes the third important wave of this uptrend, Intermediate wave iii, will lead to an Intermediate wave iv low. This will be then followed by an Intermediate wave v rally to end the uptrend. We have been expecting this uptrend to end near year end and around the OEW 1499 pivot. The market continues to follow this scenario.
SHORT TERM
Short term support is at SPX 1422/27 and SPX 1413/16, with resistance at the 1440 pivot and SPX 1463/64. Short term momentum ended the week quite overbought. The short term OEW charts remain positive since the thursday open at SPX 1412, with the swing point now at 1417.
The Minor wave 4 pullback took the form of a contracting triangle: 1398-1416-1397-1414-1397. We posted this triangle scenario on the daily chart on tuesday. The thrust out of the triangle, once the upper downtrending line was cleared, is quite consistent with this type of wave pattern. Contracting triangles are formed at periods of indecision, as the market trades in a narrower and narrower range until it finally breaks one way or the other.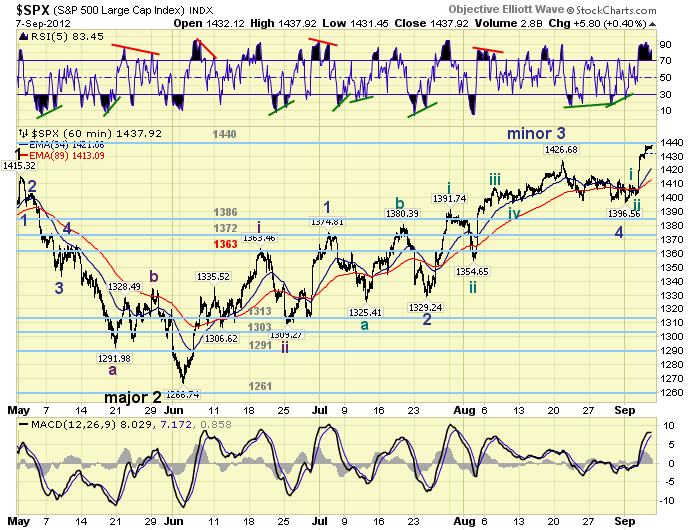 Since this market has moved quite fast after the SPX 1397 low: 41 points in three days. The internal structure of the current rally, Minor wave 5, may be a bit difficult to read. Currently we see a rally to SPX 1409, a pullback: 1401-1409-1401, then a gap up to 1412 and a rally straight up to 1438. We are counting the first rally to SPX 1409 as Minute i, the flat pullback to 1401 as Minute ii, and Minute iii currently underway. This suggests we should see a Minute wave iv pullback soon, then another rally to end Minute v. This last rally will also end Minor wave 5 and Intermediate wave iii. In both EW and OEW waves cluster within waves.
We did some fibonacci calculations after Minor wave 5 was underway and posted them during the week. At SPX 1463 Minor 5 = Minor 1, and at SPX 1464 Int. iii = 1.618 Int. i. Once the OEW 1440 pivot range (1433-1447) is cleared, (this pivot may likely be resistance for Minute iii), this rally should find significant resistance at the SPX 1463/64 area. Best to your trading!
FOREIGN MARKETS
The Asian markets were mostly higher for the week with a net gain of 1.4%. Currently China, Hong Kong and Singapore are in confirmed downtrends. China and Hong Kong may have reversed this week.
The European markets were all higher and soared 3.9%. Only England is in a downtrend.
The Commodity equity group were all higher gaining 3.5%. All uptrends here.
The uptrending DJ World index gained 2.5%.
COMMODITIES
Bonds continue to downtrend losing 0.5% on the week.
Crude remains in an uptrend but lost 0.1% on the week.
Gold shot past the $1725 resistance area we have been expecting, and on friday hit $1745. Uptrending Gold gained 2.3% on the week, and Silver 6.2%.
The USD continues to downtrend losing 1.2% on the week, and the uptrend EUR gained 1.9%.
NEXT WEEK
On monday: Consumer credit at 3:00. Tuesday we have the Trade deficit. Then on wednesday: Export/Import prices and Wholesale inventories. On thursday: weekly Jobless claims, the PPI and the Budget deficit. Then on friday: Retail sales, the CPI, Industrial production, Consumer sentiment and Business inventories. The FED starts its two day FOMC meeting on wednesday, concluding with a statement and press conference on thursday. Another potentially volatile week ahead. Best to your weekend and week!
CHARTS: http://stockcharts.com/...
http://caldaroew.spaces.live.com
After about 40 years of investing in the markets one learns that the markets are constantly changing, not only in price, but in what drives the markets. In the 1960s, the Nifty Fifty were the leaders of the stock market. In the 1970s, stock selection using Technical Analysis was important, as the market stayed with a trading range for the entire decade. In the 1980s, the market finally broke out of it doldrums, as the DOW broke through 1100 in 1982, and launched the greatest bull market on record.
Sharing is an important aspect of a life. Over 100 people have joined our group, from all walks of life, covering twenty three countries across the globe. It's been the most fun I have ever had in the market. Sharing uncommon knowledge, with investors. In hope of aiding them in finding their financial independence.
Copyright © 2012 Tony Caldaro - All Rights Reserved Disclaimer: The above is a matter of opinion provided for general information purposes only and is not intended as investment advice. Information and analysis above are derived from sources and utilising methods believed to be reliable, but we cannot accept responsibility for any losses you may incur as a result of this analysis. Individuals should consult with their personal financial advisors.
© 2005-2019 http://www.MarketOracle.co.uk - The Market Oracle is a FREE Daily Financial Markets Analysis & Forecasting online publication.

Only logged in users are allowed to post comments.
Register/ Log in