Who Will Win the U.S. Presidential Election, Forecast 2012
ElectionOracle
/
US Presidential Election 2012
Oct 27, 2012 - 06:15 AM GMT

The final countdown to the U.S. presidential election has now begun with expectations that there is little that each candidate can now effect on the electorate during the remaining 10 days. Most opinion polls currently put Romney slightly ahead of Obama i.e. ABC 50/47, BBC Poll of Polls 49/47, Gallop 48/48. However the high margin of error of as much as +/ -5%, and typically +/ -3% compounded by the electoral college system makes all of these opinion polls unreliable in trying to determine the US election outcome, therefore this analysis is focused on key events that impact on determining a probable forecast for the US presidential election 2012.
The time-line of key events begins with Romney's infamous own goal 47% video that resulted in a near collapse of Romney's poll ratings which set the scene for a virtual walk in the park re-election for President Obama who had always been the favourite, as long as he did not make the mistake of taking the voters for granted.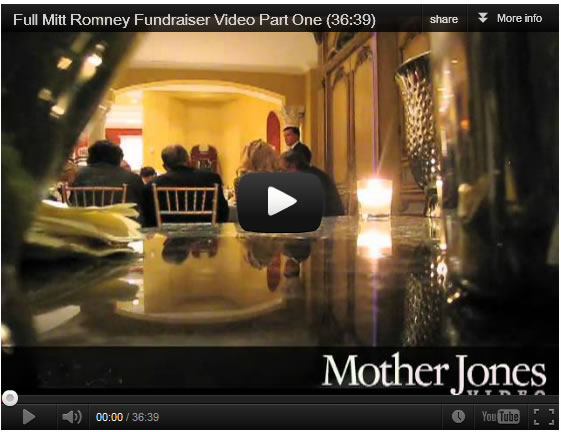 "There are 47 percent of the people who will vote for the president no matter what. All right, there are 47 percent who are with him, who are dependent upon government, who believe that they are victims, who believe the government has a responsibility to care for them, who believe that they are entitled to health care, to food, to housing, to you name it. That, that's an entitlement. And the government should give it to them. And they will vote for this president no matter what."
3rd October - Romney Wins the First Presidential Debate
President Obama turned out to be his worst enemy by following what was clearly disastrous advice and handing Romney a decisive win and an actual chance at the White House as polls started to narrow.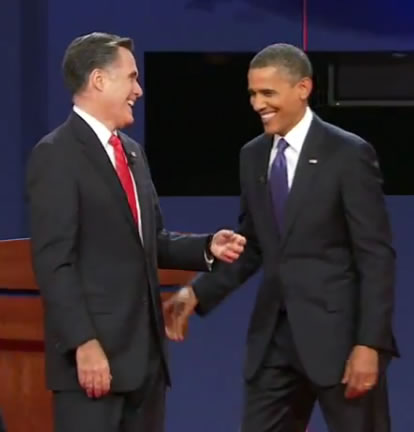 6th October - US Employment Rescue, Obama reelection virtually guaranteed
If there is one issue that ranks highest amongst most of the electorate than that would be Jobs. Therefore Obama averted possible election disaster by the BLS publishing a highly favourable employment report for September that showed the US unemployment rate falling below 8% to 7.8% for the first time in some 45 months, against which Romney was left to make statements that did not stand up to scrutiny as the below unemployment record graph shows that there was little Romney could say that could counter Obama's Jobs performance that followed the Bush economic disaster.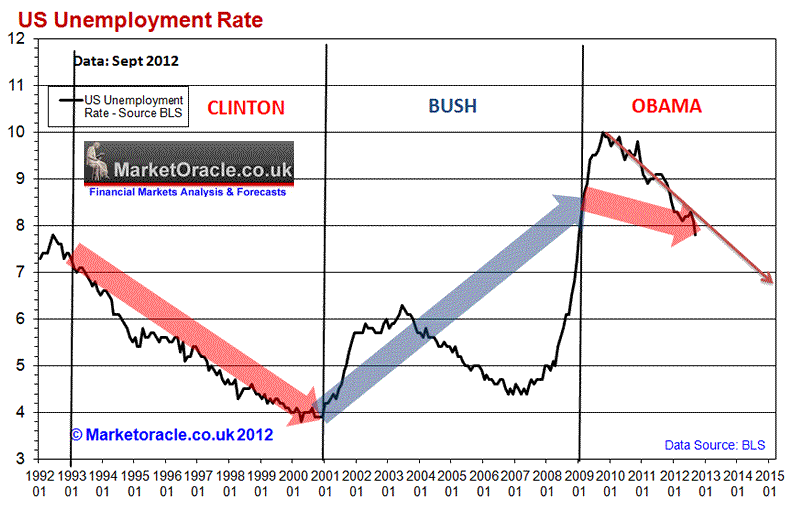 The unemployment data halted the momentum that had been building following the first debate. This led me to conclude at the time that rather than the race being as tight as the mainstream pundits were suggesting as they mistakenly were extrapolating the Romney momentum all the way into election day, and despite two debates pending, President Obama was still heading for a relatively strong re-election victory of over 300 electoral votes (270 needed to win) as I correctly concluded the Romney momentum had ended, and that it had never actually seen Romney take an actual lead over Obama at any point.
06 Oct 2012 - High U.S. Unemployment Rate, Obama Failure or Bush Catastrophe for Romney to Continue?
Therefore many american's may be surprised on election night when the results start coming in that point to a relatively strong Obama election win of more than 300 Electoral votes.
Can October Jobs Report Help Romney?
The October Jobs report is due just 4 days before the election (November 2nd), if it is very bad then yes it could help Romney, just as a good jobs report helped Obama. But the election momentum continues in Obama's as is the overall down-trend in the official unemployment data.
However as my analysis of 6th October stated, the trend in US unemployment is likely to rise into mid 2013, this is due to the level of corruptness in reported employment statistics against real US unemployment (U6) that the below graph illustrates -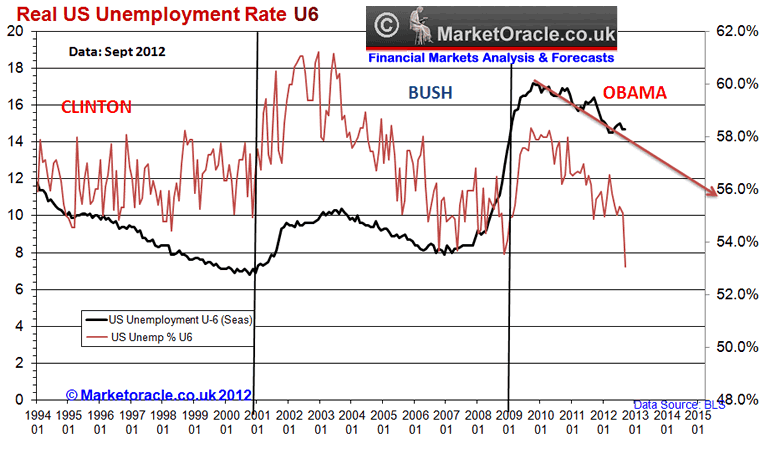 An analysis of the rate of corruption suggests that
a. the Bush regime during the last 3 years of it's Presidency was engaged in maximising the level of corruption in the official unemployment statistics.
b. That the Obama regime official statistics have in the lead up to the 2012 Election increasingly become more corrupt with the final statistics on par with that of the Bush regimes efforts in the lead up to the November 2008 election.
Therefore whilst the real rate of unemployment is reducing as both graphs exhibit a downtrend, the actual extent of the fall in unemployment is far less than the official statistics suggests, which luckily for Obama is that which most of the general population focuses upon.
Therefore probability favours a rise in the U.S. unemployment rate as will be reported on the Friday ahead of the Tuesday election. The big question mark is to what extent could that figure rise, Obama is hoping for a marginal rise to 7.9%, and Romney for a rate at above 8%, my expectation is for a marginal rise to 7.9% under the basis that the U.S. economy continues to bounce into election as evidenced by latest GDP data of 2% per annum.
16nd October - Aggressive Obama Wins 2nd Presidential debate.
Obama sought to avert a reply of the disaster of the first debate and in so doing put the poll trajectory back in his favour as the gap between Romney and Obama once more starts to widen.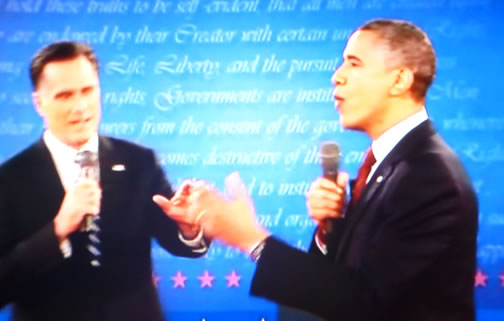 22nd October - Third Presidential Election Debate - Romney's Failure.
Most viewers and commentators would give Obama a slight edge over Romney in the third and final debate, his last chance to build momentum, instead Romney tried hard to appear a man of peace after having made a string of statements in the past that alluded to an aggressive foreign policy and Obama focused on domestic reasons for why he should be re-elected. In fact the whole debate stands out for the continuous statements of agreement on subject after subject which ultimately favoured Obama and hence fed the trend for a widening in the gap between Obama and Romney. Therefore Romney blew his last chance towards building momentum so the strategy for agreeing with Obama was a mistake.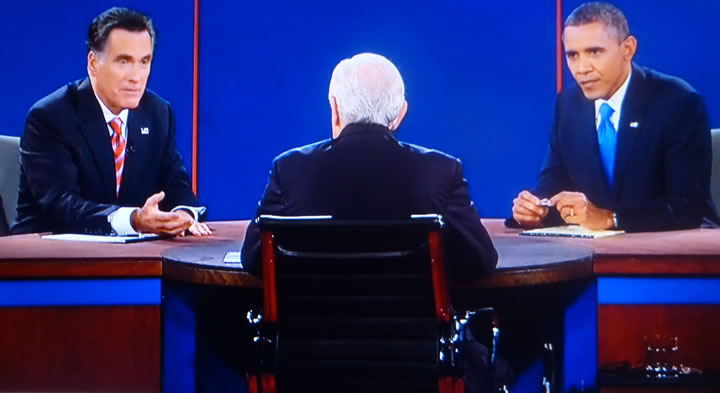 So whilst all eyes are on misleading highly erroneous opinion polls that give the illusion of a close race, and on which way Ohio goes, as things stand my forecast remains for President Obama to be re-elected on November 6th with the probability favouring more than 300 electoral votes i.e. there has been no net change since the release of September jobs report as the trend continues to build towards Obama increasing the real events based gap between himself and Mitt Romney by election day, enough to push through the 300 barrier, with or without Ohio and even a bad October Jobs report of a rate above 8% (I expect 7.9%), will not have enough time behind it to create enough momentum to make much impact at such a late stage.
The bottom line is that Romney failed to re-ignite the momentum that built up following he first debate that was halted by the 6th October Unemployment report, instead his performance during subsequent debates has been weaker than Obama's and therefore the election really was lost by Mitt Romney during mid September following the 47% video, which crippled his chance of ever taking the lead as I correctly suggested at the time (19 Sep 2012 - The Day Mitt Romney Lost the U.S. Presidential Election 2012, Youtube Fund Raising Video).
Source: http://www.marketoracle.co.uk/Article37226.html
By Nadeem Walayat
Copyright © 2005-2012 Marketoracle.co.uk (Market Oracle Ltd). All rights reserved.
Nadeem Walayat has over 25 years experience of trading derivatives, portfolio management and analysing the financial markets, including one of few who both anticipated and Beat the 1987 Crash. Nadeem's forward looking analysis focuses on UK inflation, economy, interest rates and housing market. He is the author of three ebook's - The Inflation Mega-Trend; The Interest Rate Mega-Trend and The Stocks Stealth Bull Market Update 2011 that can be downloaded for Free.
Nadeem is the Editor of The Market Oracle, a FREE Daily Financial Markets Analysis & Forecasting online publication that presents in-depth analysis from over 600 experienced analysts on a range of views of the probable direction of the financial markets, thus enabling our readers to arrive at an informed opinion on future market direction. http://www.marketoracle.co.uk
Disclaimer: The above is a matter of opinion provided for general information purposes only and is not intended as investment advice. Information and analysis above are derived from sources and utilising methods believed to be reliable, but we cannot accept responsibility for any trading losses you may incur as a result of this analysis. Individuals should consult with their personal financial advisors before engaging in any trading activities.
© 2005-2022 http://www.MarketOracle.co.uk - The Market Oracle is a FREE Daily Financial Markets Analysis & Forecasting online publication.
Comments
Steve_F
29 Oct 12, 07:53
Micky Mouse Can Beat Obama


I can't disagree with you strongly enough...current polling has skewed democrat party representation by as high as 9 percentage point differential and as low as 4%. The difference in polling population statistics means a weighted skewing of numbers in favor of Obama.

Yet, the real story continues to go unreported: The Opposition is motivated and will turn out in higher numbers than the 2008 election numbers being used as the baseline for current polls. Furthermore, the 2010 election results were not a fluke, and turnout will probably be higher than estimated, because more people, today, are against Obama's policies than they were in 2010.

I've been saying for well over a year that Obama is done. Mickey Mouse could beat the guy. Get real.

Steven F.



JohnyLo
29 Oct 12, 08:56
More wishfull thinking than good analysis...


I must confess my disappointment with this analysis.

I am well aware of how jealous folks around the world are of the USA, in particular Europe where socialist policies have resulted in complete and utter failure of economies and total corruption by individuals, bankers and governments at all levels (local, national and EU). Nothing would please Europe more than to see America fail and the way to materialize that failure is through another 4 years of the Obama marxist class warfare agenda. Obama is only too happy to shift the balance of power to the UN and its slimmy banana republics.

What surprises me i this analysis it how much of it is actually your wishfull thinking, rather than the usual well thought out data based analystics.

The Obama administration is failure in motion, from the czars that control public policy and regulations, to the State Department that is cutting deals with the enemy, to an Energy Dept that works agains the needs of the population, to an education dept that is more interested in pushing politics starting in grade 4 and 5, to their control of the media to push all sorts of propaganda as if it were reality, to the criminal fraudulent unions that work with the government to find ways to get dead people to vote in Chicago, Boston, Philly, Washington, NYC, LA, etc...

The Obama administration tag line 'forward' is a perfect analogy to what they are doing. Put blinders on people, aim them in the direction of a small group of wealthy people and declare them to be the enemy. All whilst it is the Obama administration that is reaching in people's back pockets and robbing them blind. Perfect scam relying on redirect of attention. In the meantime, pay people off with more and more benefits. Every person being paied beenfits also comes off the roles of hose willing to work and that helps the unemployement #s. Multiple millions of people suddenly realized they can go on federal government ddisability.

The obama administration is perpetrating treason against the US. This is what history will show.

For sake of the USA and the last bastion of free thinking and free markets (even with its flaws) I will vote for Romney and look forward to a total and definitive defeat of the anti-America, anti-free speech, anti-entrepeneurship, anti-freedom movement of the marxists obamaites.



Nadeem_Walayat
29 Oct 12, 09:17
Election Data


Hi

The purpose of this article is to arrive at the most probable outcome, if I thought a Romney win was more probable I would have stated so.

The only data has been the October 6th Unemployment report and the recent GDP data, both Obama positive.

The rest is sentitment on the basis of debates performance.

The truth is Obama vs Romney will make LITTLE difference as a close look at the republican regimes actions vs rheteroic of the past 30 years illustrates.

Afterall it was Reganomics that set the train wreck in motion.

A Romney presidency would end with the same debt dynamics as a Obama presidency. The same holds true for the UK, which I warned in June 2010 that the Coaltion would not cut the deficit or debt and instead result in near exactly the same debt dynamics of Labour had won, and so it is coming to pass.

Best

NW



despe906
30 Oct 12, 20:33
America vs the rest


"I am well aware of how jealous folks around the world are of the USA".

Yes we are jealous. Despite the fact that:

The best cars come from Italy

The best wine comes from France

The best music comes from UK

The best machinery comes from Germany

The best computers come from Taiwan

The best cameras come from Japan

The best vodka comes from Russia

and that Europeans are the most educated people in the world

while USA has to offer :

Wars all over the globe

Dell computers and monitors with blown capacitors

HP laptops with faulty motherboards

Coca Cola

Ugly and talentless Lady Gaga

Microsoft

Sitcoms and popcorn

Moon landing made in Hollywood

PS

Hurricane Sandy is helping Obama re-election.



Forrest_Lane
01 Nov 12, 18:39
American Political Circus


Yes, on the one hand the show that is going on in the US at the moment while being pompously sold as the 2012 presidential election can be summarized in this brief piece of political satire in rhymes:

Welcome To The Circus

Hey, folks everywhere,

Do you see flashing spotlights?

Bread and circuses are all you need,

Is that right? Forget all your reason,

Join the show's new season. Don't dawdle -

It will be sold-out tonight

The house is all gaudy

Tightly packed with the herd

Docile, if not happy, not giving the bird

But pensively choosing between

The two options - between

A giant douche and a sandwich with turd

The lights here are brightest

But it's hard to distinguish

Those two little puppets jerking on stage

Both lie as they breath in the deadliest contest

To seize for a fortnight

The lead role in a cage

Their attires fit them nicely

The crowd is happy

No one seems to regard the question of springs

But for both the clowns NASCAR suits would

Be better - so that it could be seen

Who are pooling the strings

On the other hand, if it's true that two major factions of the financial elite which is behind these clowns have recently split up over the question of regional currency areas, each one supports its own candidate, and their agendas in respect of this critical issue prove to be different, the implications of the ongoing pantomime may be more serious than it seems.




Only logged in users are allowed to post comments.
Register/ Log in