US Heading for 1970's Style Stagflation?
Economics
/
Stagflation
Feb 23, 2008 - 09:21 AM GMT


On Thursday, February 21, articles about the possibility of stagflation occurred in both The New York Times ( That '70s Look: Stagflation ) and The Wall Street Journal ( Fears of Stagflation Return As Price Increases Gain Pace ). Are we about to be subjected to a rerun of "That '70s Show"?


My bet is that if you rummaged through the archives of the financial media, you would almost always find articles warning about the prospects for stagflation, or whatever it was called prior to the 1970s, at this stage of the business cycle - the early months of a recession. Chart 1 shows that inflation is a lagging economic variable. That is, first , real GDP growth slows and later , inflation peaks. Perhaps this is why the Conference Board has chosen to put inflation-related variables - the CPI for services and unit labor costs for manufacturing - in its index of Lagging Economic Indicators rather than its Leading or Coincident Indicators.
Chart 1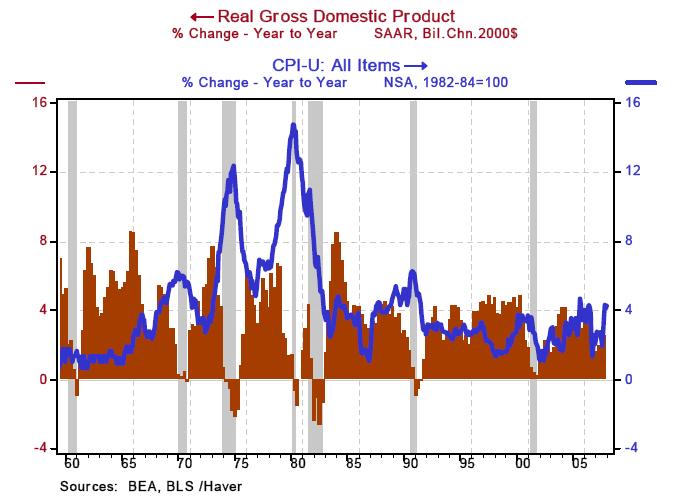 But is the current stagflation of the same type as that of the 1970s? I think not. As Chart 2 shows, in the mid and late 1970s and early 1980s, there were sharp contractions in the global production of crude oil. Although there was a small contraction in crude oil production in 2006 (the latest complete annual data available), this contraction paled in comparison to that of earlier periods. Crude oil, just like labor, is necessary for the production of goods and services. When there is an abrupt and severe contraction in the production of crude oil, there also is likely to be a contraction in real GDP. The price of oil will rise sharply and, in the short run, this will cause the rate of increase in general price indices, such as the CPI, to accelerate. Hence, stagflation. To reiterate, currently, oil producers are not radically contracting output, if at all, as they did in the mid 1970s, late 1970s and early 1980s.
Chart 2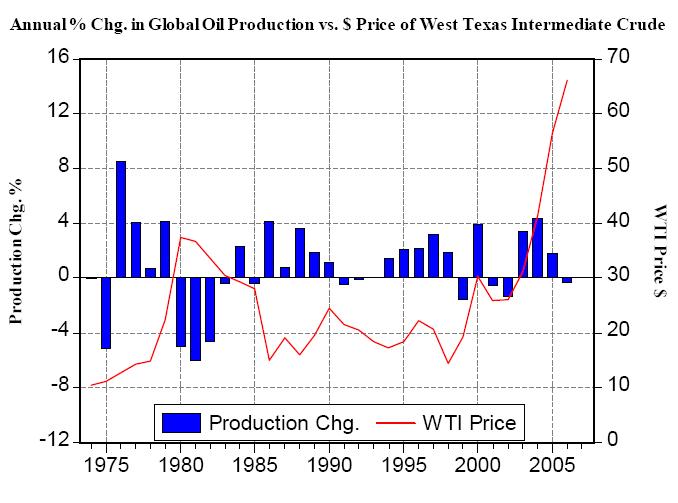 Back in the 1970s and early 1980s, labor unions were much more powerful than they are today. Cost-of-living wage increases were the rule. Now, they are the exception. So, one might hypothesize that labor cost-push inflation was more likely in the 1970s and early 1980s than is today. If so, unit labor cost growth would have been much faster in the 1970s and early 1980s than today. Chart 3 bears this out.
Chart 3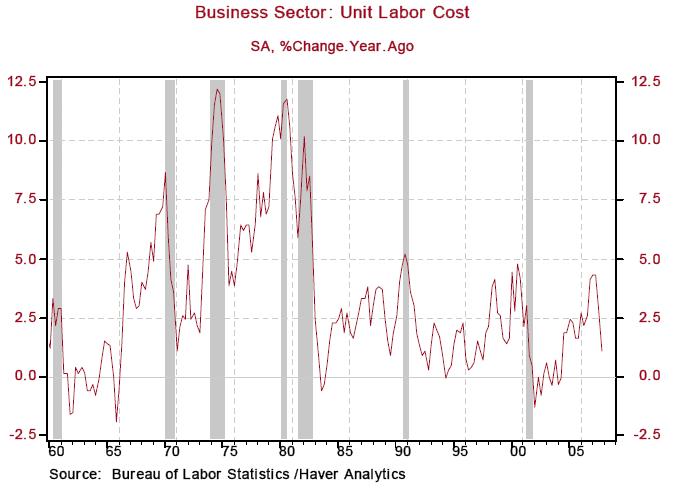 In sum, I believe that talk of the U.S. economy entering a 1970s-type stagflation now is premature. Rather, this looks like a regular run-of-the-mill end-of-cycle type of stagflation. Now, if the dollar were to go into a steep descent, it is possible that oil producers would sharply cut back their output in order to raise the dollar price of oil in order to compensate for the declining purchasing power of a barrel of oil due to dollar depreciation. But we are not there yet.
By Paul L. Kasriel
The Northern Trust Company
Economic Research Department - Daily Global Commentary
Copyright © 2007 Paul Kasriel
Paul joined the economic research unit of The Northern Trust Company in 1986 as Vice President and Economist, being named Senior Vice President and Director of Economic Research in 2000. His economic and interest rate forecasts are used both internally and by clients. The accuracy of the Economic Research Department's forecasts has consistently been highly-ranked in the Blue Chip survey of about 50 forecasters over the years. To that point, Paul received the prestigious 2006 Lawrence R. Klein Award for having the most accurate economic forecast among the Blue Chip survey participants for the years 2002 through 2005.
The opinions expressed herein are those of the author and do not necessarily represent the views of The Northern Trust Company. The Northern Trust Company does not warrant the accuracy or completeness of information contained herein, such information is subject to change and is not intended to influence your investment decisions.
© 2005-2019 http://www.MarketOracle.co.uk - The Market Oracle is a FREE Daily Financial Markets Analysis & Forecasting online publication.
Comments
Peter Gribble
31 May 08, 00:10
Commodities Pricing


Surely the price of any commodity is fundamentally related to, not just production and thus supply, but also the level of demand. With the advent of the BRIC countries, supply is not keeping pace with the yearly percent increase in growth in demand. Maybe there is a similar ratio contraction between these variables as there was in the 70's.




Only logged in users are allowed to post comments.
Register/ Log in