Massive Global Gold Price Manipulation Exposed
Commodities
/
Gold and Silver 2013
Feb 21, 2013 - 03:51 PM GMT


Most of the articles I read on gold and silver week after week claim the author's analysis is correct, and the market prices are wrong (sure this must make sense to them but I don't quiet follow)! They claim this divergence is because the market is manipulated – hence over the last 6 months I have been on a quest to find out who is manipulating gold and silver. It would appear my journey to discover who is responsible for this Mass Manipulation of Gold is over!
So last October I started my investigation, and in November after a huge amount of research and analysis I published Why Gold Price Will NOT Break Above 1803 – MAP WAVE Analysis. After extensive underground meetings and discussions with those behind the manipulation of gold, and throwing in a bit of analysis here and there I came to the following conclusion "Essentially we need another high a minimum of 1795.84 and maximum 1802.92 before gold can continue forming a base for when confidence in the governments' ability to deal with the sovereign debt crisis reaches its tipping point (pivot) Q5 on Y3. The timing is pointing to as early as next year to as late as March 2015."
By the end of November word had got out that I was on a mission to expose this whole dirty business being implemented by the gold manipulators. This resulted in two short unexpected moves in the price of gold! By the 28th November it was clear that the market was being manipulated against what I had published! So, being persistent, I traced down the perpetrator and published an update to keep everyone in the loop of what those manipulators were up to now.
28 Nov 12, 09:33

GOLD - time to panic?

For explanation and latest update just posted

http://mapportunity.wordpress.com/2012/11/28/gold-the-importance-of-rules-what-went-wrong-and-does-it-matter/

Marc
Then by the 4 December they were up to it again, and investigations led to the following conclusion communicated:
maphorn
04 Dec 12, 08:49

Gold bugs to be disappointed!

Todays break led to yet another reanalysis as per my update emailed to my blog followers, which means the retest is a few years way. New lows first!

My mistake can easily be seen retrospectively on the weekly chart above where pivots D3 and D4 are in fact W3 and W4, hence W3 shown is M-4.

for full details and hourly reanalysis see

http://mapportunity.wordpress.com/2012/12/04/gold-long-term-downtrend-to-new-lows-before-retest/
After this, and numerous further meetings on dark corners around the world, the manipulators have been much more open and true to their word with the information they passed on.
The more recent encounters resulting in the following communications, where the manipulators gave away far more information of their plans as ever before! That is one advantage where over time trust and understanding develop resulting in better interpretation of how these manipulators work and try to give you misleading information.
maphorn
26 Jan 13, 20:26

Gold Summer target $1400

Gold has been continuing its trend as projected.

For updated analysis see latest blog post

http://mapportunity.wordpress.com/2013/01/26/gold-update-24-january-2013/

Marc
Many posting here were providing wonderful examples of bull flags and cups of tea patterns and God knows what else! If they would only look at what they posted last week maybe they might realise what I did – how powerful the manipulators actually are in driving markets in whatever direction they so choose!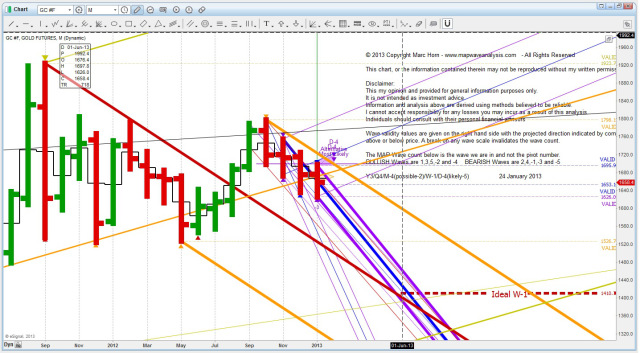 The manipulators gave me a rare bit of information of their intent here which is quoted from the above post "What you can clearly see on this tick is how the orange up sloping ML was tested and bounced, then broken and bounced, and generally on the third attempt the break will come! A monthly close below this line is extremely bearish after this behaviour!"
Then sure enough the fireworks started! Many early morning meetings in dingy corners were rather enlightening as to how they work but the information they were passing on as to their plans was fascinating. The following communication was from the 13th February "Also if with gold if $1640 does not hold then expect a rapid drop to $1610 by the 17th!"
The information they were passing on to me by this point was getting pretty good! On the 14th February:
Tomorrow gold should test 1626 and then take a breather around 1605 to 1610 as per yesterdays note. A close above the blue triangle confirms c-3 as shown below.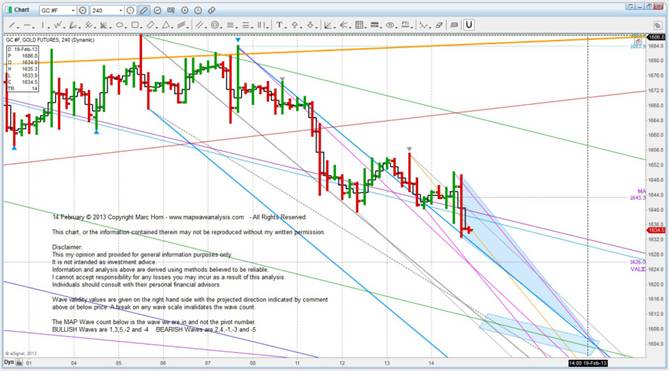 Following yesterday's meeting:
For those of you who have enjoyed this drop in gold and silver below is what the current projection shows for gold. A possible test of 1550 before the end of the month!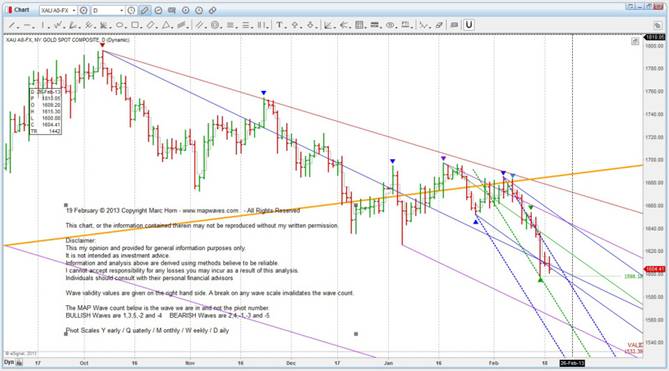 So after this terrific opportunity to get behind the scenes first hand with the gold manipulators the following became blatantly clear to me –
The gold bugs analysis IS AND MUST BE CORRECT. The prices are wrong and the market is totally manipulated to where the boundary between reality and dreamland is totally obscured and indistinguishable where the gold bug analysis IS correct, is correct..... say it often enough and you will believe it!
So who really is the manipulator – all the brainwashers, eg GOLD BUGS, REAL MONEY NONSENSE BANKERS INVETING AND
Gold is NOT a hedge against inflation see Martin Armstrong chart below. Click on the picture to goto source article for much better explanations and detail but the bottom chart is gold relative to a standard basket of currencies! Does not look very flat to me!!!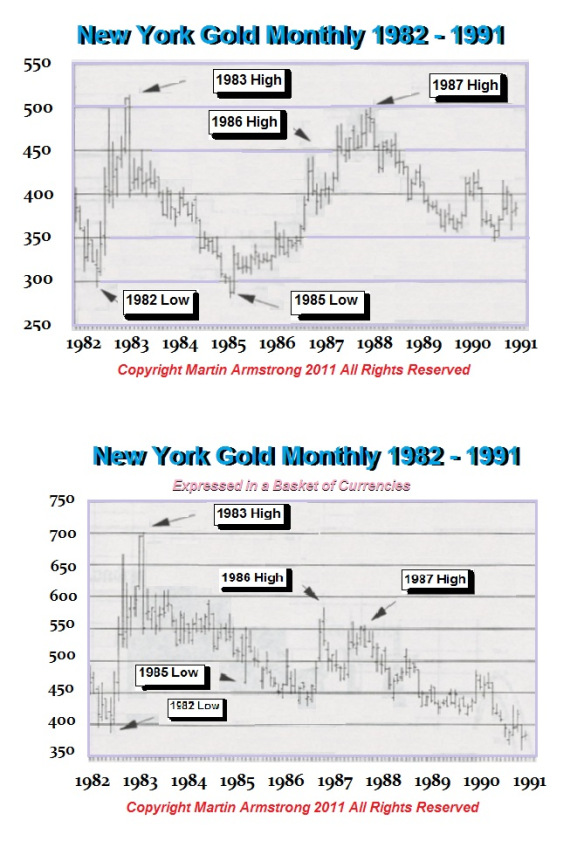 WAREHOUSING – etc...... GOVERNMENTS....... etc...... Gold is just a commodity like ANTHING ELSE. If someone can make a buck out of you they will!!!!!
So top your repetitive behaviour that allows them to profit from your predictability. ONLY YOU CAN CAHNGE.
The biggest manipulator of them all – WESTERN GOVERNMENTS – why? Gold historically is a hedge against FAILING government – they know this!!!! Don't forget that they go through the select route of education etc! They have studied history and do not come from the "keep them dumb and obedient" state education sector.
They know that if there was a gold standard then there WOULD AUTOMATICALLY BE CONTROL OVER THEIR SPENDING. So get real – they will commit suicide before that happens!
They know that gold historically is a compact, transportable store of wealth over a short period.
They know that gold often forms the basis of barter and trade.
These 2 last points are the reason the laws have been aggressively changed to know who has what and the heavy restrictions involving cash and purchase limits on gold and now even on gold producers!
The western governments know they system will implode – just got to make sure you screw every last ounce out of people. Watch out for Japan style stock market growth as capital from Japan and Europe flows into the US, being the best of a bad bunch!
MAP Wave Analysis, unlike Elliot Wave and Andrews Pitchforks are a systematic methodical rule based approach, details of which can be found either on my blog or here on The Market Oracle and data is archived and updated in a format that is traceable as shown in this SPX update, so that the system can be improved and used as a learning model. Additionally investors can evaluate its effectiveness when making investment decisions.
Click here to follow your duty of Use and copyright is described therein.:
Probabilities are derived from the MAP Analysis methodology described therein,
Click follow on my blog to receive regular FREE market updates and discussion.
For other articles published click here
For more information of how I do what I do http://mapportunity.wordpress.com/ . Comments and discussions very welcome! The statements, opinions and analyses presented in this site are provided as educational and general information only. Opinions, estimates, buy and sell signals, and probabilities expressed herein constitute the judgment of the author as of the date indicated and are subject to change without notice. Nothing contained in this site is intended to be, nor shall it be construed as, investment advice, nor is it to be relied upon in making any investment or other decision. Prior to making any investment decision, you are advised to consult with your broker, investment advisor or other appropriate tax or financial professional to determine the suitability of any investment.
© 2013 Copyright Marc Horn - All Rights Reserved Disclaimer: The above is a matter of opinion provided for general information purposes only and is not intended as investment advice. Information and analysis above are derived from sources and utilising methods believed to be reliable, but we cannot accept responsibility for any losses you may incur as a result of this analysis. Individuals should consult with their personal financial advisors.
© 2005-2019 http://www.MarketOracle.co.uk - The Market Oracle is a FREE Daily Financial Markets Analysis & Forecasting online publication.
Comments
maphorn
05 Aug 13, 21:37
Gold and Silver to bottom this Week


With the risk on trade gold and silver are set up to make M-3 this week in line with the markets topping.

Confirmation is a new low.

Failure to make a new low will confirm the previous low as M-3 and the coming low as W2.

Either way the low will be followed by a sideways correction into 2014 max $1400 prior to it final projected low in Q3 2015 to between $400-$700

Marc



maphorn
20 Nov 13, 18:43
Gold set to challenge lows towards end of year - MWA


Gold has continued to follow its projected path of the monthly chart above.

Failure to hold $1300 before the end of this year will confirm whispers on the street that gold will be challenging its June lows by end of January 2014.

Shorter term a drop to $1230 before the end of November is expected.

PLEASE NOTE LINK TO BLOG http:\mapwaves.com



maphorn
02 Dec 13, 10:19
Gold Target Hit.


Gold to test 1260 resistance before new lows.

It needs to consolidate this week to mid next week before resuming it journey to new lows towards year end continuing it's Monthly bear market into 2015.

I will update my analysis before Friday.

PLEASE NOTE LINK TO BLOG http:\mapwaves.com

MWA - Target hit - Gold to test 1260 resistance before new lows



maphorn
05 Dec 13, 15:23
Gold Short Squeeze Over


We did not quiet hit 1260, and not looking too good for bulls.

The tree is being shaken and we need a lot more bulls to fall out before the next leg of the bull market can begin off the 1973 low - quarterly wave 5.... currently still projected into mid / late 2015. When the home page here reads .... gold bad investment..... that is when the bottom is near.

Together with a rising dollar should be a rather good investment for a few years!

Unfortunately I am on my way back to India so no update, other than expect new lows as previously said towards the end of the year, but most likely before Christmas.

And for those of you in stocks it looks like the coming high is optimistically W3, but highly probable that it is M3, either way there will be a good 3 to 6 month correction depending on the wave scale.

PLEASE NOTE LINK TO BLOG http:\mapwaves.com

Marc



maphorn
20 Dec 13, 21:05
New Gold lows before year end - MWA


Gold as projected by MAP Wave Analysis on the 20th November above is heading for new lows before year end.

As described in profiting from peoples predictable behaviour I would just add another very important behavioural trait - the pendulum must swing to the extreme before it changes trend - i.e. the majority MUST be wrong! So this weeks most popular articles covering gold 3 are bullish, 1 bearish, 1 mixed so we are still nowhere near the bottom in gold prices!

When all the articles are bearish and everyone is telling you gold is a bad investment - that is the time the next bull market will start!

Merry Christmas to all who celebrate!

http:\mapwaves.com




Only logged in users are allowed to post comments.
Register/ Log in