Natural Gas Does Not Explain Ukraine, EU / Russia Sabre Rattling
Politics
/
Natural Gas
Mar 12, 2014 - 12:44 PM GMT


The Fragile Argument
The prospects of the EU, backed or incited by the USA declaring a "gas war" with Russia over the Ukraine crisis are now very high. EU and US action inside Ukraine includes actively fomenting civil strife, even civil war between west and east Ukraine through giving full and total Western support to the "Euro-maidan" flash mob protest revolt of Kiev and its totally unelected political leaders, who will certainly reject the certain yes result of a referendum vote in Crimea on re-attaching Crimea to Russia. This opens up the real prospect of retaliation by Russia, firstly economic, then military.
The main pretext used by EU and US politicians is "energy security for Europe", in fact mainly gas. The facts of the matter are that in 2011, using Eurostat data, natural gas covered about 24% of EU energy demand and about 30% of this gas (covering 7.2% of EU energy demand) came from Russia. Although still high at about 66% of all Russian gas shipped to Europe transiting through Ukraine (covering 4.8% of EU energy demand), the percentage is falling and will be at or around 50% by 2017. At least as important, the high times for gas in Europe are already well-dated, in fact outdated, like the two key claims that Ukraine is a vital corridor country for European gas supplies, and gas supplies are a vital part of Europe's economic security and potential for economic recovery. The "gas theory" for EU-Russia geopolitical struggle is very weak.
Eurostat data on EU27 (after 2012, EU28) gas consumption in Terajoules is shown below.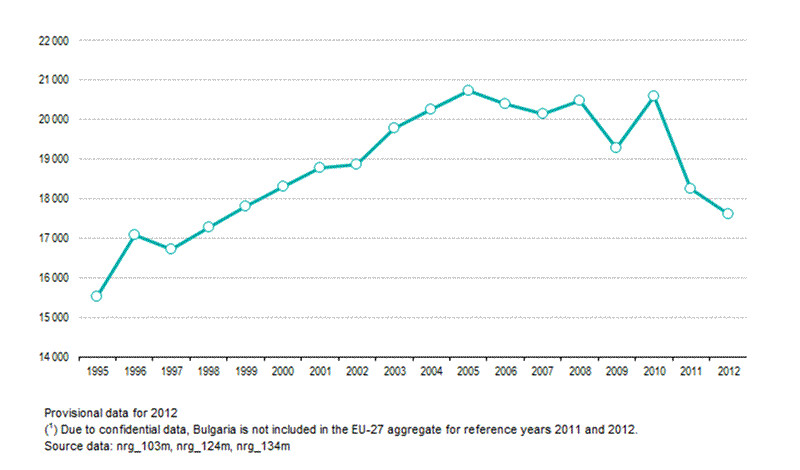 Declining EU gas demand is "hard baked into the energy pie" and continuing, for a large number of convergent economic and energy-economic reasons, but Western media and news reports are presently filled with energy-dominated, energy-obsessed lists of purported reasons why the territorial integrity of the Ukraine "is vital to Europe", and therefore a reason to take "tough action" against Putin. This now features fomenting political resistance to Russia inside Ukraine despite the massive risks of Russian retaliation – both economic and military.
The geographical location and position of Ukraine and its gas pipeline history, or rather gas folk history, are distorted to justify the political theater of calling Ukraine a "geopolitical linchpin". The typical hit list of rationales is as follows:
1. Gas (and oil) energy dependence of Europe on Russia
2. Transport routes – almost exclusively for gas – that heavily depend on Ukraine
3. Threatened political-military control of this energy transport "chokepoint" by Russia
4. Western support to European-oriented Ukrainians opposing Russia bringing the prospect of war-time conditions emerging, making EU energy independence from Russia vital.
For hard-to-understand reasons and at least to date, Western media and politicians make almost no reference to European dependence on Russian oil exports, which according to Eurostat, in 2012 covered almost the same amount of imported energy, as EU gas imports from Russia. About 32% of EU28 oil consumption is covered by the approximate 3.65 million barrels per day of Russian oil exported to Europe. The role of Ukraine in Russian oil exports to Europe is however very low - less than 5% of these Russian oil exports pass through Ukraine or are re-exported from Ukraine.
To be sure, Western incitation of "Euro Maidan" Kiev-based forces in west Ukraine to use military force resisting Russia, or attack Russophones and Russian sympathizers in east Ukraine, is likely to succeed in creating serious civil disturbance. Putin may at any time "use the oil weapon". Oil supply cutoff to Europe, we can suggest, would have a significantly larger impact on EU economic stability. One reason is because world oil prices, therefore EU import prices will increase radically and very fast in the event of Putin cutting oil supply to Europe. Gas prices are less likely to increase to the same extent, or as fast, when or if Putin calls a gas embargo against Europe. One neglected reason for this is the simple fact that EU gas demand is falling even faster than its oil demand and that we are now close to the end of the winter heating season's gas demand bulge.
European Energy Security
In no way ever stated as the prime driver for increasing EU energy security – levered by increased domestic European production, lower energy consumption, or both – high energy prices play a fundamental role. Europe's energy prices today are among the highest in the world.
High energy prices and their equivalent of subsidies for energy production and tax penalties on consumption (for example through "carbon taxes"), have in much less than 10 years had a dramatic impact on Europe's energy sector, in particular on renewable energy production and national car fleet energy consumption, as well as driving down industrial energy demand, and driving energy-intensive industries out of Europe. Natural gas has been one of the big losers, despite carbon emissions (and other pollutants) per unit of electricity produced from gas being far lower than for coal or oil, and gas being an excellent transport fuel alternative to oil
"Carbon-correct, energy-lean" is now a policy by-line and slogan in EU member states, but the policy and its programs are way past their "best by" date, resulting for example in member state policies on shale gas and shale oil fracking now being "in flux", heavily disputed and undecided, and highly variable from country to country. Accumulated impacts of these policies and programs – apart from depressing energy demand - are basically uncharted, especially concerning the concrete issue of Russian gas, Ukraine and the Crimea. As one example, trend rates of decline of natural gas demand in some EU states (for example UK) from about 2006, and at latest 2009 in other EU states are such that a 25% reduction in national gas demand could be attained in the 3 to 4 years through 2014-2017. In such case, Russian gas could be rather easily eliminated, but this is very unlikely.
Usually neglected, the highly speculative development of LNG supplies to Europe, despite its very high investment costs and the high risk of falling gas demand and cheaper pipeline gas in Europe has moved very fast in several major countries. National LNG import terminal and local pipeline building has been so rapid in some countries, for example France, that national total LNG import capacity, if all terminals were used at maximum capacity, is now close to total national gas demand. Global trends for LNG supply and prices are impossible to forecast, but as shown by the USA's first major LNG export terminal (Cheniere Energy, Sabine Pass), which starts operating end-2015, price only decides gas destination – Cheniere's export terminal has contracted all forward supply to Asian importers, due to higher gas prices in Asia than Europe.
The probable outlook for world and regional gas is falling LNG prices and pipeline gas prices, which for Asia and Europe will have dramatic impacts. One will be Gazprom of Russia's attempt to keep market share in Europe by cutting prices – making a "gas war" with Russia all the more unrelated and unsynchronized with global gas trends. Rapidly and radically compressing Russian gas consumption in Europe can prevent or slow the coming global trend to cheaper LNG, and encourage Europe's two other major pipeline suppliers – Norway and Algeria – to maintain high prices. As already noted, high gas prices in Europe, although lower than Asian gas prices are an active driver of the trend to declining total gas demand in Europe.
Energy and Trade Security
Basically there is no such thing as "energy security" when energy is considered as what it is – a trade good. Embargoes on Russian exports of energy to Europe, which would have a short-term devastating economic impact in Europe, are no more rational than Russia setting an embargo on European exports to Russia of Mercedes cars, French food and wines or British financial services, due to this being lose-lose, and in any case penalised by the WTO.
EU "energy security" action against Russia, backed and incited by the US, is a flagrant and basic case of trade protectionism.
Europe's policy of very high-priced energy can itself be considered as disguised protectionism, artificially raising domestic energy production in Europe to deny foreign suppliers access to the European energy market with their lower-cost, lower-priced energy supply. Europe's de facto "anti-gas" energy policy, claimed as not only providing "energy security" but also "protecting the climate", has as noted above already led to a long-term trend of falling gas demand in Europe. This comes at a time in global gas E&P (exploration and production), and gas transport development of both pipelines and LNG, which will cause a major increase in world gas supply with an inevitable downward pressure on prices. Taking action to cut EU dependence on Russian gas, or any other gas, is totally unrelated to real world energy development and energy price trends.
We therefore find there is no credible strong case for the "gas war theory" to explain the Western political attempts at fomenting civil war inside Ukraine, and provoking open EU-Russia conflict at a high level, which can include military action. We are forced to conclude this is a flagrant case of political atavism, or the desire for social strife and war, operated by EU and US politicians against a target – Putin's Russia - that can hit back very, very hard.
By Andrew McKillop
Contact: xtran9@gmail.com
Former chief policy analyst, Division A Policy, DG XVII Energy, European Commission. Andrew McKillop Biographic Highlights
Co-author 'The Doomsday Machine', Palgrave Macmillan USA, 2012
Andrew McKillop has more than 30 years experience in the energy, economic and finance domains. Trained at London UK's University College, he has had specially long experience of energy policy, project administration and the development and financing of alternate energy. This included his role of in-house Expert on Policy and Programming at the DG XVII-Energy of the European Commission, Director of Information of the OAPEC technology transfer subsidiary, AREC and researcher for UN agencies including the ILO.
© 2014 Copyright Andrew McKillop - All Rights Reserved Disclaimer: The above is a matter of opinion provided for general information purposes only and is not intended as investment advice. Information and analysis above are derived from sources and utilising methods believed to be reliable, but we cannot accept responsibility for any losses you may incur as a result of this analysis. Individuals should consult with their personal financial advisor.
© 2005-2019 http://www.MarketOracle.co.uk - The Market Oracle is a FREE Daily Financial Markets Analysis & Forecasting online publication.

Only logged in users are allowed to post comments.
Register/ Log in