US Federal Budget Deficit Doubles as Fed Walks a Tightrope Against Inflation
Stock-Markets
/
Financial Markets
Apr 28, 2008 - 02:46 AM GMT


Do we have food shortages? Rice prices hit record highs in Thailand and in electronic trading of Chicago Board of Trade futures during Asian trading hours. This week's 5 percent jump in Thailand rice takes prices to $1,000 a ton, nearly triple their level at the start of the year, intensifying fears of social unrest in Asia .


Should we be concerned about this? "In the U.S. , I don't see food shortages," U.S. Treasury Secretary Henry Paulson told Reuters in an interview. "We have plenty of food in the U.S. The price of food has gone up, but again that won't be as significant for the average American as gasoline." The problem is that the beleaguered consumer has yet another threat bearing down on him. That is the rising cost of basic food staples, such as rice, wheat and corn.
What are the causes of food shortages ? Urbanization/industrialization, droughts in Australia and the American Southwest, incentives for farmers to raise beef, pork and poultry (due to higher demand and prices for the finished product), the use of corn in biofuels, rice growing countries stop exporting and "hot money" speculation. All of these things play a role in reducing the availability of those food products that are so important for daily living. This provokes hoarding, which causes panic and riots. The World's poor are affected the most, since food consumed a much larger proportion of their daily budget.
How are some consumers coping? A hardy few are turning their back (and sometimes front) yards into mini-farms . Fresh vegetables, anyone? Others are coping by loading up their pantries.
Deficits: Where they matter and where they don't.
Have you stood behind someone at the checkout counter and watched as their credit card has been rejected? This seem to be happening more often than one would expect as consumers have maxed out their credit cards and the finance companies have reduced credit lines that their customers can use. Not so in Washington , DC . The federal deficit has hit $311 billion for the first half of the fiscal year, up from $162 billion a year ago. Maybe Washington should have its credit rejected, too.
A rally to resistance…again.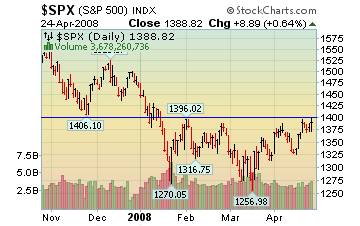 The stock market is staring to feel like Groundhog Day . But will the President's Working Group get it right this time? Massive Federal intervention was needed last week as Bank of America and Citigroup reported large and ongoing losses for a third consecutive quarter.
On Thursday, it was Microsoft Corporation that reported disappointing earnings.
The bond market is no "safe haven."
NEW YORK, April 24 ( Reuters ) - The U.S. 30-year long bond fell a full point on Thursday as a strengthening stock market outlook and unexpectedly strong data dimmed the allure of safe-haven Treasuries.
Meanwhile, Interest-rate derivatives are signaling that the rate banks charge for loans in dollars in London may rise further as financial institutions remain reluctant to lend.
The persistence of banks' need for cash and increase in Libor rates has triggered speculation that the Federal Reserve will increase, for the third time, the amount it loans through its Term Auction Facility, which is known as TAF. The Fed has auctioned a total of $360 billion in temporary funds through TAF since its debut in December. This month, both TAF auctions were for $50 billion each in 28-day loans. Remember when it was only $2 billion and the banks paid it back in 2 weeks? Times are changing!
The mood has shifted on gold.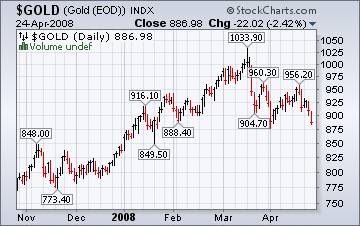 NEW YORK ( MarketWatch ) -- Gold futures ended sharply lower, as the rallying U.S. dollar and falling oil prices put heavy selling pressure on the precious metal.
The problem is, gold bulls can no longer count on sentiment to carry the market forward. The prevailing mood among gold timers has shifted away from skepticism that the bull market is alive and well, and towards one of belief.
That's not a good sign.
Economic headaches in Japan .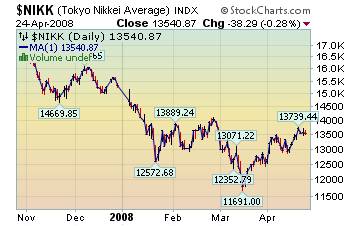 TOKYO ( AFP ) - Japan said Friday core inflation hit a fresh decade high of 1.2 percent in March on rising energy and food costs, creating a dilemma for the central bank with economic growth also slowing. Rising fuel and food costs are threatening to hit corporate profits and consumer confidence, but analysts see little prospect of an interest rate rise any time soon to tame inflation because of the poor health of the economy.
The Shanghai market is letting off a little pressure.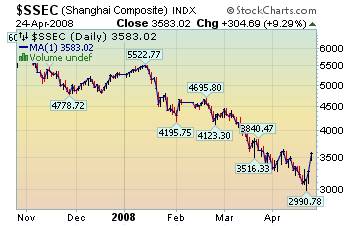 Stocks in China soared 9.3% Thursday as a reduction in the stamp duty heartened mainland investors and a rise in crude oil buoyed sentiment about commodity stocks.
late last year.
This may be nothing more than a technical bounce due to what are known as oversold pressures in the market. We will soon see if the rally has any staying power.
The dollar's gain and the Euro's pain.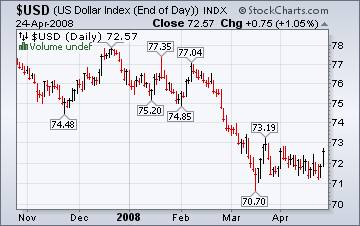 The euro fell the most against the dollar in three weeks after Luxembourg 's Finance Minister Jean- Claude Juncker signaled concern that the pace of the US currency's decline will take a toll on economic growth.
The odds that the Federal Reserve may not cut interest rates on April 30 are rising, due to a rising perception that the U.S. is weathering its housing slump. The turn in the dollar may have finally arrived.
Backlash against bailouts…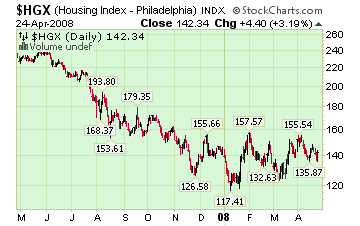 CNNMoney asks, " Why should American taxpayers have to pay to bailout reckless lenders and borrowers? Many CNNMoney.com readers agree, expressing outrage at the idea of seeing their taxes used to keep people in homes they never should have purchased.
There is much more commentary and analysis of the proposed bailout, such as this article .
When everyone agrees, look the other way for a change.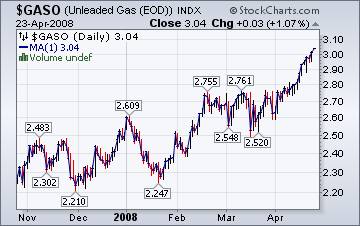 SAN FRANCISCO ( MarketWatch ) -- Surging crude prices, which could surpass $200 a barrel in four years on tight supplies, could push gasoline prices to as high as $7 a gallon, CIBC World Markets analysts said Thursday.
The Energy Information Administration's This Week In Petroleum tells us that US gasoline prices stayed above $3.50 for the first time this week, setting yet another all-time record of 350.8 cents per gallon.
Could we be at the top in Natural Gas?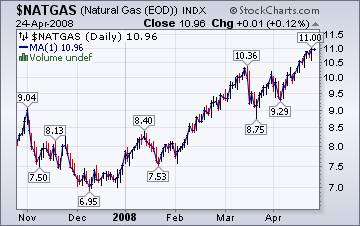 The Natural Gas Weekly Update reports, "Although spring-like temperatures finally arrived across much of the Lower 48 States, supply issues dominate the markets. As of yesterday, prices at nearly every trading location had increased on the week between 2 and 37 cents per MMBtu. "
As I have been saying, we are very near a top in natural gas prices. However, it is not a thing that we can predict with accuracy. We just have to let the markets decide.
The Fed walks a tightrope.
The Federal Reserve's Open Market Committee meets next week, they will have a difficult decision. Do they try to curb inflation by raising interest rates or do they "step on the gas" and try to rev up the economy? What a dilemma!
"Congress has given the Federal Reserve two sometimes conflicting mandates: It should maximize economic growth and restrain inflation. The former apparently requires low interest rates; the latter, high ones. Walking that tightrope gives currency to the old saying that the Fed should "take away the punchbowl before the party really gets going."
We're on the air every Friday.
Tim Wood of www.cyclesman.com , John Grant and I are back in our weekly session on the markets. This week should be fascinating. You will be able to access the interview by clicking here .
New IPTV program going strong.
I am now a regular guest on www.yorba.tv every Thursday at 4:00 pm EDT . You can find the archives of my latest programs by clicking here .
Please make an appointment to discuss our investment strategies by calling Claire or Tony at (517) 699-1554, ext 10 or 11. Or e-mail us at tpi@thepracticalinvestor.com .
Anthony M. Cherniawski,
President and CIO
http://www.thepracticalinvestor.com
As a State Registered Investment Advisor, The Practical Investor (TPI) manages private client investment portfolios using a proprietary investment strategy created by Chief Investment Officer Tony Cherniawski. Throughout 2000-01, when many investors felt the pain of double digit market losses, TPI successfully navigated the choppy investment waters, creating a profit for our private investment clients. With a focus on preserving assets and capitalizing on opportunities, TPI clients benefited greatly from the TPI strategies, allowing them to stay on track with their life goals
Disclaimer: The content in this article is written for educational and informational purposes only. There is no offer or recommendation to buy or sell any security and no information contained here should be interpreted or construed as investment advice. Do you own due diligence as the information in this article is the opinion of Anthony M. Cherniawski and subject to change without notice.
© 2005-2019 http://www.MarketOracle.co.uk - The Market Oracle is a FREE Daily Financial Markets Analysis & Forecasting online publication.
Comments
Tall Man
12 May 08, 11:13
Balance the Federal Budget


The Federal Budget for FY 2008 estimates about a $400 billion deficit. The FY 2009 is another $400 billion deficit. Tall Man believes that a few basic changes in Federal organization and priorities would lead to a balanced budget.

http://www.whitehouse.gov/omb/budget/fy2009/summarytables.html

Changes:

Stop the U.S. role of " World Policeman". The DOD reports that about 1.4 million military personnel are stationed abroad at the end of 2007. http://siadapp.dmdc.osd.mil/personnel/MILITARY/history/hst0712.pdf DOD reports that is has over 700 sites overseas. http://www.defenselink.mil/pubs/BSR_2007_Baseline.pdf The major sites or bases are in Japan, South Korea, Germany and the Middle East. Tall Man believes we can focus our military efforts overseas on the war on Terror and leave Japan, South Korea and Germany [JSG] to defend themselves. Tall Man wants to support our defense of JSG from the U.S. bases or Naval presence, not land bases. The military has developed the ability to strike anywhere in the world quickly and decisively from U.S. territory. Lastly money, the U.S. can not longer afford to have such a large military presence in JSG and the rest of the world. The U.S. military should suspend opening bases worldwide.

Do not replace in large numbers the approximately 500,000 Federal Baby Boomers will retire by 2012. http://www.washingtonpost.com/wp-dyn/content/article/2008/05/06/AR2008050602713.html This event is the perfect time to adhere to the Amendment X of the Constitution, "The powers not delegated to the United States by the Constitution, nor prohibited by it to the states, are reserved to the states respectively, or to the people." Listed below are major U.S. Departments that fall out side of the United States powers and are reserved for the States. Tall Man believe the Federal Government has too many priorities on its plate and should get back to the basic powers enumerated by the Constitution.

If you move Federal Departments to the States, they can determine what level of effort should be expended. The movement of the Departments could be over a 5 year period coinciding with the Federal Baby Boomer's retirement. Reduce each Departments by 20% a year and send it to the States. Most of the functions are already handled by State Departments.

Department of Energy

Department of Education

Department of Agriculture

Department of Energy

Department of Commerce

Department of Labor

Small Business Administration

Create a new Federal Department of Regulations for

these departments. The role of the Federal Government

becomes regulation, but not operation of the above

Departments functions. If regulation requires resources

beyond the States ability to fund, form partnerships.

Create a "Safety net" for individuals and companies that is means tested. Apply means testing to all Government programs, Social Security, Medicare, Medicaid and particularly Agriculture, etc. Do not give money to able body individuals above the poverty line and provide no money to companies making a profit.

The American people have been calling for a reduced military role in world affairs. Americans also want the Federal Government to be more efficient with their money by balancing Federal Budget and maintaining reasonable Taxation. The above suggestions go a long way to bringing control of Government closer to the people, i.e. the States.

Tall Man

www.tallmanblog.com




Only logged in users are allowed to post comments.
Register/ Log in