Scottish Independence YES Vote Panic - Scotland Committing Suicide and Terminating the UK?
Politics
/
UK Politics
Sep 07, 2014 - 03:55 AM GMT

There is PANIC in the air as the NO Campaigns 20% opinion poll lead at the start of 2014 has now completely evaporated as the YES campaign edges into the lead with just 12 days to go, with the latest opinion poll that for the first time putting the YES vote on 51%, against 49% NO (YouGov for the Sunday Times) will likely prompt a mini panic on Monday morning as the forex and financial markets further discount the increasing risks of a YES Vote that will likely prompt UK politicians to further bend over backwards to accommodate Scotland costing UK tax payers many more billions per year.
Whether the 300 year old United Kingdom lives or dies will be determined by as few as 4.5% of the British electorate on September 18th as only the people of Scotland, some 9% of the UK electorate have been afforded the luxury of deciding what happens to the United Island of Great Britain, and that if the tunnel visional nationalist have their way they would succeed in setting in motion its termination starting the morning of 19th of September when the world that Brit's have know for centuries starts to unravel.
Scottish Independence Impact on the UK Economy
Scotland ripping itself apart form the United Kingdom would be a twin edged sword for the UK because on the one hand the UK would no longer be burdened by having to to annually bribe the Scots with ever larger amounts of net subsidies where the annual block grant currently stands at £32 billion per year that helps bridge the gap between Scottish socialist government deficit spending and tax revenues. Against which there would be the loss of North Sea oil revenues that currently generate about £7 billion in tax revenue per year and therefore a net subsidy (bribe) to Scotland to stay in the Union of £25 billion per year before tax adjustments (income, corporation, vat etc.) that brings the net annual subsidy to Scotland down to £9 billion a year.
Whilst an £9 billion annual loss in revenues would devastate the £160 billion Scottish economy resulting in deep spending cuts and economy killing tax hikes to fill budgetary void. However, the saving to the UK of £9 billion per year would be more than offset by the loss of international investment as the UK becomes a far more riskier entity to invest in, park funds with and to do business with, potentially resulting in the annual loss of revenues of as much as over £100 billion per year. That is the real price of Scottish Independence and explains why Scotland can so easily blackmail the UK into paying a net £9 billion annual subsidy.
Scottish Oil
Whilst it is true that 90% of North Sea oil revenues come from Scottish waters, however North Sea oil peaked in 1999, since which daily output has fallen by 2/3rds and there is no sign that the trend in falling output is going to end any time soon as smaller more costly to operate new oil fields are unable to make up for the declining output from existing fields.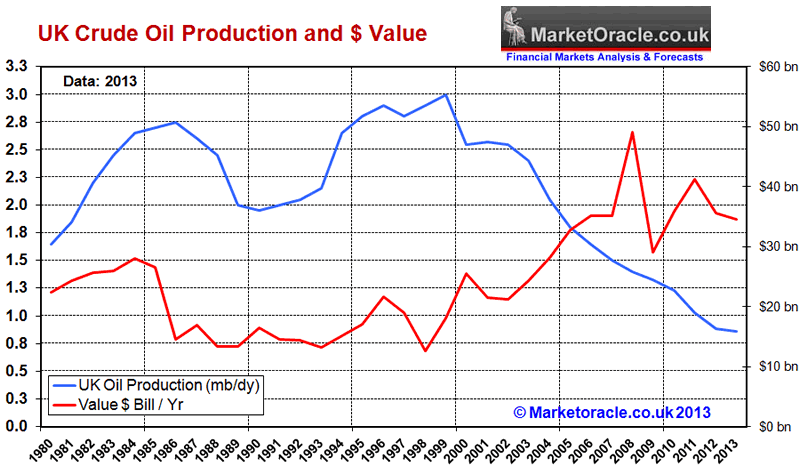 The revenue to the UK government from North Sea oil has now fallen to £7 billion, of which £6 billions is attributable to Scottish oil fields set against the block grant Scotland receives of £32 billion from the central government of which £9 billion is the value of the net subsidy after all tax revenues are taken into account.
There are also huge hidden costs to the oil industry that are not being factored in, and that is for the decommissioning of old oil rigs, where in an age of environmental awareness dumping of the oil platforms in deep waters is no longer an option, therefore just as the costs of decommissioning nuclear power plants was never factored into their building similarly the costs of decommissioning oil platforms could result in a sharp drop off in revenues as the costs of which would ultimately be born by the Scottish Government either in less revenue or direct costs of decommissioning.
Further more an independent Scotland in addition to falling output would be buffeted by volatile oil prices that would play havoc with its annual budget, something that is totally smoothed over today by the block grant so that effectively what the oil price does has no impact on Scotland Government spending.
Scottish / UK DEBT
The SNP's leader, Alex Salmond has made it clear that if an Independent Scotland could not share the British Pound then Scotland would default on its debts of approx £120 billion, which given the fact that Scotland is about 8% of UK GDP this would have the effect of inflating Britains debt mountain in terms of % of GDP from the current 77% to 85%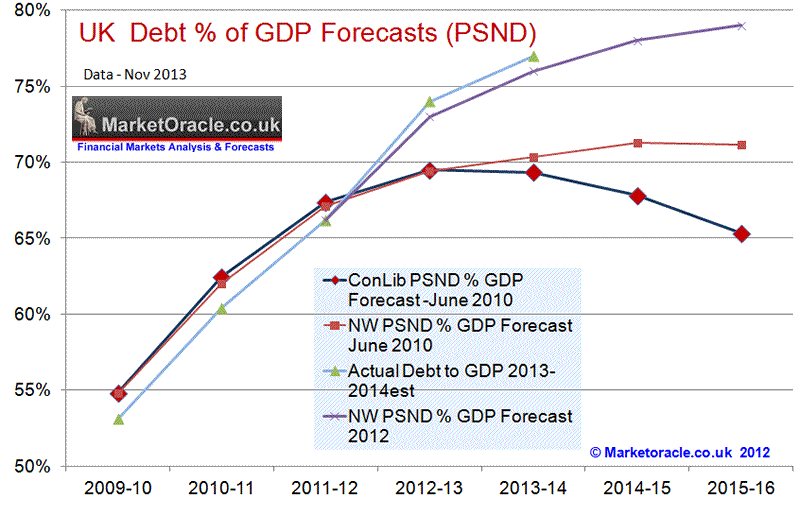 However, as I illustrated in my last analysis of UK debt (30 Dec 2013 - UK House Prices Forecast 2014 to 2018, The Debt Fuelled Election Boom ) that Britain by virtue of having a safe haven currency can and has been busy monetizing its debts which has effectively reduced the debt burden from 77% to 40%. Which implies that all that the Bank of England would need to do would be to just press the QE 'print money button' to bring Britians effective debt burden back inline with its secret target of the debt burden being at 40% of GDP.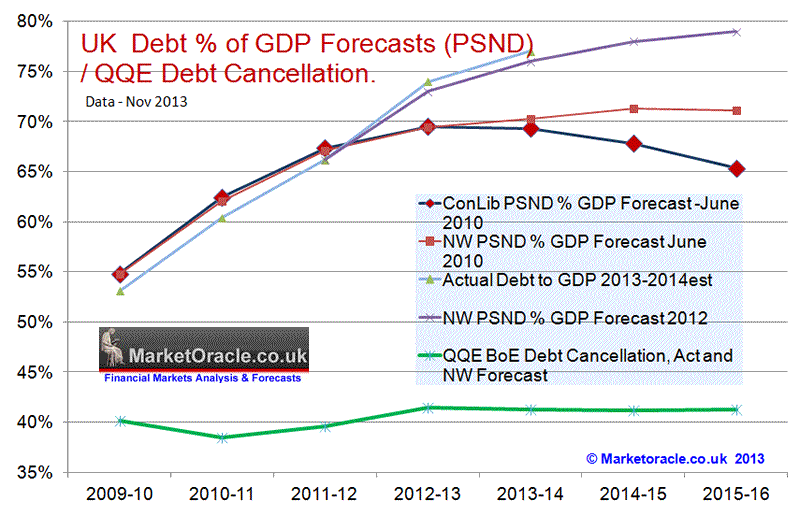 Therefore, the REAL UK Debt to GDP Ratio appears to be have been systematically engineered to stay at a constant 41% of GDP (actual 77%), which I expect to remain constant at 41% into March 2015 as opposed to my forecast of actual of 79% on the official measure as a consequence of the effective cancellation of approx £600 billion or 40% of outstanding government debt by 2015.
This would be set against an Independent Scotland that would effectively have just defaulted on its debts and so would only be allowed to borrow against the mortgaging of its assets that the SNP crows so loudly about namely Scotland's estimated £1.5 trillion of North Sea oil reserves whilst conveniently forgetting that it would probably cost near £1 trillion to extract it! So Scotland would forward sell decades of future oil revenues to foreigners in exchange for the financing of current deficits (voter bribes).
Rather than admit to reality, Alex Salmond and the SNP inhabit a fantasy land where post debt default they expect Scottish interest rates to be lower than the UK whilst the example of Ireland which DID take on its fair share of UK debt and which was GUARANTEED by the UK government, nevertheless saw far higher interest rates than the UK right upto the point a decade after Independence Ireland defaulted on its debts owed to to the UK which saw interest rates soar. To which Britain responded by imposing trade tariffs to recoup the monies defaulted upon just as the UK would do today should Scotland default on its debts that last time resulted in an Irish economic depression, something that Ireland would not fully recover from for over half a century and which contributed towards half its population fleeing the Island. And soon as there was a glimmer of hope for Ireland along came the Euro-zone debt crisis and PIIGS bankruptcy resulting in Ireland effectively being managed from Germany that included a partial bail out from the UK. So Ireland effectively gave up being a significant partner in the UK to eventually become a tiny partner in the Euro-zone.
Whilst England (UK) economy would benefit by Britains deficit effectively being cut by at least £9 billion per year (14 Feb 2014 - SNP Independent Scotland Sterling Sharing Trojan Horse to Plunder British Pound ) as a consequence of England no longer having to bribe Scotland to stay in the Union with a net subsidy of £9 billion per year which therefore in terms of the deficit forecast would result in an additional reduction of the deficit by £45 billion over the next 5 years.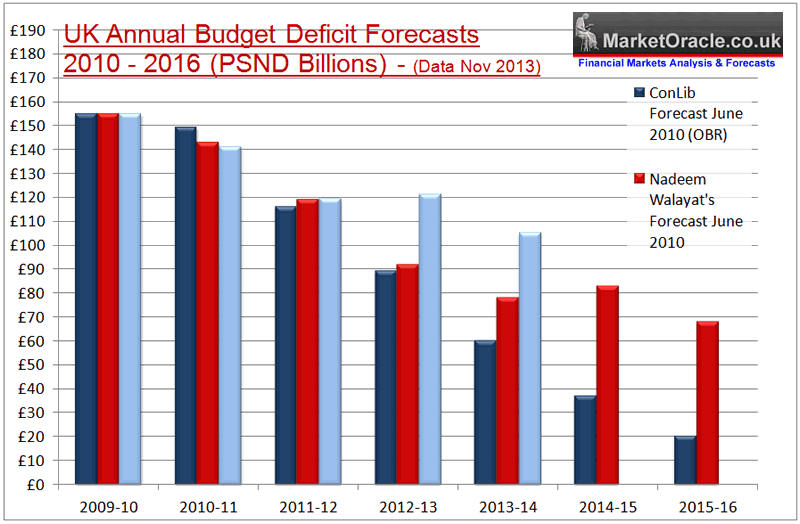 This translates into the impact of Scotland's £120billion debt default effectively being cleared within 14 years, so there would be no lasting damage to the UK in terms of taking on the extra debt burden. Not only that but the markets would discount the future, they would be discounting the continuing positive impact if a reduced budget deficit and thus better fiscal outlook for the UK for many decades to come which would translate into lower long-term UK interest rates.
And if an Independant Scotland did take on its fair share of debt then it would have to account for the debt financing costs at least £4 billion a year, that would effectively increase Scotland's budget deficit by 50% per annum.
Debt & Bankrupt Bank Liabilities
The financial crisis has resulted in predominately scottish banks in the forms of RBS and HBOS, resulting in liabilities of more than £1 trillion, that and transference of 8.5% of public debt would greatly improve the remaining United Kingdoms balance sheet as the costs of bank capital injections and interest payments far exceeds the revenues of North Sea Oil and if the Scottish subsidy is taken into account there is a large net cost to maintaining the Union.
Therefore the net benefit to England from an independent Scotland would be estimated to be far more than the revenues lost from North Sea Oil, an estimated net annual saving of at least £20 billion per year with the added bonus of eventually having transferred liability for bankrupt Scottish banks permanently away from UK tax payers.
For many years the SNP have argued that an Independent Scotland could be just as prosperous as Ireland or Iceland, which is true, an Independent Scotland would instantly become another Iceland as debt liabilities levels would be approximately 10X GDP, so that much of the revenues from North Sea Oil revenues would need to be utilised to service this debt, none of which is heard in SNP Independence propaganda.
Furthermore, whenever Alex Salmond is faced with the debt realities of sharing 8.5% burden of the UK's national debt, he can be seen to revert to the mantra of "no liabilities without share of UK assets" such as an Independent Scotland having a 8.5% stake of the Bank of England, and perhaps Buckingham Palace too, what about 8.5% of the whole of London ?
In which respect the UK would expect to gain a 90% share of Scotland in return! and 91.5% of North Sea Oil!
Alex Salmond's comments imply that an Independent Scotland would not honour its approx £120 billion share of the UK national debt. However what Alex Salmond has failed to realise is the price that the UK would exact on an Independent Scotland to counter this, such as that a newly Independent Scotland may find that instead of gaining 90% of North Sea Oil it instead ends up with as little as 10% of North Sea Oil. That is what happens when divorces get messy.
The truth is that it would be financially impossible for Scotland to function as an Independent state without taking on its fair share of UK national debt as agreed with the UK.
Scottish Budget Deficit
The Scottish economy runs at a huge deficit that is only maintainable due to being heavily subsidised by England. The country's total income for 2012-13 was £47.6 billion against expenditure of £65 billion, therefore a net deficit of more than £17 billion (Source: Scotland.gov.uk), therefore taking into account extra oil revenue of £5 billion this puts an Independent Scotland short by £12 billion per year, but this is BEFORE Scotland's share of the national debt of £120 billion and resulting annual interest payments of at least £4 billion are taken into account as well as its banks liabilities resulting in an annual black hole of at least £16 billion per year or 10% of GDP, against 5.8% for the UK.
Scottish Banks
And what of Scottish banks? A financial sector that would be twice the size relative to the Scottish economy than were that of Iceland, Cyprus or Greece! Would anyone keep a single penny in a Scottish bank if they knew that it was impossible for Scotland to ever make good on bank deposit guarantees? That during a financial crisis their bank deposits would be stolen Cyprus style.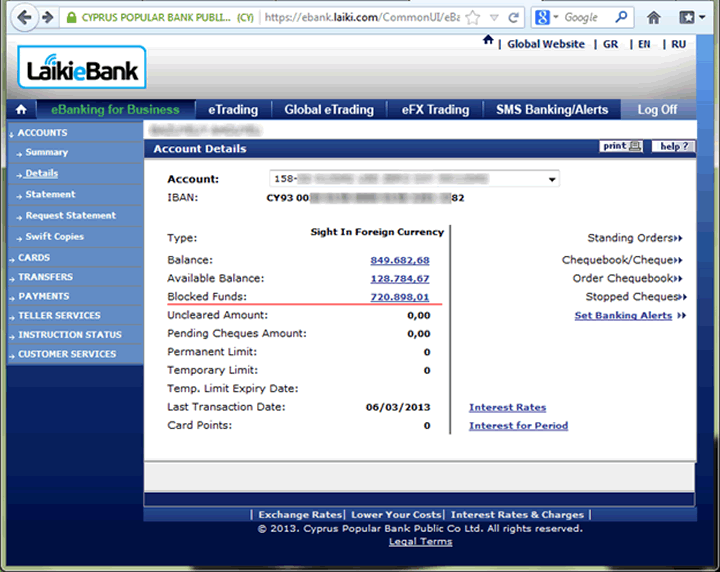 Scotland's New Central Bank
Whilst Alex Salmond continues to deluge the airwaves with propaganda surrounding the potential for 'sharing' of the Bank of England, the fact remains that UK politicians of all three major parties unequivocally continue to reject the SNP's cunning plan to effectively permanently park a Trojan Horse outside the Bank of England on Scottish Independence day that would effectively allow Scotland to go on an deficit spending binge on a sterling credit card by printing debt without the consequences of currency panic that normally would result in very high if not hyperinflation, but instead like a cancer seek to consume its English host over a number of years as the policy of sterling sharing sucks the financial life blood out of the British Pound.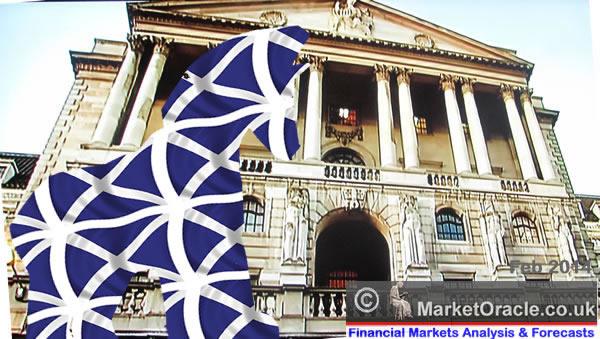 However such scottish nationalists central bank sharing delusions are just not going to happen, two nations CANNOT effectively share the same bank account! The scottish people should not be taken in by these blatant LIES because it is just NOT GOING TO HAPPEN!
For instance recently Scotland's SNP Finance Minister, John Swinney was caught in the act when had made the following false statement -
"The Scottish government has had technical discussions with the Bank of England regarding our proposal for a currency union and we welcome their continued acknowledgement that the Bank will introduce what­ever the politicians decide,"
To which the Bank of England responded.
"To be clear, consistent with its statement in December 2012, the Bank of England has not entered into discussions with representatives of the Scottish Government about proposals for future monetary arrangements in Scotland"
Which prompted a humiliating climb down by John Swinney who stated :
"If by my choice of words last week I have given the impression that the Bank of England has been involved in negotiating a currency union, I can say to parliament that was not my intention."
Therefore an Independent Scotland will have no choice but to implement its own central bank (one of many institutions) for which it will look at its own big banks for expertise to implement which I am sure has Scotland's banking crime syndicate headed by RBS (Royal Bank of Scams) salivating at the prospects of an Independent Scotland for they already have most of the nationalist politicians in their back pockets. After all Alex Salmond the future Prime Minister or President of an Independent Scotland is an former RBS BANKER.
Scotland's biggest bank RBS, the bank that nearly bankrupted Britain along with its Scottish Brethren HBOS, that resulted in the Bank of England standing behind both banks with unlimited tax payer liability that resulted in a 6 year economic depression (2008-2013) that Britain is only now starting to recover from at huge cost in terms of lost productivity and Inflation that has eroded purchasing power of average wages by more than 20% resulting in what is commonly termed as the cost of living crisis.
Despite what has transpired over 6 long years, still virtually every month another RBS scam makes into the mainstream press the latest of which is the FCA barely a few days ago fining RBS £14.5 million over so called mortgage advice. Which is merely a drop in the ocean of fines that run into the many billions that the TAX PAYER FUNDS via a myriad of scams operated by the Bank of England such as QE that I have covered at length in several hundred articles and 5 ebook's listed below (FREE DOWNLOAD).
Whilst focus is on past crimes there are still many future banking sector crime black holes to materialise on the event horizon such as currency manipulation that are more than capable of swallowing the monetary capacity of an Independent Scotland whole.
So whilst the Scottish Nationalists convientely try to forget the fact that had Scotland been Independent at the time of the financial crisis of 2008 then its bankrupt banks, namely RBS and HBOS given their more than £2 trillion of liabilities would have bankrupted Scotland's £160 billion economy more than 14 times over! in an economic collapse many times worse than Greece, and probably worse even than the spectacular near overnight collapse of Iceland. The bottom line is that the likes of RBS and HBOS will be able to run rings around Scotland's inexperienced, inept or corrupt politicians which ensures that another financial collapse would be CERTAIN no matter the promises politicians make today. IT WILL HAPPEN AGAIN and probably far sooner than any can imagine.
Whilst Scottish nationalists can be literally seen foaming at the mouth when discussing Scotland's oil revenue of £6 billion per year, however Scotland's weapons of mass financial destruction (its banks) ensure that this would merely be a drop in the ocean compared to liabilities that would run to over £2 trillion.
Ultimately the power to PRINT MONEY (Central Banks) and create credit (debt by means of fractional reserve banking) are the means of enslaving a population by means of DEBT AND INFLATION as I have covered at length in my Inflation mega-trend series of ebook's starting with the Inflation Mega-trend of Jan 2010 (FREE DOWNLOAD) and continuing to the latest on the prospects for the UK housing bull market into the end of 2018.
Therefore no matter what Scotland calls its central bank one thing is for sure is that its primary focus will be to enrich its Scottish bankster brethren just as has been the case for the Bank of England.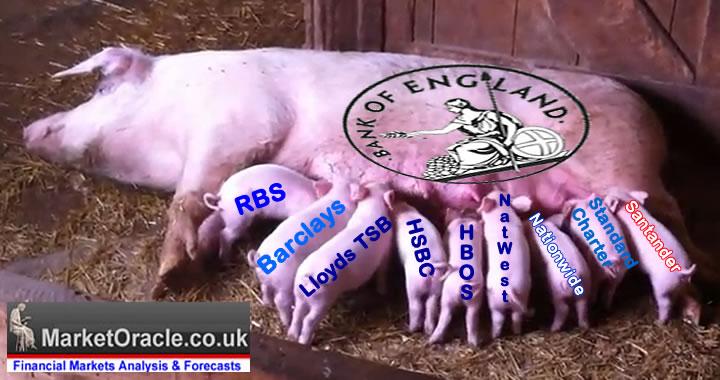 The bottom line is that Scottish nationalists persistent delusional statements of wanting to INTERFERE in the finances of the UK post Independence sows the seeds of much resentment in the UK which will be made manifest in the financial, political, economic and social arena. A Westminister government that no longer needs to take into account the views of 6 million Scots will soon be telling the delusional independent Scottish nationalists to eff off to many of the demands that the SNP propagates today.

Currency Plan A, B, C or D - British or Scottish Pound?
Alex Salmond recently repeated - "It's our pound and we're going to keep it."
Much of the independence debate has centered around what currency an independant Scotland would use, where on one side we have the SNP implying that an independent Scotland would have the right to 'share' the British Pound in terms of the ability to print money and debt (government bonds), whilst on the other hand UK politicians state it would be impossible for two countries to share sovereignty over the same currency for the obvious reason that it would effectively allow an independant Scotland to go on debt fuelled spending binge without consequence of hyperinflation or currency collapse as the bill would be being picked by the UK tax payer as guarantor of the currency. Which is particularly galling as an independent Scotland would no longer be paying any taxes to the UK Treasury.
The effect of Scotland going on a sterling debt fuelled deficit spending binge on the back of UK tax payers would be erode the purchasing power of the the British Pound over several years that would manifest itself in the ratcheting higher of inflation as the British Pound spirals lower against all other major currencies.
George Osbourne's (Conservative) "I could not as Chancellor recommend that we could share the pound with an Independent Scotland, it wouldn't work, it would cost jobs, and cost money, and it wouldn't provide economic security for Scotland or the rest of the United Kingdom, I don't think any other Chancellor would come to a different view"
Edd Balls (Labour) "Scotland cannot keep the pound and the Bank of England if it chooses independence. It would be bad for Scotland, it would place an unacceptable burden on the UK tax payer, it would repeat the mistakes of the Euro area, in fact worse, you would be trying to negotiate a monetary union as Scotland is pulling away from the UK."
Danny Alexander (Lib Dems) "It is clear to me that a currency union wouldn't work for Scotland if it was Independent, and wouldn't work with the rest of europe".
Sir Nicholas Mcpherson (UK Treasury) " And so to sum up, I would advise you against entering into a currency union with an Independent Scotland. There is no evidence that adequate proposals or policy changes to enable the formation of a currency union could be devised, agreed and implemented by both governments in the foreseeable future".
The ONLY way a currency union with Britain would work is if Scotland gave up sovereignty over many aspects of governance such as in the setting interest rates and taxes, keeping to government spending limits and on debt issuance, in fact place itself in a position that is under far greater direct control from West Minister than Scotland is today under Devolution but all without political union! i.e. no representation in West Minister.
Though even a suggestion by the Government that Scotland could share the Pound would be enough to spark a run on the Pound as funds were pulled out of the UK the resulting economic chaos would snuff out of the economic recovery resulting in a probable recession coupled with high inflation as the price of imports soared.
The bottom line is that the likes of Alex Salmond can continue to scream as loud as he want about having the right to share the pound, for the facts are that pushing this agenda to its ultimate conclusion would result in a UK referendum on whether a foreign nation should be allowed to share the British Pound and associated institutions such as the Bank of England to which the UK people would overwhelmingly vote NO!
So what Currency options are available to an Independent Scotland ?
A. Sterlinglisation - Continue to use the British Pound Without Permission
As ever politicians lies tend to be cloaked in half truths such as the fact that an Independant Scotland (I.S.) WOULD be able to continue to use the British Pound in day to day transactions, much as an I.S. would be able to use ANY currency, i.e. U.S. Dollars, Euros or even the Zimbabwean Dollar if it so wished to, but critically this would be without any say in monetary policy. i.e. an I.S. would NOT be able to print debt or money denominated in sterling but would be able to borrow British Pounds in exchange for collateral (scottish assets).
However as we still see to this very day with the Euro-zone that such arrangements just do not work for without the ability to print money there needs to be a mechanism for INTERNAL TRANSFER payments to offset differences in productivity as effectively Scotland would be subject to UK monetary policy WITHOUT transfer payments. Whilst this takes place to the tune of £10 billion a year today as the price England pays to keep Scotland within the UK, however following independence such transfer payments would END, and Scotland would soon enter into an economic death spiral as the exchange rate would not reflect the needs of the Scottish economy. This would take place without the likes of the ECB central bank stepping in to keep bailing Scotland out by buying Scottish debt without which within a matter of months Scotland would go bankrupt just as many euro-zone countries have such as the PIIGS before the ECB and Germany stepped in to bankroll them in perpetuity by buying their debt.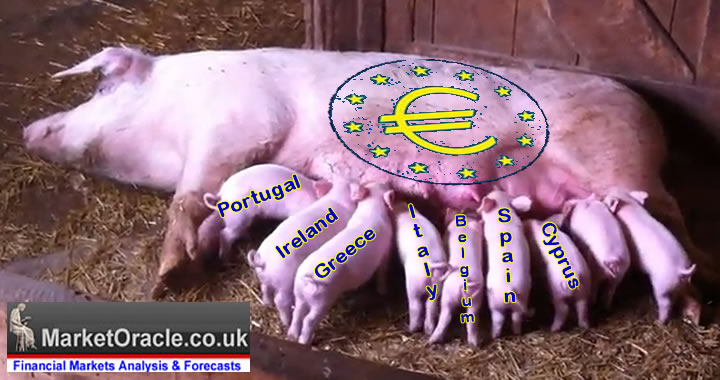 Another consequences of Sterlinglisation is the fact that whilst Scotland used the British Pound, the Bank of England would not be standing behind its banking sector as the lender of last resort which means Scotland's large financial sector would be deemed to be far more riskier to do business with and thus greatly diminish in size within a relatively short period of time to more closely match the actual size of the Scottish economy. Similarly many large companies for the sake of financial credibility would seek to relocate their headquarters to within the UK and under its regulation.
Therefore Sterlinglisation would not work as the Bank of England's focus would be on what actions are in the best interests of the UK without any regard to the impact on Scotland i.e. a strong UK economy may require higher interest rates to cool an economic boom which would be crippling for a weaker Scottish economy that may already be in recession.
B. Join the Euro?
Given the continuing disaster that the euro-zone has been for most of its member nations that remain immersed in an economic depression that this week prompted the ECB to cut interest rates to 0.05%, such a decision is going to go down like a led balloon with the Scottish electorate.
The problem here again is one of TIME, as it could take Scotland as long as 10 years to meet the requirements of first EU membership and then euro-zone membership.
Off course this begs the question as to what is Scottish Independence for if it just goes from being an over weight partner in a 4 state union to a tiny member state in a 28 nation union.
C. Scottish Pound?
Scotland could also as the nationalists suggest just print its own currency, perhaps to be called the Scottish Pound but that would take many years to achieve which would be followed by much volatility in the price of the NEW currency that I expect would be just as volatile as the oil price tends to be as Scotland's oil reserves are what will deem to ultimately back the currency that would play havoc with with the Scottish economy and price stability when the Inflation rate could annually oscillate between 0% and +30% per year! With probability favouring a higher inflation rate given the in-bred tendency for socialist deficit government spending that can only be covered by printing money and debt.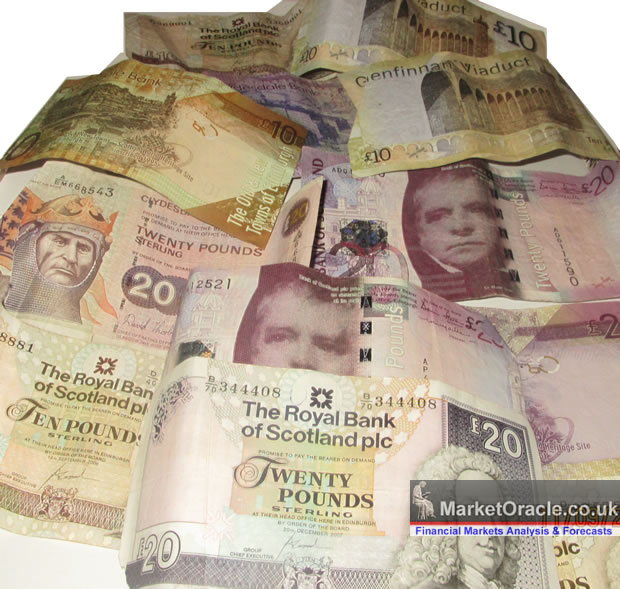 Unfortunately Scotland printing its own currency is going to learn a very painful lesson which is that to all intents and purposes it will be backed by nothing and therefore deemed as being near worthless, so Scotland would be lucky if its annual inflation rate stayed below 30% as I suspect it would eventually experience its own Weimar moment.
Also Scotland having its own currency would still only be a longer term objective that means for at least a couple of years Scotland would still be without a currency which is more than enough time to wreck the Scottish economy.
And once Scotland has its very own currency then what happens to trade with its largest trading partner the UK? Trading with the UK would become no different than trading with the euro-zone with every transaction or business deal no matter the size incurring a currency conversion fee of as much as £1billion per year that will inflate prices. So yes this will benefit the banks but it will become a permanent drain on the Scottish economy that will act to prohibit cross border trade.
Plan D
A mixture of Plan A and Plan C, namely printing a Scottish currency that is officially pegged to Sterling. Which unfortunately as previous currency pegs such as the ERM have revealed will NOT work as speculators would soon act on the differences between the two economies to allow for a huge profit opportunities that would soon bleed an newly independent Scotland's reserves dry and break the currency peg probably within just a matter of weeks of its implementation.
In fact the only way a peg could work for any significant length of time would be if it were backed by the Bank of England! As only the Bank of England would be able to BUY Scottish Pounds for British Pounds without the consequences of exhausting its reserves as it can just print as much British pounds as it needs to maintain a Peg with the new Scottish Pound, though it will never do this because again it would mean that the UK would be picking up the tab for Scottish socialist deficit spending.
Still if an Independant Scotland were to go down this route then effectively to maintain the peg most of Scotland's major monetary policy decisions such as setting interests would be dictated by what the Bank of England was doing.
The bottom line is that an Independant Scotland would be without a currency, with the only via option available to unofficially use the British Pound (Sterlinglisation), all without any backing of the Bank of England behind which stands the UK tax payer. The result would be that Scotland's financial industry would within a matter of months migrate South of the border as the most important requirement for banking and finance is confidence that requires the backing of the state, something that small Scotland without even its own currency would not be able to do given the relatively large size of its financial sector.
So unfortunately, an Independant Scotland would soon find itself on the path towards bankruptcy Iceland style as its banking sector disappears, and all we will see is UK foreign correspondents reporting from Holyrood showing Alex Salmond in a state of denial making delusional statements about Scotland's oil reserves that in large part will remain under the ocean for many decades.
British Pound Slides on Scottish YES Vote Risks, What Happens Next?
Recently the British Pound has entered into a virtual nose dive after spending the whole of the year in an uptrend to recent multi-year highs of £/$1.72 of mid July on the back of a strong UK economy when compared to the Euro-zone catastrophe that continues to unfold across the English Channel, which had prompted much flight of the capital to the relative safety of the British currency.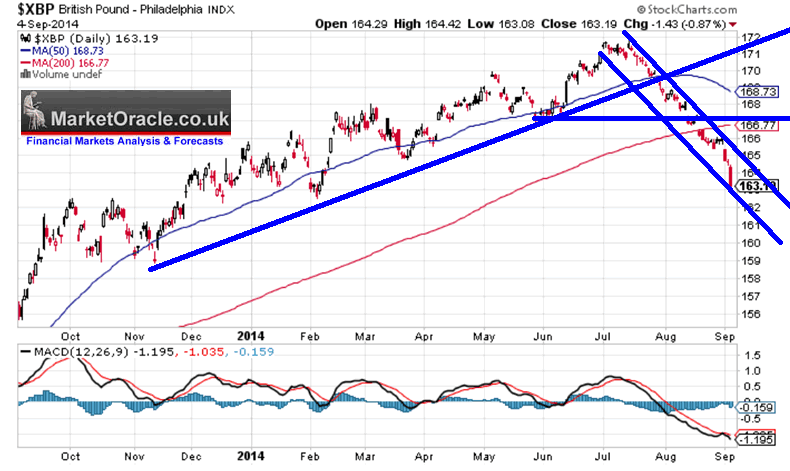 Since early August, forex market attention has increasingly been turning towards the risks of a YES Vote in the Scottish Independence Referendum that risks blowing apart one of the few Islands of stability in a world of chaos. Up until recently it was assumed that Scotland would vote NO, but in the feverish build up to the September 18th vote, and the intensity of propaganda flying around coupled with very tight opinion polls has prompted much confusion as to the probable outcome of the vote which has prompted the forex markets to start discounting the likelihood of a YES vote that would trigger much flight of capital out of the UK.
However, in my opinion and despite the most recent opinion poll putting the YES vote in the lead, I still see the probability of a YES vote is very small, less than 30% as leaving aside the Scottish fanatics, the vast majority of Scots, at least 70% realise the huge subsidy that England delivers them annually to stay within the Union, so will in all probability despite opinion polling, elect to vote NO on September 18th so as to continue to ride on the English subsidy gravy train.
What does this mean for the British Pound ?
With 12 days to go it is highly probable that the British Pound will continue to grind lower towards £1.60 in the wake of opinion poll confusion. However, a probable NO vote would trigger a sharp reversal in sterling that within a matter of a couple of weeks would recoup virtually all of the decline and head northwards in line with my long standing expectations for £/$ 1.80 by the end of 2014 that the British Pound had been relentlessly trending towards -
14 Feb 2014 - British Pound GBP Trend Forecast 2014
A quick look at the long-term GBP chart clearly shows a market that is breaking out of a multi-year trading range of between GBP 1.63 and 1.49. Therefore despite the Scottish Independence vote looking set to introduce much volatility during 2014, the over riding strength is such that GBP breaking above £/$1.80 before the end of 2014 appears highly probable.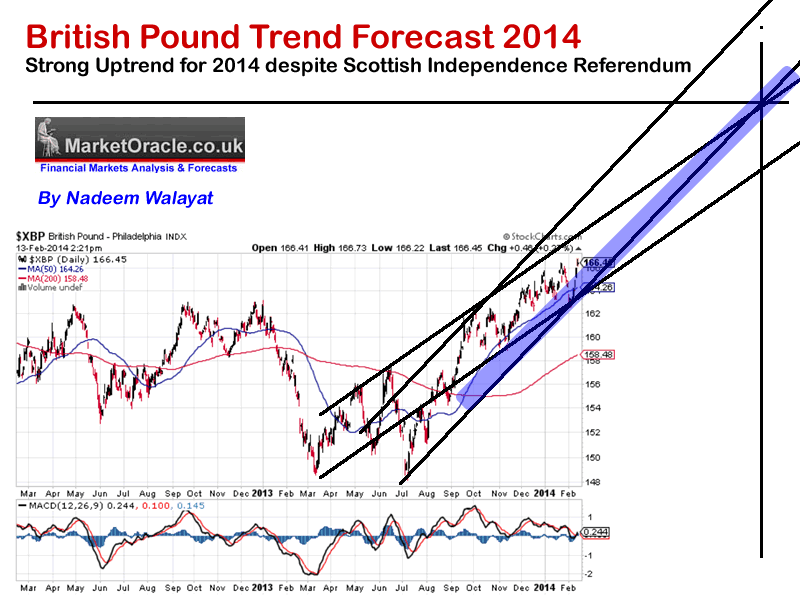 Therefore sterling traders and investors need to immunise themselves against the bearish rhetoric that they will be subject to during 2014 in the run up to the Scottish Referendum, its aftermath and then the frenzy surrounding the General Election, all of which will be taken as cues for a weaker sterling when instead the reality will be one of sterling grinding its way ever higher to at least £/$ 1.80 this year as it continues to discount a strong UK economy and and outright Conservative election victory in May 2015 as illustrated below -
In terms of the British Pound forecast for the Scottish Referendum, it implies that -
1. A Scots No vote will dissipate Independence / UK breakup uncertainty for several decades.
2. A Scots Yes vote will result in an Independent Scotland having far LESS influence over Sterling than Scotland has today.
Both of these outcomes will tend to reinforce Sterling in terms of discounting a long-term trend for a more robust sterling economy.
Scottish House Prices Crash, Deflationary Debt Death Spiral
The consequences for the people of Scotland voting YES would be tantamount to the Scottish people firstly committing economic suicide as a consequence of the immense uncertainty in virtually every aspect of economic activity that would expect to manifest it self in dis-investment / flight of capital out of Scotland, from funds held in the banks deemed to be Scottish, to sale of a whole host of business and private assets such as properties as for many Scottish households the safest place to be at such an uncertain time would be to move into rental premises, even to the extent of a panic swapping of Scottish paper Pound notes for English paper Pound notes, just in case of volatility in the relative value of the notes by the market (shops).
For most ordinary people the home one owns is the most valuable asset that they are likely to own during their life time, and thus the ramifications of Scotland voting YES will immediately turn to protecting the value of that asset in the face of immense uncertainty from financial (currency and banking) to economic (investment and jobs) to Political (Uncertainty over Debt and Sovereignty) to Social (Fragmentation of Scotland as regions seek to become independant of Edinburgh or even rejoin the UK).
Where the Scottish housing market is concerned the key drivers will be uncertainty over monetary value i.e. at this point in time the house you own is valued in British Pounds (BP) Sterling which is based on UK interest rates, economy, inflation and the Bank of England as Lender of Last Resort. None of these would be true IMMEDIATLY following independence, where even if the negotiations may take upto 2 years it should not be forgotten that markets DISCOUNT the FUTURE. They do not wait for politicians to act but rather the SENTIMENT adjustment is near IMMEDIATE, within just a few weeks of a YES vote, which then feeds momentum into a downward spiral for the news in terms of Scottish house prices WILL be VERY BAD due to the points concerning flight of capital and uncertainty that will likely result in a CRASH in Scottish house prices.
Scottish House Prices Already Discounting Uncertainty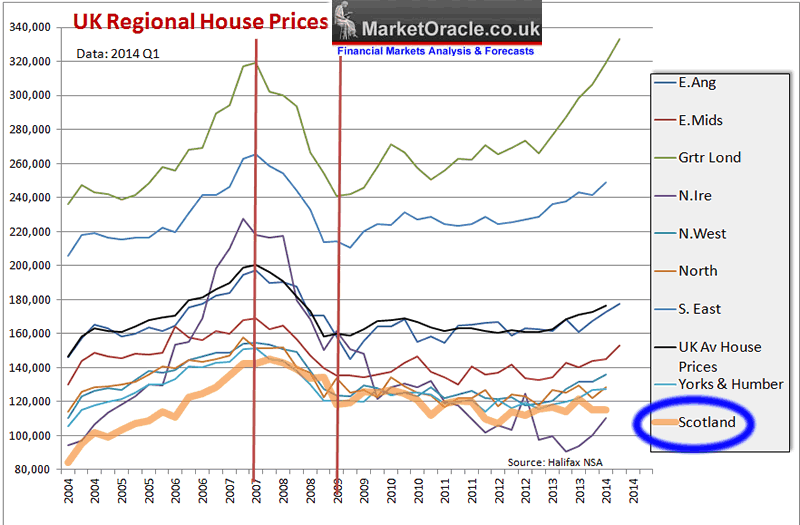 Whilst London has led Britain's house price boom by literally soaring into stratosphere to new all time highs that has prompted many to conclude (such as Scottish Nationalists) that Britain's housing bull market is just limited to London. However, the reality is that virtually every region of Britain having been in an accelerating bull market since at least Mid 2013, all except Scotland which has been stagnating now for a year all as a consequence of the uncertainty of a YES vote. Scotland's housing market has effectively been frozen as many prospective buyers out of fear have put off their decision to buy whilst at the same time supply exceeds demand thus keeping Scottish house prices depressed despite UK average house price inflation rising to 10% per annum.
Therefore there are two outcomes for Scotland's house prices going forward -
NO VOTE
Expect a STRONG rebound in Scottish house prices as uncertainty of a YES vote evaporates as Scottish house prices play catch up to the national average. So I would not be surprised if we see an exceptionally large jump in quarterly Scottish house prices that will result in many mainstream headlines such as Scotland's House Prices Boom Following NO Vote.
In fact, in all probability sellers / estate agents will mark asking prices higher AHEAD of a probable YES vote i.e. discounting future demand following a NO vote which means that we could see a sharp quarterly rise in Scottish prices BEFORE the September 18th Vote. Yes the way markets behave can be confusing, but just remember that markets discount the future.
YES VOTE
CRASH! - How far could Scottish house prices crash following a YES vote is difficult to say, it depends on how the other consequences of what I have briefly outlined above will play out such as the fragmentation of the borders of Scotland. However, I would not be surprised if Scottish house prices stand 15% lower in British Pound sterling terms a year after the Independence vote. This whilst the debt burden (mortgages) will have increased as a consequence of HIGHER interest rates, effectively Scotland entering into a deflationary debt death spiral as house prices fall the debt burden increases that prompts most Scottish households to cut back on consumption resulting in a worsening economic and financial position for the Scottish economy as Scotland's government seeks to increase deficit spending (money printing) in an attempt to fill the void which causes a further drop in house house prices in BP's.
Worse still is if Scotland has not sorted out a currency by then which would effectively result in a DEATHLY FREEZE of the Scottish economy as the Scottish Government would not be able to finance its growing budget deficit as it would literally have NO MONEY! For if Scotland cannot print then it MUST borrow British Pounds at ever higher spiraling interest rates.
Where is Scotland going to get the money to finance its growing budget deficit ? From YOU - Scottish home owners, that's where!
Expect home ownership taxes to soar, as the socialist SNP government favours vested interest voters over the near 50% of mostly home owners who would have voted NO.
In this death spiral, I would not be surprised if Scottish interest rates spiked to above 10%, and then what for Scottish house prices? Fast forward 3 years and we could see Scottish house prices 50% LOWER! in BP terms, followed by a depression that lasts decades.
The bottom line is that Scotland's housing market stagnation is but a mirror image of economic and business investment stagnation taking place, all as a consequence of the impending independence referendum following which we will find out whether Scotland is going to Boom (NO) or Collapse (YES). Therefore this will not be a question of Scotland being hit by a black swan but a bright flashing WHITE SWAN!
As I see a NO vote outcome as most probable then this implies a Scottish house prices boom is probable.

Opening Pandora's Box of Disintegration, the Balkanisation of Britain
The peoples of the United Kingdom are literally being sleep walked towards the edge of the cliff, most completely unaware of the potentially disastrous ramifications for not just Scotland but for what lies in store for the remainder of the United Kingdom following a Scottish Independence YES vote that would break start the process for ripping apart a 300 hundred year old entity of an United Island of Great Britain, which as I have repeatedly warned of during 2014 that a YES vote would literally sow the seeds for the balkanisation of Britain as this Island would literally tear it itself apart as the status quo of what had been taken for granted would no longer exist.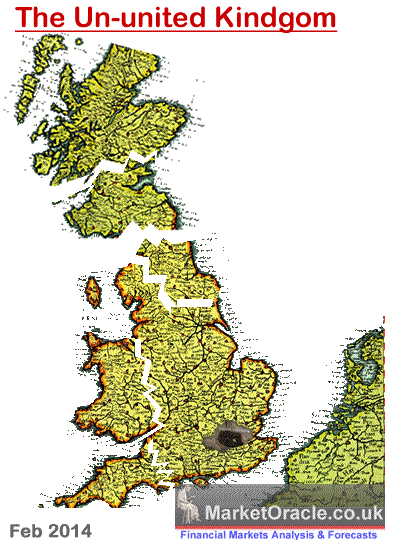 A whole host of news during the past year illustrate that the approaching Scottish Independence vote has already galvanised agitants right across the UK, for instance blowing on the embers for Cornish independence as they wave their aptly coloured Cornish black funeralesk flag that continues with calls of autonomy literally right at the other end of Britain from the Northern and Western Isles with calls for their own devolution from Edinburgh and even calls for their own parliament that sows the seeds not only for the balkanisation of Britain but also for breakup of an newly Independent Scotland that following a YES vote would soon start to disintegrate, as for instance the bordering regions would reassert their separate identity that has far more in common with the North England than much of Scotland, formerly known as the Kingdom of Northumbria that stretches from Edinburgh in the north all the way to the city of Sheffield in the south.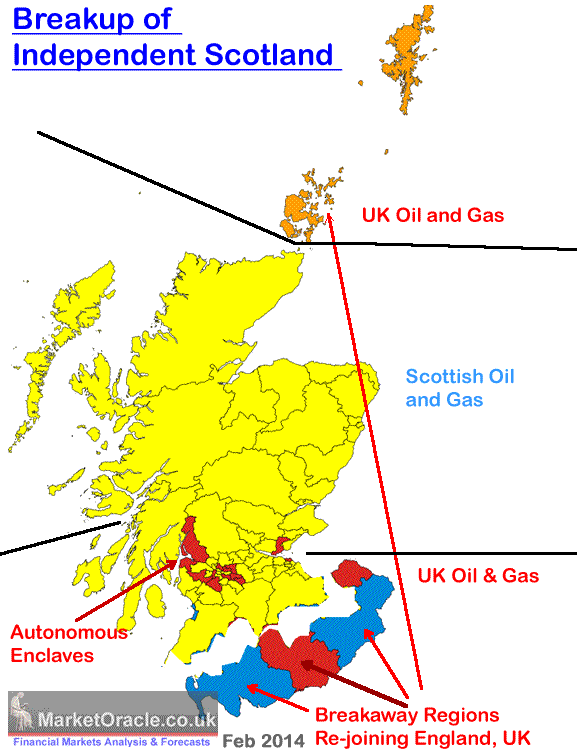 Whilst Alex Salmond, Scotland's Nigel Farage repeatedly plays the Scotland is rich because of North Sea oil card, what he convientely omits is that a significant portion of Scotland's oil reserves lie in the waters of the Northern Isles (Orkney and Shetland). Many people of the Northern Isles see themselves as having far more in common with Norway than Scotland which given the near immediate currency, financial and economic crisis that would follow independence would be fast pulled towards sharing sovereignty for far greater stability with the likes of Norway that could achieve what it could never have done militarily, namely expanding its borders and gaining many western north sea oil fields. Though in all probability the Northern Isles would probably eventually settle as becoming a protectorate of the United Kingdom along the lines of the Isle of Man.
So if Alex Salmond 'King of the Scots' does succeed in his tunnel vision mission for an Independant Scotland then he will likely go down in history as the first and last Prime Minister of Scotland as we know it today, which effectively means a Yes vote on 18th September will be Scotland voting to commit suicide as when the dust settles what remains would be a mere fraction of its current size.
Ukraine Civil War a Lesson for Independent Scotland
As my articles of 2014 have illustrated that when states start to disintegrate as the UK would start to do following a vote for Scottish Independence then so would a Pandora's box be opened that would soon see the docile domesticated LIb/Lab/Tory politicians of today's Westminster, the likes of which we have been used to since the end of WW2, replaced by those who would be solely tasked with holding a fragmenting nation together which Putin style would seek to take advantage of economic and political chaos in an Independant Scotland that would not even have a currency, prompted into action to protect the interests of the approx 50% who voted NO to independence resulting in the eventual annexation of parts of Scotland.
Post Scottish Independence the Labour Party would be crippled after permanently losing some 41 MP's that would amount to a shift in UK's political spectrum towards the RIGHT that would embolden support for the likes of UKIP which as the name suggests would put the UK first, with the interests of the Scottish people not even factoring into the equation for they would be seen as and be foreigners.
Whilst this is beyond most peoples comprehension today, however it would be the natural consequence of a disintegrating state especially as all of the reasons that Putin continuously puts forward for first the annexation of Crimea and lately in support of mostly Russian speaking people of Eastern Ukraine can also be made for many parts of Scotland where more than half the population would find themselves permanently living in a foreign country that they had voted NO to.
Not forgetting that the UK has already engaged in several highly dubious if not outright criminal recent wars that required far less justification (Iraq and Afghanistan) and that by domesticated politicians than the justification required for the annexation of several parts of Scotland by more authoritarian, putting the UK first post Independence politicians in West Minister, for Scotland has been a part of the UK for far longer than the likes of the Crimea had been a part of Russia.
Therefore an independent Scotland would be economically, politically and socially unstable, and if it followed the example of the last UK state to gain independence, Ireland then it would soon start to split into nationalist and Unionist regions that would seek to rejoin the UK that would be met with Scottish Nationalist resistance sparking violent civil conflict.
In fact should an Independant Scotland start to descend into near civil war than the British army could even be invited into regions of Scotland by the local population to restore order, which would as Northern Ireland had before hand spark an escalation in the conflict over where Scotland ends and England begins.
More on the dangerous consequences of Scottish Independence -
24 Feb 2014 - Scottish Independence Economic Consequences for England, UK, Ukraine 2014, Britain 2016?
UKRAINE 2014, BRITAIN 2016?
The real problem of Scottish Independence is as I have highlighted several times in recent articles is that it would open up a pandora's box that would encourage other parts of the UK to start their own separatist movements which would disrupt economic activity right across the UK, and that is the real danger of Scotland leaving the UK, and not its net economic impact on the UK.
Ukraine illustrates what tends to happen when countries start to tear themselves apart as peaceful demonstrations in Ukraine's capital city Kiev of barely a few weeks ago have fast descended into chaos towards outright civil war as several regions in the north-west such as Lviv declare independence, whilst the south-east stands behind its democratically elected President who fled the capital with loyal security forces barely 24 hours ago.
What was unimaginable a few weeks ago has now become a crisis situation of mounting deaths, where with each death Ukraine takes a further step towards leaping over the edge of and into the abyss of where the likes of Syria stands today, as the consequence of what happens when nations rip themselves apart.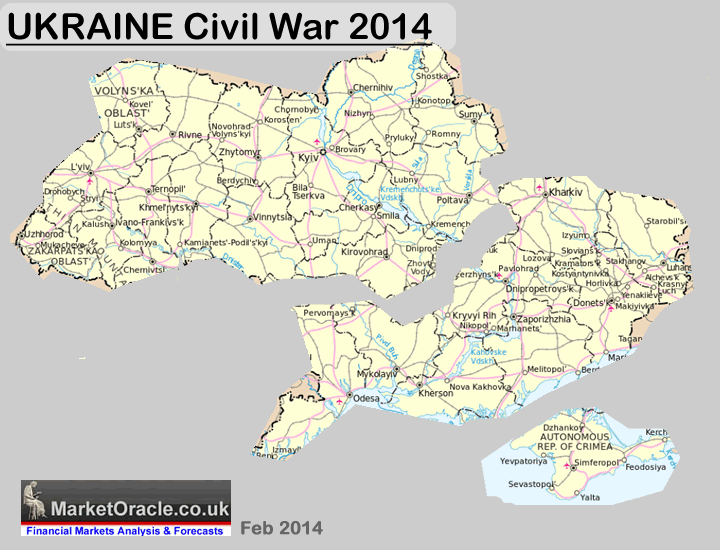 Ukraine tearing itself apart has huge implications for european stability as the conflict risks sparking unrest in bordering states most of which have their own separatist movements, especially Russia which therefore looks set to intervene militarily.
Gangsters and Paramilitaries
Increasingly anarchic border regions would be an ideal breading ground for criminals that would eventually see the gangsters become paramilitaries as they wait in the wings to capitalise upon the many opportunities they will be presented with by the breakup of the UK, as separation will result in a boom time for criminal enterprises such as smuggling, gambling, drugs and extortion protection rackets amongst many others at huge cost to civil society in terms of the day to day lives of ordinary people becoming subject to the whims of flag flying criminal gangs parading their loyalties just as took place in Northern Ireland with echoes still felt every marching season.

A situation that the people of the Scotland and the bordering regions of England could never imagine today much as the peoples of Northern Ireland could not imagine what lay in store for them following the breakup of Ireland. Where today, even over 15 years on from the Good Friday peace agreement the people of Northern Ireland still have to contend with the consequences of more than 180 well organised armed gangs, most of whom use the cloak of republicanism and loyalism to engage in a high level of criminal activities that are beyond the experience of the peoples of mainland Britain. To imagine that this would not be replicated in a disintegrating UK and that on a far greater scale is ignoring what has taken place following the breakup of virtually every nation state in history. Weakened states act as magnates for organised crime, just as today Ukrainian, Russian, Polish gangsters are busy capitalizing on the chaos that is taking place in Ukraine. And just as the extinction of law and order in much of Syria and Iraq resulted in criminal gangs even going to the extent of declaring themselves as an Independent Islamic State !
So whilst it is totally unimaginable today for the SNP to have a paramilitary wing, however that does not mean it will be so a decade on from Independence as a consequence of the chaos that would follow the break up of the United Kingdom as we could see Scottish Nationalist paramilitaries battling against Loyalist paramilitaries as they attempt to carve up areas between themselves to profit from criminal activities as a consequence of weakened central states that apart from terrorising the general population will have a huge detrimental effect on legitimate business activities.
The bottom line is that on the morning of September the 19th that follows a YES declaration, the peoples of the rest of the UK will wake up to start to realise that the United Kingdom is FINISHED, which will emerge to come as a huge shock to most people who won't fully appreciate the ramifications of such an event until it actually happens.
The run up to the referendum is akin to the build up to the the start of World War 1, when virtually everyone thought it would be over within a matter of months where the wide spread perception was one of a fantasy land of boy scout outings at playing at being solider's. They had NO IDEA AT ALL of the HELL that was to come and so it is for the United Kingdom sleep walking off the edge of the cliff. And just as after world war 1 was over most thought how the hell did we allow such madness to happen, and similarly a decade following the aftermath of Scottish Independence, most people will look back at today's UK as representing a golden age of political, social and economic stability that they would crave for the return to, but in reality would take many generations to repair the damage done.
In terms of investment decisions, if Scotland votes Yes, then it should be taken as a cue to start to disinvest from the UK, and to seek to formulate an escape plan from the UK before the penny drops and what is completely unimaginable today starts to become manifest, much as many Ukrainians barely a few months ago (February) could not conceive of how bad the situation in their country would become barely 6 months later as the break up of their country continues to unfold as the level of conflict continues to accelerate towards a state of all out war, a situation that was totally unimaginable at the start of this year!
CONCLUSION - Which Way Will Scotland Vote?
Despite opinion polls now putting the YES vote in a slim lead of 51% to 49% and implying momentum being with the YES campaigners into the September 18th vote. When all things are considered the answer for the vast majority of Scots on September 18th will be whether Scotland would be better off in or outside the United Kingdom that can only lead to one conclusion which is that Scotland voting YES would be tantamount to the nation committing suicide. Therefore the whole Independence referendum game that Scotland plays every few decades is not actually about gaining Independence from the UK but rather one of black mailing England into both giving more powers (devomax) to Scotland AND increasing the amount of net subsidy (ransom) that Scotland extracts from England that in public spending terms works out to an extra £1500 spent per person per annum which is why Scotland can afford to send its children to Universities for FREE whilst English children are saddled with at least £40,000 of tuition fee debts.
However, England has NO CHOICE but to continue to pay Scotland's annual ransom for staying in the Union as the consequences for the the UK would be dire should Scottish Independence actually happen as it would probably prove fatal for BOTH Scotland and what remains of the UK, resulting in economic and social chaos that would destroy much of what has been built over the past 300 years.
So in my opinion Scotland will Vote NO to Independence and YES to a continuing extract a Queens ransom from Westminister. On the other hand, if I am proven wrong and the Scots like lemmings actually do vote to leap off the cliff, then September 18th should be taken as a STRONG signal to DIS-INVEST from the UK and to construct and implement personal exit strategies from the UK that I will write much about in the event of such a calamity.
Your analyst wondering how long the new Doctor Who will last before regenerating.
Source and comments: http://www.marketoracle.co.uk/Article47228.html
By Nadeem Walayat
Copyright © 2005-2014 Marketoracle.co.uk (Market Oracle Ltd). All rights reserved.
Nadeem Walayat has over 25 years experience of trading derivatives, portfolio management and analysing the financial markets, including one of few who both anticipated and Beat the 1987 Crash. Nadeem's forward looking analysis focuses on UK inflation, economy, interest rates and housing market. He is the author of five ebook's in the The Inflation Mega-Trend and Stocks Stealth Bull Market series that can be downloaded for Free.

Nadeem is the Editor of The Market Oracle, a FREE Daily Financial Markets Analysis & Forecasting online publication that presents in-depth analysis from over 1000 experienced analysts on a range of views of the probable direction of the financial markets, thus enabling our readers to arrive at an informed opinion on future market direction. http://www.marketoracle.co.uk
Disclaimer: The above is a matter of opinion provided for general information purposes only and is not intended as investment advice. Information and analysis above are derived from sources and utilising methods believed to be reliable, but we cannot accept responsibility for any trading losses you may incur as a result of this analysis. Individuals should consult with their personal financial advisors before engaging in any trading activities.
© 2005-2022 http://www.MarketOracle.co.uk - The Market Oracle is a FREE Daily Financial Markets Analysis & Forecasting online publication.
Comments
Leslie
07 Sep 14, 17:31
Scotland = Greece


It is a damn shame - most of the people voting YES would be voting NO if they could read this!

I do like your brothers outlook on the Euro! I think he may be correct on the European property market. With the crap about to hit the fan, most of the European countries will be experiencing housing price deflation similar to Greece!

We are living in "interesting times'

Leslie



Robin_Tilbrook
07 Sep 14, 18:32
UK Constitutional Crisis


Dear Mr Walayat

You have written a very good Political and economic article but constitutionally/legally Scotland's departure from the UK will be even more significant than you think.

In fact it is a basic legal and constitutional point that if the United Kingdom of Great Britain is dissolved by the repeal of the Act of Union of 1707, the resultant revived "Kingdom of England" will not automatically be in union with Northern Ireland, nor will it be automatically a member of the EU at all!

E + S = GB therefore GB - S = E

Where E = "Kingdom of England"

S = "Kingdom of Scotland"

GB = "United Kingdom of Great Britain"

Yours sincerely

Robin Tilbrook



Shout09
07 Sep 14, 22:22
Scottish Independence


Paul Krugman Nobel prize-winning economist has warned against independence.

"I find it mind-boggling that Scotland would consider going down this path after all that has happened in the last few years."

"If Scottish voters really believe that it's safe to become a country without a currency, they have been badly misled."

Shout09



SorryNO
08 Sep 14, 10:25
Scotland Will Vote NO


"panic" NO

"raised eyebrow" YES

So when the SNP are defeated on the 19th September - what next

Nicola Sturgeon is saying another referendum will occur in 5 years?

Hardly cricket is it .. but I understand the SNP desperation to strike whilst the iron is hot.

If they have to wait too long (last referendum was in the 1970s which they lost) in 30+ years time the oil will have definitely run out – and what then, what will "pay" for all their spending plans (tartan teddies and shortbread?).

Still, in the highly unlikely situation the SNP do win the referendum, their problems only start.

1) the SNP become the "establishment" and there is no place to hide, no one else to blame.

2) the SNP don't have a credible alternative to Salmond (no spring chicken and last time he left the party, their vote plummeted).

3) the SNP is made of reconstituted Socialists, a dogma that has never delivered fiscal promises (ever) and matched such with affordability (Europe is testament to that).

4) the SNP will cease to be the dominate political party in Scottish parties and other parties will evolve/rise.

5) the SNP will not be able to stop demands for a "reverse referendum" to rejoin the United Kingdom.

Still, food for thought – but thankfully the YES campaign (for a whole variety of reason) will not win on the 19th – but we are enjoying the show.

SorryNO



CaptainBlack
08 Sep 14, 14:26
Scottish YES Labours Fault


The NO campaign was headed by the pair who were at the wheel when the UK hit the banking iceberg. It may be convenient for the likes of the Mail to blame it on Labour's failings, but had any Tories got involved at all then they would have got short shrift. The fact that they feel they need to get involved now will only make it worse. Because this is a reaction to Coalition policies regarding the NHS, welfare and education. We've lost the fair. aspirational society we used to have and Scotland is seizing the chance to get it back again.

CaptainBlack



Keenan-Sadlon
08 Sep 14, 15:28
Go Scotland


A free people don't need rights "granted." The Scots are seizing their freedom and all of the responsibility that comes with it. The sun has set on the British Empire long ago and it's time for a free Scotland. They won't be bought off with gestures and promises. This is long overdue. They want to be free and should be. Self governance is the hallmark of a free people. GO free Scotland!

Mary Keenan-Sadlon



Klinger
08 Sep 14, 18:29
Westminister Idiots


i get it now. it's about the oil. maybe that will be enough to sustain the scots' standard of living, but as more welfare expansion seems on the way, we'll see ... now i see how the nationalists won the election - populism usually sells well ... until the bill comes due ...

who're the idiots in london that allowed succession with only a majority vote? seems like it should require at least 2/3 . with only a majority, one has to wonder about the remaining 45% and their rights ...

David Klinger



Yuriy
09 Sep 14, 18:00
Yes is good


I have an opposite view to the author's.

First of all, scotland can benefits directly from its energy revenue instead of sharing with the whole of UK.

Secondly, the energy revenue will allow Scotland to slash taxes resulting in a significant boost to the economy.

Thirdly, lower house prices are a good thing in the long term.

Forthly, Scotland will be able to say goodby to UK benefit culture.

Lastly, it will be easier for scotland to sort of the NHS problem.

All for all, Yes vote will be beneficial for Scotland overall.



Nadeem_Walayat
10 Sep 14, 05:16
Scotland Yes is bad


1. Net subsidy to Scotland is £9bn, after oil.

2. Scotland is socialist, they will RAISE taxes and increase spending.

3. Lower house prices results in a debt deflationary depression.

4. Scotland will EXPAND the benefits culture

5. NHS is already devolved to Scotland

So none of the points you raise make YES beneficial to Scotland

Best

NW



maphorn
12 Sep 14, 15:42
Go Scotland


What do Non Scots have to do with the decision if Scots want independence?

Without a doubt if the YES vote wins there will be increased volatility until it decides its future.

If Scotland does the right thing - FOLLOW A GOOD SCOTS EXAMPLE - ADAM SMITHS ECONOMIC THEORIES!

- Default on debt as Iceland did - within not many years you will have one of the few growing economies.

- Stay out of Euro - print own currency and base it on proper government budgetary control, unlike the rest of the West.

- Hold the bankers to their threats - Revoke the licenses of all Banks that are now supporting the no campaign - they are only worried about how their stupid UK bond investments will cause them loses.

- Lower taxes - As Scotland makes up a disproportionately (in relation to population) large part of the UK financial Industry (Banking - over 10%, Insurance - over 30% and Investment/Asset Management - over 10%, it will draw much of that business from England and Europe, especially if it sets the standard of responsible government fiscal management.

And within a few short years you sill be leading England and rest of Europe by example!

Europes new financial Capital!

Marc



Nadeem_Walayat
12 Sep 14, 19:32
Go Scotland


Hi

Yes, the above would be great but only one problem - Scotland is socialist not capitalist. Just look at the bribes the SNP are offering the electorate of free this that or the other to vote YES.

Any currency they print they will soon burn by the wheelbarrow full.

If Scotland were capitalist then it 'may' work but its NOT. It is not far removed from Soviet Union.



maphorn
14 Sep 14, 15:40
Go Scotland


What percent of UK GDP is generated from the private sector and what is public sector? At a guess not much different from the rest of the West - around half?

All the West is socialist / Marxist and that is why it is collapsing AS MARGRET THATCHER pointed out - the only problem with socialism is when you run out of other peoples money! Soon there will be no one left to tax and by stealing their savings there will be nothing left! Just like the collapse of Rome and every other empire through history! Even the militirazation of "police" and fines and jail time for protesting against the government.

Scotland has a chance to set a role model example!

I would suggest England looks at the bribes the give for the no vote! What is the difference? Nothing - all empty promises made on debt that will never be repaid!

Marc




Only logged in users are allowed to post comments.
Register/ Log in