Mysterious Death od CEO Who Went Against the Petrodollar
Politics
/
GeoPolitics
Oct 29, 2014 - 10:55 AM GMT


Last month in these pages, I wrote:
Patrick de la Chevardière, CFO of Total SA (which is France's largest energy company), has publicly announced that Total is looking to finance its share in the $27-billion Yamal LNG project using euros, yuan, Russian rubles, and any other currency but US dollars.
"The effect of US sanctions was that Yamal LNG will be prevented from raising any dollar financings," Patrick de la Chevardière stated in London at a news briefing.
Patrick de la Chevardière's boss was Total SA CEO Christophe de Margerie. De Margerie is now dead: he died under mysterious conditions last week, when just after midnight a snowplow and his private jet collided at a Moscow airport.
Back in university (yes, over 18 years ago now), I actually worked at the Vancouver International Airport. Because I was a young buck going to university, I got the night shift: I was responsible for bringing planes into the bays, where passengers unload and the plane gets refueled.
One has better odds of being struck by lightning at an airport than being hit by a snowplow—or any other ground support.
Is it a coincidence that the one CEO who went against the petrodollar is now dead?
To understand the consequences of being on the wrong side of the Colder War, you really need to read my new book.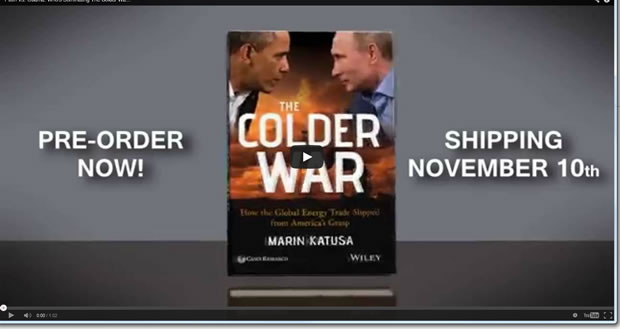 Maybe Christophe de Margerie had a falling out with Putin… As I wrote last month, his company is part of the charge to kill the petrodollar… but perhaps something happened behind closed doors.
In my book, part of a chapter focuses on "mysterious deaths" and how they're linked to being on the wrong side of the political equation. Whether it's going against Putin or against the petrodollar, there are many who have fallen on both sides.
But back to de Margerie and Total.
Total has yet to complete the financing. Did de Margerie fail to deliver what he promised to Putin—which was that he would invest $27 billion into the Russian Yamal LNG plant? Did the EU28 prevent Total from closing the financing under pressure from the French government? De Margerie and French President François Hollande were close friends.
De Margerie was outspoken in his support for Putin's agenda; he believed Russia was a good partner for Europe. While we don't know for sure whose toes de Margerie stepped on, we know how this story ended last week.
If Total doesn't close the $27 billion financing to move forward with the Yamal LNG project, then we will know that the powers that be (whether French government, EU28, or the US) stepped in to prevent an attack on the petrodollar.
The world is turning its back on the US Under Obama
As an American, you may not like what I'm going to say, but it needs to be said: America is losing face internationally under President Obama's leadership. Obama's failed foreign policy was challenged publicly at the podium at the most recent 69th United Nations general assembly.
On September 27, Russia's Foreign Minister Sergei Lavrov started out his speech by challenging America's undemocratic actions of late, stating:
The US-led Western alliance that portrays itself as a champion of democracy, the rule of law and human rights within individual countries, acts from a completely opposite position in the international arena, rejecting the democratic principle of the sovereign equality of states enshrined in the UN Charter and tries to decide for everyone what is good or bad.
Lavrov uses the election in Crimea as an example, stating:
"It was precisely the aggressive assault on these rights that compelled the population of Crimea to take its destiny in its own hands and make a choice in favor of self-determination. This was an absolutely free choice no matter what has been invented by those who were, in the first place, primarily responsible for the internal conflict in Ukraine.
The attempts to distort the truth and to hide the facts behind blanket accusations have been undertaken at all stages of the Ukrainian crisis.
The vast majority of North America has a strong bias against Russia or any election results involving the Eastern blocs and specifically Russia. When I bring up the fact in any media interview that the takeover of Crimea by Russia was the result of a free election, my interviewers immediately dismisses that election as a fraud. They state that it was staged and fixed and ignore the data. The fact is that the vast majority of the population of Crimea are Russians who speak Russian and who see themselves as Russian… so it makes total sense that they freely voted to join Russia instead of wanting to be under the rule of an unfriendly regime in Kiev.
Many years ago, a well-known media personality was involved in the promotion of a company looking for an investment. He was pitching Doug Casey and me, and as Doug's analyst I began to question the media personality regarding the details of his pitch. His only response to my very pointed questions was, "Look, kid, don't let the details interfere with my story—it's a good story."
This is essentially what most of the Western media outlets are doing—distorting the facts so that they fit neatly into the story they want to tell.
But back to Lavrov's speech at the UN; he also called out the US for its failed foreign policy by stating (emphasis mine):
Washington has openly declared its right to the unilateral use of military force anywhere to advance its own interests. Military interference has become common, even despite the dismal outcome of the use of power that the US has carried out over recent years.
The sustainability of the international system has been severely shaken by NATO bombardment of Yugoslavia, intervention in Iraq, the attack against Libya and the failure of the operation in Afghanistan.
Lavrov is speaking from experience. When Obama openly declared, "We are drawing a red line" regarding Syria in 2013, it was Lavrov who threw out a lifeline for our president, suggesting that Russia should work with the US to get rid of the sarin gas and other WMDs, rather than invading against the wishes of Congress and the American people.
I am not at all sympathetic to the Russian cause, but rather look at the facts, the data, and more important, the actual events to form my opinion. The harsh reality is that Obama, as much as the Western media will deny it, is comparable to the Wizard of Oz. The current US president is a confused and weak leader hiding behind a curtain: the American flag.
Russia is standing up to Obama and his failed foreign geopolitical policies. Unfortunately for us, the rest of the world is taking notice.
It would be nice if the Western media would remember that nobody has a monopoly on the truth.
The Colder War will provide all the details
Hard copies of my book are available on Nov 10, but it is available now on Amazon kindle, and my book has already cracked Best Seller status in the following categories on Amazon:
Best Seller: Oil and Energy Industry
Best Seller: Public Policy
Best Seller: Commodities Trading
Best Seller: Physics of Energy
My book covers many aspects of the geopolitics of energy… especially the struggle between Russia and the US. Some influential people have endorsed my book, such as former Congressman Dr. Ron Paul, who noted:
The Colder War provides a reversing contrast from the hysterical "Putin is Stalin, Jr., restart the Cold War" message emanating from the neocon think tanks and the mainstream media. Marin Katusa shows the real threat to the American people …
You see, while America and the West weren't looking, Vladimir Putin has orchestrated a takeover of the energy sector. Putin has transformed Russia from a crumbling former Soviet state into an energy powerhouse. Russia is quickly becoming the only source of energy for countries desperate to secure long-term supplies—this gives Putin more power and more leverage than ever before, and the West has yet to recognize this threat.
Europe, Africa, and China are all dependent on Russian energy. Putin won't stop until he takes down the only thing holding Russia from turning into a superpower: the US.
Inside my book, you'll discover how Putin is working to break the monopoly of the US dollar in the global energy trade. He has set in motion an ingenious and devastating plan to do it.
If Putin is successful, he could nuke the US economy and cost the average American dearly.
Do you think the recent pullback in oil prices will cripple Putin? If you said yes, you're wrong… and you really need to read my book.
Friends and colleagues have told me that when they sat down to read it, they could not put it down and had to finish it; it was fast paced and easy to digest.
Once you read it, your view of the world and the global markets will never be the same.
You might even want to call your broker the next morning—because the US has never been more vulnerable, and the stakes have never been higher.
Preorder your copy of The Colder War and make sure you're among the first to read this important book, so that you can start to separate partisan politics from the truth in this increasingly important geopolitical chess match.
Disclaimer: The above is a matter of opinion provided for general information purposes only and is not intended as investment advice. Information and analysis above are derived from sources and utilising methods believed to be reliable, but we cannot accept responsibility for any losses you may incur as a result of this analysis. Individuals should consult with their personal financial advisors.
© 2005-2019 http://www.MarketOracle.co.uk - The Market Oracle is a FREE Daily Financial Markets Analysis & Forecasting online publication.

Only logged in users are allowed to post comments.
Register/ Log in