Silver and Gold Producers – a CALL TO ARMS!
Commodities
/
Gold and Silver Stocks 2014
Nov 12, 2014 - 06:43 PM GMT


How much longer are you going to let Wall Street determine the price you are permitted to charge for your product?
How much longer will you stand by and watch as computer traders raise and mostly lower the price of your product, by selling contracts in the futures market for metal they do not own, and do not produce?
(Bud Conrad at Caseyresearch.com has just written an excellent article, with a number of charts, on this subject titled: "Paper Gold and its effect on the Gold Price.")
Now is a TIME FOR ACTION on your part. It's time to take charge of your industry.
Here is a simple plan that will work wonders.
Sell your production into the market to keep your cash flow going. Then, instead of putting the money in the bank, put it into a stock trading account at a reputable brokerage firm. If you produce mostly gold, buy the Sprott Gold Trust, PHYS, or the Royal Canadian Mint Gold Trust, MNT.TO. If you produce mostly silver, buy shares in the Sprott Silver Trust PSLV. (Be sure and buy only shares in trusts, and avoid 'paper money substitutes!')
Your action will cause these trusts to go into the market and buy the metal that you have just produced, and keep it away from the futures market, thereby sharply reducing the available gold and silver that the boys from Wall Street play with. The money invested in these trusts is better than money in the bank, for it is backed by gold and silver! If you believe in your industry, you know this to be true. When you need cash you simply sell a portion of the shares you own. You'll have the cash to work with, just three days from the day you make a sale.
If you are an explorer, and you have just completed a distribution, don't put the money in the bank - buy gold and silver trusts, as detailed above.
If you are worried that prices could go still lower, here are some charts to show you that the precious metals are ready to turn back up, and that this is a perfect time for you to take charge.
(Charts courtesy Stockcharts.com unless indicated).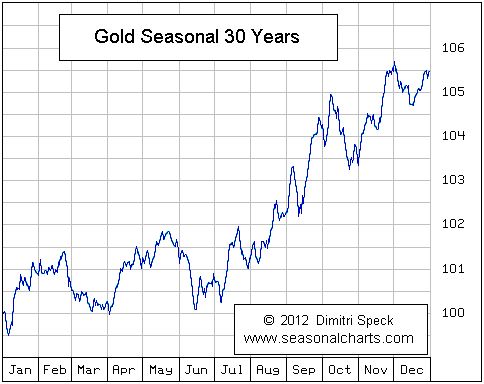 This chart courtesy Seasonalcharts.com shows November is historically a positive month for gold, especially if there was a dip during October.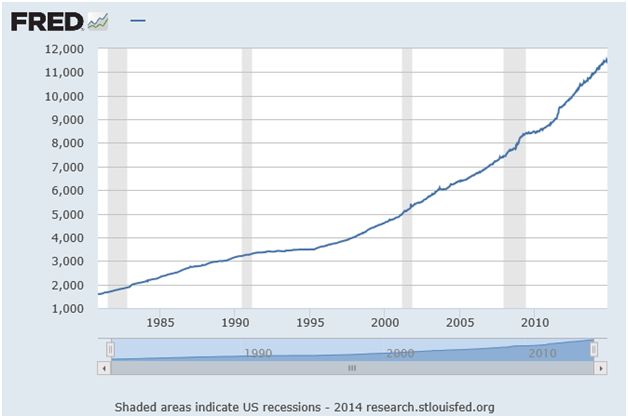 This chart courtesy Federal Reserve Bank of St. Louis shows the M2 Money Supply continues to rise. No 'tapering' here. The FED is one of five major, along with dozens of minor central banks, involved in the destruction of currencies. This steady destruction leads to a search by investors, who are eager to protect their net worth, to look for alternatives to currencies. Gold and silver are perfect investment alternatives to cash, with 5000 years of history to prove their safety.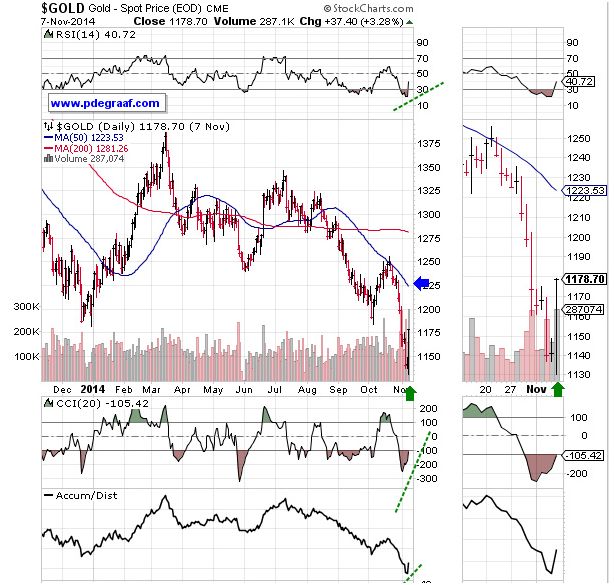 Featured is the daily bar chart for gold for Friday Nov 7th. Price produced an 'outside upside reversal' on the highest volume in at least 12 months. (This type of reversal is usually an indication that a major turn is taking place). The supporting indicators are turning positive. Confirmation of a major bottom will come with a breakout at the blue arrow.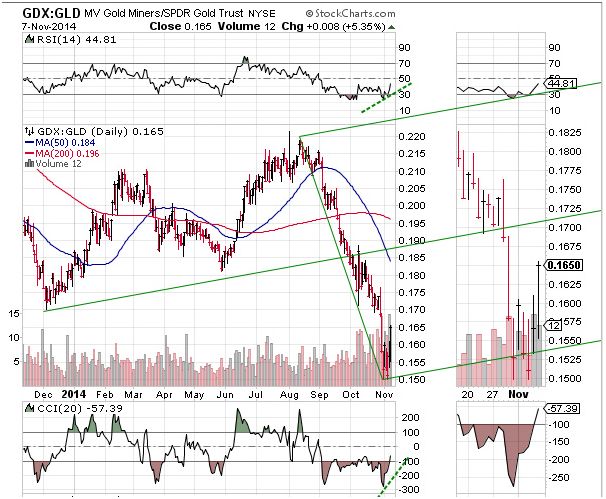 Featured is the Index that compares mining stocks to gold bullion. The Andrews Pitchfork suggests that the trend that has favored bullion over miners since August, is turning back in favor of mining stocks. In a gold bull market, we expect mining stocks to take the lead over bullion.
This chart called 'the puking camel', courtesy Brian Kelly, Tradingview.com shows that we have arrived at a very important turning point in the comparison between gold and the US dollar; When enough gold bulls have reached the 'puking point', (including some well-known analysts), the sector is very likely ready to turn around.
IMPORTANT: Please send this article to your favorite mining CEO. It's high time these people took action to protect and preserve their industry.

By Peter Degraaf
Peter Degraaf is an on-line stock trader with over 50 years of investing experience. He issues a weekend report on the markets for his many subscribers. For a sample issue send him an E-mail at itiswell@cogeco.net , or visit his website at www.pdegraaf.com where you will find many long-term charts, as well as an interesting collection of Worthwhile Quotes that make for fascinating reading.
© 2014 Copyright Peter Degraaf - All Rights Reserved
DISCLAIMER:Please do your own due diligence. Investing involves taking risks. I am not responsible for your investment decisions.
© 2005-2019 http://www.MarketOracle.co.uk - The Market Oracle is a FREE Daily Financial Markets Analysis & Forecasting online publication.

Only logged in users are allowed to post comments.
Register/ Log in