Fascist Trump Versus Communist Hillary Battle on a Sinking Ship
ElectionOracle
/
US Presidential Election 2016
Sep 28, 2016 - 12:45 PM GMT

We watched (and live tweeted ;@dollarvigilante) the US Presidential debates last night… mostly because we were hoping Hillary would drop dead on live TV.
Unfortunately, that didn't happen.
What did happen was that the two choices for the lesser evil this year, came down to: slightly more fascist (Trump) versus slightly more communist (Clinton).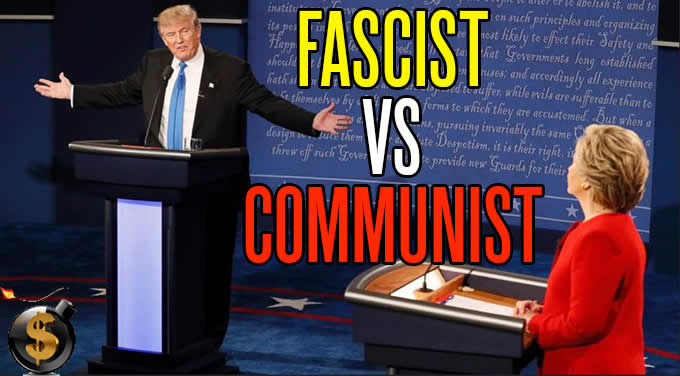 But, the key takeaway is that neither candidate wants to change the system in any dramatic way.
While they spoke about "creating jobs," no one pointed out that the government actually can't create jobs… it can only steal from some people and give to others (although Trump wins here with his idea of lowering corporate taxes).
While they spoke about poor black neighborhoods, no one said that the "war on drugs" is the single biggest cause of problems in those communities. Nor that the other biggest cause of problems in poor areas are the Federal Reserve and the government's regulations and growth-impeding taxation. Nor did they seem to notice that the most dangerous areas all have the most restrictive gun control laws.
They both spoke about the threat of ISIS… but no one brought up that ISIS was created by the CIA and other Western intel facilities and is still funded and backed by the CIA. And, certainly, no one spoke of shutting down the CIA.
They spoke about all the problems in the Middle East… nearly ALL caused or funded by the US government and CIA. And both had a solution… more war.
In fact, the only way that the US government can "make America great again" would be to shut down immediately, and neither candidate would ever conceive of the notion.
So, aside from it all being a bizarre circus, there is nothing truly new with either candidate. All will continue just as the elites intend.
Here at TDV, we have said for over a year that Killary Clinton will win come November, if she can keep walking. And, this debate didn't change our opinion.
Presidential elections aren't really elections so much as selections, anyway. George Soros, a high level employee of the elite, has already said Hillary is going to win the popular vote by a landslide. Here's his full quote:
"I think it all – it's going to lead to a landslide for Hillary Clinton in the popular vote, not in the electoral vote, because there, paid political announcements will have a big role. And so the electoral thing will be closer. But the popular vote will be a landslide because she is campaigning for the general elections, whereas the Republicans are fighting for the primary."
One big reason for a Hillary win is because of the funding that keeps pouring in. And that funding is based on her obvious, stated determination to make more wars around the world, which the military-industrial complex is eager to do. That's why Hillary is receiving so much funding from corporate America. Trump has hurried to say, as a result, that he too is eager to confront "terrorism" abroad as well.
National security seems to be a big issue for these two. Less so, the nearly $20 trillion US national debt, which is fast-sinking the country. Yet the national debt received only a few minutes of conversation as opposed to nearly 15 minutes on Barack O'Bombers birth certificate.
A few days ago, the federal debt of the US passed the $19.5 trillion mark. In fact, for the 2016 fiscal year that ends on the eve of the Jubilee Year, the US government's debt growth of $1.36 trillion will be the third biggest annual increase ever.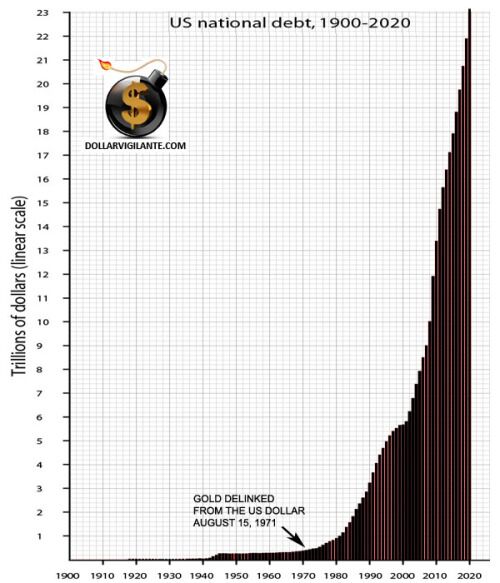 This is the only chart needed at the debate last night. And the only question that should have been posed is, "What are you going to do about that?"
Unfortunately, the reason that question was not asked is because there is absolutely nothing anyone can do at this point.
When the $20 trillion debt and over $80 trillion in liabilities (money already spent but that is promised to be paid in future) is accounted for, it adds up to over $250,000 for every man, woman and child in the US. Or, more than $1 million for every family of four.
This is mainly what all the billionaires who have been running from the stock market and into gold the last few months have been alluding to.
It's the rock and the hard place. Take your pick.
And when it implodes, in what they call a "debt jubilee", it will bring on a crisis and crash that Jim Rogers, who founded the Quantum Fund with George Soros, warned us about in August. He issued a blunt statement that, "A $68 trillion 'Biblical' collapse is poised to wipe out millions of Americans."
We aren't talking decades either. At best we are talking a few years. It could even begin to happen as soon as next week when the Chinese yuan is added to the IMF's SDR basket, the day before the end of the Jubilee Year.
We've been telling you for years to prepare… and those preparations have also included massive gains, including a 200% gain in the TDV Premium newsletter's portfolio in the last year.
It's still not too late, but if you have done nothing to prepare yet, you are really leaving things to the last proverbial minute!
Last summer, we made a call just before the August crash that earned us 4,500% in three days. And, TDV's Senior Analyst has just made a very similar call again in a September 16th alert to Premium subscribers. You can access that immediately here.
While we certainly favor Donald Trump's stance versus Hillary's on many things… especially in regards to reducing taxes and regulation (which should both be reduced to zero)… it is already too late.
Before anything can be salvaged there is going to have to be a washing away, of sorts. Likely in the form of a debt jubilee, which will cause damage to the economy, financial and monetary systems that no one could possibly imagine.
It's possible it won't happen next week. It may not happen next month. But it will happen soon enough. If you aren't already preparing for it, you may already be too late.
And, one thing is clear: Neither the Donald nor Hillary are going to be able to salvage it.
Anarcho-Capitalist. Libertarian. Freedom fighter against mankind's two biggest enemies, the State and the Central Banks. Jeff Berwick is the founder of The Dollar Vigilante, CEO of TDV Media & Services and host of the popular video podcast, Anarchast. Jeff is a prominent speaker at many of the world's freedom, investment and gold conferences as well as regularly in the media.
© 2016 Copyright Jeff Berwick - All Rights Reserved Disclaimer: The above is a matter of opinion provided for general information purposes only and is not intended as investment advice. Information and analysis above are derived from sources and utilising methods believed to be reliable, but we cannot accept responsibility for any losses you may incur as a result of this analysis. Individuals should consult with their personal financial advisors.
© 2005-2019 http://www.MarketOracle.co.uk - The Market Oracle is a FREE Daily Financial Markets Analysis & Forecasting online publication.

Only logged in users are allowed to post comments.
Register/ Log in