Desperation at Washington Mutual (WaMu) Puts US Taxpayers at Risk
Companies
/
Credit Crisis 2008
Aug 31, 2008 - 02:10 PM GMT

Desperation is in the air at Washington Mutual (WM). That WaMu is offering 5% on CDs should be proof enough. From LastNightInVegas . If the 5% rate WaMu is offering on CDs isn't indication enough that there's trouble brewing, the fact that WaMu is promoting it with a hand drawn white board sign certainly clinches it.


On a more serious note, please consider the following chart of WaMu credit default swaps courtesy of Chris Puplava at FinancialSense .

WaMu 5-Year Credit Default Swaps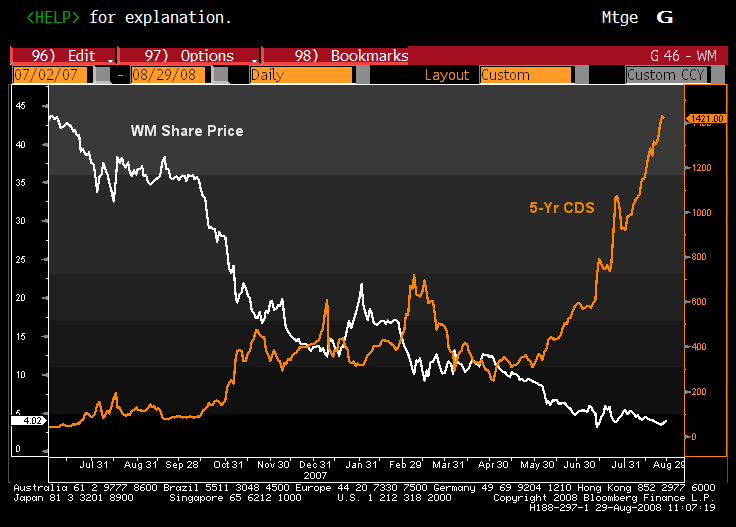 For more on Credit Default Swaps
Pimco: What Are Credit Default Swaps and How Do They Work?
Wikipedia: Credit Default Swaps
CBOT: CDS Example

In rally attempt after rally attempt in the financial sector, Washington Mutual is one of the last stocks to participate. There is good reason for this action. It's called "Death Spiral Financing". Previously I talked about Death Spiral Financing at WaMu, Merrill Lynch, Citigroup .

This is a different form of death spiral financing. WaMu is paying 5% on CDs at a time the Fed Funds Rate is 2.0% and the discount rate is 2.25%. Where can WaMu invest money safely and return 5%? The answer is nowhere.

It is a moral hazard that WaMu can even offer CDs at 5% with FDIC guarantees. Money is increasingly flowing to such endeavors, at taxpayer risk. Supposedly FDIC is self insured. I say supposedly. And although I am certain that FDIC guarantees will be honored, I am increasingly suspicious of how those guarantees will be honored.

LondonBanker has an excellent article on this subject called Is the FDIC another troubled monoline? It's a good read. Please take a look.

By Mike "Mish" Shedlock
http://globaleconomicanalysis.blogspot.com
Click Here To Scroll Thru My Recent Post List
Mike Shedlock / Mish is a registered investment advisor representative for SitkaPacific Capital Management . Sitka Pacific is an asset management firm whose goal is strong performance and low volatility, regardless of market direction.

Visit Sitka Pacific's Account Management Page to learn more about wealth management and capital preservation strategies of Sitka Pacific.
I do weekly podcasts every Thursday on HoweStreet and a brief 7 minute segment on Saturday on CKNW AM 980 in Vancouver.

When not writing about stocks or the economy I spends a great deal of time on photography and in the garden. I have over 80 magazine and book cover credits. Some of my Wisconsin and gardening images can be seen at MichaelShedlock.com .
© 2008 Mike Shedlock, All Rights Reserved
© 2005-2019 http://www.MarketOracle.co.uk - The Market Oracle is a FREE Daily Financial Markets Analysis & Forecasting online publication.
Comments
Jay
04 Sep 08, 02:30
WaMu


WaMu also offers ECR's that are near 3.0, and they offer money markets that are at 3.7. I guess they should just not worry about deposit products at this time. Maybe they should just roll over and give up. There are many other banks that are still lending focused even in this market. At least WaMu is making a push on the deposit side. They are building out their small business banking solutions and team, and they are investing in TMS. Seems like a pretty good plan vs laying down and quitting. They will be back. In three years when their stock is 8 - 10 times higher, then you will see.



Damon
05 Sep 08, 13:58
Not as crazy as you think


I've been a customer of WaMu for years, and they ALWAYS have a CD sale like this once a year, where the rates are over .50% higher than any other bank/credit union. Right now, every bank is fighting for deposits, that's their main objective. I think it only makes sense to secure as much of it as possible.

In terms of how FDIC money will be honored, my IndyMac experience shows that I was able to get 100% of my insured money back.



Mike
05 Sep 08, 16:00
WaMu/FDIC


Sure! We know the lines for FDIC are only geting shorter(hahaha)and how prompt and responsive the Gov't is in paying back money it owes. Too many banks will fail at one time by Oct and my obligation(and maturity)to feed and take care of my family lead me to put my cash in a private trust account with a firm who has law/history of not using customer deposits on it's balance sheets like american banks(most recently busted-Citigroup) Best of Luck!




Only logged in users are allowed to post comments.
Register/ Log in