Dangerous Stock Markets for Bottom Pickers
Stock-Markets
/
Stocks Bear Market
Oct 19, 2008 - 10:38 PM GMT


The euphoria of Monday – good lord did Monday happen on Monday? This very week? Seems like years. And this week has seemed like years in the happening with truly astounding and historic events. Keep a journal. Someday you'll tell your grandchildren about the great financial panic of '08. Or maybe next month you'll be mumbling to yourself about it.


What we see here is not a definitive test of the low. It is a test, but not definitive for now. As time progresses time may make it definitive. Right now note that only one day is outside the range of the low day. Looking for three days away, as Magee recommended, is almost always a way to test the strength of a high or low day.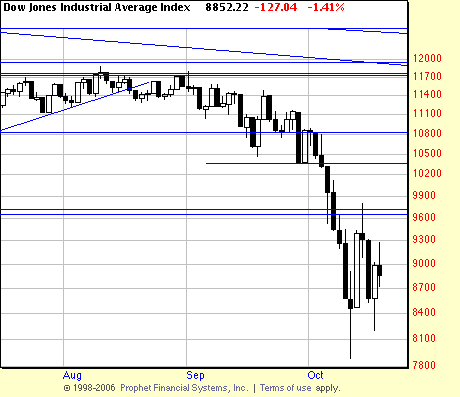 From the long view, here is the Dow over the life of this market: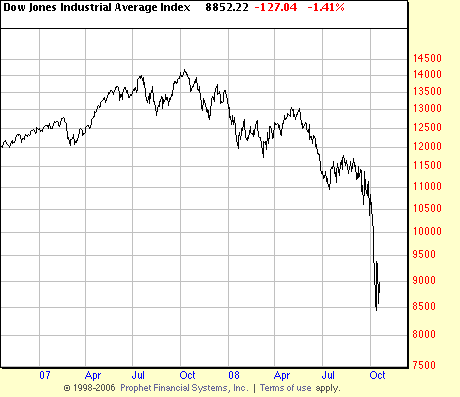 Everyone is crawling out of the wreckage of the carnage (phrases like this we are convinced will one day win us the Nobel Prize) looking around and saying is it safe to buy stocks now?
This is a classic bear market chart, complete with panic sell off. Some analysts, and some analysts we have great respect for, like Jack Schannep of thedowtheory.com, are putting their money on the table and buying stocks. Here is what we think: there are old traders and there are bold traders but … If you have the skills, are able to set stops and watch the market virtually full time then you might put a fifth (or less) of your portfolio in carefully selected stocks. Be warned. There are no bottom patterns here and graybeards do not buy issues that do not have bottom patterns. That is the way to wind up owning Enron at 1/16 th . Then, on the other hand, as the one armed economist said those who buy in a time of panic make the most money. Sometimes. It all depends on how you define yourself: investor or speculator.
What can be bought is the dollar. We have been saying this since March. An uptrend has started and we suspect will last some time. From the point of view of fundamental economics the dollar was ridiculously oversold as we have been saying ad infinitum bordomus. Is this speculative? At the beginning of a trend all trades look speculative. You just have to see the buy signal on the chart and take it with a well-defined technical stop, then let the gods decide.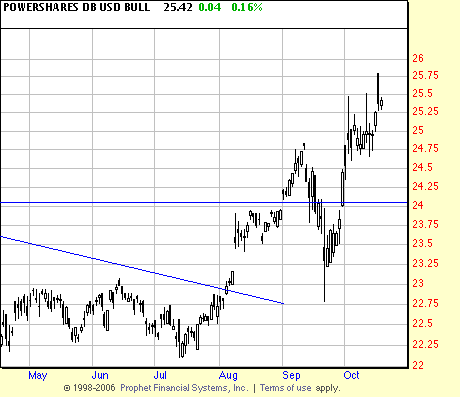 UUP is the investor's ETF for this issue.
What is going on? What on earth is going on? Or what the damnhell is going on? Here's what's going on. Several years ago we remarked in a letter that there were 9000 hedge funds and that this meant that the hedge funds had become the public and that this was dangerous, because there weren't 9000 excellent (or maybe even competent) managers out there. The awful prescience of this statement has come home to roost. As the hedge fund managers demonstrate their incompetence to deal with the most explosive market in history their investors have called back their money, forcing the funds to liquidate their holdings (which they should have done long ago). Jet fuel dumped onto a raging wildfire. Your index and mutual funds seeing the bonfire have gleefully opened up their tanks and dumped too. The result is 1000 point days in the Dow. After conflagrations like this it just takes one guy in Nebraska to buy to put the market back up 500 points. If short there has been no long term signal to cash in the shorts.
Dangerous market. Enter at own risk.
By WHC Bassetti
Noted technical analyst WHC Bassetti has over 40 years' experience in the financial markets and is Malcom S.M. Watts III Adjunct Professor of Finance and Economics at Golden Gate University. He is editor of the ninth edition of Technical Analysis of Stock Trends, widely considered to be one of the true classics of market analysis.
Since 1999, his website at http://www.edwards-magee.com/ has analyzed the markets with wit and accuracy. Readers have avoided the dot com bubble and subsequent bear market; invested in gold and silver before they ran away; bought oil before the blow off; been short the dollar. Now long the dollar, short the Dow since January 'o8.
Copyright 2008 © WHC Bassetti and AC Media Holdings, Inc. All rights reserved.
Disclaimer - All information and data that is provided is solely for educational and research purposes only. Information provided does not constitute investment advice and the operators of this website, WHC Bassetti and AC Media Holdings, Inc., do not advocate the purchase, holding or sale of any security or investment. We do not provide advice regarding the suitability, profitability or potential value of any particular security or investment. Should such advice be sought, the services of a professional advisor should be obtained. All information is made available " as is " and " as available " for your personal use only and we make no representations or warranties of any kind, express or implied. Specifically, WHC Bassetti and AC Media Holdings and the operators of this website expressly disclaim any implied warranties of merchantability or fitness for a particular purpose or use.
© 2005-2019 http://www.MarketOracle.co.uk - The Market Oracle is a FREE Daily Financial Markets Analysis & Forecasting online publication.

Only logged in users are allowed to post comments.
Register/ Log in