U.S. Dollar Currency Collapse Within 30 Days
Currencies
/
US Dollar
Oct 24, 2008 - 10:41 AM GMT


It appears that there is a common refrain going around the investment community. It goes something like this:
"Gold should be doing better, and, since it isn't, I am not going to buy it"
Investors who believe this are making the mistake of thinking COMEX gold is the same as real physical gold. It is not.

COMEX gold is a form of debt. It involves one party promising to produce gold (money) to another at a future date. Like all forms of debt, a COMEX futures contract is only as good as the counterparty behind the contract. Right now, because of low margin requirements, sellers of gold futures only have enough gold to cover 10% of outstanding contracts stored in COMEX warehouses. Considering that the biggest sellers of gold futures contract are insolvent financial institutions, it is obvious that COMEX gold has enormous counterparty risks . If even a quarter of outstanding contracts asked for physical delivery, it would be enough to guarantee a default. Since a financial collapse would actually creates the risk total default (insolvent banks can't produce the gold or cash), COMEX gold fails miserably as a safe haven . This is why COMEX gold prices are falling, while physical gold is disappearing from the market place

Because of scarcity, physical gold is selling at an enormous premium to gold spot price (which is set by COMEX). How big a premium? Well, on eBay 2008 gold buffalo are trading between 300 to 400 over spot price. That is a 50% premium. The enormous premiums being paid in the physical market means that a large number of December gold contract holders are likely to request delivery. A volume, whether it causes defaults or not, is likely to change the marketplace perception of gold and cause a rush of into a physical gold plagued by shortages. Gold will skyrocket over 2000 in a matter of days.

I am not the only person who believes COMEX gold futures are on the verge of collapse. I urge you to watch this video (skip to 11 minute mark) and read the extract below to see what others are saying about paper gold.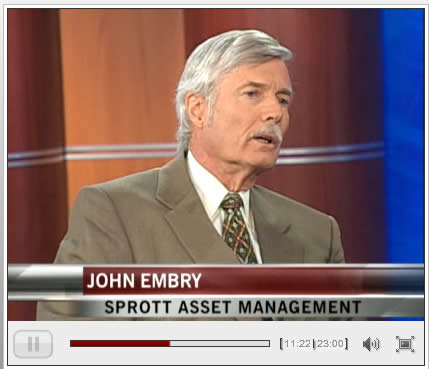 ( red emphasis mine)
Why Gold Is Dropping When It Shouldn't
by Alex Wallenwein

- and what it all means

Why is gold dropping right now when anyone in their sane mind would expect it to rise? The simple answer to this question is, " because Comex-gold isn't gold " - and because it deceptively pretends to be 'the' price-setter for real gold.

Gold is gold, paper is paper, and "Comex gold" is nothing but paper masquerading as gold while simultaneously pretending to be the price-setting medium for actual gold in the world. Now, finally, Comex-gold is in the process of being unmasked.

The real supply and demand determinants for Comex gold are not actual gold investors but fund managers . Fund managers are inextricably intertwined with the world of contract-based credit instruments. They use bet on Comex gold contracts to hedge their other (currently horrendously losing) bets with something they all, in their in-bred belief in paper markets, believe will 'go up' in value while everything else is going down.

However, these very same fund managers and their paper-bound investment psychology are the exclusive reason why Comex gold is dropping in these times when everyone (including fund managers) expects gold to rise. As already stated, though, and as they now finally realize to their own dismay, Comex-gold just isn't gold - and that causes even further selling.

Two Losing Bets, Compounded

Fund managers' other bets are losing money fast, now, so they need to raise cash to keep up the overall value of their respective funds, so they can earn their management bonuses and avoid getting booted for lack of relative performance. Guess what they cash in on? The very same Comex paper-gold they mistakenly bought as a 'hedge', of course.

Meanwhile, real investors in real gold are enjoying their shopping spree - except that the spree turned into a treasure hunt as the shelves and display cases of gold dealers look more and more like the supermarket shelves in the old Soviet Union - bare .

This is the only 'bare-market' in real gold the world will see for a long, long time to come.

With this split, this disconnect, between Comex illusion and gold reality, one thing or the other will have to give, and it won't be physical gold that gives.
My reaction: I am certain the US is less than a month away from a currency collapse. The fed and treasury are not even taking the time to think at this point: they are just throwing money and guarantees at each new problem that pops up without worrying about the consequence. Since no one can imagine a currency collapse, there isn't the political will to take the painful steps needed to prevent it (reign in fed and let institutions fail). The forces and trends behind the financial collapse are too powerful to stop.

If you have wealth and don't own gold, then you will soon be poor.
By Eric deCarbonnel
http://www.marketskeptics.com
Eric is the Editor of Market Skeptics
© 2008 Copyright Eric deCarbonnel - All Rights Reserved
Disclaimer: The above is a matter of opinion provided for general information purposes only and is not intended as investment advice. Information and analysis above are derived from sources and utilising methods believed to be reliable, but we cannot accept responsibility for any losses you may incur as a result of this analysis. Individuals should consult with their personal financial advisors.
© 2005-2019 http://www.MarketOracle.co.uk - The Market Oracle is a FREE Daily Financial Markets Analysis & Forecasting online publication.
Comments
Mark Herpel
24 Oct 08, 19:13
You are correct, it's coming


That is correct and more people are recognizing this financial future and buying gold. We have a pool going that says no later than the end of January, but we think soon. Good post above.

Mark



jitendra c purohit
12 Nov 08, 23:11
eco disaster waiting to happen


for once he could be wrong but what if he is right?????

on top of that uncle henry has changed his plan from wall street to main street. which is good but the financial instiution are left in muddle and exposed to further bankcrupcy.



Andre Aurel
21 Nov 08, 11:10
U.S. Dollar Currency Collapse Within 30 Days


Bravo! Today,22 November 2008, is the 30th day,gold has gone up more than 7300 pips



TraderJoe
21 Nov 08, 12:38
Dollar Collapse - WRONG


You got it WRONG !!!

No US DOLLAR COLLAPSE !

Infact the dollar is significantly higher than it was 30 days ago ! Clearly you do not trade the markets, as if you did you would probably be broke.



Stormy
22 Nov 08, 06:34
Dollar Collapse - Wait and See


Just wait and see guys. Nobody can predict the exact day for the dollar collapsing, but it will for sure, whichever point of view you take economical basics point to that;)



Andre Aurel
24 Nov 08, 13:13
Wrong? -No


What chart are you seeing?

Why do you have to be so pessimistic like trading books? Whichever is collapsing, either Dollar or Euro, you can make money out of the situation, relax.

Thanks Eric, I'm closing my long XAU position at 828, now I am expecting a downward retracement.



sudhaman
03 Mar 09, 07:51
US Dollar


the dollar will not collapse.the third world are manipulating their to keep the dollar high. if it collapses then demand for american made goods will keep rising like there is no tommorow. people will buy anything and we sell and therefore dollar will simply gain back its value



TJ
03 Mar 09, 22:13
us dollar


Looks like the Us dollar will not collapse, only because it is one of the best currencies out there. (which is hard to believe with the printing press going full tilt).. The Euro is a worse and might have a tough time making it through these challenges.. The Yen I believe is holding in but that economy is hitting the skids hard and the government will hit the printing press soon.. IT is amazing pulp is not trading at higher prices with the presses going -- haha-- In the end US is still the big consumer(lot less in a few years) and everyone want to sell to them.. China is in good shape but not big enough to drive the world economy and basicically they dont consume like north america, so there economy sucks without the US buying all the crap ..



jason
09 Mar 09, 13:51
us dollar


No they are not printing money. It is all eletronic. As Ron Paul said it is money made out of thin air. We will have inflation and that is when the real trouble will start.



Liam
10 Mar 09, 03:17
Wrong Hypothesis


You were / are wrong, instead of collapsing the dollar has soared.

If your wrong on the dollar then that means your also wrong on your hyperinflationary expectations



Jack love
04 Jul 09, 07:33
Money does not even exist!!!


The US owe 11.4 trillion dollars, they are finding it impossible just to keep up with the interest repayments...

They have been set up to collapse ever since the revolutionary war!

Be happy everyone, there is more to life than money!!!

Jack Love



Juno
03 Nov 09, 17:49
Dollar crash ?


> I am certain the US is less than a month away from a currency collapse

Wheres the crash ?

The dollar is basically where it was at when you wrote this a year ago !



Andre Aurel
08 Nov 09, 07:55
There


lol....

don't you get it?

he was talking about XAU statring Oct 24, 2008



G.C
16 Jun 10, 17:10
Hmm


Looks like all the guys saying he was wrong are eating their own words, a few years off but its happening



Hello
20 Jan 11, 16:39
30 days came and are gone


SO where is it?



josh
29 Jun 11, 10:24
prediction date


This author should get together with the end of the world preacher and do some more predictions. =) as much as one can say when the dollar will collapse another can say when Jesus will return. No man knows either.




Only logged in users are allowed to post comments.
Register/ Log in