How to Play the Obama Infrastructure Building Boom
Stock-Markets
/
Infrastructure
Dec 19, 2008 - 01:29 PM GMT

U.S. infrastructure is crumbling... trillions could be spent in the next few years... and President-elect Obama has told the states to "Use It or Lose it." Here's how to profit. If you drive on U.S. roads, you probably don't need to be told – the country's infrastructure is in pretty bad shape.
As a nation, Americans like to look forward. We prefer to spend our money building new things (rather than fixing up old things). Issues like repair and maintenance are back burnered for other priorities in state and federal budgets. Over time, the cost of neglect rises.
In 2007 we were hit with a long overdue wake-up call: a Minneapolis bridge collapsed. Thirteen drivers were killed.
A Serious Problem
I don't know about you, but I routinely drive over bridges and interpasses without worry (just as 200 million other U.S. drivers do). The bridge collapse was seen as a freak occurrence, a one-off... but imagine if that changed. The climate of fear could cripple our roadways, and that would be disastrous.
Dale Reiss, vice chairman of the Urban Land Institute in Washington, believes that "at some point, the system could grind to a halt" if we don't do something about the crumbling state of our highways, roads and bridges.
In Atlanta, Ga., for example – the city where your humble editor went to high school – rush-hour trips are projected to take 75% longer by the year 2030. (If you've ever braved Atlanta traffic, you know that's no joke.)
The estimated repair bill is staggering. A report titled "Infrastructure 2007: A Global Perspective" argues that the U.S. faces a $1.6 trillion deficit for repair and maintenance through the year 2010.
It may not seem like it these days, but $1.6 trillion is still a serious chunk of change. (Unless your name is Hank Paulson or Ben Bernanke, that is.)
Keep in mind, too, that the $1.6 trillion repair bill estimate is only through 2010 . When you look at the long-term estimates for needed infrastructure and repair costs – stretching out into decades – you get a repair bill in the tens of trillions.
Keynes to the Rescue!
So, given the above news, the logical John Q. Taxpayer reaction would be something like, " Holy smokes, that's a lot of dough to spend on repairs. "
But in Washington, D.C. – where everybody and their brother is a John Maynard Keynes fan – the reaction is "Hooray! Something huge to throw money at!"
Deflation fears are all the rage now as you know... the Fed just cut rates to zero... Chrysler is hurting so bad it's shutting down operations for a month... and President-elect Obama is getting ready to swoop in with the mother of all stimulus plans. Money needs to be spent... and by gum, we're gonna spend it on infrastructure.
The total amount of "Obama stimulus" seems to yo-yo up and down, like a mood ring attuned to the general anxieties of U.S. taxpayers. The initial amount being bandied about was $600 billion. In recent days the whispers have expanded it to a cool trillion – the big T word – or maybe even more.
On Dec. 6, President-elect Obama put some flesh on the bones of his stimulus plan, pledging "the largest new investment in roads and bridges since President Dwight D. Eisenhower built the interstate system in the 1950s" (according to the Wall Street Journal ).
President-elect Obama also promised, in his own words, to "launch the most sweeping effort to modernize and upgrade school buildings that this country has ever seen."
(Side note: why do most public schools look like prisons? Have you ever noticed that? I don't get it.)
"Use It or Lose It"
When Obama unveiled his five-point plan earlier this month – encompassing energy, roads and bridges, schools, broadband and electronic medical records – the thing that really made my ears perk up was the "use it or lose it" provision.
Here is the President-elect, again in his own words: We'll invest your precious tax dollars in new and smarter ways, and we'll set a simple rule – use it or lose it. If a state doesn't act quickly to invest in roads and bridges in their communities, they'll lose the money.
Have you ever seen the movie Brewster's Millions ? It's a classic 80s comedy in which Richard Pryor, a minor league baseball player, has to blow 30 million dollars in thirty days – without telling anyone why – in order to inherit $300 million more from an eccentric relative.
The use-it-or-lose-it provision made me think of Brewster's Millions... perhaps updated here as Obama's Trillions . In order to meet the stimulus-driven desires of Washington, the states are going to have to shovel this road-and-bridge cash out the door, pronto.
You can almost hear the CEOs of the big construction companies doing a Homer Simpson: Woo-Hoo!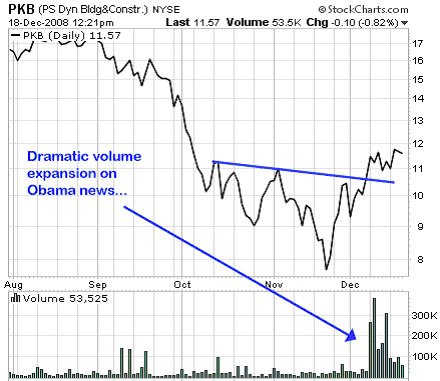 As you can see, PKB is headed in the right direction. The ETF saw a surge in volume on the "Obama breakout" when the stimulus plans were announced, and the price action is strong.
But PKB has a few problems that make it a less than ideal choice.
For one, PKB's average volume isn't so hot at less than 100K shares per day. The volume is doable from a trading standpoint, but getting down to where lack of liquidity starts to be a concern.
Even more of a concern, from our perspective, is the fact that PKB's top 10 holdings include Home Depot ( HD:NYSE ) and Lowe's ( LOW:NYSE ) . We're not interested in DIY (do-it-yourself) retail or anything aimed at the consumer here, so that's a real drawback.
Here's where I turned to the man with the micro plan, Zach Scheidt (a.k.a Cash McDash), to get his take on how to play the Obama infrastructure boom.
Smaller Is Better
The first thing Zach pointed out to me is that, in terms of getting the most bang for one's trading and investing buck, smaller is better as a rule of thumb.
Here's what he means...
The major go-to names (the ones in the list noted above) should do well as a result of Obama's big plans. In fact, they could very well offer double-digit returns in the coming years – nothing to sneeze at.
But, in Zach's view, most of those multi-billion-dollar market cap names are too big to see the needle really move as a result of this road-and-bridge cash flood... the way it could with some of the smaller, less well-known infrastructure names.
"Think of an 18-wheeler semi-tractor trailer versus a sports car," Zach told me.
"You can certainly cover ground in a big rig... but you just can't get up to speed all that fast. So just as a fully loaded 18-wheeler can't accelerate all that quickly (even on a brand new Obama highway), the big, well-known infrastructure names aren't set to deliver the velocity of returns that some of the smaller names can."
"Think of a Porsche," Zach continued, "or maybe a Corvette, out of respect for the ailing Big Three. An infrastructure play with a market cap of just a few hundred million – as opposed to billions – is like the Corvette. The Obama plan's impact on revenues will be that much greater for these smaller players... and in terms of shareholder return, the Corvette should leave the 18-wheeler in the dust."
I asked Zach if he had any names in mind. He responded as if I had just insulted his honor. Of course he had some names on his roster – what self-respecting trader wouldn't want a piece of this trend?
"In particular, I'm looking at one company that has a market cap of less than $300 million," Zach said. "I haven't pulled the trigger on it for Taipan subscribers yet, but my preliminary research suggests it could be a double or a triple within the next 12 to 18 months."
Lawyers and Bulldozers
I then asked Zach what readers should look for as they scout for these infrastructure "Corvettes" themselves.
His response: "One thing that's really important is to look at the lines of business. In particular, I like names that have the ability to make money on the construction side and the consulting side."
"You can think of the two lines – construction and consulting – as the 'bulldozer team' and the 'lawyer team.' Before a structure can be upgraded or a new bridge can be built, a number of assessments have to be made. Sometimes there's a lot of red tape – especially when NIMBY interests (the 'Not In My Back Yard' people) get involved."
"So the smaller infrastructure names with dual lines of business – like the one I'm zeroing in on for Taipan subscribers – can make money on both sides of the coin. During the assessment period, while the project is being held up by red tape, they send in the lawyers and the guys with the clipboards. This allows them to make fat profit margins on their consulting fees."
"Then, when the project actually gets underway, the 'lawyer team' packs up and the 'bulldozer team' rolls in... allowing the company to make another big chunk of profits on the construction side. Nobody likes red tape, but it's a beautiful racket – a way to make money coming and going."
So there you have it... happy hunting. And thanks to all those who have emailed in with suggestions on industries and sectors to cover. We've already gotten some great ideas. Zach and I are building a list, so keep 'em coming: justice@taipandaily.com
By Justice Litle
http://www.taipanpublishinggroup.com/
Copyright © 2008, Taipan Publishing Group
Justice Litle is editorial director for Taipan Publishing Group. He is also a regular contributor to Taipan Daily, a free investing and trading e-letter, and editor of Taipan's Safe Haven Investor, which helps guide readers to new global investment frontiers and safe harbors.
© 2005-2019 http://www.MarketOracle.co.uk - The Market Oracle is a FREE Daily Financial Markets Analysis & Forecasting online publication.

Only logged in users are allowed to post comments.
Register/ Log in