UK Interest Rates Forecast to rise much higher due to rising Inflation and high Money Supply Growth
Economics
/
UK Interest Rates
Oct 22, 2006 - 09:19 PM GMT

Interest are set to to rise to 5% in November 2006, some market commentators are already seeing this as a potential peak despite REAL UK interest rates being at historic lows.
The spread between the base rate (4.75%) and RPI (3.6%), is currently at 1.3%, or marginally higher than the low set in 2003 of 1.1%, which preceded a rise in interest rates from 3.5% to 4.75%. This took the spread to 2%, since that time, RPI has risen and interest rates fell to 4.5%. This puts the UK under similar interest rate hike pressures as during the start of the rate hikes in 2003.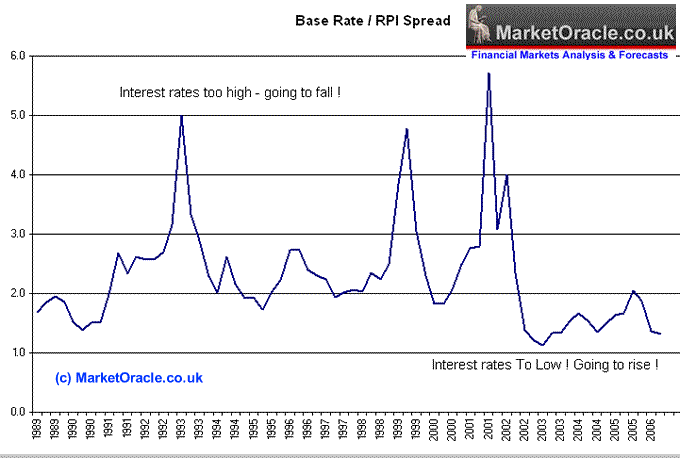 So either one of two things needs to happen or a combination of two
a. UK inflation falls.
b. UK Interest rates rise.
The key target here is a move back to the 2% spread, which if inflation stayed put, projects a rise in base rates to 5.75%, substantially higher than market economists are forecasting at this point in time.
Can UK Inflation fall ?
Given most recent data, showing domestic inflation as running far ahead of imported inflation which has fallen due to the recent drop in crude oil. This is likely to also be reversed once commodities resume their uptrend. Sterling is also expected to be weak due to the large trade deficit, and a weak sterling will cause high additionally imported inflation. The trade and budget deficits are likely to result in Gordon Brown breaking his Golden Rule of balancing the budget over an economic cycle, i.e. printing excess money, this will ensure that sterling is likely to decline even if interest rates rise. So for the forseable future, inflation is unlikely to fall.
Another major inflationary influence is that the UK money supply is running at 14.5% !! That represents a 16 year high, this alone is alarming and should prompt the BoE to raise interest rates as well as other measures to reduce the money supply growth which unless addressed will cause even higher future inflation. We can speculate how high, given RPI of 5% + 2% = 7% base rates ! Well beyond current expectations, and recent experience, but neither has the money supply been running at levels not seen since 1990 when interest rates had risen to 15% !
Conclusion
Interest rates are headed much higher, far higher than current or even recent mainstream forecasts suggest. Though the Market Oracle did project way back in November 2005, that UK interest rates are targeted to rise to 5.75% - UK Long-term Interest Rates Trend is still UP ! At this point in time this target still holds, and unless something is done to curb the growth in the Money Supply it could still head much, much higher !
Nadeem Walayat
(c) MarketOracle.co.uk 2005-2006
Disclaimer - This Analysis / Forecast / Trade Scenerio is provided for general information purposes only and not a solicitation or recommendation to enter into any market position, and you are reminded to seek independent professional advice before entering into any investments or trading positions.
The Market Oracle is a FREE Financial Markets Forecasting & Analysis online publication. We aim to cut through the noise cluttering traditional sources of market analysis and get to the key points of where the markets are at and where they are expected to move to next ! http://www.marketoracle.co.uk
This article maybe reproduced if reprinted in its entirety with links to http://www.marketoracle.co.uk
© 2005-2019 http://www.MarketOracle.co.uk - The Market Oracle is a FREE Daily Financial Markets Analysis & Forecasting online publication.
Comments

30 Oct 06, 03:21
Re: UK Interest Rates Forecast to rise much higher due to rising Inflation and high M
Thanks !

Thats a nice graph

Also don't forget the UK debt now is very, very high ! Perhaps you could do a chart / article on that too, if rates do rise as far as you suggest then the UK housing market definetly will crash !


Only logged in users are allowed to post comments.
Register/ Log in