Trading Doctor - Fifty Prescriptions for Profits: Ten Doses at a Time
InvestorEducation
/
Learn to Trade
May 14, 2007 - 01:14 PM GMT

Over the next few weeks, I will give you my top 50 secrets to profitable trading. Although directed to futures traders, they contain valuable lessons for all trader s. These are Doctor Janice's Prescriptions For Profits which I am prescribing to you in doses of ten at a time.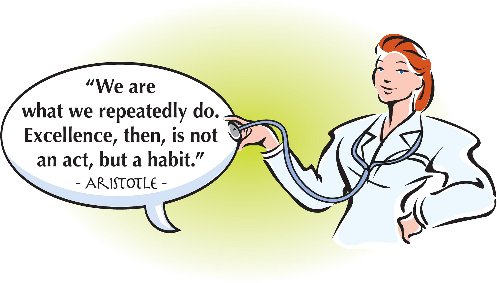 Nothing goes straight up and the best traders have trained their brains to be flexible enough to take both sides. It is not the markets that are bullish or bearish, rather it is your individual approach to the markets that makes you feel bullish or bearish. The Stinking Thinking Cycle Of Trading Emotions at the bottom of each of the Ten Prescriptions is a cycle that repeats constantly. Why? Because although the markets have changed considerably since their inception, human emotions have not changed. Your biggest trading enemy is your own brain. It is also you best trading friend and most powerful trading tool.
That said, here are your first TEN PRESCRIPTIONS FOR PROFITS :
Trade only with money you can afford to lose, i.e. don't trade with frightened, anxious, fearful or greedy money.
Unless you are a master scalper ( April Newsletter interview with Master Scalper ) or day trader, distance yourself from the short term circumstances. If you do not do that, you will be whipsawed and chopped up like lettuce in a shredder. KNOW YOUR TIME FRAME and do not falter from it.
Start small. I do not advocate trading one contract. Start with two. Know how to set stops in terms of your risk tolerance and what you have observed re: stop running. Set a stop the instant you enter a position and let the market take you out. Do not second guess your stops.
Know yourself. If you do not know yourself truly, madly and deeply, the markets will find all the flaws in your personality and exploit them. ( Click Here For Your Elementary Trader Personality Test ) Why? Because you will telegraph your personality weaknesses into the markets and act out. The predators are waiting for you, don't go in there unless you know yourself well enough to stay out of dangerous and murky territory. If you are injured, get out quickly because the sharks will scent your blood and go after you.
Isolate your trading from your desire for profits. You must absolutely learn one thing: Making money in the markets is a by-product of doing things correctly. If you enter the markets without a tested and back tested brain strategy, you will lose. Yes, you might get lucky at first. That is the winner's curse and leads to every manner of hubris and overconfidence. Train your brain strategies consistently and repeatedly until you know what you are doing. Don't do it for the money, rather do it in order to do it well. The money will follow, I assure you!
Do not change your trading brain strategy or planning during market hours. Plan your trade and trade your plan. If you change your plan during trading hours, you will end up overtrading, emotionally depleted and lost at sea. Stick to your plan, no matter what.
Do not trade every day. Trading is among the most stressful and energy-depleting activities in which we engage. When your brain efficiency drops to less than 85 %, you will start to lose money. Take trading breaks, since they allow you to recharge your brain, body and spirit. Trading excellence is a marathon, not a sprint. Take time to rest, eat clean healthy food, exercise to a sweat at least four times a week, have sex regularly ( preferably with someone you love), sit back, chill, breathe. If you don't know how to breathe properly, let me know?
Always look for reasons to fade the crowd. This is not the same as being reckless and going against massive momentum. This means looking in directions where the fewest number of people are looking. That is where opportunity always exists. Along this line, always keep in mind that there is someone on the opposite side of your trade. Try to imagine what that person is thinking and what he is thinking you are thinking and what you are thinking he is thinking you are thinking. Practice strategic thinking and see how many levels you can get through. Most people can do about three to four levels. Try it and let me know?
When in doubt, stay out. When unsure, do nothing or reduce your position significantly. Trading takes tons of discipline. When the crowd is buying and enthusiastic near a top, you will be selling to them. Do not get caught up in hype. The hideous hype out there defies all description and makes me nauseous beyond anything I can explain to you! Don't listen to the hype. Listen to and follow your brain plan.
Execute ruthlessly when buying. Wait for price to come to you. Avoid buying at market unless it is part of your brain strategy.
Here again is the stinking thinking cycle of emotions. Memorize it and etch it on your brain cells it because it is a pattern which repeats and repeats as markets go through ever-changing cycles: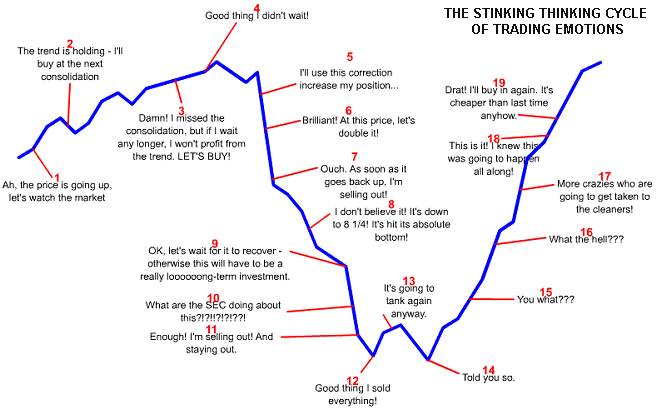 Stay tuned for your next ten Prescriptions For Profits!
Until next time,
Good Trading and Brain On!
By Dr. Janice Dorn, MD, PhD
Prescriptions for Profits
www.thetradingdoctor.com
Signup for your risk-free subscription to the Trading Doctor Newsletter. If you are not completely satisfied that our newsletter is for you just let us know, via email, within 7 days of your subscription date and we'll immediatly refund your money.
© Copyright 2006-07 -- Janice Dorn, M.D., Ph.D. -- Ocean Ivory LLC
Dr. Janice Dorn is a graduate of the Albert Einstein College of Medicine, where she received her Ph.D. in Neuroanatomy. She did her postdoctoral work in Neurophysiology at the New York Medical College. She received her M.D. from La Universidad Autonoma de Ciudad Juarez, did one year of clinical clerkships in Phoenix, Arizona. and then completed a Neurology Internship at The University of New Mexico in Albuquerque. For the past twelve years, Dr. Dorn has focused her attention on trading, mentoring and commentary in the financial markets, with emphasis on Behavioral NeuroFinance, Mass NeuroPsychology, Trading NeuroPsychology, Futurism and Life Extension. A graduate of Coach University, she is a full time futures trader and trading coach. Dr. Dorn is the author of over 300 publications, relating to Trading and Investing Neurouropsychology, Market Mass Neuropsychology, Behavioral Neurofinance, and Holistic Wellness and Longevity.
© 2005-2019 http://www.MarketOracle.co.uk - The Market Oracle is a FREE Daily Financial Markets Analysis & Forecasting online publication.
Comments
Newbie
15 May 07, 21:09

Useful stuff !




Only logged in users are allowed to post comments.
Register/ Log in