Analysis Topic: Investor & Trader Education
The analysis published under this topic are as follows.

Saturday, March 01, 2008

We all want to beat the market. The recent volatility in the markets is causing many investors to question if they should sell their favorite companies and wait for a better day. Others are just resigned to ride it out, believing in the buy and hold approach. After all that is what they have been told by their brokers, or read in various publications and books. So is there a way to hold on to the best companies and just buy some down side risk insurance to protect against potential losses. As it turns out you can have cake and eat it too. Buying put options that protect against a stocks decline offers just this type of insurance.
Read full article...

Read full article...
---

Friday, February 22, 2008

Have you told yourself, "I know exactly what is wrong and how to fix it, but I can't?"
Have you ever blamed yourself for not having enough discipline to follow your plans?
If so, you are not alone. People think that if you don't have self-discipline, you don't have control. They forget about the fear that creeps in.
Read full article...

Read full article...
---

Friday, February 15, 2008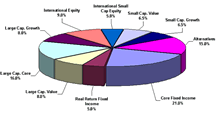 Foundations, Endowments and other Not-for-Profit organizations come in all shapes and sizes. The assets that they control and manage for the benefit of countless projects, charities, and causes is staggering in total and it has become a primary market for the vast array of investment products developed by Wall Street financial institutions. One can only speculate about how much "Bubble Paper" finds its way into the these portfolios, but nearly all of them are managed by the major brokerage firms, and all such firms bonus their brokers on the basis of product sales. It is not uncommon for Wall Street to re-write the syllabus for Investments 101, redefining Quality, Diversification, and Income to suit its own dark purposes…
Read full article...

Read full article...
---

Saturday, February 09, 2008

The beginning of a new year is a good time to make a new assessment of the important investment drivers and themes for the year. If you want to beat the market it is important to understand what is driving the markets and where the best sectors are to find good opportunities. By identifying these factors you will have a solid framework to assess the impact market movements and news events on your investment strategy. This is the fourth of a five part series on the outlook for the 2008 markets. The first part discussed the key drivers ending with a mention of what sectors will benefit and those that will be hurt. This Part discusses the Materials and Utilities sectors. Part 2 discussed Energy and Financials, Part 3 reviewed Technology and Consumer Staples. Part 4 presented the Materials and Utilities sectors.
Read full article...

Read full article...
---

Thursday, January 31, 2008

Most people (including myself) would insist that Equity Investing is the most difficult to master. After all, that is the venue for: erratic price fluctuations caused by an endless supply of social, economic, and political variables; the standard Wall Street misinformation, corporate malfeasance, self- serving financial gurus, and product sales persons; a myriad of popular and market moving speculations from IPOs to Option and Margin strategies; thousands of media talk shows and their financial markets' experts. When you think you understand the stock market brother, you are in serious trouble.
Read full article...

Read full article...
---

Wednesday, January 30, 2008

Uno
. Asset Allocation is an investment planning tool, not an investment strategy... few investment professionals understand the distinction. Investment strategies are used to implement the asset allocation formula that investment planning produces. Many investors incorrectly believe that investment planning and financial planning are one and the same. Financial planning is the broader concept, one that involves such non-investment considerations as: Wills and Estates, insurances, budgeting, trusts, etc. Investment Planning takes place within the Trusts, Endowments, IRAs, and other Brokerage Accounts that come into existence as a result of, or without, Financial Planning.
Read full article...

Read full article...
---

Tuesday, January 29, 2008
The prices of gold and silver have recently been hitting new highs with gold now over $900 an ounce and silver over $16.50 an ounce. Many investors, me included, had been looking for this rally to carry our mining shares to much higher prices. Unfortunately this has not happen and it is only normal to ask why? Virtually none of us have a reasonable explanation for this terrible market sentiment. Are investors fearful of a potential meltdown in the financial markets?
Read full article...

Read full article...
---

Wednesday, January 23, 2008
Five investment mistakes you will probably make in 2008 ...
Unless YOU attend this FREE, LIVE webinar!
Have you ever looked back on an investment and asked yourself, "What in the world was I thinking?!" The obvious reply is "Yes!", and that is because...
Read full article...

Read full article...
---

Tuesday, January 22, 2008

Stocks, bonds, index funds; averages, recessions, market rallies and corrections; mutual funds, technical analysis, financial statements; commissions, taxes, and discount brokers. Just how much do you know about investing, or perhaps a better question: is there any "know" in the investment vocabulary? So many terms, ideas, and strategies; so little time and money! Here's a list of thirty mostly-true or mostly-false comments for you to kick around with your friends and fellow investment bloggers:
Read full article...

Read full article...
---

Thursday, January 17, 2008

It matters not what lines, numbers, indices, or gurus you worship, you just can't know where the stock market is going or when it will change direction. Too much investor time and analytical effort is wasted trying to predict course corrections... even more is squandered comparing portfolio Market Values with a handful of unrelated indices and averages. If we reconcile in our minds that we can't predict the future (or change the past), we can move through the uncertainty more productively. Let's simplify portfolio performance evaluation by using information that we don't have to speculate about, and which is related to our own personal investment programs.
Read full article...

Read full article...
---

Monday, January 14, 2008

As a trader, have you had occasions when you just could not pull the trigger and afterward you were mad at yourself?
Have there been times when, as soon as you pulled the trigger, you started doubting yourself?
Read full article...

Read full article...
---

Sunday, January 13, 2008

The following exchange is a brief and rather illuminating excerpt from Jack Schwager's interview with Paul Tudor Jones from the 1990 national best-seller Market Wizards ( Interviews with top traders .)
Jack Schwager: My impression is that you often implement positions near market turns. Sometimes your precision has been uncanny. What is it about your decision-making process that allows you to get in so close to the turns?
Read full article...

Read full article...
---

Friday, January 11, 2008

Have You Watched Market Myths Exposed?
You can see EWl's Chief Market Analyst Steven Hochberg debunk some of the most widely held market myths and answers some of today's toughest questions for traders and investors, including:
Read full article...

Read full article...
---

Wednesday, January 09, 2008

Every correction is the same, a normal downturn in one or more of the Markets where we invest. There has never been a correction that has not proven to be an investment opportunity. You can be confident that the Federal Reserve, as hypnotized as it is with keeping inflation under control, is not going to cause either a financial panic or a prolonged recession with tight money and high interest rate policies. While everything is down in price, as it is now, there is little to worry about. When the going gets tough, the tough go shopping.
Read full article...

Read full article...
---

Thursday, January 03, 2008
Are you still a non believer in this bull market in gold and silver? What an awesome beginning to 2008 with a gain of over $25 in the price of gold on the first day of trading for 2008 and as we write this piece, spot gold is at $859.00.. Probably even the talking heads at the popular TV channels are getting excited and soon we will have all investors joining 'our' party, and what a party it will be.
Read full article...

Read full article...
---

Wednesday, January 02, 2008

Investors who wish to beat the market using a conservative approach might want to consider using covered call option strategies to enhance their overall return. Writing covered calls helps to improve the total return of an investor's portfolio if they apply several important principles. Covered calls are approved for use in Individual Retirement Accounts as they are considered a conservative way to use options by the authorities. This is part four of a multi-part series on using options to enhance the performance of your portfolio performance. In
Part 1
, we introduced covered calls and described the two primary categories that are important to understand. In
Part 2
we introduced the Total Return Approach, as well as the risks, the potential return on investment and what strategy to use given your assessment of the situation.
Part 3
we discussed some of the basic strategies to exit the position.
Read full article...

Read full article...
---

Wednesday, January 02, 2008
Would you allow an 8-year-old to run your financial matters?
Have you ever wondered why some traders make a lot of money and others do not?
Read full article...

Read full article...
---

Tuesday, December 25, 2007
A festive special from the Dragons on BBC2 at 8pm - Christmas day – Photo (L-R) James Caan, Duncan Bannatyne, Deborah Meaden, Peter Jones and Theo Paphitis
Evan Davis presents this 90-minute Christmas special of Dragons' Den, which revels in the very best of all five series. Evan also reveals the 10 rules for success as the show relives the best and worst moments in the Den.
Read full article...

Read full article...
---

Friday, December 21, 2007
How to Deal With Invisible Fences in Your Trading - I was watching a rerun of "Sex and the City." If you are not familiar with the series, it is about 4 single women living in Manhattan and what they went through in their daily lives.
In any case, these city girls went to suburbia for a party. They were passing by a house and saw a dog. One of them gestured for the dog to come to her. The dog came to a certain point and then went back. She was stunned by what had happened. She could not figure out why the dog retreated when he seemed to be interested. She started to take it personally. Then one of her friends explained that there was an invisible electronic fence around the house...
Read full article...

Read full article...
---

Friday, December 14, 2007

Did you know that the traders who lose the most money in trading are some of the most intelligent people?
So what's causing them to lose money?
Read full article...

Read full article...
---