Analysis Topic: Commodity Markets - Metals, Softs & Oils
The analysis published under this topic are as follows.

Tuesday, July 31, 2007
The opportunities in Canadian junior mining shares has never been better. And now is the time to get in before prices skyrocket higher in my opinion. As mentioned the other day in pointing out the precious metals sector is turning higher, when the Canadian $ heads over parity against the Greenback, American investors will be looking for a home for excess cash they wish to hold in Loonies. And as they work their way down the food chain, eventually they will arrive at junior mining shares, a group that has been all but forgotten by the institutional types because either company or trading characteristics don't meet desired models at this time. That is to say the shares are in the pennies, generally illiquid, and have been heading in the wrong direction (down) for some time now, a characteristic set definitely outside of the desired formula most momentum chasing behemoths (hedge funds) are chasing these days.
Read full article...

Read full article...
---

Monday, July 30, 2007
Heading into the final session of July, let's have a look at the very big picture of spot gold, which shows that the price structure has gyrated into the nose of a year-long coil pattern, which is positioned in the top 30% of the entire bull phase from the August 1999 low through the May 2006 high.
Read full article...

Read full article...
---

Monday, July 30, 2007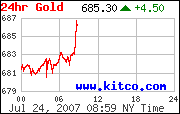 Our little friend is just racing to prove itself. And prove itself it will and in a very big way. This little friend of ours is a powerful little friend. This little friend eventually is heading much, much higher. Which means our gold stock profits are going to climb and make many wealthy.
A crisis is occurring before us. Gold is rising and getting ever closer to its present ceiling of 700 an ounce. I know for a fact there are many who worship the gold price and the major tenet in their religion is that gold must fall back to 50 dollars an ounce. How bitterly disappointed and shell shocked these fervent gold bear soldiers must be to continue to watch gold strengthen.
Read full article...

Read full article...
---

Monday, July 30, 2007
This article focuses on the difference between real market needs and perceived market needs. When migrating from our fossil fuel energy paradigm we should avoid embracing new energy paradigm/s which are incapable of addressing real needs.
Many aspirant alternative energy technologies seek to address the perceived problem that our top priority is to reduce CO 2 emissions. In previous articles relating to Global Warming I have tried to demonstrate (and will try again later in this article to demonstrate) that rising CO 2 levels in our atmosphere are not the real problem. Our sun is ultimately causing global warming, which warming is being exacerbated by Greenhouse Gases. There is nothing we can do about this other than gird our loins. Given that Climate Change occurs cyclically, we need to prepare for the coming cycle of Global Cooling.
Read full article...

Read full article...
---

Sunday, July 29, 2007
Buy gold and go to the beach: An investment strategy after my heart. So the positive movement in the precious metals markets over the past few weeks was welcome action as the family vacationed at our lake cabin. We were all enchanted by the tiny tenants of a hummingbird nest anchored to a small hemlock in our side yard. Growing vigorously to an overflowing size they were aggressively testing their wings and nearly ready to fly.
Read full article...

Read full article...
---

Sunday, July 29, 2007
So, this is what it looks like when you go over the cliff. Danger, professionals at work, do not try this on your own. With a future's volume of over 253,000 on Thursday (the highest daily volume in my 20 years of data), these must be the "professionals" all following the leader like lemmings.
Who's the Boss?
No sooner does one revert back to the bullish side (as I did last week) but the market slaps him on the fingers and shows him who's the boss. The market is just not listening to those of us who would like to see higher gold prices.
Read full article...

Read full article...
---

Sunday, July 29, 2007
"The Fed's approach to monetary policy may force it to cut rates if the subprime and credit issues reduce overall demand for base money… In addition to the technical indicator provided by the 5-week and 5-day moving averages shown above, the fundamental outlook for the intermediate term is based on this potential devaluation of the dollar if the Fed is forced by credit issues to intervene." ~ Precious Points: Good as Gold , July 21, 2007
"Bernanke's speech was exactly the sort of rhetoric you'd expect from a man prepared to undertake a massive devaluation to try and stave off a credit crisis." ~ Precious Points: Are Metals Next , July 14, 2007
Read full article...

Read full article...
---

Saturday, July 28, 2007
Gold Stock prices have been turned back again from major resistance. The 3rd time in a year! What does it mean? Are we entering another gut wrenching correction or will we reverse higher?
Can I be forgiven for asking if Gold shares will ever break out?
Read full article...

Read full article...
---

Saturday, July 28, 2007
We're now in the heart of earnings season for the energy patch. By and large, energy companies have reported impressive numbers, but there are some clear winners and losers.
Some of the losers this quarter were the coal stocks, which have seen unprecedented selling pressure during the past two weeks and haven't reacted well to their earnings releases. I think the weakness is vastly overdone.
Read full article...

Read full article...
---

Saturday, July 28, 2007
At the heart of the global monetary system lies the use of the U.S.$ as the currency used to pay for the globe's oil. Any change in that role has a disproportionate impact on the importance of the $ as well as its value relative to the globe's other currencies. If the oil producing nations of the world decided to use other currencies for oil payments then the global monetary system itself is undermined, making gold more attractive and long-term a safer place to hold one's savings. 
Read full article...

Read full article...
---

Friday, July 27, 2007
Over the past couple weeks the financial markets have burst free from their usual summer doldrums to provide some welcome excitement. Prices that have long seemed locked in stasis with trivial daily moves are now witnessing dramatically increased volatility. It is great to see the markets getting interesting again!
While mainstream attention remains focused on the rising amplitude and frequency of down days in the general stock markets, the volatility in the currencies has also accelerated considerably. As a dollar-denominated American investor and speculator riding the secular gold bull, I've found the behavior of gold and the US Dollar Index particularly intriguing lately.
Read full article...

Read full article...
---

Friday, July 27, 2007
GOLD FELL BACK from an overnight rally in Asia during in the first-half of London trade on Friday, giving back $3.50 per ounce to record an AM Fix of $663.50.
"Yesterday's fall in the gold market was a pure reaction to the equities market," reckons Ng Cheng Thye, head of precious metals at Standard Bank Asia.
"This morning we saw a lot of bargain hunting."
Read full article...

Read full article...
---

Friday, July 27, 2007
In part one of this article ( July 12, 2007 ) we established that it may not be helpful to worry about our investments during relatively "normal" market conditions and behaviors. Take silver and gold for example.
June, July and August regularly means a seasonally weak price action for silver and gold.
During this time of year investor and commentator expectations and sentiments are generally negative.
Metals price chart patterns forming which are similar to previous bullish patterns such as 2005 where a year and a half correction preceded a significant price advance.
Read full article...

Read full article...
---

Thursday, July 26, 2007
SPOT GOLD PRICES held flat from last night's US close by lunchtime in London on Thursday, pulling back $2 from an overnight spike to trade at $675.50 per ounce.
The metal had earlier closed Hong Kong unchanged at the same level. Gold dealers in the crucial Indian market – where jewelry and investment-bar demand accounted for one ounce of gold in every five sold worldwide last year – reported slower sales after gold's recent rally to 11-week highs against the Dollar.
Read full article...

Read full article...
---

Wednesday, July 25, 2007
Let's see if we can sort this out. Bank One invests client money in leveraged CDO fund managed by Bank Two. Bank One lends money to leveraged fund. Leveraged fund collapses to "negligible value" under Bank Two's expertise with CDOs. Clients of Bank One lose their money .
Read full article...

Read full article...
---

Wednesday, July 25, 2007
An unusual chart is presented, since the Broker Dealers sit at the nexus of the massive asset-backed bond 'con game' perpetrated upon the nation and the world. The extent of possible fraud will be sure to be unraveled. They sold acidic bonds, over-rated, misrepresented, opaque as a stone in their fundamentals and inner workings. REVENGE IS BEING DOLED OUT TO THIS DEEPLY CORRUPT GROUP, which boldly write in covenants to obstruct lawsuits by limiting legal liability. As the Broker Dealer XBD stock index suffers deep wounds, the USFed will be compelled to rescue them, since their components are INSIDERS on Wall Street.
Read full article...

Read full article...
---

Wednesday, July 25, 2007
Yesterday at this time it certainly looked as though oil was kaput -- on the way to the bowels of the earth (where it is fond). Not any more, right? Today's nearly $2 upmove in the US Oil Fund (AMEX: USO) and crude oil futures comes right off of the sharply rising 20 DMA (we discussed the powerful support level yesterday), and leads me to revert back to my commentary from a few days ago, which outlined the "final" (higher) targets off of the multi-month base pattern (shown below) of 78 and 84.
Read full article...

Read full article...
---

Wednesday, July 25, 2007
That bowl of Kellogg's Cornflakes on the breakfast table, or the portion of pasta or corn tortillas, cheese or meat on the table is going to rise in price over the coming months as sure as the sun rises in the East. Welcome ladies and gentlemen to the new world food price shock, conveniently timed to accompany our current world oil price shock.
Read full article...

Read full article...
---

Wednesday, July 25, 2007
Sean Brodrick writes: You've probably heard plenty of talk about how rising demand for ethanol is driving up the price of corn. But that's just the tip of the iceberg lettuce.
Food prices of all types are rising at a fast clip around the world. In fact, they're up an average of 23% in the past 18 months, according to data from the International Monetary Fund.
Read full article...

Read full article...
---

Wednesday, July 25, 2007
SPOT GOLD PRICES fell below $680 for the first time in four sessions early Wednesday, sinking 1.3% from Tuesday's peak to dip beneath $677 per ounce – the current trendline of the rally starting in late June.
The severe pullback in gold only came for US investors, however, as the US Dollar bounced hard from a near record-low on its trade-weighted index. Knocking nearly one cent off the Euro inside three hours – and coming on the back of no economic data whatsoever – the Dollar's sharp rally kept the Euro Price of Gold in a tight range around €493 per ounce.
Read full article...

Read full article...
---