Doha Hoha - Global Warming Hits A Scientific Iceberg
Politics
/
Climate Change
Dec 20, 2012 - 09:59 AM GMT


World media has already forgotten the Doha COP18 climate jamboree earlier this month, during which the Qatari conference director, oil minister Abdullah bin Hamad al-Attiya joked that soon Qatar, and the world will no longer need any fossil fuels at all, eliminating any problem of burning them and causing planetary warming. The debate soon lost itself on the strange, almost theological subject of climate treaties and loss or damage payments and awards to small island states and low income countries.
Upstream of all that however, debate about climate change among scientists is increasingly focused on the fundamental issues of climate sensitivity and carbon inventories. Neither of these are simple subjects, and neither of them (forgive the joke) bring any warmth to the "warmists".
Climate sensitivity means the amount of warming that a doubling of atmospheric carbon dioxide would actually produce. Carbon inventories, stocks and flows concern the extreme, vast amounts of carbon on the planet, how the carbon got there, and what this could mean for global warming.
The importance of these two subjects to the IPCC (Intergovernmental Panel on Climate Change) and the IEA (International Energy Agency) can be judged from statements made by the IEA's deputy director Richard Jones, at the April 2012 IEA Clean Energy Progress minister-level conference, drawing on published reports and studies by the IPCC. He said: ""Under current policies, we estimate that energy use and (human) CO2 emissions would increase by a third by 2020, and almost double by 2050." Jones then added: "This would likely boost global temperatures at least 6 degrees Celsius. Such an outcome would confront future generations with significant economic, environmental and energy security hardships."
OUTLANDISH FORECASTS
To be sure, the IPCC does not adventure out with an outlandish temperature rise forecast of 6 degrees C in the 37 years to 2050 - in the approximately 11 000 years since the last Ice Age temperatures have risen about 4.5 degrees C - but keeps its own outlandish forecasts for later in the century. However, behind this, the IPCC and the IEA heavily and increasingly need scientific comfort theory for these extreme forecasts.
The major problem is we only have theories, with a plural "ies", with a huge range of possible outcomes. These start with the rate of CO2 accumulation in the atmosphere and the role of natural and anthropogenic CO2 emissions in the global carbon cycle. By a seemingly-bizarre feat of mental gymnastics, the IPCC is obliged to argue that "carbon sinks" which absorb human-source (and of course natural source) CO2, especially the world's oceans and seas are only able to do this "at a fairly modest rate". Also, the IPCC official theory continues, natural and man-made emissions of aerosols like sulphur dioxide and carbon particles, from plate tectonics and power station smoke to villagers' fires, have a "much lower cooling effect than previously thought".
Result: CO2 concentrations are rising fast and temperatures will rise rapidly "after a certain period", and especially when or if "tipping points" are reached.
One big problem is that honest scientists, who do exist even if they rarely work for the IPCC, will firstly say we do not know how and how fast "carbon sinks" operate, nor what the "right rate" of cooling is, when it concerns particulates and even CO2 depending on the wavelengths of light, IR and UV radiation in play. We also do not have really precise estimates for the planet's carbon inventory, with the variations in estimated total inventories - only for the world's oceans and seas - ranging through about 7 trillion tons of carbon, more than 20 trillion tons CO2 equivalent, to each side of "consensus estimates" of about 38 trillion tons of carbon.
Human emissions of CO2 are about 33 billion tons a year.
The biggest problem for global warming alarmists or "warmists" is: the slow, mild recent warming the world has actually experienced - through a highly controversial period (probably 1985-2010 as the limit dates each side) - has culminated in a standstill. Global temperatures today are no higher than they were 16 years ago. CO2 levels have gone on rising. Ergo there is no automatic link between the two events.
CLIMATE SENSITIVITY
This problem has refocused debate and dispute on the question of how sensitive are global temperatures to carbon dioxide. Depending on some theoretical "uptake time" or "climate cycling delay", rising CO2 levels will theoretically cause rising temperatures.
Large numbers of climate analysts outside the "official players", which include the IPCC, WMO (World Meteorological Organization), other UN-related agencies, the US NASA and OAA, weather forecasting offices and agencies of most OECD countries, and leading IPCC-associated academics, now advance studies in which rising CO2 levels produce or generate much lower forecasts for temperature rise to 2030, 2050, or later. Their basic models, like those of the IPCC, compare global temperature trends over the past 100-150 years with the change in "radiative forcing" (heating or cooling power) due to carbon dioxide, aerosols and other climate modifying agents and sources, minus ocean and other planetary uptake of CO2 and heat, to give estimates for climate sensitivity.
These studies generally conclude that a rise in CO2 levels to 750 ppm (twice the present, needing about 250 years at current rates of growth) might produce global warming of about 2 degrees C.
The IPCC's present "consensus estimate" is that raising CO2 levels to about 450 ppm or roughly 65% more than the approximate 275 ppm, pre-industrial, year 1800 level, would raise temperatures by 3°C (5.4°F) by 2050. The main problem is this doubling will not happen in 37 years, will need considerably longer, and will probably produce a much lower rise of global average temperatures than 3 degrees C.
Given the actual trend of CO2 accumulation in the atmosphere, and assuming there is at least a doubling of CO2 from the pre-industrial level by year 2100, in 87 years, intensified in its effects by 30% through other GHG (greenhouse gases), the outlook is for a possible rise of about 1 - 1.5 degree C. It is not difficult to conclude that a cumulative change of much less than 2°C by the end of this century will do no net harm. Probable effects would be a slight increase in cloud cover and rainfall, some lengthening of growing seasons, continued but slow melt of the Greenland ice, and others.
Climate sensitivity to CO2 is therefore a simple subject to define: what effect does a doubling of CO2 cause to global temperatures over a certain period of time? Outside the IPCC-dominated, media-friendly, quotable scientific community - which is in no way an absolute majority - most recent observationally based research suggests climate sensitivity is about 1.6°C for a doubling of CO2.
DEEPER QUESTIONING: HOW MUCH CARBON?
There are now large numbers of studies arguing first, for an average of at most 1 ppm CO2 increase per year, assuming continued and sustained growth of coal, oil and gas burning, and not the IPCC- favoured 1.5 ppm-per-year from the current 386 ppm (2012), and secondly for much lower climate sensitivity than claimed by the IPCC. The IPCC of course rejects all these studies.
This debate and dispute in turn hinges on two basic questions: climate sensitivity and the actual amounts and cycling of carbon in the Earth's lithosphere, biosphere, oceanosphere and atmosphere.
Neither can in any way be taken as known, defined and agreed.
Looking at fundamentals - how much carbon exists in Earth systems and how it got there - produces mindboggling figures.
Global carbon inventory and flows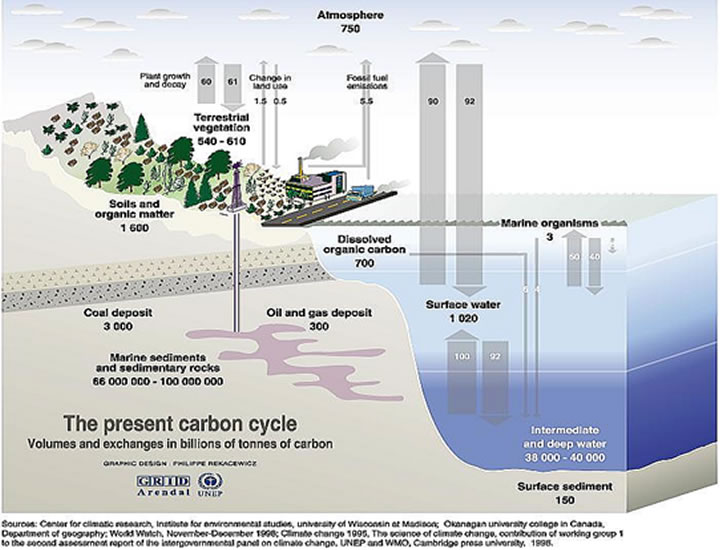 These massive figures in no way help the "warmists" who claim that human emissions, estimated by the IPCC at about 33 billion tons of CO2 in 2011, can and do exercize a powerful global warming impact.
The above carbon flow and stock diagram, from the IPCC-friendly UNEP (UN Environment Programme) gives us something to think about but one major point is that all figures are highly approximate. Taking oceanic carbon inventories, for example, given as around 38 - 40 trillion tons carbon (multiply by 44/12 for CO2 equivalent) in the above diagram, these figures can be cut as low as 33 Tn tons carbon, and raised as high as 45 Tn tons.
Another "simple" figure in the above diagram needs heavy qualification: it claims that global coal inventories are approximately 3 trillion tons carbon equivalent. In fact, including deep coal resources (to 3000 metres depth), global coal resources are probably above 200 trillion tons weight!
Carbon inventories in marine sediments and sedimentary rocks are most certainly mobilized and transported by natural planetary processes on a continuing basis, and these massive inventories have to be compared with human CO2 emissions, as noted above, of 33 billion tons per year. Arguing by the negative, this existing carbon was also previously mobilized, transported and deposited by non-human forces and processes. The ability of humans to match this action, even through several thousand years of "carbon based civilization" is very, very low.
REASONABLE DOUBT
Increasing scientific doubt on the claimed "automatic link" between human-source CO2 emissions and global temperature change makes it clear that more than a decade of global warming alarmism faces basic scientific questions. One is really simple: global temperature change can be negative as well as positive; this negative change can occur despite, or at the same time as CO2 levels rising.
The IPCC and the linked FCCC (both of which are trying to obtain full, ironclad UN diplomatic status preventing any possibility of legal pursuit for lying) - have deliberately and completely neglected the subject of climate change due to human action, but not due to CO2. Due to the furore on whether or not human CO2 emissions and "climate forcing" can result in rapid global warming, the critical subject of why there is real, observed, and recognized climate change has been dumped in the shadows.
This important subject may soon be able to come out of the shadows and no longer be ytreated with disdain and "benign nerglect" by the media - which remains as if it was mesmerized by the gory spectre of global warming apocalypse due to human-source CO2. This is one of the least of our worries!
By Andrew McKillop
Contact: xtran9@gmail.com
Former chief policy analyst, Division A Policy, DG XVII Energy, European Commission. Andrew McKillop Biographic Highlights
Co-author 'The Doomsday Machine', Palgrave Macmillan USA, 2012
Andrew McKillop has more than 30 years experience in the energy, economic and finance domains. Trained at London UK's University College, he has had specially long experience of energy policy, project administration and the development and financing of alternate energy. This included his role of in-house Expert on Policy and Programming at the DG XVII-Energy of the European Commission, Director of Information of the OAPEC technology transfer subsidiary, AREC and researcher for UN agencies including the ILO.
© 2012 Copyright Andrew McKillop - All Rights Reserved Disclaimer: The above is a matter of opinion provided for general information purposes only and is not intended as investment advice. Information and analysis above are derived from sources and utilising methods believed to be reliable, but we cannot accept responsibility for any losses you may incur as a result of this analysis. Individuals should consult with their personal financial advisor.
© 2005-2019 http://www.MarketOracle.co.uk - The Market Oracle is a FREE Daily Financial Markets Analysis & Forecasting online publication.

Only logged in users are allowed to post comments.
Register/ Log in