Krugman's Aliens Have Arrived - They Are Called "Trumponomists"
Economics
/
Economic Theory
Nov 23, 2016 - 06:50 AM GMT


Gordon T Long, Co-Founder of MATASII.com sat down with John Rubino to get his views on what the new Trump Administration and its "Trumponomics" policies will mean to the markets and investment strategies in 2017. Here are a few of John's current views on some of the Key Economic headwinds facing "Trumponomics":
A NEW ELECTORAL CLASS
The reason anti-establish politicians like Trump are gaining popularity according to John is because people, more and more, are feeling "the big systems no longer works for the people anymore!"
"Since 1971 when we broke the final links between the major currencies and gold, we basically turned the governments on the world loose. We gave them unlimited credit cards. Of course they are going to be corrupted by the ability to make unlimited amounts of money and spend it. We ended up with basically an Oligarchy. We have a Financial Class and a Political Class who are an Aristocracy who make the rules but don't have to abide by them. The rest of us are what we could call the "Unprotected Class". We are the ones who suffer from the negative effects of globalization, free trade and open borders, while the "Protected Class" (our new Aristocracy) benefits from it. Enough people have figured this out and have concluded that the system, as it is configured now, is something worthy of being torn down! They are therefore open to political candidates, issues and referendums that promise to do these sorts of things!"

... Europe has a "Trump Like" candidate in almost every country". The coming European election are going to draw a lot of votes towards these new outsider candidates.

ONLY THE BEGINNING OF WHAT IS TO COME

FRANCE

ITALY
ANTI-GLOBALISM IS HERE - PROTECTIONISM IS LIKELY AHEAD
"Globalization, free trade and open borders are almost without a doubt going to be scaled back over the next decade"
"Anti-Globalization is sort of the umbrella under which a lot of this stuff has happened. For the average factory worker in any developed country globalization is not a good deal." Trump has campaigned to renegotiate these deals though globalization has bee the primary driver of growth over the last twenty years but global trade has begun to slow - dramatically!
"If the terms of trade are going to be changed in ways that are unfavorable, then the major exporters are going to export a lot less stuff! Does this mean the global economy will slow? We don't know! Historically, when you have big spikes in protectionism (which normally stem from financial crisis) economies slow!"
STABILITY WITH GROWTH IS A TOUGH THING TO SEE HAPPENING
"Trump policies in a lot of ways sounds like something that Paul Krugman would design! Massive infrastructure build-out. As I wrote at DollarCollapse awhile ago, Krugman is going to get his "alien invasion"! He is on record as saying that an invasion by aliens would be good for the economy because it would force the government to ramp up military spending. He is basically going to get that, and to the extent Trump's people are aliens to to the beltway mainstream, it is literally an alien invasion!"
"With Trump we are going to get Infrastructure spending which the left loves. We are also going to get Defense spending which the right loves. These things are going to sell very easily in congress. That is going to pump up aggregate demand in the short term as government borrows more money to spend it on stuff that requires more people - so there will be a few more jobs and people will spend that money. You may get a little pop in nominal economic growth but it will be at the cost of ridiculous amounts of new debt. That is a pretty ideal environment for Precious Metals investing!"
.. listen to a lot more in this 34 minute video covering the following:
A RISK-ON TRADE NOW UNDERWAY
MAKING MONEY IN ALL THIS POLITICAL CRAZINESS
IS A "MAD MAX" WORLD AHEAD?
A WORLD HEADING IN THE WRONG DIRECTION IS AN INVESTMENT THESIS
MASSIVE SHIFT TO HARD ASSETS & PRECIOUS METALS
REALITY: SERIOUS PROBLEMS CAN'T BE FIXED PAINLESSLY
AFTER THE ELECTION EUPHORIA PASSES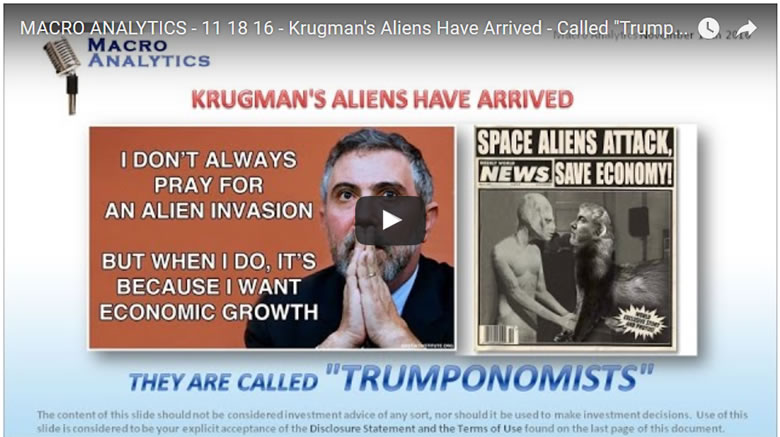 For more articles
signup
for GordonTLong.com releases of MATASII Research
Gordon T. Long
Publisher - LONGWave
Signup for notification of the next MACRO INSIGHTS
Request your FREE TWO MONTH TRIAL subscription of the Market Analytics and Technical Analysis (MATA) Report. No Obligations. No Credit Card.
Gordon T Long is not a registered advisor and does not give investment advice. His comments are an expression of opinion only and should not be construed in any manner whatsoever as recommendations to buy or sell a stock, option, future, bond, commodity or any other financial instrument at any time. While he believes his statements to be true, they always depend on the reliability of his own credible sources. Of course, he recommends that you consult with a qualified investment advisor, one licensed by appropriate regulatory agencies in your legal jurisdiction, before making any investment decisions, and barring that you are encouraged to confirm the facts on your own before making important investment commitments. © Copyright 2013 Gordon T Long. The information herein was obtained from sources which Mr. Long believes reliable, but he does not guarantee its accuracy. None of the information, advertisements, website links, or any opinions expressed constitutes a solicitation of the purchase or sale of any securities or commodities. Please note that Mr. Long may already have invested or may from time to time invest in securities that are recommended or otherwise covered on this website. Mr. Long does not intend to disclose the extent of any current holdings or future transactions with respect to any particular security. You should consider this possibility before investing in any security based upon statements and information contained in any report, post, comment or suggestions you receive from him.
Copyright © 2010-2016 Gordon T. Long
© 2005-2019 http://www.MarketOracle.co.uk - The Market Oracle is a FREE Daily Financial Markets Analysis & Forecasting online publication.

Only logged in users are allowed to post comments.
Register/ Log in