Stock Market Rebound Opportunities
Stock-Markets
/
Financial Markets
Oct 21, 2008 - 01:59 PM GMT


Our Wizards Jack Steiman, Mike Paulenoff and Harry Boxer weigh in this week on the direction of the markets. According to Steiman, author of SwingTradeOnline.com : Many triangles or flags are in place on the index charts, and for now we must realize that these are bear and not bull flags until they can be taken out to the top side of those triangles.


On the 60 minute chart the S&P 500 has a triangle from 940 to 980. That got taken out to the upside Monday -- thus a good first step. Not a blowout, but it did close on the highs and thus it definitely broke out although again, higher would be nicer in terms of true confirmation. On the daily chart the top of the triangle is at 1030, or 45 points away, and that's also exactly where the descending 20-day exponential moving average is. A natural place for a rally to go and die.
However, nothing wrong with that move.The bulls will take it and there's a real shot we'll get that move or reasonably close to it. If we get there that is a get-out area, as the combination of the top of the triangle plus the 20-day would be lethal to the bulls, at least short term. We now have to turn our attention to see if the S&P 500 can hold 980 on Tuesday because if it can it is more likely the bulls will gain a little more control of things short term, as the bears, unable to take back resistance turned support, will likely take the foot off their gas pedal. If 980 does hold we can reasonably expect a move to that 20-day triangle top combination. For the Nasdaq, 1900 is very tough price resistance, but the bulls would fall all over themselves to get the market that high. If the S&P 500 can reach 1030, the Nasdaq would have a shot, but it would take a good report from Apple (AAPL) on their earnings report tomorrow to get that to be any type of real possibility.
The best area of the market for now seems to be in the commodity world. Those stocks, no matter what area you look at, are very compressed down on their oscillators, and most of them are putting in positive divergences on their daily charts after an absolute slaughter over the past many months. Many of the big leaders are down 80% from top to bottom, and some decent recovery may be in store here. Weak days can be accumulated for sure until those divergences disappear and that doesn't seem to be the case any time soon. Nothing straight up, but they do look best along with many of the financial stocks, although I have to bite my tongue to say that. Tech doesn't look as good, but if Apple can be good tomorrow, that'll help for sure. Texas Instruments (TXN) stunk tonight and the semis absolutely stink and that area is not the best place to focus your dollars on. Do what feels right to you of course but that area is just not performing and TXN is yet another example of how bad things are in that part of the market world.
Sign up for a free 30-day trial to Jack Steiman's SwingTradeOnline. .
According to Mike Paulenoff, author of MPTrader.com :
Sept. 10 year T-note futures are up about 3/4 point this AM, while the yield on the cash 10 year Treasury has declined to 3.80% from 3.88% late yesterday, suggesting strongly that long rates are starting to react to economic weakness- especially after Bernanke endorsed a new stimulus package in his congressional testimony yesterday. If Bernanke is volunteering his support, I suspect that the markets think the economy might be weaker than any of us thinks.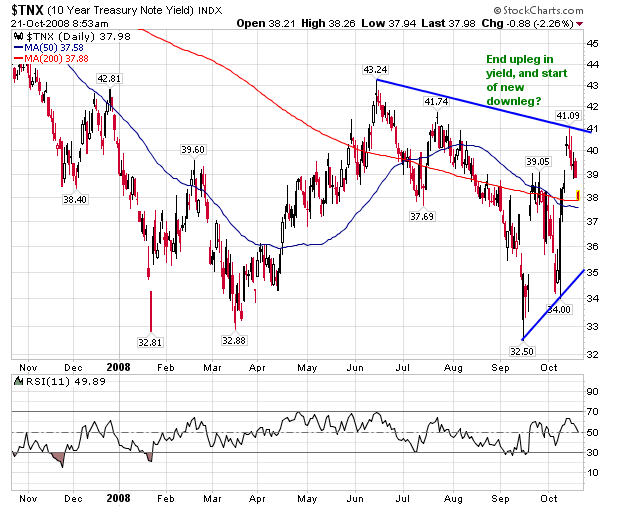 Sign up for a free 15-day trial to Mike's ETF Trading Diary 18 Winning Trades out of 19 in September (+36.7% Total Return).
Harry Boxer, author of TheTechTrader.com , eyes rebound opportunities in this down market, and selected Alpha Natural Resources (ANR) as his Chart of the Day yesterday:
ANR had a real solid session on Monday, although it had some wild swings. The stock gapped up, ran hard in the morning, backed off and retsted the intraday moing aveage, and then shot up to just under 43, from a close Friday at around 38. A competlet retest and pullback and fill of the gap occurred, but it held support, bounced up, and then went into a coil pattern. The stock finally worked its way out and up and then spiked up with about a half hour to go, pulled back and then closed at the high for the day going away at 43.43, up 5.35 on 4.67 million.
The significance of that is that ANR appears to have broken out of its declining channel and closed right at, or just underneath, the rally high from last week and the declining 21 DMA. Any further progress could take this stock dramatically higher into the low 50s in a very short period of time, and if the market cooperates we could see the stock get up to near the 60 area over the next week or so. So this is a stock to keep an eye on. Since it has come down from 120 to under 30, or 90 points, we could see at least a .382 Fib retracement, which gives us about a 36-point, or $54-56, target. That's what I'd be looking for on a very short-term basis for short-term to swing traders.
See Harry's video chart analysis on ANR.
Sign up for a free 15-day trial to Harry's Real-time Technical Trading Diary. 80% Winning Trades! +2.9% Average Returns per Day Trade! Includes Harry's Weekly List of Top "Boxer Shorts"!

For more of our Wizards, sign up for a Free Trial to their subscription services on our Sign-Up page.
http://www.advicetrade.com/Wizards
© 2002-2008 MPTrader.com, Weekly Wizards an AdviceTrade publication. All rights reserved. Any publication, distribution, retransmission or reproduction of information or data contained on this Web site without written consent from MPTrader is prohibited. See our disclaimer.
© 2005-2019 http://www.MarketOracle.co.uk - The Market Oracle is a FREE Daily Financial Markets Analysis & Forecasting online publication.

Only logged in users are allowed to post comments.
Register/ Log in