War is Over Wednesday, Stocks Bottom Fishing
Stock-Markets
/
Financial Markets 2010
Sep 01, 2010 - 12:44 PM GMT


President Obama formally declared an end to the 7-year Iraq war last night.
This came as quite a surprise to the 50,000 soldiers who are still there but, so far, it sure beats the end of the Vietnam war where we had to get the hell out of Saigon as the city fell beneath us. To be fair, the Vietnam War had been going on for 116 years (the French began an unwelcome occupation in the 1800s) - we just came in for the last quarter…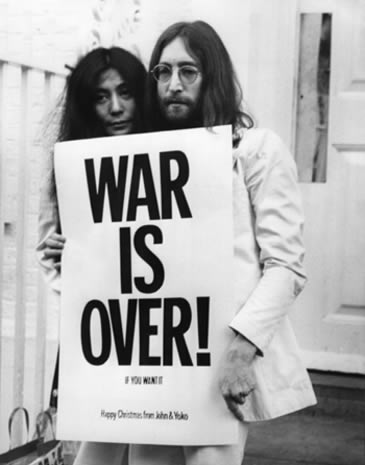 "Just" 35 years after the official end of that war, Vietnam, which is the 18th most populous nation on Earth at 90M people, is reunified and a vital part of Asia and a strong emerging market. Perhaps it is hard to imagine that ever happening to Iraq but I remember the utter chaos that marked the end of Vietnam and it seems to me that Iraq is actually in better shape. The war was, of course, a total disaster for us, costing well over a Trillion Dollars and thousands of American lives.
The U.S. "sent our young men and women to make enormous sacrifices in Iraq, and spent vast resources abroad at a time of tight budgets at home,"Obama said. "We have met our responsibility. Now, it is time to turn the page. Today, our most urgent task is to restore our economy, and put the millions of Americans who have lost their jobs back to work. This will be difficult. But in the days to come, it must be our central mission as a people, and my central responsibility as President."

Michael Steel, speaking for House Minority Leader John A. Boehner (R, Ohio), said the President's pivot to domestic policy showed no clear plan to revive the economy beyond a call to "unleash innovation" and "strengthen our middle class." But Mr. Obama said the end of combat operations was a time to thank U.S. service members, not relive political disagreements, and to acknowledge the sacrifices made in a war that cost more than 4,427 American lives and tens of thousands of Iraqi lives. Another 34,265 U.S. troops were wounded. Obama also commented: "No one could doubt President Bush's support for our troops, or his love of country and commitment to our security."

The global markets got a nice pop overnight on the news but we'll have to wait and see if it sticks. All those soldiers coming home (the ones that don't go to Afghanistan) still need jobs and we have the ADP report this morning showing continuing losses of jobs with 10,000 more jobs disappearing vs +13K expected and July is now revised down to 37,000 from 42,000 so another 5,000 jobs fell out the window there. ADP does not correlate well to Non-Farm Payrolls, which are on Friday but we'll be losing another 100,000 census workers there so it's virtually impossible for that to be a good number. On the bright side, the August Challenger Job-Cut Report was just 34,768, down from 41,676 last month, which is a 10-year low, of all things. "While the pace of job creation continues to disappoint, job security appears to be stronger than ever" according to challenger.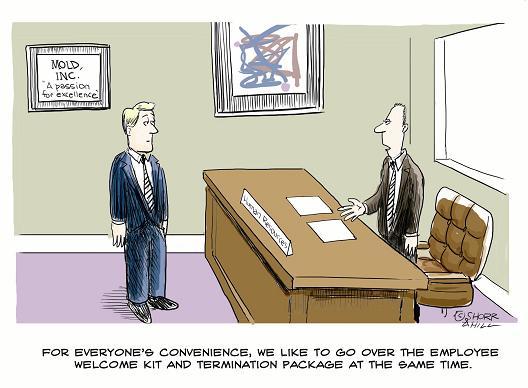 Job security is certainly a very key factor in consumer spending. I pointed out last Thursday that people need to keep the jobs numbers in perspective because 473,000 job losses in a week out of 146M us workers meant the chance of you being fired in any given week was just 0.3% and that the average American who is employed will KEEP their job for 5.5 years - other than owning my own company, I have never stayed in one job longer than that anyway… Of course I was mauled by the bears last week for daring to suggest the World was not ending but I'm feeling brave enough to give it another try today, ahead of this week's data.

I was feeling brave yesterday when I sent out a 5am Alert to Members and said "here is no really bad news driving this sell-off (unless you are a Japanese exporter) so no real reason we should break technicals." Those technicals were our 2.5% lines below our midpoints - the ones we hope will be retaken this week at: Dow 10,200, S&P 1,070, Nas 2,200, NYSE 6,800, and Russell 635. Unfortunately, by the time we get back to those levels, the 20 dmas (blue) are likely to "death cross" below the 50 dmas (red) as they already have on the Nasdaq and the Russell and that is going to form A LOT of overhead resistance so it's not likely we're going to be getting back over very quickly without a positive catalyst: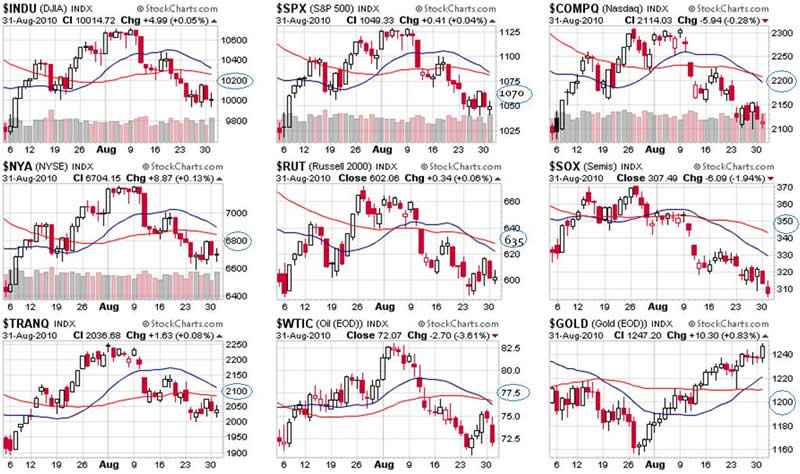 We get July Construction Spending at 10 (bound to be bad) and August ISM, which is expected to come in at 53, down from 55.5 in July so that needs to be an upside surprise for us to hold our 1% pre-market gains. We'll get Auto Sales reports throughout the day but the big action comes with tomorrow's Unemployment at 8:30, which is followed by July Factory Orders (we already know they were bad from the Fed) and Pending Home Sales (they still sell homes?). Friday is the Big Kahuna, the Non-Farm Payroll Report and we are simply hoping NOT to lose 100,000 jobs to give us a boost into the holiday weekend. That's followed at 10 am by August ISM Services, also expected to be down to 51 from 54.3 last month. Below 50 is contraction so we REALLY don't want to be disappointed by that report.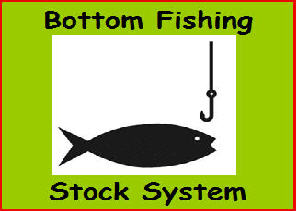 If we can slog thought that mess, we could have a good, short week next week as there is little data but we do get the Beige Book next Wednesday and that will give us a peek at data through the end of August. From the numbers we've been seeing and the latest consumer polls as well as the language we're hearing from Fed and Treasury - I'm expecting things to be picking up a little bit in that report. We got the Fed Minutes yesterday and they were mixed but, in the end, we decided to use the sell-off after the release as an opportunity to bottom fish in Member Chat and I said to Members, after going over the Minutes: "Look over the Buy List and the Dow list as these are the best entries we've had since early July and that's 2 full months and back then the Dow bottomed out 300 points lower so this is a higher low and we may never see these entries again (let's hope!)."

Asia was in a pretty good move this morning, the Nikkei took back 1.2% even though our 3am trade is working again with the Yen rising from 84.5 around midnight all the way to 83.65 at 8:20 - a huge currency move. The Hang Seng gained half a point and the Shanghai dropped half a point so we'll call China flat and the BSE popped 234 points (1.3%) back to 18,205, which we are very pleased with. China's PMI hit 51.7 in August, up from 51.2 in July and better than expected and it was confirmed with an HSBC study that showed a 3-month high of 51.9 vs 49.4 in August. HSBC economist Qu Hongbin said the PMI reading confirms "China is moderating rather than melting down."

Also not melting down is Australia, who's economy grew at the fastest quarterly pace in 3 years in Q2 at 1.2% for the quarter, up 3.3% from last year vs expectations of 0.9% and 2.8% from clueless economists. I mean come on eggheads - there's only 20M people in the whole country - you can do a door to door survey and get a better handle on things than that! "You don't get a lot better than this and it should set people straight about just where exactly the Australian economy sits," said Adam Carr, senior economist at ICAP. After aggressively raising interest rates between October 2009 and May this year, the RBA has been on hold with the cash rate target left at 4.5%. That's right - they RAISE rates and the economy still does well - imagine that…

Europe is up about 1.5% ahead of the US open with the FTSE back over our 5,250 line, the CAC over our 3,500 mark and only the DAX just below our 6,000 mark at 5,994 as a surprising slowdown in German Retail Sales in July worried investors this morning. China's PMI gains are apparently Europe's losses as Euro-Zone manufacturing slowed to it's weakest pace in 6 months but still 55.1, which is better growth than either the US or China and, as you can tell from the markets - it's not bothering EU traders so why should it bother us?

So happy peace day - let's see how much gas we can get out of this. It don't mean a thing if we can't take back our levels but it sure beats another day slinking along the bottom of our range.
By Phil
Philip R. Davis is a founder of Phil's Stock World (www.philstockworld.com), a stock and options trading site that teaches the art of options trading to newcomers and devises advanced strategies for expert traders. Mr. Davis is a serial entrepreneur, having founded software company Accu-Title, a real estate title insurance software solution, and is also the President of the Delphi Consulting Corp., an M&A consulting firm that helps large and small companies obtain funding and close deals. He was also the founder of Accu-Search, a property data corporation that was sold to DataTrace in 2004 and Personality Plus, a precursor to eHarmony.com. Phil was a former editor of a UMass/Amherst humor magazine and it shows in his writing -- which is filled with colorful commentary along with very specific ideas on stock option purchases (Phil rarely holds actual stocks). Visit: Phil's Stock World (www.philstockworld.com)
© 2010 Copyright PhilStockWorld - All Rights Reserved Disclaimer: The above is a matter of opinion provided for general information purposes only and is not intended as investment advice. Information and analysis above are derived from sources and utilising methods believed to be reliable, but we cannot accept responsibility for any losses you may incur as a result of this analysis. Individuals should consult with their personal financial advisors.
© 2005-2019 http://www.MarketOracle.co.uk - The Market Oracle is a FREE Daily Financial Markets Analysis & Forecasting online publication.

Only logged in users are allowed to post comments.
Register/ Log in