Fed Gets It Wrong, Credit Crisis Losses Rising Everywhere
Interest-Rates
/
Credit Crisis 2009
Jul 12, 2009 - 03:30 PM GMT


Mike Larson writes: Remember when policymakers at the Federal Reserve told us in 2007 and 2008 that the credit problems were "contained" to the subprime mortgage sector? Or when then-Treasury Secretary Henry Paulson spouted the same line?
Oops.
We've already established how those guys were dead wrong about home loans. Indeed, the delinquency rate on U.S. mortgages surged to a record 9.12 percent in the first quarter of this year. Late payments rose in ALL categories, including prime fixed-rate loans, the absolute "cream of the crop" in the mortgage world.
Now, it's clear they were dead wrong about the entire credit market! Credit losses and delinquencies are rising anywhere and everywhere, and I've got the numbers to prove it.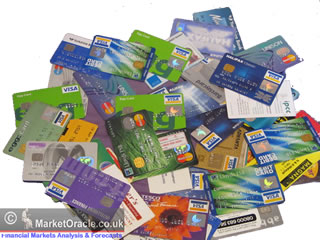 In the first quarter of this year, the credit card delinquency rate shot up to 6.6 percent … a record high.
RVs … HELOCs … Personal Loans — Borrowers Can't Pay Back Anything!
Get a load of these hot-off-the-press figures from the American Bankers Association (ABA). In the first quarter of 2009 …
Home equity loan delinquencies increased from 3.03 percent in the fourth quarter of 2008 to 3.52 percent.
Home equity line of credit delinquencies rose from 1.46 percent to 1.89 percent.
Credit card delinquencies rose from 5.52 percent to 6.6 percent (measured on a "percentage of dollars outstanding" basis).
Direct auto loan delinquencies increased from 2.03 percent to 3.01 percent.
RV loan delinquencies increased from 1.38 percent to 1.52 percent.
Mobile home loan delinquencies increased from 2.96 percent to 3.70 percent.
Personal loan delinquencies increased from 2.88 percent to 3.47 percent.
The home equity loan delinquency rate is a record high. The home equity line of credit rate is a record high. The credit card delinquency rate is a record high. And so is the level of the aggregate consumer credit delinquency index that the ABA has been putting together since 1974!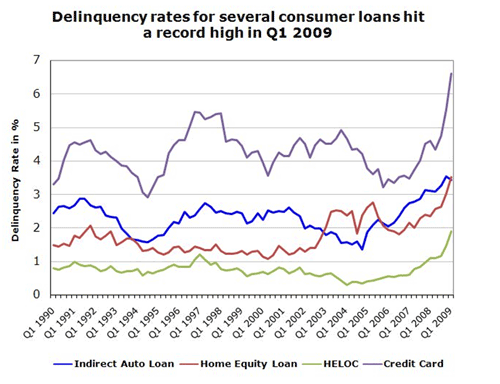 Source: American Bankers Association
What about CORPORATE credit quality? Any "green shoots" there? Nope:
The default rate on junk bonds has almost quadrupled to 9.5 percent from 2.4 percent a year earlier, according to Fitch Ratings.
A University of California economist just predicted that a whopping 20 percent of hotel development loans made in the U.S. may default over the next year and a half.
Standard & Poor's just said it's planning to slash ratings on more than $235 billion worth of commercial mortgage-backed-securities. Loose underwriting, falling asset prices, slumping rents and rising vacancy rates are wreaking havoc on the entire commercial real estate sector.
What's the Problem? We Had the Biggest Credit Bubble of All Time, That's What!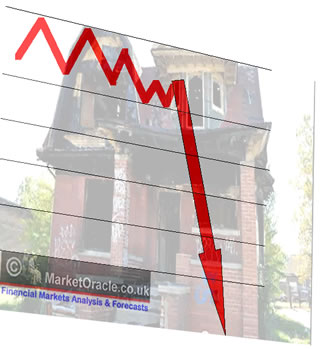 Slumping rents and rising vacancy rates are wreaking havoc on the entire commercial real estate sector.
Americans simply borrowed and spent way too much during the halcyon days of the early-to-mid 2000s. They were counting on ever-rising home values to bail them out from high-risk loans.
The lending industry actively egged them on, as did policymakers at the Fed, who kept interest rates too low for too long. The insanity spread to commercial real estate … to corporate buyout loans … to virtually every corner of the credit market!
Now, we're all dealing with the hugely negative consequences of this massive credit bubble. What a shame! I can only hope that borrowers, lenders, policymakers, and regulators behave more responsibly in the future.
In the meantime, I continue to suggest the following: Stay away from sectors vulnerable to deteriorating credit quality, tighter lending standards, falling home values, and falling commercial property prices. That includes banks, insurers, home builders, and REITs.
And what about all the talk out of Washington on how these companies are just fine, how the economy is recovering strongly, and how happy times are here again?
Plug your ears and lash yourself to the mast! These guys didn't get the mortgage crisis right. They didn't get the credit crisis right! And they sure as blazes aren't getting the economy right, either!
Consider: Just a few weeks ago, politicians on Capitol Hill and policymakers at the Federal Reserve were tripping all over themselves to discuss the "green shoots" in the economy. Now, they're openly admitting they screwed it up.
Joe Biden spilled the beans when he announced that the administration had "misread the economy."
Vice President Joe Biden said last weekend that the administration "misread the economy." Their hopelessly optimistic projection that unemployment would peak at 8 percent — which Martin and I told you was fantasyland forecasting — has been thrown in the trash. The unemployment rate has instead climbed to 9.5 percent … and double-digit levels are right around the corner.
Heck, you now have key officials, like Obama adviser Laura Tyson and House Democratic leader Steny Hoyer, talking about the possibility of a SECOND economic stimulus package. That's a tacit admission that the $787-billion package enacted in February is failing to get the job done.
Again, this should come as no surprise to you. Unlike the ivory tower economists in Washington, we live in the real world. We know how bad things are, and how serious the risk is that they'll get worse — MUCH worse. So we've been warning you constantly to avoid risk, and batten down the hatches for a worsening economic storm. We suggest you do NOT stray from that path!
Until next time,
Mike
This investment news is brought to you by Money and Markets . Money and Markets is a free daily investment newsletter from Martin D. Weiss and Weiss Research analysts offering the latest investing news and financial insights for the stock market, including tips and advice on investing in gold, energy and oil. Dr. Weiss is a leader in the fields of investing, interest rates, financial safety and economic forecasting. To view archives or subscribe, visit http://www.moneyandmarkets.com .
© 2005-2019 http://www.MarketOracle.co.uk - The Market Oracle is a FREE Daily Financial Markets Analysis & Forecasting online publication.

Only logged in users are allowed to post comments.
Register/ Log in