Essential Gold Stock Analysis
Commodities
/
Gold & Silver Stocks
Jul 27, 2009 - 10:41 AM GMT


Australia is a major gold producing nation and a stable political environment in which to operate mining activities. The global interest in our sector is significant and we have seen massive capital inflows into the sector during the past 18 months, both during and in contrast to very tough international credit / investment conditions.
My current thesis is that any correction in the general market will take the gold stocks back with it initially but not as drastically as during the 2008 fall. Also - the smaller gold stocks are cheaper when compared to the larger companies right now so any fall takes them back deeper into "Alice in Wonderland" valuations. I see the gold price breaking US$1000 later this year and generating a gold equity rally which has the potential to produce windfall profits for participating investors.
Australian gold stocks have moved strongly since the end of the 2008 rout when share values were slashed viciously during the final October 2008 stock panic. The strong December to February 2009 period was a strong indicator that better things are to come as these stocks visibly disconnected from the rest of the Australian stock market. Let's take a look at the chart below to show what I mean.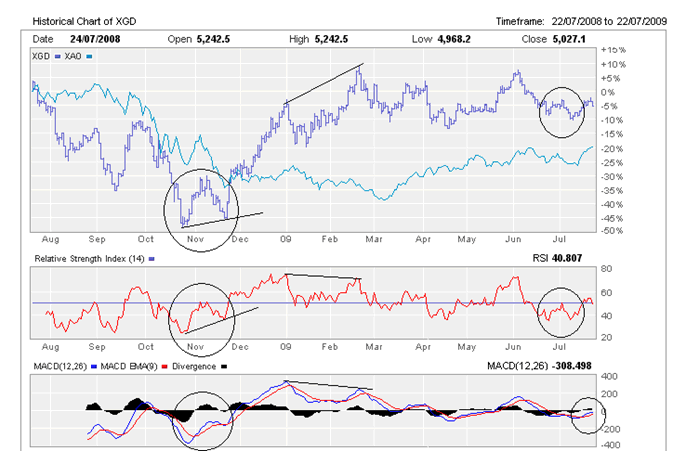 The XGD (Australian weighted gold index) is in dark blue on the chart above and the general stock market index (XAO – also weighted) is in light blue above. First notice that they crossed over with the XGD taking an upper / stronger position on the chart. This means gold stocks went from under performing to over performing the general stock market in late November 2008. The XGD has maintained this behavior to date with minimal public fanfare to date.
Now notice I have added a series of rings running up the chart through November 2008 which was the turning point and cross over area. The XAO made a lower low during late November and the XGD made a higher low before that reversal - signaling strongly divergent behavior between the two indexes. The XAO eventually made its low (to date) in March 09.
In early 2009 I have three overhead trend lines running up the chart on the MACD, the RSI and price showing where the XGD leveled off after divergent top formations. The MACD and RSI agreed however they both disagreed with price. Then price leveled off and began to range – nearly 8 months later this still continues.
On the right hand of the chart I have circled price and RSI to show a potential minor reversal pattern but I am not at all convinced that the time to buy is now. Deeper information on this subject is only for Members but I can talk generally on this aspect of our analysis in this article after I point out an essential aspect of our market indexes first.
About the Indicies
Investors should understand something crucial about these indexes on the Australian stock exchange. They are weighted according to market capitalization which means movements in the very large stocks move these charts in a disproportionate way – unless you happen to have a matching market cap weighting on your own share portfolio.
The XAO Index is dominated by the four big banks ($205B), BHP ($121.4B), Telstra ($42B), Woolworths ($34B), RIO ($33.3B), Woodside ($30.7B), Wesfarmers ($28B), Westfield Group ($25.9B) and QBE ($20.7B). The other 200+ stocks that make up this index represent the left over proportion of the index. A strong fall or rise in one of these will distort the index giving a false view in a sense – because it not representative of movements of the smaller stocks in the index.
The XGD is currently made up of 27 gold companies that also fall within the broader Top 300 Metals and Mining Index (XMM) which measures our vibrant Australian Mining Industry by covering the top 300 companies. So the XGD is a sub-sector of the XMM.
The XGD stocks are also drawn from the XAO top 250 stocks and are also dominated by the lager gold miners such as NCM - Newcrest ($14.98B) & LGL - Lihir Gold ($6.86B) – to a lesser extent CNT - Centamin Egypt ($1.8B), Sino Gold ($1.53B), Anglogold Ashanti Chess Depositary Interests 5:1 ($870M), Andean Resources ($730M) and lastly Kingsgate Consolidated ($682M). These market capitalizations expand and contract with rising and decreasing share price so the relative dominance or insignificance of individual companies changes over time.
The smaller stocks can languish during a time period of a rise in the larger stocks in this index and not affect the overall performance of the XGD. Also the smaller stocks can be moving up steadily while the lager gold stocks trend sideways and you will get very little movement on the XGD.
Thus the XGD is not a clear representative of the smaller stocks and while the XGD may look overbought you can also have significantly undervalued smaller stocks at the same time. This is why I have included the Australian Gold Producers chart below – to show the real level of a representative of the smaller gold producing stocks in Australia. This assists us to assess the current value of this sector in real terms.
While we currently see the largest producers with P:E ratios up over 35, the smaller producers are much cheaper even with some costs having fallen and the gold price in AUD terms remaining at profitable levels. I have identified 6 small producers (higher risk) with P: E ratios from 1.5 to just over 6! Several other smaller and larger producers have been moving forward towards a positive balance sheet and long-term viable operations – these are also undervalued by several valuation metrics.
Realistic Gold Stock Levels
Perhaps a better way to measure the gold sector here is an equal weighting of gold stocks from the producers, emerging producers and junior explorers indexes as prepared by a leading web site owner Nick Laird of Sharelynx fame here in Australia. Nick has kindly allowed me to present three of these charts going back 5 years in my Gold Index page at GoldOz. Here is the Producers Index chart as shown at GoldOz - additional resources (vast) are available at Nick's site www.sharelynx.com.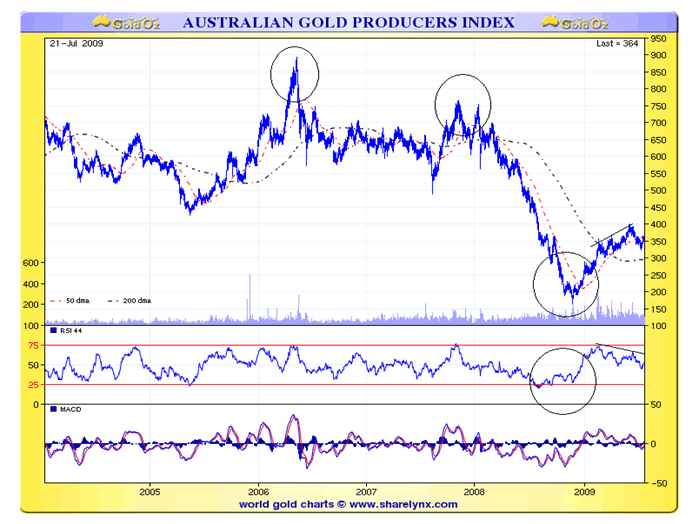 The difference in this chart compared to the XGD is startling and is all because it is not weighted on market capitalization. The price performance of all gold stocks is treated equally in this chart. The real top (in the May 2006 gold peak) when viewed this way emphasizes the fact that all the gold stocks accompanied the leading stocks in a strong rally back then - however the recent rally we have seen that the large stocks moved largely on their own to out perform the rest of this selection of 20 companies.
Again in late 2007 and early 2008 we saw a significant peak. When you view the NCM chart below you will note it made a much higher peak in 2007 than it did in 2006. I have circled the lows at the end of 2008, both on price and RSI to show the strong divergence that signaled the bottom was in on this chart. This turn point is different to the XGD and a clearer indication of the low and turn point. This point has significant value – we watch charts for technical indications and price clarity so the value of a chart is greater when measured by the level of clarity it brings.
On the far right hand side you will note two overhead resistance lines drawn in - showing a sell divergence is forming which may signal a down turn towards the bottom I have been predicting. I do not expect the new low to be as deep as late 2008 as these gold stocks have been behaving differently to the general market for most of the past 8 – 9 months.
We do not cover the technicals or stocks for the general public in these articles and may not even be allowed. I have selected 3 year charts of the top three gold companies by market capitalization to prove my hypothesis another way so I hope they are printed here.
Please note that these stocks more closely represent the XGD (particularly NCM – Newcrest Mining) due to their dominant market capitization - however they vastly outperformed most of the smaller stocks as proven by the Australian Producers Index chart above. Note the relative height of the 2009 highs (recovery from the October share rout) on the three charts below.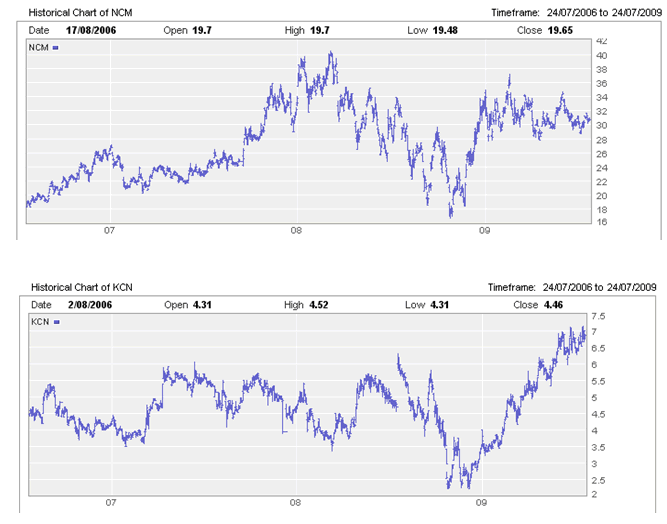 The leaders were our stated favorites at GoldOz however we did get an excellent surprise as the smaller producers, many developers and even the leading explorers came back strongly over recent months.
Conclusions
Bargains are abundant in the smaller end of the gold stocks in Australia and will get even cheaper over the next 2 – 4 months. We may be at a minor top but this picture is unclear at present.
The XGD does show a useful map of gold stocks however we have a better map for measuring the broader gold sector at GoldOz – in fact three of them on our Gold Index page. Our Australian Gold Producers Index shows the potential of a fall clearly and was a clearer indicator that this sector was bottoming in November 2008.
Global capital flows have favored the gold sector in Australia over the rest of the market – the gold stocks have outperformed and we believe this will continue. The old rule of "follow the smart money" applies here – at GoldOz we are covering the best investments in Australia at this time.
A subject for another article perhaps – I have run out of time here this time – gold is set to go up later in the year. I am highly confident this will happen and fuel the next Australian gold stock rally.
GoldOz Special Offer
We are concentrating on providing the best coverage and independent information we can on what stocks have the greatest potential to make massive gains and create share holder wealth in this rally and beyond. We also work on timing guidance on a broad scale – of the index and our selection of gold stocks. We run a basic list for Members and a shortened list for Gold Members to save time and educate investors.
We warned our Gold Members that gold stocks were likely to top out soon – this was back at the end of April and over the coming 4 weeks or so they did as shown in the charts above. May ended with power and a double top on the XGD to our surprise and pleasure. We stated that we did not expect a major fall and that we all had to wait and see. So far it has been shallow – the Aussie gold stocks have ranged sideways along with gold since February.
We are now offering a subscriber special of $250 for 12 months access to our Gold Membership research at GoldOz – we will also throw in additional time so that annual Membership will last an additional 40 days - increasing the discount to 20%. Six month Gold Membership subscribers can also sign up at a discount of 16% today - $20 off and 10 additional days – cost $130. This offer runs out at the end of the first week of August so get in now if you are interested in making money on Australian gold stocks. The first 10 subscribers will get an additional surprise bonus as well.
Good trading / investing.
Regards,
Neil Charnock
GoldOz is currently developing a Member area and has added further resources for free access. We have stepped up our research and stand by to assist investors from all walks of life. We sell an updating PDF service on ASX gold stocks from only $AUD35 for 3 months – the feedback is grateful and enthusiastic because we are highlighting companies that have growth potential and offering professional coverage of the sector. GoldOz web site is a growing dynamic resource for investors interested in PGE, silver and gold companies listed in Australia , brokers, bullion dealers and other services.
Neil Charnock is not a registered investment advisor. He is a private investor who, in addition to his essay publication offerings, has now assembled a highly experienced panel to assist in the presentation of various research information services. The opinions and statements made in the above publication are the result of extensive research and are believed to be accurate and from reliable sources. The contents are his current opinion only, further more conditions may cause these opinions to change without notice. The insights herein published are made solely for international and educational purposes. The contents in this publication are not to be construed as solicitation or recommendation to be used for formulation of investment decisions in any type of market whatsoever. WARNING share market investment or speculation is a high risk activity. Investors enter such activity at their own risk and must conduct their own due diligence to research and verify all aspects of any investment decision, if necessary seeking competent professional assistance.
© 2005-2019 http://www.MarketOracle.co.uk - The Market Oracle is a FREE Daily Financial Markets Analysis & Forecasting online publication.

Only logged in users are allowed to post comments.
Register/ Log in