Three Triggers for Higher Crude Oil Prices
Commodities
/
Crude Oil
Aug 28, 2009 - 12:46 PM GMT


Sean Brodrick writes: Oil prices recently came close to $75 a barrel before heading south again. Enjoy the cheap oil while you can. The odds are you'll be paying higher oil prices by the end of the year.
The good news is there are some easy ways to profit from it. First, let's look at the forces that could drive oil higher …
Force #1 — The Crisis at Our Border. Mexico's oil production is on the slippery slope of doom. Pemex, Mexico's national oil company, said that it now expects to produce 2.6 million barrels a day this year, a big drop from earlier estimates of 2.8 million barrels a day made just months ago.
Pemex's total oil output fell 7.8 percent in July. Production from its supergiant oil field Cantarell dropped by 41 percent year-over-year! And Mexico's exports to the United States dropped 13.4 percent year over year to 1.07 million barrels a day. That's down one-third from July 2007's export levels.
I'll say that again — in just two years, Mexico's oil exports to the United States have dropped by one-third.
What's more, Pemex consistently misses its production targets and underestimates the amount that its production will decline. And it doesn't have much money for oil-field development, so the problem is probably going to get worse, not better.
This is a brewing crisis for the United States, which uses a lot of Mexican oil. Mexico is our No. 3 source of imported oil.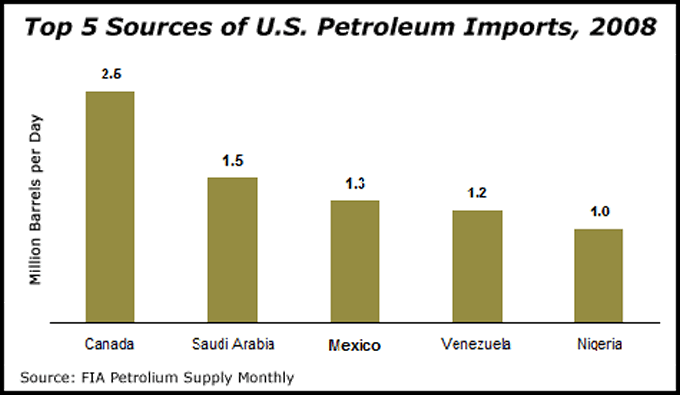 The big hit is from Cantarell. Originally one of the largest oil fields in the world, it produced 1.86 million barrels of crude a day as recently as 2006. Fast-forward, and it is now pumping 590,000 barrels per day. Its production has dropped by 20 percent in just seven months. And some experts say Cantarell could be producing less than 500,000 barrels per day by the end of this year!
Mexico's production shortfall could impact all U.S. drivers. And that's not all. Since Mexico's oil revenues pay for that country's social services, a steep decline in Mexican oil production could trigger a humanitarian catastrophe.
The flow of illegal immigrants across the U.S./Mexican border has slowed due to the recession; if Mexican oil revenue falls off a cliff, that flow could swell into a flood.
Force #2 — China's Oil Thirst Is Increasing. China is shrugging off the global recession, and its oil use is revving up with a vengeance. In July, China's implied oil demand rose 3.5 percent from a year earlier in its fourth consecutive rise as refiners ramped up production. Meanwhile, China's crude oil imports raced to a record in July, up 42 percent from last year.
China has overtaken Japan as the world's No. 2 buyer of crude oil, importing 4.62 million barrels a day in July, up 14 percent from June.
Longer-term, China's oil demand has grown from 4.8 million barrels of oil a day in 2000 to 8 million barrels today, a whopping 67 percent growth.
Driving this growth is China's booming auto sales. In July, China's auto sales jumped an astonishing 70 percent higher than a year earlier. China's automobile market may post higher sales than the U.S. auto market for a full year for the first time ever.
China's not the only one. India's car sales were up 31 percent year over year. In fact, this may be the first year that emerging markets (combined) use more oil than the United States.
To feed this tremendous growth, both China and India are looking for oil around the world. China in particular is using its $2.3 trillion in cash and foreign reserves to make deals left and right, with countries, including Russia, Angola, Iraq, Brazil and even Cuba. This essentially locks in that production for China and locks it out for the United States.
Force #3. U.S. gasoline consumption is roaring back. Despite a severe recession, the United States still imports 9.19 million barrels of oil a day.
Our total liquid fuel use (including gasoline, jet fuel and distillates such as diesel and heating oil) is down year over year — 18.7 million barrels a day in 2009 from 19.5 million barrels a day in 2008 — but it's going back up again. We should be using 19 million barrels per day in 2010, according to the Energy Information Administration.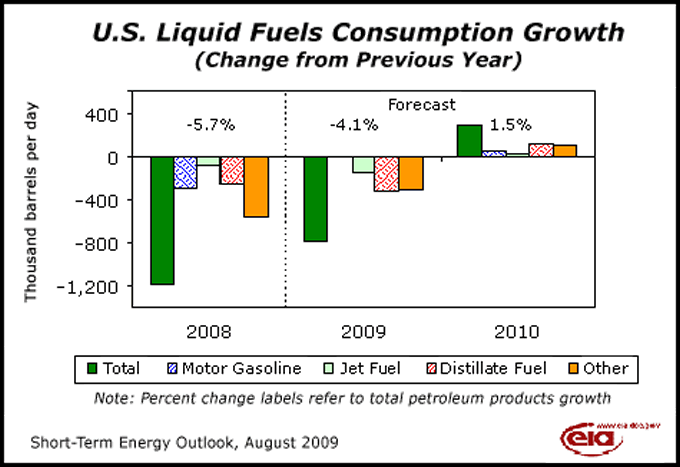 What about all those gas hogs that got replaced in the "Cash for Clunkers" program? The good news is nearly 700,000 clunkers were traded in, and the Department of Transportation reported that the average fuel efficiency of trade-ins was 15.8 mpg, compared to 24.9 mpg for the new cars purchased to replace them. That's a 61 percent fuel efficiency improvement.
The bad news is the program probably got only about 4 percent of America's fuel-wasting gas hogs off the road, according to some estimates.
Meanwhile, the number of oil drilling rigs here in the United States is dropping fast. Look at this table from Baker Hughes showing the number of active drill rigs …
| | | | | |
| --- | --- | --- | --- | --- |
| Area | Last Count | Count | Change from Last Year | Date of Last Year's Count |
| U.S. | Aug. 21, 09 | 985 | -1013 | from Aug. 22, 08 |
| Canada | Aug. 21, 09 | 164 | -293 | from Aug. 22 08 |
| International | July 09 | 974 | -118 | July 08 |
The United States has managed to shed more than 1,400 working drill rigs over the course of a year. Is this laying the groundwork for another price surge? Bet on it. A whopping 76 percent of our domestic oil production is used for transportation.
It sure seems like the United States didn't learn its lesson from last year's high gasoline prices. That means we're probably going to have to learn it all over again, the hard way.
3 Ways You Can Profit
Let me give you three ideas on how to make the most of the coming boom in oil prices …
Pick #1 for the Crisis in Mexico: Buy Petrobras (PBR). Brazil's national oil company is finding plenty of oil. It has discovered three "megafields" in three years — Tupi in 2007, Jupiter in 2008 and Iguacu in 2009.
Also, Petrobras' long-term business plan calls for investing $174 billion over the next five years in developing its resources. The company says it has $30 billion in hand, including $10 billion from China's Sinopec in exchange for 200,000 barrels of oil a day for 10 years.
Finally, Pemex has already approached Petrobras about a deepwater joint venture to find more oil in Mexican waters. So that's another way Petrobras could profit from this crisis.
Pick #2 for the Oil Boom in China: Buy Marathon Oil (MRO). This oil explorer and developer recently made a deal with China on an oil exploration block in Angola in Africa.
Marathon operates all over the world, and so has the potential for more deals with China. Plus, Marathon trades at a discount to the industry and the S&P 500 on price-to-earnings, price-to-sales, price-to-book and price-to-cash-flow ratio.
Pick #3 for America's Oil Squeeze: Buy the iShares Dow Jones US Oil & Gas Exploration Index (IEO). Full disclosure: This is an exchange-traded fund I've already recommended to my Red-Hot Commodity ETFs subscribers. But I think it's the right place to be in this market.
U.S. oil exploration is obviously at a low point, and this fund is packed with companies that will make the most of it as money flows into this industry. Its holdings include Occidental Petroleum, Apache Corporation, Anadarko Petroleum, and more.
Do your own due diligence on any of these recommendations. And remember, especially if you're trading on your own, have your exit point picked BEFORE you enter. That goes double in this fast and furious market.
Yours for trading profits,
Sean
Sean Brodrick writes:
This investment news is brought to you by Uncommon Wisdom. Uncommon Wisdom is a free daily investment newsletter from Weiss Research analysts offering the latest investing news and financial insights for the stock market, precious metals, natural resources, Asian and South American markets. From time to time, the authors of Uncommon Wisdom also cover other topics they feel can contribute to making you healthy, wealthy and wise. To view archives or subscribe, visit http://www.uncommonwisdomdaily.com.
© 2005-2019 http://www.MarketOracle.co.uk - The Market Oracle is a FREE Daily Financial Markets Analysis & Forecasting online publication.

Only logged in users are allowed to post comments.
Register/ Log in