U.S. Housing Market, All Bubbles Pop, No Matter What Color They Are
Housing-Market
/
US Housing
Dec 13, 2009 - 08:05 AM GMT


I frequently agree with ideas expressed on New Geography but certainly not Ian Abley's article There is no "Free Market" Housing Solution

The common line used by advocates of housing affordability has been that the solution lies in "free markets". Yet this "free market" solution does not address the fundamental problem which is really a political one.
The root of this problem lies with an elite agenda that is highly ideological. The ideology at work is environmentalism, making a moral virtue of the retreat of political and commercial elites from the industrial production of housing.
Home Price Index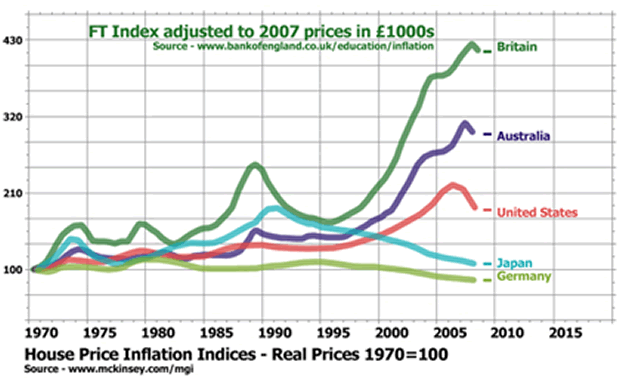 On 24 November 2009 the Housing Minister John Healey confirmed that Britain will be the first country in the world to require zero carbon homes as a matter of law from 2016. Britain is the world leader in green ideology.
All of the newly built British housing will have much better insulated walls, windows, roofs and floors. The clear aim of the government is to keep reducing the energy consumption of all new homes to be measured in kilowatt-hours per square metre of floor area per year.
The commitment to "zero carbon" allows government to appear virtuous in its legislation for the new build sector.
This suits the financial markets as well, since it guarantees house price inflation by making it difficult to meet the demographic demand for homes. Environmentalism offers more and more reasons not to build. Green thinking ensures that house price inflation can be sustained through a bubble, and projected beyond the bursting of that period of financialisation into the next.
The idea of a "free market" is a long running ideological myth. But the universal freedom to build would mean people are free to attempt to raise the finance to buy land and build.
The market is not capable of being a "free market". Capitalism is a system of control by political and commercial elites, and their professional employees. British capitalists tend to be less interested in industry, which is held to have caused Climate Change, and more interested in finance these days.
Missing The Free Market Boat

Ian Abley misses the boat. I would agree that "there is no free market".

However, it is foolish to say "there is no free market solution". The solution is there, the problem is government pandering for social and political goals interferes with the solution.

Ian Abley might believe that home prices will keep rising in the UK. But I absolutely assure you they won't. Over the long haul, prices can only rise to the extent that people can pay for them. The US proved this in spades.

Affordable Housing Irony

The Obama Administration, HUD, FHA, Congress and every state in the union are missing the affordable housing solution. The solution is to end government sponsorship of GSEs, tax breaks for houses, ownership societies, and all the efforts to prop up home prices. If and when that happens, we will have affordable housing.

The ultimate irony is that prices are falling yet still not affordable by any means, yet government is acting to prop up housing prices. It will not work because it cannot possibly work. The reason is as I stated above "Over the long haul, prices can only rise to the extent that people can pay for them." That in turn ensures that home prices will eventually return to earth regardless of how much government fights it.

Common Sense vs. Green Thinking

This is not a "space issue" or a "green issue". That bubbles eventually pop is both a mathematical certainty and common sense. Temporarily, credit bubbles, green policies, and ownership societies can prop up home prices. However, once consumer attitudes change, there is nothing government can do to prop up prices of homes or anything else, short of causing hyperinflation.

Once attitudes change, if "zero carbon" or other government nonsense makes homes cost more than people are willing to pay, all economic homebuilding activity will simply cease!

If you doubt that statement, ask yourself what would happen in the US right now if Obama dictated that all condo towers have a zero carbon footprint. Would any get built?

In this sense, the free market cannot and will not be defeated. How long it takes for the bubble to blow up in the UK, Australia, and Canada is at this point the only question.

I find it amazing that anyone can watch the US housing bubble bust wide open, yet propose "Green thinking ensures that house price inflation can be sustained through a bubble, and projected beyond the bursting of that period of financialisation into the next".

Here is a simple rule to live by: All Bubbles Pop, No Matter What Color They Are.
By Mike "Mish" Shedlock
http://globaleconomicanalysis.blogspot.com Click Here To Scroll Thru My Recent Post List
Mike Shedlock / Mish is a registered investment advisor representative for SitkaPacific Capital Management . Sitka Pacific is an asset management firm whose goal is strong performance and low volatility, regardless of market direction.

Visit Sitka Pacific's Account Management Page to learn more about wealth management and capital preservation strategies of Sitka Pacific.
I do weekly podcasts every Thursday on HoweStreet and a brief 7 minute segment on Saturday on CKNW AM 980 in Vancouver.

When not writing about stocks or the economy I spends a great deal of time on photography and in the garden. I have over 80 magazine and book cover credits. Some of my Wisconsin and gardening images can be seen at MichaelShedlock.com .
© 2009 Mike Shedlock, All Rights Reserved
© 2005-2019 http://www.MarketOracle.co.uk - The Market Oracle is a FREE Daily Financial Markets Analysis & Forecasting online publication.

Only logged in users are allowed to post comments.
Register/ Log in