Gold Disaster Ahead?
Commodities
/
Gold & Silver 2009
Dec 20, 2009 - 06:49 AM GMT


Thursday was a bummer. Is there a disaster ahead? The "blow-off" is continuing as expected but for how long? Questions, questions, but do we have any answers? Let's see.
GOLD : LONG TERM
Despite the continuing downside move in gold, since the "blow-off" the long term indicators have still not been affected. The long term P&F chart has been affected but has not yet given a bear signal as I require two things to happen, the action to drop below two previous bottoms (which has happened) AND the action to move below the basic up trend line (which has not yet happened). The most that can be said about the P&F chart is that it is giving a strong warning that the long term may be getting ready to be in trouble. A move on the P&F chart to the $1050 level would provide the bear signal.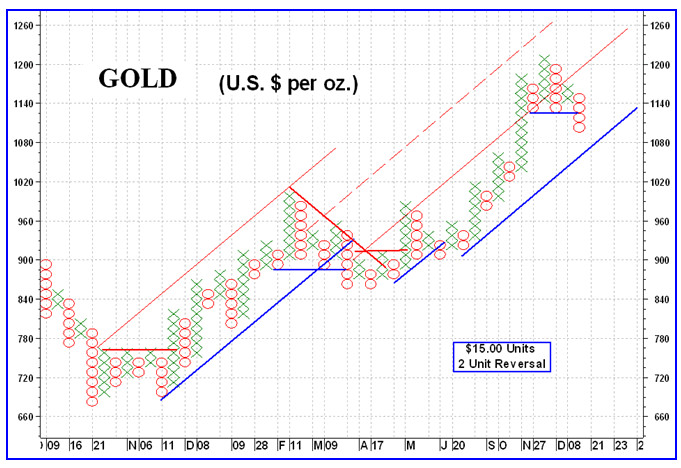 As for the normal indicators, they are still in good shape. The gold price is still well above its long term positive sloping moving average line (which is presently just below the $1030 level) and the momentum indicator remains in its positive zone. The indicator is, however, heading lower and is below its negative trigger line for a warning (similar to the warning the P&F chart is giving). The volume indicator is also moving lower but remains above its positive sloping trigger line. From all this the long term rating remains BULLISH.
INTERMEDIATE TERM
Two weeks back I called the intermediate term up trend as ended based upon my FAN Principle Trend Lines. That Friday's action had closed below the third FAN trend line (trend line shown and often referred to as a blow-off trend) and based upon my FAN Principle the trend was over. As mentioned, this is one of the few indicators that I use that provides a reversal signal very early in a trend reversal. The normal indicators take more time to develop and have not yet fully caught up with the FAN blow-off signal.
We are also starting to get warnings on the intermediate term trend but not yet critical. The Thursday's action did take gold below its intermediate term moving average line, where it remains on the Friday close. The line, however, is still pointing upwards. The momentum indicator is moving towards its neutral line but remains in its positive zone. As with the long term, the indicator is below its trigger line and the trigger is rapidly moving downward. As for the volume indicator, it has just moved below its trigger line although the trigger is still in an upward slope. The intermediate term rating has weakened and is now at the - NEUTRAL level, one notch above a full bear rating based upon the normal indicators. Any further down moves by gold and the moving average might turn downward. That would then bring us to a full bear. The short term moving average is still above the intermediate term average so there is no confirmation of any bear yet from these indicators.
SHORT TERM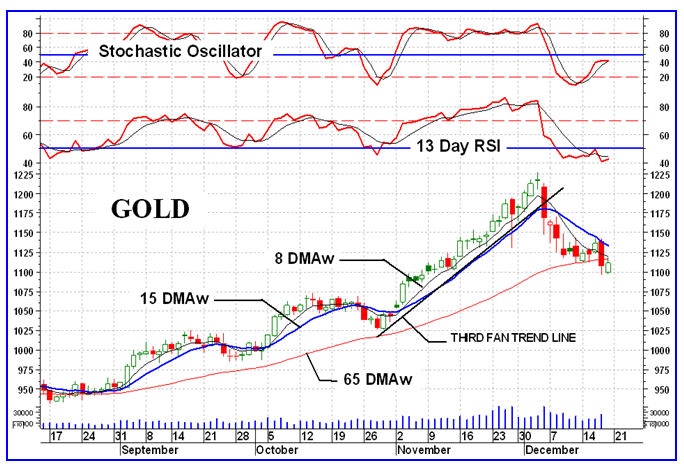 Although the indicators had been weakening since the FAN break down the actual short term rating did not go bearish until last week. It remains so this week. The gold price remains below its downward sloping moving average line and the momentum indicator is in its negative zone below a negative trigger line. The daily volume action is low and does not tell us anything at this time. The short term rating remains BEARISH.
As for the immediate direction of least resistance, that's always a difficult item to determine over a week-end. Much can happen in two or three days. Although the Stochastic Oscillator is still in its negative zone it seems like it wants to go positive. The Friday action might suggest that the previous plunge in price may have been overdone and a bounce may be expected. I'll go with my most popular direction of choice, the lateral direction, for another day.
SILVER
Over the past three months the silver action has traced out an expanding upward sloping megaphone pattern. These megaphone patterns suggest indecision on the part of speculators as to which way to go next. An upward sloping megaphone, unfortunately, too often (but not always) suggests an eventual break on the down side. This is something to keep an eye on over the next while. Otherwise, silver is acting much like gold but not as forcefully on the down side.
PRECIOUS METAL STOCKS
The major North American stock indices have all been in a dumper this past week with losses in the order of 3% to 3.5%. The Merv's Indices have been somewhat better with only the quality Indices showing losses. The more aggressive Indices are all showing gains for the week. As long as speculators are not dumping their more speculative stocks one can continue to have faith that the bullish stock trend still has a way to go and that these past couple of weeks are only part of a rest period before the next surge.
HOLIDAY POSTINGS
It's the holiday time so the commentaries may be somewhat limited over the next few weeks. I expect to post the commentaries each week-end but they will be short.
Here's wishing everyone a very Merry Christmas and a Prosperous New Year.
MERV'S PRECIOUS METALS INDICES TABLE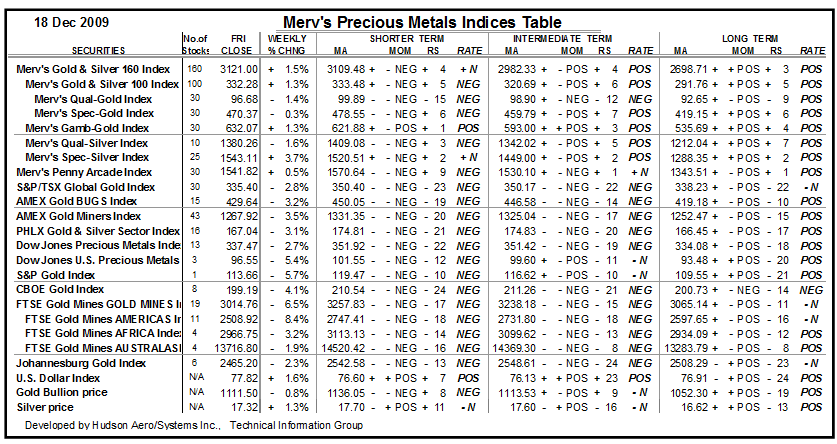 Well, I think I'll call it another week.
By Merv Burak, CMT
Hudson Aero/Systems Inc.
Technical Information Group
for Merv's Precious Metals Central
For DAILY Uranium stock commentary and WEEKLY Uranium market update check out my new Technically Uranium with Merv blog at http://techuranium.blogspot.com .
During the day Merv practices his engineering profession as a Consulting Aerospace Engineer. Once the sun goes down and night descends upon the earth Merv dons his other hat as a Chartered Market Technician ( CMT ) and tries to decipher what's going on in the securities markets. As an underground surveyor in the gold mines of Canada 's Northwest Territories in his youth, Merv has a soft spot for the gold industry and has developed several Gold Indices reflecting different aspects of the industry. As a basically lazy individual Merv's driving focus is to KEEP IT SIMPLE .
To find out more about Merv's various Gold Indices and component stocks, please visit http://preciousmetalscentral.com . There you will find samples of the Indices and their component stocks plus other publications of interest to gold investors.
Before you invest, Always check your market timing with a Qualified Professional Market Technician
© 2005-2019 http://www.MarketOracle.co.uk - The Market Oracle is a FREE Daily Financial Markets Analysis & Forecasting online publication.

Only logged in users are allowed to post comments.
Register/ Log in