How the Banks Print Their Money
Interest-Rates
/
US Interest Rates
Apr 23, 2010 - 02:26 PM GMT


Gosh! Banks print money, bleeding tax-payers and savers for ink...
RESCUING THE BANKS was supposed to be about saving the savers.
Just as in the Asian Crisis of the late '90s – where Tim Geithner and his class-mates cut their teeth as bail-out consultants, advising here...saving Thailand by the hotel-pool there – making depositors whole gave the official response its moral foundation.
Because without private savings, there's no capital base for investment borrowing. And without protecting savers, you throw middle-class thrift and industry – never mind personal property rights, the historical bedrock of modern democracy – to the wind.
There was a twist, of course. Because US and UK households were so indebted by the time the crisis broke in mid-2007 – indebted as no people had ever been before in history – enabling them to roll over those debts became paramount.
Unless the institutions they'd borrowed from could extend fresh credit anew, they would both soon go bust. Or thus ran the logic. So without saving the banks, the savers would then make the mother-of-all cash calls on the FDIC and FSCS...those tax-guaranteed deposit insurance schemes on either side of the Pond.
Would the FDIC or FCSC pay up? British banks owed UK households almost an entire year's gross domestic product, by our maths at BullionVault. US families held some $2.6 trillion in transaction accounts and cash CDs, according to the 2007 Triennial Wealth Survey.
That was a lot of cash to find in a hurry. Would Hank Paulson dare to follow Alistair Darling, and nationalize the banks when the schemes were called upon...and failed?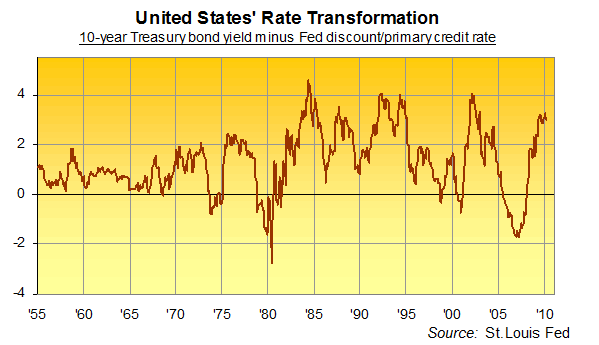 There was a third option, of course. One so obvious, and so simple, you've got to wonder why Tiny Tim didn't think of it in 1997. And it's not like recapitalizing the banks through the yield curve – the gap between short-term and long-term interest rates – hadn't been done before.
As you can see from the charts both above and below, borrowing short and lending long has been a regular license to print money. No matter whether the banks bleed tax-payers (above) or private savers (below) for the ink. And never mind that those two fast-whitening corpses are one and the same.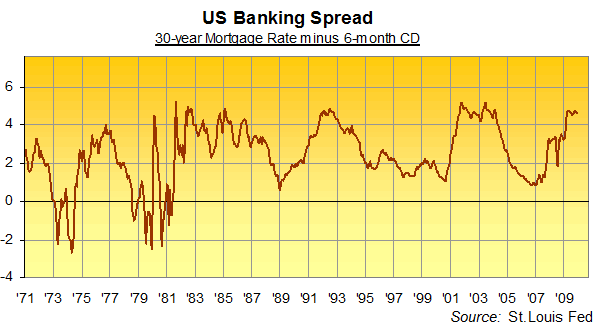 "In effect," gasps one commentator, "American taxpayers are now subsidizing the profits of Wall Street." He puts the profit at "200 basis points and up."
"The easiest and most profitable risk-adjusted trade for the banks," swoons another, "is to borrow billions from the Fed...and then to lend the money back to the US Treasury. The imbedded profit – of some 2.5 percentage points – is an outright and ongoing gift from American taxpayers to Wall Street."
But where's the shock? American and British taxpayers have long subsidized Wall Street and the City. Progressively more so over the last 25 years, sure. Without any payback since 1981, in fact. And spectacularly so during the last 3 recessions, too. Just check out those peaks above!
But 'twas ever so, at least since "Big Bang" in the mid-1980s. Nothing much in this scam is new. Banks print money, quite literally and despite the monopoly that the Fed and Bank of England apparently hold. Only the pace of production has picked up as the number of forgers has shrunk, leaving a small but swollen cartel of banks running the racket. And to keep the cops off their back, they've got tax-payers hostage, and will keep them tied up, for as long as "saving the banks" – instead of just letting them fail – remains the approved political fix.
What if the savers make a run for the door?
By Adrian Ash
BullionVault.com
Gold price chart, no delay | Free Report: 5 Myths of the Gold Market
Formerly City correspondent for The Daily Reckoning in London and a regular contributor to MoneyWeek magazine, Adrian Ash is the editor of Gold News and head of research at www.BullionVault.com , giving you direct access to investment gold, vaulted in Zurich , on $3 spreads and 0.8% dealing fees.
(c) BullionVault 2010
Please Note: This article is to inform your thinking, not lead it. Only you can decide the best place for your money, and any decision you make will put your money at risk. Information or data included here may have already been overtaken by events – and must be verified elsewhere – should you choose to act on it.
© 2005-2019 http://www.MarketOracle.co.uk - The Market Oracle is a FREE Daily Financial Markets Analysis & Forecasting online publication.

Only logged in users are allowed to post comments.
Register/ Log in