Dow Jones, Crude Oil, Euro, Sterling and Gold Market Updates
Stock-Markets
/
Financial Markets 2010
Jun 13, 2010 - 08:47 PM GMT


When you're trading short term timeframes it's important to have a check of what the long term timeframes are doing as somewhere along the line they interlink with one another providing critical levels and trading triggers.
We've been catching the short term moves with ease last week using our short term timeframes and with our TMS Strategy which has been catching some nice position signal moves using longer term timeframes.
Today we'll look at the markets using daily/weekly charts to see what unbiased messages they are signalling. We start with the Dow Jones:
Dow Jones Industrial Average
Firstly we look at a Four Hour chart below just to signify the range that we've been in for nearly a month: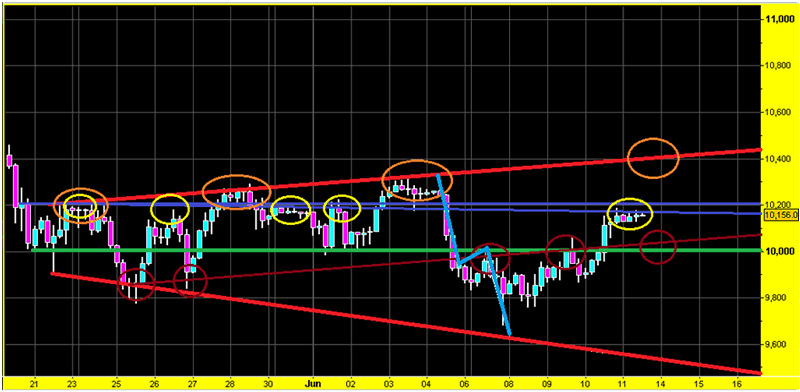 As you can see the market has been ranging whilst producing some volatile moves but no clear cut direction on the long term context of things has been decided by the Dow Jones.
Below you can see a daily chart: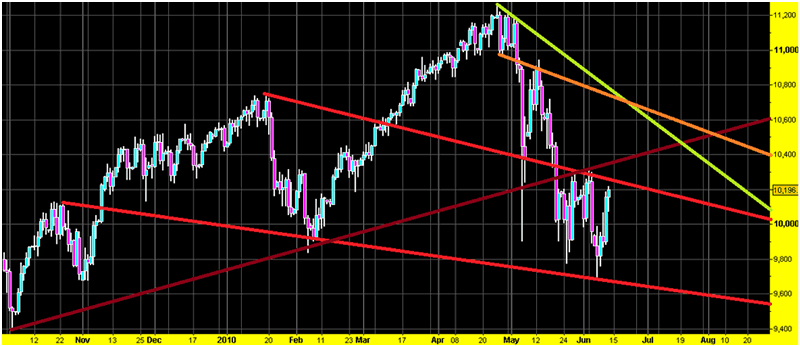 The red intersecting channel shows where this range is actually coming from. The SIGNIFICANT thing to note is that the market is showing problems at the same area on both timeframes. Whilst the short term timeframe shows problems at current prices and upwards to 10330 the daily also shows problems in the same area with the red intersecting channel.
However the major recognition that needs to be absorbed is the 10400ish mark. The short term timeframe shows the area will produce problems as the channel widens. Look at the daily chart 'dark maroon line' which ALSO shows problems at the same area.
Both charts show differing timeframes, both have different unbiased technical analysis painted over them and uniquely both flag up the same area of concern using varying analysis.
So for the week ahead the 10400 mark may be too tall for the market to reach and if we do get to it then THIS is the mark that the market must KILL in order to see higher prices. If the market moves higher then this mark, then you have to admit the case for back to the highs or new highs for 2010 would come alive, just as we've been saying.
When the market hit 11200 we stuck our neck out at the time and labelled it as THE high in which we stated prices should start to decline from here. BUT many pundits, analysts, commentators and traders simply forget some basic elements. When tops and bottoms are formed prices RARELY, in fact hardly ever react straight from there to produce ultimate tops and bottoms. The tops and bottoms are formed; markets produce them as a 'formation'. When these formations take place for tops and bottoms markets can go back to the highs/lows or reach near to the highs/lows or simply take them but only as part of the formation. So whilst the prices of 11200 is a high for 2010 you cannot say it is the HIGH as at this moment in time it is fair to say the price action is in a formation phase of this long term top in the making which means back to the highs or near the highs or new marginal highs cannot be ruled out.
In conclusion though the market may face a tough time even reaching 10400ish let alone taking it out and in which case the range may last longer before we have a chance to spurt higher. All eyes on this area as failure leads to more range bound activity whilst conquering it could take us back to the highs.
Crude Oil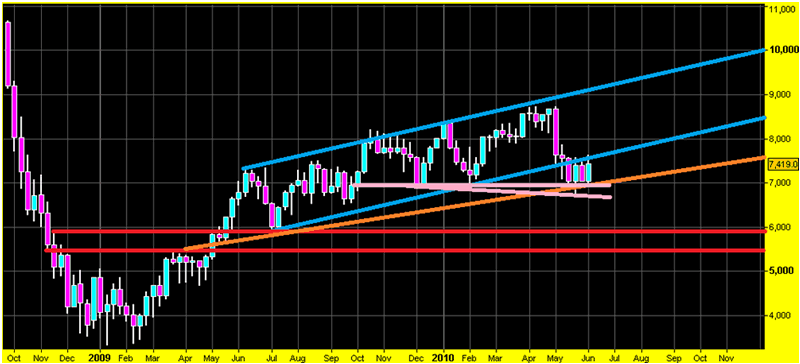 The chart above is a weekly chart, so it's a longer term chart and it gives some real clarity! Oil must hold at or near its recent lows in order to avoid a deeper decline to $60 or $55 something which will only happen if the decline in stock markets deepens! Holding at these levels or even if a quick v-shape move occurs to $60 we feel that in 2010 for the price of Oil you simply cannot avoid talking about $90-$100! Sounds like lofty prices but it is easily achievable this year! However it's not plain sailing at present as the lower blue line must be taken out in which TMS feels the price of Crude would head back to the 2010 highs and even higher.
Euro
Again for the Euro we've used a weekly chart as the short term direction has been clear recently. However the green line shows how we could be in a bottom making phase, in which a lower low could occur but the formation of bottom making, could still stick. It's important for the market to regain 126 as that would make the Euro overall bullish in which a sharp oversold move would take us back to the 135 level! The blue line has been hit frequently over the past three years and TMS feels we haven't seen the last of it yet.
Of course the green support line must hold otherwise vacuum opens up, in which we would travel straight to 113 and if that folds then for sure you'll see 1:1 to the dollar.
Sterling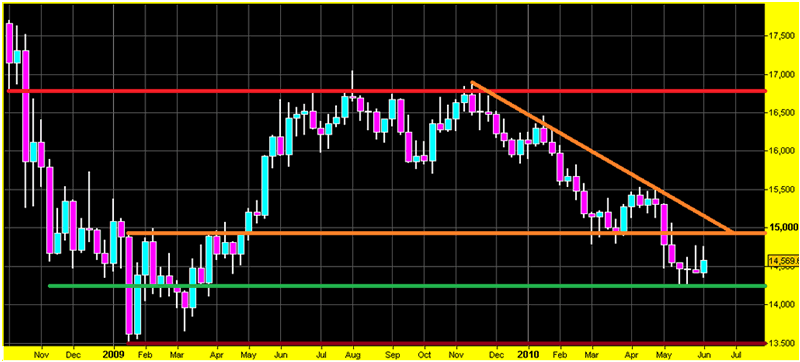 Once again we've used another weekly chart for the Sterling to view the situation at play. The Sterling has been trying to make some progress over the last few weeks as it tries to edge somewhat higher from around 14250 but ironically on the weekly chart it appears as nothing more than a dot as the Sterling clearly trades in range bound movements.
The United Kingdom is in a dire state and the nation holds uncertainty over its actual size of the deficit and the measures that will be used to tackle it not to forget its effectiveness or lack of it. On top of that inflation figures are flawed as governments have been known to gloss them up to paint a differing picture from the actual high inflation that the public suffers from. On top of that, we have a housing market, which is currently witnessing a 'dead cat bounce' in which the projected collapse of it, has simply not taken motion YET! This would start to batter the Sterling even more in which 1:1 will likely be seen at some stage over the next few years.
Fundamentals however can get one more emotional then technical's and that is why we prefer to react to price. In which case the recent lows are holding and until they hold, 135 won't come into play. Folding them would take us to the level directly! Holding that, doesn't necessarily mean, that the Sterling is safe as the orange lines are giving two problems on the weekly chart. A declining orange line that must be overcome AND a range bound orange line that must be overcome! Until both cannot be conquered the longer term scenario will remain range bound to lower price action over the coming years.
Short term it's a different ball game all together, the dynamics are different, the targets are different, the expectations are different, as you're not bothered about long term price objectives in day to day trading although overall any trader should respect long term price action, and it's always good to recap long term action regularly as some critical levels interrelate within timeframes.
GOLD
Whilst analysts, traders and commentators across the globe are looking at long term projections for gold we thought we'd look at the short term scenario at play and for this insight we've used the four hour chart which is supreme at depicting short term movements in Gold.
First of all you don't have to be a rocket scientist to understand that Gold has a short term issue with 1250! For us at TMS it is plain and simple, if we get a four hour close above this mark then we would be very surprised, if momentum, doesn't carry the price to 1300 - direct move!
However it is also not hard to see why the recent attempt on 1250 failed as the purple line shows it's alignment with this level. The blue line provided very short term support but the green line is the short term four hour trend holder. If this line is taken out with a four hour close then we would feel gold would travel straight to 1200 and lower for a corrective phase OR a deepened pullback in which the euphoria would start to be questioned by the media but the contrarian would be ready to BUY BUY and BUY some more for the longer term activities.
I am Ajit Singh, the writer of this article who started work with the financial markets from a very young age of 17, even though it wasn't legal and WE are www.tradingmarketsignals.com - 'TMS'.
If you like what you read and would like to gain insight on position trading style signals on five major markets. Or perhaps you want to add clarity to your short term trading with our signals which are fired via email and soon possibly by a live chat room platform, then this would be the best time to join us with our annual membership offer that unfortunately expires on 14th June 2010, in line with the U.S. stock market close on Monday.
http://tradingmarketsignals.com/#/flash-crash-price/4540799314
Until next time,
By Ajit Singh
Trading Market Signals
...the hub of unbiased technical analysis!
PS. Do you want to ask us any questions? Email: info@tradingmarketsignals.com
© 2010 Copyright Ajit Singh - All Rights Reserved

Disclaimer: The above is a matter of opinion provided for general information purposes only and is not intended as investment advice. Information and analysis above are derived from sources and utilising methods believed to be reliable, but we cannot accept responsibility for any losses you may incur as a result of this analysis. Individuals should consult with their personal financial advisors.
© 2005-2019 http://www.MarketOracle.co.uk - The Market Oracle is a FREE Daily Financial Markets Analysis & Forecasting online publication.

Only logged in users are allowed to post comments.
Register/ Log in