US Dollar is Crashing! Time for Action!
Currencies
/
US Dollar
Sep 10, 2007 - 08:14 AM GMT


Martin Weiss writes : The U.S. dollar is crashing. It's crashing against the euro, the pound, the Swiss franc and, especially the Japanese yen.
Just this past Thursday, for example, one U.S. dollar could have bought 115 yen; on Friday, it could buy only 113. In just 24 hours, the dollar fell more that it would historically fall in 24 weeks!
But if you think this is far removed from your daily life, think again.
The Dollar Crash Is Delivering A Massive Blow to Your Wealth
Right now, American households own about $65 trillion dollars in assets, including stocks, bonds and real estate.
So based on the dollar's decline against the Japanese yen, this means that, just between the close of business Thursday and close of business Friday …
Over one trillion dollars in American wealth was wiped off the map! All in just 24 hours!
Unfortunately, most people have no idea this is happening, and even if they did, no sense of how it could impact them. Their typical reaction:
"I don't give a damn how much it's falling in Japan, China, Germany or anywhere else for that matter. All that concerns me is what happens with our money right here in the United States of America."
But there are four fatal flaws to this rationale.
Fatal flaw #1. Your money isn't just falling in far-away markets. It's falling everywhere.
When the value of your money crashes globally, it also falls domestically.
Already, your dollar is sinking in terms of the corn, wheat, eggs or beef that it can buy — right here in the United States.
Already, the cost of more than 90% of the products sold at Wal-Mart (all produced overseas) is being impacted.
Already, the vast majority of products sold in electronics stores, furniture stores and appliance stores are being affected.
Ditto for the lion's share of the oil, natural gas, gasoline, and heating oil you buy.
So when the dollar falls, you pay.
Fatal Flaw #2. Your money isn't really yours. A lot of it is actually theirs.
It's been loaned to America by the very same foreign countries that most Americans want to ignore — Japan, China, Germany and others. It's been loaned to America …
To finance the deficits in our federal budget …
To fund our addiction to debt …
To help us buy luxury homes, and …
To sponsor the shop-till-you-drop crowds all across the U.S.A.
How much?
As recently as just five years ago, foreigners had loaned $3.2 trillion to America, and some smart people were already alarmed:
They demonstrated how dangerous it was. They asked what might happen if foreign investors and central banks decided to pull out. They asked for ways to dig ourselves out of this mess.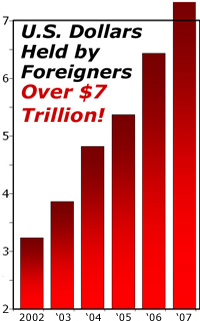 No answers were forthcoming.
And now look what has happened: The amount the United States owes to foreigners has grown by leaps and bounds — to $3.9 trillion in 2003 … $4.8 trillion in 2004 … $5.4 trillion in 2005 … $6.4 trillion last year … and now over $7 trillion!
Our reliance on foreign investment is the greatest since October 26, 1776, when Benjamin Franklin departed from Philadelphia for Paris to solicit financing for the American Revolution. We're hanging by a thread no one seems to see.
Flaw #3. When they want their money back, they GET it back.
Just last month, for example, foreign central banks and governments decided to pull money out of America in huge amounts.
And in the process, they dumped a whopping 3.8% of their U.S. bond holdings, the biggest such sales in over 15 years!
That's despite the fact bond prices were going up. If bonds turn down, they're likely to dump even more.
Flaw #4. They can sink YOUR investments.
The more the dollar falls, the more they want to sell. And the more they sell, the further the dollar falls.
But dollars aren't sold in a vacuum. Whenever foreign investors and governments are selling U.S. our dollars, they're also selling U.S. stocks, bonds and real estate.
And that's how it comes back to bite ordinary Americans on the rear end, causing potentially big losses in their portfolios, gutting their real estate, making a big dent in the $65 trillion of household wealth.
Why Is It That Average Americans Still Don't Get It?
Maybe it's because they haven't lived in a country where the currency was chronically ill.
I have.
Over a half century ago, my father decided he wanted to buy a second home in the tropics. He dreamed of going there to escape Wall Street winters, write quietly and contemplate the world economy from afar.
Finally, in 1952, after three years of searching, he found his dream retreat, thousands of miles to the south, in the central highlands of Brazil.
Its name was Três Ranchos, the amalgamation of three ranches that merged into one.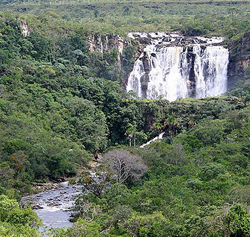 When I first moved to this region of central Brazil in 1952, the Brazilian currency had already been devalued 1000 to one. And by the time its long decline ended nearly a half-century later, it had fallen to one quadrillionth of its former value. This just goes to show the ultimate consequences of financial blunders countries can make.
It had a fast running brook and a large patch of virgin forest. A few miles to the north, near the village of Curumbá, a distant tributary of the Amazon tumbled into a pristine waterfall from multiple directions, like a miniature Niagara.
A few miles further to the north was an open, largely uninhabited plateau which, years later, would be transformed into a bustling super-modern capital city, the cost of which would drive inflation into triple digits. I remember the plateau vividly: A hand-written misspelled sign posted seemingly in the middle of nowhere: "Future 'cite' of Brasilia."
Two other American families also discovered this remote paradise. Janet Gainer ("A Star Is Born," 1937) lived nearby. So did Mary Martin ("Peter Pan," 1954), along with her son, Larry Hagman ("I Dream of Jeannie," and "Dallas").
But Broadway and Hollywood glitter meant nothing to me. I was too busy with my favorite activities — exploring the jungle and collecting Brazilian coins.
Actually, exploring the jungle was not nearly as dangerous as you might think. Collecting Brazilian coins, however, was another matter entirely. Even though time went by very slowly for me, I could tell my coins were losing value quickly.
I knew because many of them were "reis" (kings) — the previous Brazilian currency. I couldn't buy a darn thing with them. They didn't even have collector's value. In fact, it took one thousand of the old reis to make just one cruzeiro, Brazil's new currency at the time.
One day, I tossed some of my coins into the brook, and, in retrospect, it probably was not such a bad decision.
In the years that followed, Brazil suffered a whole series of 1000-to-1 currency conversions — from the old cruzeiro to the new cruzeiro … to the cruzado … back to the cruzeiro and more. Each time, anyone collecting, saving or investing in the previous currency would have been wiped out, their wealth decimated.
Five decades later, Dad and I sat down to figure out how much my old rei might be worth. The answer: one quadrillionth of Brazil's currency today.
After we had counted all the zeros, Dad smiled and said: "Fortunately, you were not so careless with the nickels and dimes you saved in American money."
Today, however, I wonder. Maybe that, too, was not such a great way to save money after all.
The Unfathomable Risk Our Leaders Are Taking
The damage that has been done to the underpinnings of our dollar today remind me, in some ways, of the damage that was done to Brazil with its many currencies over the years.
I have been back to Brazil over 40 times. I know almost every region except the Pantanal, near the border with Paraguay and Bolivia. And I can tell you flatly: the historical paths of the United States and Brazil are beginning to converge.
Years ago, Brazil's economy was forever at the mercy of foreign capital — from major banks, big corporate investors, the International Monetary Fund and others. It continually ran deficits and almost always needed money from abroad to stay afloat.
The United States, in its heyday, was the opposite. It was the U.S. that provided the primary source of capital throughout the world. It was the U.S. that owned big stakes in foreign economies. We didn't need their capital to sustain us. They needed ours.
Today, our leaders are taking a huge, unfathomable risk with the dollar and our destiny as a nation. Today, like a third-world country of yesteryear, we are the ones who depend so heavily on foreign capital.
Every time we run budget deficits, we must go, hat in hand, asking for money from central banks and investors in Asia Europe, and even Latin America.
Every time we run a trade deficit, spending more on imports than we earn on exports, we run back for still more money from Asians, Europeans and Latin Americans.
And now, after thousands of such trips and billions of such transactions, we owe the $7 trillion-plus that I told you about just a moment ago.
Amazing how much has changed in just one generation, isn't it?
Don't our leaders see how dangerous this is? Don't they see the consequences of their complacency?
Our Day of Reckoning:
Why It Took So Long.
Why It's Now Here!
For many years, America's day of reckoning was postponed.
Why?
If you could talk to large foreign investors, you'd know the answer. And not long ago, that's exactly what I did.
"We have massive amounts of dollars we need to invest," said one. "I'm not bullish on the dollar. I don't even like my U.S. investments. But the dollar is king, the only true world currency. So we have no choice. The U.S. financial market is the only game in town big enough to satisfy our needs. We have to keep most of our money in dollars, whether we like it or not."
He wouldn't have said the same thing for any other country. There, he did have a choice. Whenever he lost faith in Argentina, South Africa, Thailand, or even a country like Great Britain, he could pull out in a big hurry along with hoards of others, sending its financial market into a tailspin.
This was the key difference that separated the United States from other countries. Whenever another country slacked off or did the wrong thing financially, it got slapped down. Hard. But when the United States made similar mistakes, it got away with it.
And so it was that we merrily ran huge deficits, borrowed to the hilt, and continued to party as if nothing were wrong. And that's why, despite it all, foreign investors continued to pour more and more money into America.
In the 1980s, it was primarily cash-rich Japanese who led the way, investing billions in U.S. stocks and bonds, helping to lift the Dow and Treasuries out of their worst slumps of the postwar era.
In the 1990s, it was mostly Germans that played that role, helping to drive the big tech boom.
And in the 21st century, China has become the big provider of new funds to the U.S., along with another huge influx from Japan.
But now, dear reader, we're at the end of the line.
Our $13.5 trillion mortgage market is melting down.
Our giant housing market is busting.
Our economy is sinking quickly into recession.
Our dollar is crashing.
And our government can think of no better response than to flood the world with still cheaper dollars.
Time for Action
Many years ago, Dad tried to protect the U.S. dollar, and prevent it from declining.
He founded the Sound Dollar Committee.
He enlisted the support of men like Bernard Baruch who was the former adviser to many presidents …
Herbert Hoover, the former president who presided over the worst of times, and …
Bill Martin who was Chairman of the Federal Reserve.
He organized a massive grass-roots campaign to balance the budget, fight inflation, and protect the American dollar.
He helped Eisenhower achieve one of the few solid, balanced budgets of the 20th century. And he won several landmark battles for the dollar.
But he lost the war.
Today, I am the Chairman of the Sound Dollar Committee, and I wish I could accomplish as much as Dad did to stop the dollar's decline. But the forces driving it down are too powerful; our leaders, too complacent.
So now, the primary course of action is different:
Your first step must be to urgently reduce your stake in the world's weakest major currency: The dollar.
Your second step must be to defend yourself from this madness with the investments we've been recommending that go up when the dollar falls.
Your third step: To go on the offensive, aiming for the unusual wealth-building profits that only crises like these can generate.
Today, before midnight, is your rare, second chance to do so. Click here for instructions .
Good luck and God bless!
By Martin Weiss
This investment news is brought to you by Money and Markets . Money and Markets is a free daily investment newsletter from Martin D. Weiss and Weiss Research analysts offering the latest investing news and financial insights for the stock market, including tips and advice on investing in gold, energy and oil. Dr. Weiss is a leader in the fields of investing, interest rates, financial safety and economic forecasting. To view archives or subscribe, visit http://www.moneyandmarkets.com .
© 2005-2019 http://www.MarketOracle.co.uk - The Market Oracle is a FREE Daily Financial Markets Analysis & Forecasting online publication.
Comments
Ignacio Beltrán
14 Sep 07, 05:16
$1 Bills should have Bush´s Picture


Gosh, it would be great if $1 biils had Bullsh on the front face. Once the STHF, I could wipe my ass with $1 dollar bills.

Greetings from México. Good luck for a North American Union with you, next life, once you are a super power again, in a million years.

"It's the economy, stupid" applies to all the Bush family, huh?

Best Regards, from México with love.



Ignacio Beltrán
14 Sep 07, 12:56
I am buying rice and beans


I am stashing rice and beans by the truckload. I recommend you do the same if possible with what's available in your area.

Once the SHTF in the US, México will be the first global victim, thanks to our puppet government what works for the US, "promoting democracy", of course, to further US interests like the pipe-dream called North American Union.

In this we are all together, and all of us are victims of Pinky and the Brain, in their conquest of the World...

Good luck,

Ignacio Beltrán.

Mexicali, México.



xiemena
19 Dec 07, 10:31
The U.S Dollar


Well..if we are going down so much why are we still the #1 country in the world huh?...if you want to make a point about President bush do it on your on time...you dont even live in the Usa..so why dont you go and get a life...why do u care so much about the usa, huh....In the whole are money is going down isnt it a good thing, because now we can sell more stuff...



Sarah J
19 Dec 07, 11:14
US Dollar


Martin Wiess is based in Florida, USA.

A dollar devaluation is not a good thing, as you effectively lose purchasing power i.e. the prices in the shops rise so your salary and your assets and savings are worth less.



Mike
15 Jan 08, 16:59
US Dollar and Economy


A currency devaluation would only be a good for a country that depends upon exports for its income. The US is not a net exporter, and is a consumer economy, a weakening dollar makes the currency less attractive to foreign investors(who allow us to run debts and reduces a consumers' purchasing power(which weakens our consumer economy) because of inflation. A long time ago, the US dollar was backed by gold, but in 1973 under Nixon, the dollar became a fiat currency, since then the US has racked up massive debts, now it is no longer attractive for foreign countries to finance US debt, so there is a major economic crisis that could be awaiting the US economy



Xiemena Perez Lopez
08 Jun 10, 17:50
debt


I apologize for what I wrote above.

Now that I lost my job, my home and my husband, I agree with Ignacio Beltran, the first and second posts, above.

We are No. 1 in debt, and our economy is #1 falling off the cliff.

I am sorry.




Only logged in users are allowed to post comments.
Register/ Log in