Investing in Australia, The Brighter Future Down Under
Stock-Markets
/
Austrailia
Aug 20, 2010 - 10:53 AM GMT


Is Australia the world's best stock market? Credit Suisse thinks so, and makes its case in its Global Investment Returns Yearbook 2010. Credit Suisse calls Australia "the lucky country," pointing out that Australia's market has outperformed the rest of the world's major markets over the last 110 years. But what about this year, and on into 2011? I think there are plenty of good reasons to place your bets down under. And I'll give you some specific picks in a bit.
Why is Australia so lucky? For starters, Australia is the feeding trough of raw materials for a hungry and growing China. Australia is rich in natural resources — not only the basics like coal and iron and nickel, but also agricultural exports like wheat and the metal that could be the fuel of the future, uranium.
Also, Australia has gold. Lots and lots of gold. In 2009, Australia produced 227 metric tonnes of gold, up about 3% from the previous year. All indicators are that Australia's gold output will keep climbing.
As you know, China is hungry for gold … and coal, iron, wheat and more. So, half of Australia's exports now go to Asia (including India), and China is its No. 1 customer.
What else does Australia have going for it? Here are some fascinating economic facts …
The global recession has hammered the U.S., Great Britain and the rest of Europe — but not Australia. Along with big demand for its natural resources from Asia, Australia was saved by a government that spent aggressively to jump-start the economy.
Australia is running a large trade surplus. It hit a record US$3.2 billion in June, spurred by Chinese demand for coal and iron ore.
Australia's economy is growing at 3.75%, and is expected to rise to 4% by the end of 2012, according to the Reserve Bank of Australia.

Rich in natural resources, Australia has weathered the global recession well.

Unemployment now stands at 5.8%, and 300,000 jobs have been created in the past 12 months. In population equivalent — Australia only has 21.4 million people — that would be like creating 4.2 million jobs in the U.S.
Australia's home prices went down in the global crash — but they've since bottomed and started to go back up again. To help cool off the market and the economy in general, Australia's central bank has raised its benchmark interest rate six times (150 basis points).
Add it all up, and Australia's central bank sees a golden decade ahead for Australia, with rising investment, profits, jobs, wages and tax receipts.
Now, there are caution flags — like declining home-building approvals in the most recent month. Also, house-price gains decelerated in the second quarter. And retail sales missed economists' forecasts in June. And remember that a country like Australia which is so focused on one industry (mining) is particularly vulnerable if that industry slumps. I'd say if China catches a cold, Australia may catch pneumonia.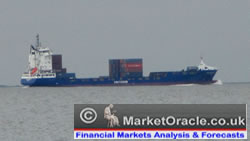 Australia has a large trade surplus, thanks to huge demand for its exports from China.
Also, Australia has a private-debt-to-GDP ratio of 150%. Still, that's a lot better than the U.S., where private debt is more than 260% of GDP. Also, government debt in the U.S. is about 93% of GDP. In Australia, the ratio of public debt to GDP is only about 5.5%.
So, Australia may have some warning flags, but they are nothing like the parade of pain in the U.S.
5 Ways to Play It
Here are some Australian stocks you should be aware of. The good news is they all trade on U.S. exchanges.
Rio Tinto (RTP) is a massive mining conglomerate, digging up everything from bauxite to alumina, to copper, iron, coal, gold and silver, and much more.
BHP Billiton (BHP), the world's largest miner, is headquartered in Australia. BHP is in the news recently, because it launched an unsolicited US$38.6 billion takeover bid for Potash Corp. Potash, the world's largest fertilizer maker, called the bid "grossly inadequate," so we'll see if it goes through. In any case, BHP is a fine choice.
Alumina (AWC). This company engages in bauxite mining, alumina refining, and aluminum smelting businesses.
Sims Metal Management Limited (SMS) operates in the secondary metal recycling industry. The company engages in ferrous secondary recycling, non-ferrous secondary recycling, and recycling solutions businesses. If metal prices are going higher, Sims should strike gold.
There are also some exchange-traded funds that track the Australian market. The iShares MSCI Australia Index (EWA) is plenty liquid enough, and a good choice.
How Not to Play It
Be careful when investing in stocks or funds. For example, the WisdomTree Pacific ex-Japan Equity (DNH) — which has 90% of its assets in Australian stocks — has traded less than 18,000 shares a day over the past three months. That's not liquid enough for my taste — you might get dinged both getting in and getting out.
Is this all you need to know about investing in Australia? Heck, no! It's just a taste. Subscribers to my Red-Hot Global Small-Caps get more than a taste, and they've racked up some big gains down under, with potentially more to come. However you invest, remember, you are in charge of your own investment destiny.
Yours for trading profits,
Sean
This investment news is brought to you by Uncommon Wisdom. Uncommon Wisdom is a free daily investment newsletter from Weiss Research analysts offering the latest investing news and financial insights for the stock market, precious metals, natural resources, Asian and South American markets. From time to time, the authors of Uncommon Wisdom also cover other topics they feel can contribute to making you healthy, wealthy and wise. To view archives or subscribe, visit http://www.uncommonwisdomdaily.com.
© 2005-2019 http://www.MarketOracle.co.uk - The Market Oracle is a FREE Daily Financial Markets Analysis & Forecasting online publication.

Only logged in users are allowed to post comments.
Register/ Log in