Excuse Me If I Come On Too Strong, Out Current Form of Government is Broken
Stock-Markets
/
US Debt
Oct 04, 2010 - 08:46 AM GMT


Excuse me in advance if I come on too strong, sound a bit cynical or emotional — or even unpatriotic — at any time in my column today.
But gold's continued strong price rise is a resounding warning shot. And I want to put what it means on the table for you … without mincing any words … without sounding mealy-mouthed … and without tip-toeing around any of the issues.
So I'll start by saying that… if you think gold's rise to one record high after another is mostly about inflation, or even future inflation, think again:
Gold's role as an inflation barometer, or even as a hedge against inflation, is its least important role right now.
In fact, that's way down on the list, because what gold is really telling you is that …
A. Our current form of government is broken. Period.
It's corrupt (it either missed, ignored, or perhaps even turned a blind eye to the Madoff Ponzi scheme and the real estate bubble, just two examples) …
It's inefficient (it can't pay its bills without robbing from Peter to pay Paul, or by printing more fiat money) …
And Washington clearly doesn't give a hoot about the average citizen.
Of course they say they do. Our leaders and those running for election and re-election are all great orators when it comes to grabbing your ear.
But come on, who can't see through the B.S. these days?!
Republicans are battling Democrats. Democrats are battling Independents. Tea Partiers are bashing the left and the right. And all they care about is themselves. It's pure and simple self-interest.
And the worst of the bunch, in my opinion? The President of the United States. Not only is he getting caught up in all the political B.S., but he's making matters a heck of a lot worse.
Don't believe me? Just listen to his recent speeches, where he not only encourages the political warfare, but worse, he is even stoking the fires of class warfare, pitting the rich, middle and lower classes against each other.
How, I ask you, can any of this be good for our country?
I'm not going to stop there. Because in the last week or so, Washington has taken our problems to the international level, turning up the heat on China, blaming the yuan for all of our problems.
This one really has my dander up. Mind you, I'm not favoring China, or any other emerging country that we're buying from or shipping jobs to for that matter.
But give me a break. Do our leaders in Washington really think that by beating up on Beijing that our sinking economy is going to be righted?
Haven't they realized that no matter how much the Chinese currency goes up in value — which is just another way of saying the U.S. dollar has to go down in value — that we simply cannot compete with the low cost of wages in those countries?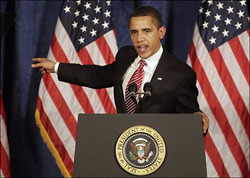 Stoking the fires of class warfare isn't helping the U.S. to compete globally.
Look, the U.S. started losing manufacturing jobs in the early 1970s. I can recall my Uncle Herman owned a women's lingerie manufacturing plant in New York back then. High taxes and the textile and garment unions almost killed his business.
What did he do? He moved his manufacturing plants to Haiti and Honduras. Not only did his business survive, it flourished.
Uncle Herman became a very wealthy man, and retired to spend time with his family on his 50-foot Chris Craft, which, incidentally, put a whole bunch of money that he made back to work in our own economy.
Uncle Herman was not unpatriotic. Quite to the contrary, he was very proud to be an American.
The bottom line: Like it or not, we are in a global economy. And if you start erecting trade barriers and staging currency wars, the only thing that's going to change is that the free market is going to become a black free market, and go underground and overseas. In other words, more and more transactions, and hence, more and more money, is going to go OFF the radar screen and out of the government's reach. Period.
That won't solve anything. Instead, it will just make matters worse. It could even lead to major wars, as it has in the past, which no one wants.
Want two more examples of some very foolish moves the government has recently taken that prove my point that it's broken beyond repair, and is making matters worse?
Consider …
1. The new, absurd reporting requirement that businesses must file a 1099 tax form identifying anyone to whom they pay $600 or more for any product or service — INCLUDING GOLD.
It was buried in the ObamaCare legislation, Section 9006 of the 2,409-page Patient Protection and Affordable Care Act. It becomes a law on November 2, 2010.
Although it doesn't go into effect until the tax year beginning January 1, 2012 — this is another example of how the government is not only becoming more and more intrusive, but how it's also trying to fix its own problems by dragging you into them.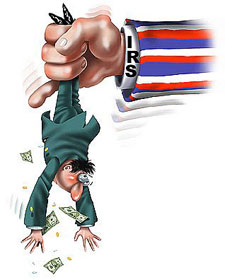 A new law requires businesses and individuals to report transactions of $600 or more any product or service — including gold.
The new law doesn't cover only business-to-business transactions. It also applies to individuals who buy cars, appliances, and yes, even guns and gold coins.
And, you won't be able to technically get around the law, because the reporting requirement applies to total transactions during the year, not to each transaction (so if you thought you would skirt the system by making separate transactions under $600 each, think again.)
Sound like a semi-confiscation scheme? Confiscating, or taxing more of everyone's wealth?
You bet it is. And it's just another example of how far astray the government has gone in trying to fix its problems … how it's overreaching into your life … and how it's got it ass backwards — because this little law is simply going to drive more and more goods and services underground and overseas, and make matters worse.
Also, making matters worse — the latest, harebrained proposal to come out of the U.S Treasury …
2. Just released last week, the U.S. Treasury set forth a proposal to require banks to issue weekly reports on ANY electronic money transfers that move in or out of the United States. Even if it's one cent.
The existing threshold is $10,000 or more. The rationale for lowering the requirement to every cent is that it will make it easier for the Treasury and Department of Homeland Security to track transfers tied to money laundering, terrorist activities, or internet gambling transactions.
To be sure, there are valid national security concerns. But lowering the reporting requirement to one measly penny is not only going to cost banks an enormous bundle of money to comply with the proposal …
It's simply going to backfire with unintended consequences, yet again, by driving more and more money underground and off shore, exactly the opposite of what our country needs! (Never mind it's an insult to our liberties.)
I could go on and on. But the fact of the matter is that as a result of ALL of the above, and more than I can uncover for you in this single column today …
B. Nothing short of a complete rewrite of how our country is governed … including restructuring the dollars-backed-by-debt monetary system — will solve the problem.
Don't get me wrong. You should vote in the upcoming elections for the candidates you believe are best equipped, best skilled, and best qualified to put our country on a better path.
But in my opinion, nothing short of a complete overhaul of our government and a reworking of our fiat monetary system — will fix our problems.
Which is why I put forth my 10 bold steps to save America in the September issue of my Real Wealth Report, and even published a summary of them here in last week's column.
In the meantime, and for as far as the eye can see …
C. Savvy money is running away from anything having to do with government. Period.
That's the real reason gold is flying, and headed much, much higher, despite the occasional pullback that will occur.
Over the longer-term though, it won't just be gold that moves sharply higher. It will dramatically impact the price of black gold, oil, pushing it higher along with other tangible assets and natural resource markets.
Eventually, it will even send select blue-chip stocks higher. Despite what the economy is doing.
Hard to believe, right?
Well, although I am short- and intermediate-term bearish on the broad U.S. stock markets …
Their recent strength in stocks is giving you very subtle clues as to what's likely to happen longer-term. Select stocks could explode higher just like gold is doing.
Until next week, and more food for thought …
Best wishes,
Larry
P.S. For all my "uncommon wisdom" thoughts including ALL of my wealth-protecting and wealth-building recommendations — become a Real Wealth Report member now by clicking here.
This investment news is brought to you by Uncommon Wisdom. Uncommon Wisdom is a free daily investment newsletter from Weiss Research analysts offering the latest investing news and financial insights for the stock market, precious metals, natural resources, Asian and South American markets. From time to time, the authors of Uncommon Wisdom also cover other topics they feel can contribute to making you healthy, wealthy and wise. To view archives or subscribe, visit http://www.uncommonwisdomdaily.com.
© 2005-2019 http://www.MarketOracle.co.uk - The Market Oracle is a FREE Daily Financial Markets Analysis & Forecasting online publication.

Only logged in users are allowed to post comments.
Register/ Log in