Stock Markets Waiting On Helicopter Ben
Stock-Markets
/
Stock Markets 2010
Oct 15, 2010 - 07:21 AM GMT


U.S. stocks declined Thursday, dragging benchmark indexes down from five month highs, as financial companies slumped amid concern over growing legal scrutiny of home foreclosure practices. Bank of America, Citigroup and Wells Fargo slid more than 4 percent to lead financial stocks in the Standard & Poor's 500 Index to a 1.8 percent drop. Apollo Group Inc. sparked a plunge in education stocks after withdrawing its forecast for fiscal 2011. Yahoo! gained 4.5 percent and EMC Corp. rose 4.5 percent on reports they may be takeover targets.
All eyes today will be on Bernanke speaking at 1.15pm BST (see below for more)
US Banks
"You have a new cloud forming on the horizon which could be anything from something minor to something that really slows down the process" of foreclosures, said BenjaminWallace, an analyst at Grimes & Co. which owns stock in JPMorgan and Wells Fargo. "There was some certainty coming back but this mortgage stuff has just reversed that."
Washington policy makers, who moved swiftly to calm markets during the subprime mortgage crisis in 2008, have resisted calls for similarly broad steps in response to concern that banks may have acted illegally to seize homes. President Barack Obama and the federal agencies that share responsibility for housing finance are opposing calls for a nationwide foreclosure freeze, fearing further damage to the housing market. Even as bank stocks tumbled yesterday on concern that the mishandled loans will increase costs for lenders, the White House and federal regulators avoided any grand gestures designed to reassure investors.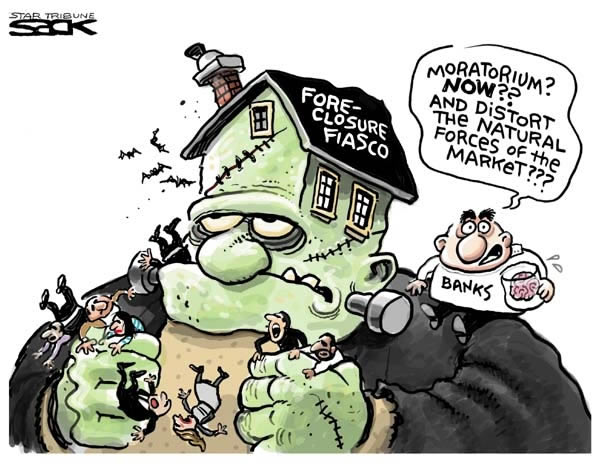 A Good Day For Irish Bonds On Thursday
Irish government bonds continued their recent tightening trend yesterday with spreads to Germany closing by a massive 27bps on the day. The spread between 10/20 Ireland vs 07/20 Bunds is now below 400bps for the first time in 4 weeks and is over 70bps off the wide print at the end of September.
On the political front, the leader of the Irish Labour party, Eamon Gillmore, rejected calls for a cross-party deal on the Irish fiscal plan for the next 4 years but stated that he fully supports a 3% Budget Deficit target by 2014. Overnight, the leader of Fine Gael, Enda Kenny, speaking in New York stated that he would meet with Brian Cowen but did not specifically state that he supported multi party consensus for the upcoming Budget. ECB Board Member Lorenzo Bini Smaghi in an interview yesterday said he was confident that Ireland would present a "credible budget in a multiple-year program that will bring confidence to the markets".
Moody's released a report yesterday on the Irish Prime Residential Mortgage market which stated that the market continues to deteriorate and is not being helped by the "prolonged foreclosure process". Irish EU Harmonised CPI fell 0.2% in September or 1.0% on a Year-on-Year basis. While the annualised inflation rate has been negative since February 2009, the current rate marks an improvement relative to previous months. Finally, note the Irish High Court is expected to deliver its ruling on November 1st in relation to property developer Paddy McKillen's legal action against the transfer of his loans to NAMA.
QE … Market Still Looking For Hints
As we head towards the next Fed meeting in early Nov every word of every speech by Fed memebers will be discected for signs of their innermost thoughts on the prospects for another round of QE. Overnight US: Minneapolis Fed President Narayana Kocherlakota said "Some of the tools I have talked about, one way they would operate to stimulate the economy would be to raise expected inflation … how can we influence real yields if we can't lower our nominal interest rate? … The other way to do it is to try to raise inflation expectations."
And Boston Fed president Eric Rosengren said "I think we're going to have to discuss whether or not we're going to do QE or not … That's one of the many options the Fed has … Part of the problem we're trying to address is the inflation rate is lower than we'd like"
Meanwhile the highlight of today is Mr Bernanke's speech, at 1:15pm BST (UK time): 'Revisiting Monetary Policy in a Low Inflation Environment'. His words will be scrutinized even more care than usual.
Currency Wars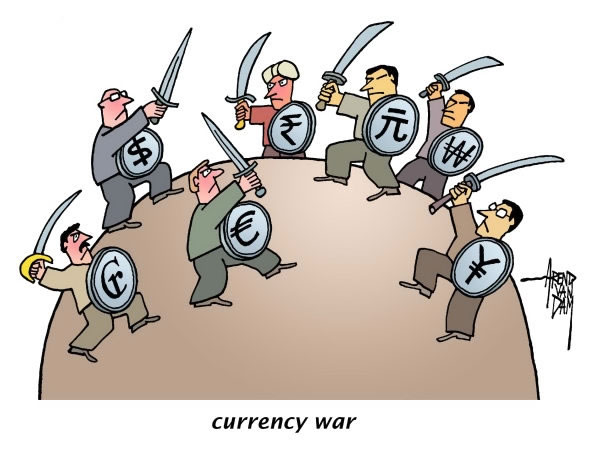 South Korean finance minister Yoon Jeung-hyun said "With the recovery slow in the advanced countries, each country relies more on exports for growth, and tension surrounding foreign exchange rates is intensifying, and there are signs that this could develop into trade protectionism".
China's commerce ministry spokesman Yao Jian states that the US should not make the CNY 'a scapegoat' for its own domestic problems. He adds that China is a responsible country and would push ahead with currency reform based on its own domestic conditions. Yao also notes that a 3% rise in the CNY 'would place greater pressure on exporters' and that Japan is in 'no position' to criticise China's currency policy given that Japan has had a trade surplus with China for eight years. PBOC chief Zhou Xiaochuan reiterates that China will keep the CNY "basically stable" and adjustment will remain within existing trading bands.
Japan: Finance Minister Yoshihiko Noda said "I'll make a decision [to curb excessive moves in the in the JPY] when necessary regardless of the G7 or G20 … Before saying this or that about other countries' currency policies, we must do what we should do. It is important to understand each country's policy efforts first".
Prime Minister Naoto Kan comments that he is 'very concerned' about the JPY's strength, whilst Chief Cabinet Secretary Yoshito Sengoku said "As the finance minister has been saying, we will take appropriate measures, including decisive steps, to curb rapid moves [in the JPY]". Economy Minister Banri Kaieda also states that Japan should use its strong JPY and USD foreign reserves to buy natural resources.
China
Property prices rose 0.5% m/m in September – the first month-on-month rise since May, according to an official survey of 70 cities by the National Bureau of Statistics. Prices rose 9.1% year-on-year down from 9.3% previously.
The South China Morning Post writes that the government will spend more than CNY 4 Trn on several key industries and inland regions as part of the new five-year economic plan. The Chinese government will also lower the economic growth rate and focus more on structural adjustments in its blueprint for 2011 to 2015.
UK Retail
As the UK's economy slowly crawls back to health, more than 26,500 retailers will be forced to close by 2015, according to research by BDO Stoy Hayward. The figure includes 15,400 fashion shops, 6,300 bars and restaurants, and 1,500 furniture retailers. The expected rate of business failures is significantly higher than in the post-recession period that followed the downturn in the early 1990s.
UK QE
Former Bank of England Deputy Governor Rachel Lomax signaled she would be reluctant to expand the central bank's stimulus program and said such measures risk fueling asset bubbles. Further so-called quantitative easing "makes me fairly queasy," Lomax, the U.K. central bank's chief of monetary policy from 2003 to 2008, told a London conference organized by HSBC Holdings Plc yesterday. "What exactly does it do? It pushes up asset prices, but how effective is it in stimulating domestic demand? We really don't know."
Pension Asset Allocation – The Bigger Picture
Pension funds are in a bind over how to achieve the sorts of returns they have been used to, given the pummeling stocks suffered during the financial crisis and expectations that interest rates will languish near zero for a protracted period. Market conditions have been wreaking havoc with plan sponsors' often rosy return forecasts, forcing them to shift their investments around. Their allocation of capital away from stocks and low-yielding government bonds has benefitted the corporate bond market. "I have never seen yields this low and I have watched yields march lower my entire career," said Art Steinmetz, chief investment officer of OppenheimerFunds, who oversees $165 billion. Futures on Fed funds are pricing in a 20% chance of a rate hike during 2011, indicating market participants do not see rates rising until 2012 or later.
While options for closing the funding gap abound, none are palatable. They can de-risk by better matching existing bond holdings to the duration of their liabilities, but this would lock in their underfunded status to the point they may need to make additional contributions. They can implement various hedging strategies for the interest rate and equity risk, which is costly and not a perfect solution. They can step up their investments into high yield bonds or alternatives such as hedge funds and private equity, which would involve more risk-taking. Or, if they don't have cash on hand, they might be forced to revisit payouts.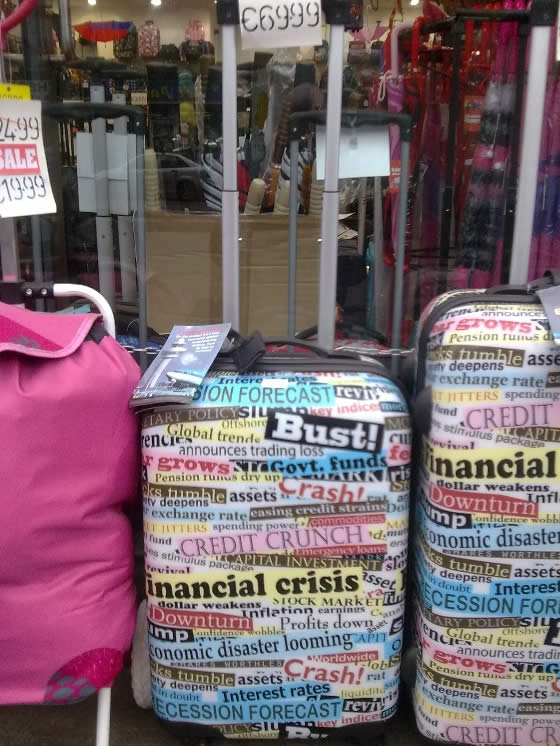 Company / Equity News
•In September air passenger numbers between Ireland the UK fell by 3%, following an 8% decline in August and negative trends for most months in 2010. The UK remains an important trading partner for Ireland so these numbers are unhelpful to the Irish economy. The contraction is related to reduced airline capacity at Irish airports, something which is being accentuated by air taxes and sharp rises in airport charges. Both Aer Lingus and Ryanair have taken corrective actions to make their businesses more stable by extracting capacity and keeping those airplanes left relatively full.
•BSkyB announced on Friday the acquisition of Virgin Media's TV channels for GBP 160M as well as securing a more substantial presence on the cable operators' TV platform including HD channels and on demand content. This, together with the imminent sale of Five, is one of the two remaining significant stages in the consolidation of the UK broadcast sector
•Britain's banks do not need to follow Standard Chartered's lead and raise funds as their balance sheets are already strong enough, according to analysts at Credit Suisse. Standard Chartered launched a £3.3bn rights issue on Wednesday to bolster its finances in the face of strict new regulatory rules, known as Basel III. The surprise decision, taken so the emerging markets bank can meet regulatory requirements without sacrificing growth, led to speculation that others would have to follow suit. Under Basel III, banks must have 7pc core capital and 10.5pc total capital. However, analysts expect Britain's regulators to add a "UK finish" to the Basel rules and apply a total capital requirement of 15pc. According to Credit Suisse, "this implies [Britain's banks are facing] a potential £120bn non-equity capital hole" in their balance sheets. Although the figure is large, it "should be manageable", the analysts said. "In our view, none of the UK banks needs to raise equity."
•HSBC Holdings Plc is close to pulling out of a deal to acquire South Africa's Nedbank, the Financial Times reported.
•The WSJ reports that Google Inc. provided powerful evidence of a resurgence in online advertising, posting a 32% jump in profit and 23% increase in revenue as some newer businesses bolstered the company's core search-ad sales. Following the report, Google's shares surged 8% in after-hours trading to $583.93, after ending at 4 p.m. at $540.93 on the Nasdaq Stock Market. The results showed how Google, among otherWeb companies, is benefiting from a broad recovery in online ad spending this year.
•Advanced Micro Devices Inc. posted a 16% rise in third-quarter revenue as weak consumer demand for personal computers didn't take as large a toll as feared. The semiconductor sector has rebounded sharply from the depths seen in the immediate aftermath of the financial crisis, but many chip makers–including AMD and rival Intel Corp.–recently have warned of weakening consumer demand for personal computers in developed markets.
•Sony Ericsson Friday posted a modest profit for the third consecutive quarter as its turnaround under Chief Executive Bert Nordberg continued, but unit sales fell and earnings for the quarter came in slightly below market expectations. "Our strategy to focus on the smartphone segment is succeeding and smartphones now comprise more than 50% of our total sales," said CEO Nordberg. "During the quarter, we launched our Android-based Xperia models in new markets, such as China and the U.S., and it is our ambition to become the global number one handset provider on the Android platform."
•Infosys Technologies Ltd. Friday beat market expectations to report a 13.2% rise in its second-quarter net profit, and raised its forecast for the fiscal year, thanks to sustained demand for outsourcing services. The company is riding the Indian information technology sector's fast recovery from the global economic slowdown.
•In an interview shortly after unveiling Microsoft Corp.'s new Windows Phone 7 mobile software this week, Chief Executive Officer Steve Ballmer declared a new era for Microsoft: "This is a big launch for us — a big, big launch," he said.
•Potash Corp has asked a U.S. court to compel its would-be buyer BHP Billion to produce all communications with regulators and government officials that relate to BHP's $39 billion offer to acquire the Canadian fertilizer company. The tussle over documents stems from Potash Corp's lawsuit seeking a preliminary injunction to block BHP's $130-ashare offer for Potash Corp, the world's largest fertilizer maker.
•Dow Jones reports that Royal Philips Electronics NV Monday will report higher profits on cost cutting, improved organic growth and a stake sale, but lingering economic uncertainty means its outlook will likely remain cautious. The Dutch maker of medical scanners, shavers and lighting is forecast to report net profit for the quarter ending Sept. 30 of EUR365.4 million compared with EUR176 million a year ago, on sales up 9.6% to EUR6.16 billion, according to a poll of ten analysts by Factset.

And Finally – Hurling on CSI Miami
Plot summary (courtesy of Balls.ie)
An altercation on a train reveals the dead body of a Native American man. The man is identified as Amos Delaware, the chief of the Montiquan Indian Nation. The man appears to have been killed by a bullet that was fired outside the train and slammed into Delaware….Adam has identified splinters in Delaware's leg as coming from a stick used in a hurling game, and he zeroes in on Finn Wexford, the captain of the Queens Hurling Club, who lost his practice field to the Montiquans. Flack and Angell go to question the aggressive young Irishman …

By The Mole
PaddyPowerTrader.com
The Mole is a man in the know. I don't trade for a living, but instead work for a well-known Irish institution, heading a desk that regularly trades over €100 million a day. I aim to provide top quality, up-to-date and relevant market news and data, so that traders can make more informed decisions".© 2010 Copyright PaddyPowerTrader - All Rights Reserved

Disclaimer: The above is a matter of opinion provided for general information purposes only and is not intended as investment advice. Information and analysis above are derived from sources and utilising methods believed to be reliable, but we cannot accept responsibility for any losses you may incur as a result of this analysis. Individuals should consult with their personal financial advisors.
© 2005-2019 http://www.MarketOracle.co.uk - The Market Oracle is a FREE Daily Financial Markets Analysis & Forecasting online publication.

Only logged in users are allowed to post comments.
Register/ Log in