Commodities Top China's Xmas Buy List
Commodities
/
Investing 2011
Dec 24, 2010 - 10:55 AM GMT


Commodities enjoyed a rip-roaring 2010. But as we close out the year, traders have to wonder: Is the bull party over? Will commodities slump in 2011? Not if China has anything to say about it.
China's economy is growing at a 10% clip, and that is driving China's demand for commodities of all types — crude oil, sugar, soybeans, copper and more — to new heights.
In fact, according to a study by Capital Economics, even if China's economy slows down, its demand for commodities will continue to rise.
Even in a scenario of slower GDP growth and less commodities used for each unit of GDP — which Capital Economics thinks likely — China's commodity demand will more than double by 2025.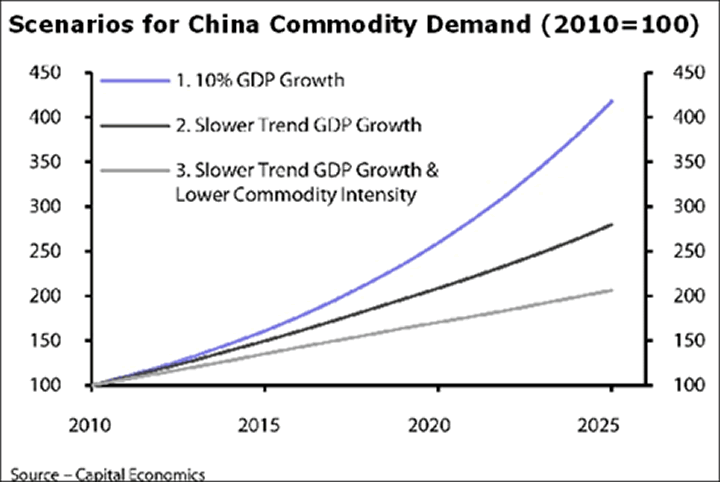 However, I'm more bullish, for the simple reason that China's economy continues to zoom ahead at a rapid pace. Chinese industrial-output growth accelerated to 13.3% last month from a year earlier.
Urban fixed-asset investment also picked up its pace, rising 24.9% during the first 11 months of 2010. And retail sales gained 18.7% in November.
All these point to MORE commodity consumption in China.
In fact, if China is wishing for anything this Christmas, it's probably that Santa leave some commodities under the tree.
Here are some fascinating facts on China and commodities:
AGRICULTURE
China's corn imports may jump five-fold next year to 7.4 million metric tonnes, according the U.S. Grains Council. This after China's own corn output jumped 5.2% this year to 172 million tonnes.
China's soybean imports doubled in November from a year earlier. With a population of 1.3 billion, China is the largest soybean importer in the world, consuming about 40 million tons annually. Forecasters predict that China may soon import more than 50% of global soybean production.
And China's ravenous agriculture demand goes beyond food. China's cotton demand leaped 31% from October to November, and that was a growth of 11.8% year over year. There are concerns now that China's demand for cotton could outpace supply, and this has sent prices soaring.
In the past decade, China TRIPLED its copper consumption to 6.8 million tonnes. In 2011, China's copper demand is expected to rise to 7.74 million tonnes, as that country builds out its national power grid. China now uses two out of every five pounds of copper mined.
But that's still not enough. If current trends continue, China is on track to triple its annual use of copper to 20 million tonnes by 2025, according to London-based analysts CRU.
How is that possible? Chinese copper consumption per person still remains low compared to the United States and Japan. Copper consumption was just 3.9 kilograms per person in China last year. That compares to consumption of 6.5 kilograms per person in the United States and 8.6 kilograms in Japan.
CRUDE OIL
China increased net imports of crude oil by 26% in November from a month earlier as refineries ramped up processing rates to ease a diesel shortage. Net purchases were 20.3 million tonnes, or 5 million barrels a day, according to the Beijing-based General Administration of Customs. Meanwhile, diesel imports in November jumped a whopping 50.1% year on year, and that was also up 275% from October.
And China's total oil demand surged to an all-time high of 38.09 million tonnes (9.3 million barrels per day), according to Platts analysis of official data.
Demand from China is the main reason why the International Energy Agency (IEA) ratcheted up its forecast for crude use worldwide next year to an average 88.8 million barrels a day. That's about 260,000 barrels more than its previous forecast. The IEA says China accounts for about half the growth outside the Organization for Economic Cooperation and Development.
PRECIOUS METALS
China's imports of gold jumped nearly five-fold in the first 10 months of this year compared to ALL of last year. That amounts to 209 tonnes in the first 10 months of 2010 compared to 45 tonnes for all of 2009.
I've covered many of the forces driving China's demand for gold (and silver too) in stories like this one and this one. The fact is, we are seeing a huge shift in Chinese gold demand, a shift so big it probably qualifies as a megatrend.
Could China's Commodity Demand Implode?
I've been hearing "end-is-nigh" forecasts about how China's bubble is going to burst for three long years. I've also heard that a lot of the residential and commercial buildings that have been constructed in China over the past few years remain empty, and yet new buildings continue to go up at a frantic pace.
If those stories are true, China probably has a day of reckoning coming, and we'll deal with hit when it happens … but if you're betting on the bears now, you can lose an awful lot of money waiting to be right.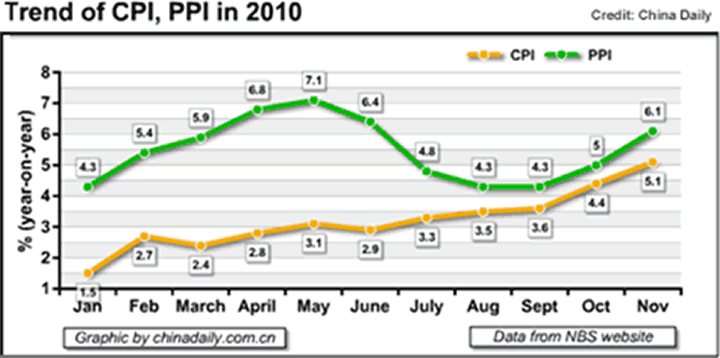 It's also true that inflation in China is running too hot. The consumer price index (CPI) rose to 5.1% in November. That's a 28-month high. The Producer Price Index (PPI) also continued to climb.
A way to deal with inflation is to raise interest rates — which also chokes business activity and should lower demand for commodities. Many people fear that's just what China will do.
However, when China had a chance to raise interest rates recently, the bureaucrats in Beijing blinked — and just hiked reserve requirements instead, about the least effective thing they could do, and with the least effect on commodity demand.
The big driver of inflation in China is food inflation, which jumped a stunning 11.7% in November from a year earlier. In a bid to keep prices lower, China Grain Reserves Corp., the state food reserves manager, sold 1.5 million metric tons of wheat at cost to the nation's biggest flour supplier in exchange for the company's agreement to lower retail prices.
What's the cure for high food prices? If you can't grow more food, you have to import more food! Look for China's imports of U.S. grains to shift into overdrive in 2011.
So, as we all snuggle in for the holidays, I'm taking some time to pick my favorite stocks and funds to ride what should be a continued commodity bull market in 2011 … a bull market that should get even hotter thanks to increasing Chinese demand.
Have a Merry Christmas and a happy holiday. I hope you had a great year in commodities; next year could be even better.
All the best,
Sean
This investment news is brought to you by Uncommon Wisdom. Uncommon Wisdom is a free daily investment newsletter from Weiss Research analysts offering the latest investing news and financial insights for the stock market, precious metals, natural resources, Asian and South American markets. From time to time, the authors of Uncommon Wisdom also cover other topics they feel can contribute to making you healthy, wealthy and wise. To view archives or subscribe, visit http://www.uncommonwisdomdaily.com.
© 2005-2019 http://www.MarketOracle.co.uk - The Market Oracle is a FREE Daily Financial Markets Analysis & Forecasting online publication.

Only logged in users are allowed to post comments.
Register/ Log in