The Stock Market May Plunge
Stock-Markets
/
Financial Crash
Mar 02, 2011 - 08:20 AM GMT


We have seen a larger than normal pullback in the general stock market. The media is already trotting out the perma bears to be interviewed. They are quick to point out how over extended the bullish consensus is. They are right, it does not matter which one you look at, they are all saying the same thing.


They have been flashing a danger signal for months however and it has kept many traders from doing what traders have to do to make money. Which is trade with the trend. I thought that I would take a look at the stock market from a different angle. One that has no emotion.
Lets see what the cycles are telling us.
In this article I have narrowed down my focus. So for reference, I suggest that you review my recent article "
A safer time to buy stocks is coming soon
!" In it, I laid out the bigger picture and showed how we would go to new highs in February and then turn down.
If you wish to read more of my calls on the markets, you can click on my name beside "also by", at the bottom of the article and find more of my work.
Trading cycle low
In the chart the $SPX below, I have marked in the 4 month trading cycle with arcs. There is often a variable with cycles which can be confusing. They can shift when they make the lows. They can come in early or late. Often they return to the normal cycle later, but for traders using only cycles to gauge their entries, it can be frustrating.
We have a possible shift to be dealt with now. I have marked it with a "?" because it is only a potential shift. Notice that we never went below the low that I have marked at the end of October. The end of October, or the beginning of November was when the 4 month trading cycle low was due, as it related to the low on July 1st. So technically there was no violation of the end of October low. The problem is that the low in mid November looks more like what a 4 month low should look like. So we have to keep that at the back of our minds and trade accordingly.
I have put in the variation with the dotted arc. If we did shift and don't return to normal, then we can make the low in mid to late March, which is often when we see a large sell off in the stock market.
Look at last April
Shorter term, we have just made a 1 month low (blue dot). It is a fairly constant cycle and can be used to measure the status of the larger 4 month cycle. They bottom together or nest as well.
Let me point out what happened in late April last year. I have marked an early turn in the 1 month cycle, which was caused by the downward pull of the larger 1 year cycle (I have not marked in the 1 year cycle but it bottomed in July), as it was going down at the same time as the 4 month cycle rolled over.
What happened to the 1 month is called early translation. It can happen again now, if and it is only an if right now, we still have to make the 4 month low in March. Notice when the April low failed, it went down all the way until the end of the month. Now look at what happened in November. Once the 1 month turned, it was basically down until the end of the month as well.
Finally, I want to point out that it is now 8 months since we made the 1 year low in July. That means we are more than half way along in the 1 year cycle and tells us that when the next 4 month cycle tops, we will fall into the nest of the 1 year and 4 month lows in the summer.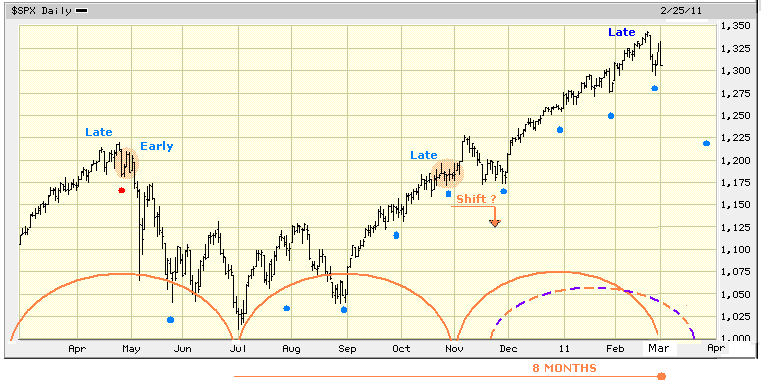 Conclusion
First, lets consider the 1 year cycle. We are getting late in it's duration. Does that mean we stop the rally here? We could, but I do not think we will, for several reasons.
First, we have a huge reflation under way, which means money is flowing into the markets. The economic statistics are showing improvement in an extremely fragile world wide situation that can not stand a set back.
Second, it is the third year of the presidential cycle and the fund managers like the odds of staying long, so they will be picking at any low hanging fruit.
Third, we have not reached the main target for this move which is above 1400.
That does not mean we do not protect ourselves from a rollover of the 1 year cycle. Every trade we make must have a protective stop loss.
Summing up
If we focus on the 4 month trading cycle, the 1 year cycle will take care of itself.
The way I am reading this, is that I am assuming we now have a good 1 month low in place . It is possibly the 4 month low as well. As long as it holds, I will assume the 4 month low has also occurred.
In a previous article, I pointed out that normally a 4 month low is preceded by approximately one month of selling and that may become the case here as well.
My ideal entry would be in March, after a month of selling. Some fear in the markets would be a bonus.
We normally see strong fund demand at the beginning of each new month. So we should see strong buying right now.
If we do not. Then subsequently, we can not hold the resent low. It will signal an early translation top in the 1 month cycle and that will indicate we have not yet made the 4 month low. That would mean a bigger decline is likely. My first target being in the 1240 area. I don't expect a huge clunk like we saw in April.
Keep in mind that until we break the low, we are still in an uptrend and possibly have made the 4 month low already. Today's drop being only a stop cleaning swipe, before we ramp higher.
Learn more
Cycles can only take you so far. To trade with courage and confidence, it is vital that we understand market structure and know where the big traders will trigger their entries. It gives peace of mind, knowing we have the Fat Boys on our side.
I teach the trigger points that the Fat Boys use for their orders.
The key is to know in advance what should happen at a specific point. If it does, you are on track, if it does not, then you know something is wrong and you step off, or stay out.
Technical indicators do not work, neither does fundamental analysis. The Fat Boys use both to trap investors. It gives them the other side of the trade, allowing them to enter positions.
I offer real time, one on one, learn to trade courses. There is also a powerful video set available. Both will get you on the right track in the new year. It is the same track the Fat Boys are on.
They control the markets and if you are not with them, then you are a victim.
Bob Clark is a professional trader with over twenty years experience, he also provides real time online trading instruction, publishes a daily email trading advisory and maintains a web blog at www.winningtradingtactics.blogspot.com his email is linesbot@gmail.com.
© 2011 Copyright Bob Clark - All Rights Reserved

Disclaimer: The above is a matter of opinion provided for general information purposes only and is not intended as investment advice. Information and analysis above are derived from sources and utilising methods believed to be reliable, but we cannot accept responsibility for any losses you may incur as a result of this analysis. Individuals should consult with their personal financial advisors.
© 2005-2019 http://www.MarketOracle.co.uk - The Market Oracle is a FREE Daily Financial Markets Analysis & Forecasting online publication.

Only logged in users are allowed to post comments.
Register/ Log in