Silver Collapse of 2011 Should Continue
Commodities
/
Gold and Silver 2011
May 27, 2011 - 11:50 AM GMT


Recent firing of a football coach in my hometown was cause for considerable reflection. Why does someone fire a winning coach? A few years ago the college I attended for graduate work fired their football coach, one with a winning record. In fact, it was a winning record such that most only dream of achieving. His fatal flaw? He could not beat the school's arch rival in a state to the south. Seems some losses are more important all the wins.
While we might ponder why a winning coach is abruptly dispatched, even greater wonder is why a losing coach is retained. Why would any team persist with a coach that cannot win games? Who wants to be managed by a loser? For the answer to that question we need look no further that the United States, and their losing monetary coach. Money coach Bernanke's record is portrayed in the graph below.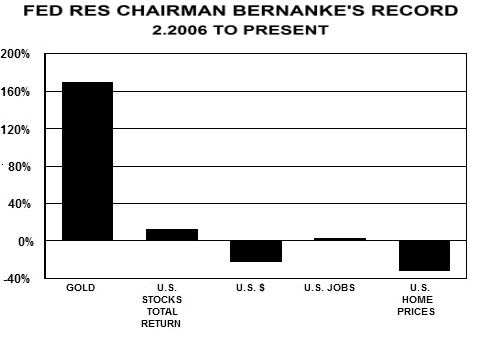 Thus far, one would have to grade the Bernanke Federal Reserve at no higher than D-. Grade could be lower, but he has made Gold investors much richer. Since we have been recommending for more than a decade investors shed paper equities in order to invest in Gold, we do appreciate the losing record of the U.S. Federal Reserve. Since we see no hope of enlightenment at this bastion of Keynesian ideology, retaining Gold seems like a wise move.
What, however, might make one coach a winner and one a loser? A good coach probably is able to recognize that, one, a play simply does not work, or, two, the team does not execute a play well. In either case, a winning coach would discard that play. A winning coach has a play book filled with plays that have a high probability of being successfully executed by the team.
As the above chart portrays, the play book of the U.S. central bank is filled with a preponderance of losing plays. Worse than that, their Keynesian mythology prevents them from recognizing that they are not going to have a winning season by repeatedly attempting losing plays. Acceptance of one's failures is perhaps one of the first steps to success, and the Federal Reserve continues to deny the policy failures of the past TWO decades.
Less we become too pessimistic on the prospects of the Federal Reserve ever doing the right thing, some in the U.S. Senate do believe that the Federal Reserve can be reformed. The nomination of Peter Diamond to the Board of the Federal Reserve System continues to be opposed by a sufficient number of insightful Senators as to prevent his nomination being approved by the U.S. Senate. Despite being a recipient of the much touted phony Nobel prize in economics, he would not likely improve the decision making of the Federal Reserve. Wise action by some U.S. Senators means two vacancies now exist on the Board of the Federal Reserve.(Wall Street Journal, 11 May) Two less votes for easy money must be considered a positive.
That the value of the U.S. dollar has suffered during the era of QE-2 is unarguable, as shown in chart below. But like all undesirable experiences created by bad policy, it too may come to an end. Only the Federal Reserve has been able to discover imaginary benefits from QE-2. In reality, all QE-2 accomplished was a distortion of asset values all around the world.
With the end of QE-2 being anticipated by the markets, the U.S. dollar has staged a nice rally. In "Investors wary of a post-QE2 bear trap for dollar," Financial Times, 26 May, we read that the bears are starting to cover their dollar shorts,
"Mr. Thompson [head of valuation and risk strategy at Standard & Poor's], says this could trigger a wave of short covering as investors buy back the dollars they sold, a phenomenon that can signal the bottom of a downtrend. There are signs that this process is already under way." [Emphasis added.]
If the demise of QE-2 does bring about a reversal in the course of the dollar, as suggested by the above chart, then investors may reappraise other values. In doing so, the dual myths of the dollar going to zero and hyperinflation being imminent may be finally jettisoned. In such a period $Gold may complete the consolidation in which it now trades. Great Silver Collapse of 2011 should continue due to the implosion of the bubble, over valuation and collapsing fundamentals.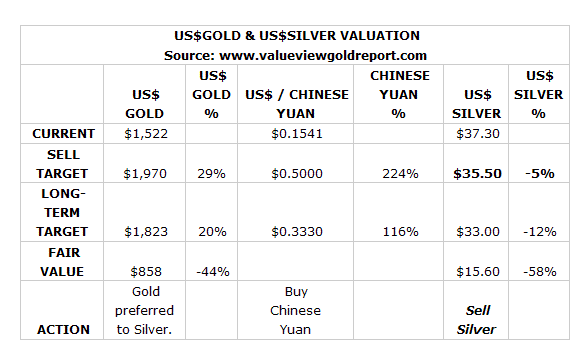 By Ned W Schmidt CFA, CEBS
Copyright © 2011 Ned W. Schmidt - All Rights Reserved
GOLD THOUGHTS come from Ned W. Schmidt,CFA,CEBS, publisher of The Value View Gold Report , monthly, and Trading Thoughts , weekly. To receive copies of recent reports, go to www.valueviewgoldreport.com
© 2005-2019 http://www.MarketOracle.co.uk - The Market Oracle is a FREE Daily Financial Markets Analysis & Forecasting online publication.
Comments
John
28 May 11, 16:40
silver


You stated the fundamentals are not there for silver! WHAT are you talking about? The fundamentals have NEVER been better, you need to go back to you worthless education you received, because you obviously learned and know nothing about silver, you are a short or just plain clueless! Get help, silver will soar in the coming months and years, wake up and do society some good for once, enough said.




Only logged in users are allowed to post comments.
Register/ Log in