Weekly Gold and Silver Technical Analysis Report - 11th Feb 2007 - Technically Precious with Merv
Commodities
/
Forecasts & Technical Analysis
Feb 11, 2007 - 11:20 AM GMT

Do you believe the world wide attention the death of Anna Nicole has been receiving? No wonder gold was moving higher and higher almost every day this week.
GOLD : LONG TERM
The long term prognosis is looking better and better every day, except for momentum. It is still under performing the price move but IS moving higher. While the price is just about ready to breach its $677.50 resistance from the June/July rally high, momentum is still some distance below its high level. Volume, however, is ready to move into new all time highs although the daily action still leaves a lot to be desired. The price continues above its moving average line and although the line is only slightly in the positive direction it is turning more so.
The long term P&F chart did break through its initial resistance level the other week for a bull signal. However, from a long term perspective it really needs to break through that $675 resistance level with a move to $690 (this being a $15 unit chart). Changing the P&F parameters to a $10 unit, 3 unit chart the break-out would come at $680 with a $970 projection. Last week I mentioned some target prices based upon previous historical price highs. Let's just re-examine the price projections from the long term P&F chart. Sitting out there somewhere is still one of my old projections to the $1600 level, give or take a few $. But looking at the recent activity what we get as the next price projection levels is $750, which is just above the previous May high. On its way the price should break the next more critical level and issue a projection to at least the $915 level. Hey! The more projections I can calculate the more likely one of them will prove out to be right. So, let's hope the present trend continues and strengthens to give it that longevity required to meet these projections.
Having upgraded to bullish a couple of weeks ago I remain so still.
GOLD : INTERMEDIATE TERM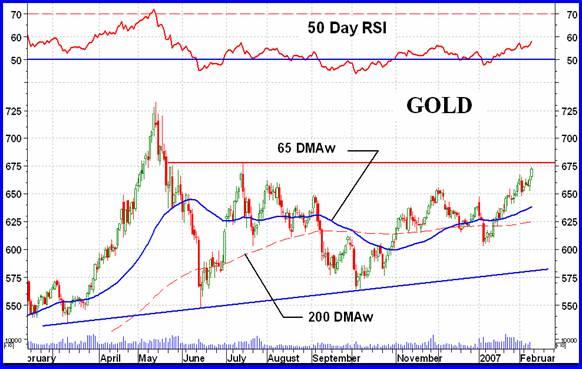 The intermediate term P&F chart continues its trek to higher ground but as with the long term chart it too has some resistance levels ahead to overcome. For now it continues bullish without any reversal in sight.
As for the normal indicators, they are also all positive but to different degrees. As the chart shows, the price continues to trade above its positive sloping moving average line and is just about to see if it can breach that resistance line (the red one). If it did so that would be the first time since July that it would have breached the rally high of June/July and provide some continuing encouragement that considerably higher levels are still ahead. Unlike the long term momentum, the intermediate term momentum is now equaling the performance of the price and is about to breach its July high. Unfortunately, I would have liked to see the momentum leading the race to new highs. That would have been a more encouraging sign. As for the volume indicator, it is still in its lateral trend but at the extreme upper end of the trend. Any more positive volume action and the indicator could break out of the lateral trend and go into a more positive upward trend. That could occur this week.
All things considered the intermediate term can still be considered as in a bullish trend.
GOLD : SHORT TERM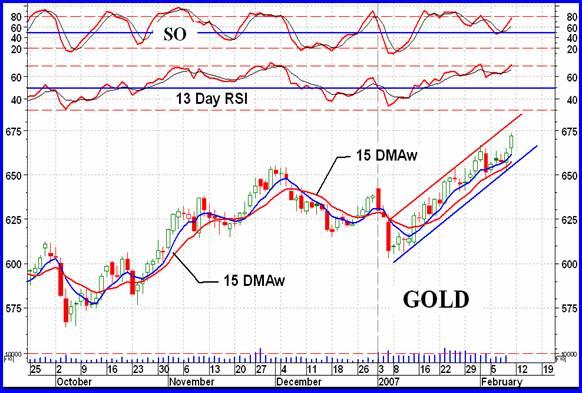 The short term is still showing us a gung-ho picture with the price and momentum at extreme levels. The price, although above a positive sloping short term moving average line has been in a very good up trend for over a month and one should expect that it will halt and take a rest sometimes soon. Short term momentum (13 Day RSI) is once more entering the overbought zone for a strong strength reading. Here too one would expect that once in the overbought zone the odds become quite large for a reaction to take hold. The daily volume action has not kept pace with the bullishness of the price action. This is a concern and might be the restraining force that causes the price to take a breather. For now, go with the trend in motion and remain bullish but watch should the price CLOSE below the lower channel up trend line.
GOLD : IMMEDIATE TERM
All signs point to a continuation of the up trend that is in motion. However, the aggressive Stochastic Oscillator (SO) is showing signs of hesitation and seems to be lagging the price action. It should be leading it. Although positive the SO is not yet at the overbought level so there may be a few more upside days before the trend might try for a rest. I would be a little cautious should the price close below the $665 level. Till then, go with the trend.
SIMPLE INDICATORS
Many have commented on my use of simple trend and indicator information in my analysis, along with simple chart presentations. Some think that by the use of more exotic or elaborate indicators or charts I might improve my commentary and analysis. I have long ago learned to try and keep things simple, not only for the benefit of others but for my own benefit. In my aerospace work when confronted with an engineering problem my first instinctive action was always to see if the problem could be perceived in a simple manner and see if the solution could also be simplified. Simplicity, simplicity. That eliminates a whole lot of potential problems. You are more likely to be correct if you can simplify the analysis. Almost as important, should the simple answer prove to be wrong you can very quickly spot the error and correct for it with the minimum damage. Using sophisticated techniques, whether in aerospace or the stock market, if you are in error it might be a long time before you spot it and can correct for it. Besides, I never claimed not to be lazy and simplicity goes right along with a lazy mentality.
NORTH AMERICAN GOLD INDICES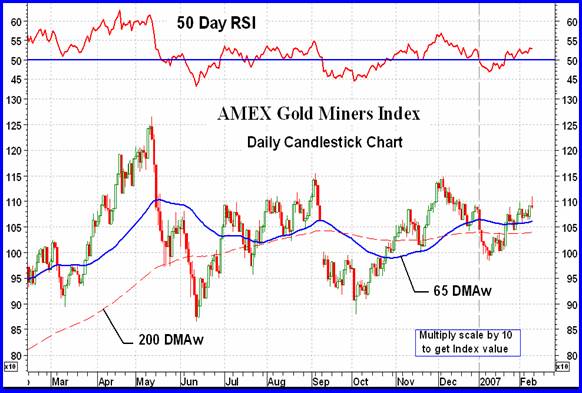 When one looks over the major North American Gold Indices and compares their actions versus that of gold or the Merv's Indices it is obvious that these major Indices are under performing. While gold is ready to break out into new 7 month highs and many of the Merv's Indices are at new all time highs the majors are still well within their 7 month lateral trend, some distance away from a break out. Out Index today is the AMEX Gold Miners Index. Although this Index has 40 different component stocks the top 2 have a weighting towards the Index calculation that is more than 50 times the weighting of the bottom two. Why even bother having those bottom two, or the bottom 25%?
The chart shows the continuation lateral trend and the elongated right shoulder of a still potential head and shoulder pattern. If the head and shoulder pattern does not come to fruition you will probably not hear about it again. If the potential head and shoulder pattern should prove to be correct then technicians will use this as an example of an elongated and multiple shoulder. There is nothing yet in this chart to suggest clearly that the direction of trend is towards the up side or down side. Even the momentum indicator is in a holding lateral trend. This is definitely a case where one just has to wait for clearer indications of a trend to become established.
This might be worrying as technicians look to the stock Indices to provide a leading indication of gold trend. With gold moving higher but the major Indices in a holding pattern, that is not encouraging.
MERV'S PRECIOUS METALS INDICES
The average weekly performance of the Merv's Indices was lower this week than the average performance of the majors. Although most Indices had gains between 1 and 2% the Spec-Silver Index had a minor negative performance on the week. There still does not seem to be any excessive speculation going on in the speculative or gambling stocks which suggests to me that these stocks still have a long way to go before they reach their top (and at some point they will top out). Although there are numerous stocks with double digit moves this past week none are in my speculative plus/minus 30% category. Just another hint that speculation is still under control.
Looking at the overall Composite Index of Precious Metals Indices one sees that the Index is still more lateral than bullish. All the indicators are positive for both intermediate and long term but the momentum indicators are still trending more in a lateral manner than positive (although they are doing their lateral bit inside the positive zone). No sign here of any bear reversal ahead but also no clear sign that the action is slated for serious upside moves.
MERV'S GOLD & SILVER 160 INDEX
The average performance for the universe of 160 stocks was a gain of 1.6% on the week. That may not seem like much but on an annualized basis, that's more than the equivalent of a 200% gain. Ah! Fun with numbers.
The Index is at new rally highs but not yet into new all time highs. We had 86 stocks advancing on the week (54%) and 63 declining (41%). For all three time periods the summation of individual ratings results in BULL ratings, 63% for short term, 59% for intermediate term and 65% for long term.
Although the recent Index action has been above its positive sloping intermediate and long term moving average lines momentum has not kept pace. Although positive, momentum for both time periods is lagging price action and that is always a worry. Despite the momentum weakness one would still go with the prevailing trend and that is bullish.
MERV'S QUAL-GOLD INDEX : MERV'S SPEC-GOLD INDEX : MERV'S GAMB-GOLD INDEX
All three of my gold sector Indices had minor gains on the week with the Gamb-Gold Index showing the worst performance of the three. The Qual-Gold Index gained 1.1%, the Spec-Gold Index gained 1.5% and the Gamb-Gold Index gained only 0.3%. Although minor the Gamb-Gold Index was the only one of the three to continue moving into new all time high territory. The Spec-Gold Index is at new rally highs but just a very minor bit below its all time high. Next week could see a new all time high here if the action is on the plus side. As for the Qual-Gold Index, it is still slightly below its rally high set in early Dec and a little further from its all time high.
All three Indices are well above their positive intermediate and long term moving average lines. As with gold and the universe, the momentum readings for both time periods is positive but under performing. Only the Gamb-Gold momentum readings show strength while the others show a neutral trend although inside their positive zones. Despite this all three Indices are rated as bullish for both time periods.
As for the week's performance, the Qual-Gold had 21 gainers (70%) and 7 losers (23%). The Spec-Gold had 16 gainers (53%) and 12 loser (40%). The Gamb-Gold had an equal number of gainers and losers at 13 (43%). Except for the Gamb-Gold short term rating, which was a NEUTRAL rating, all the three Indices had BULL ratings for all three time periods. Qual-Gold was BULL 85% for short term, BULL 70% for intermediate term and BULL 80% for long term. Spec-Gold was BULL 57% for short term, BULL 50% for intermediate term and BULL 68% for long term. Gamb-Gold had NEUTRAL for short term, BULL 55% for intermediate term and BULL 63% for long term.
SILVER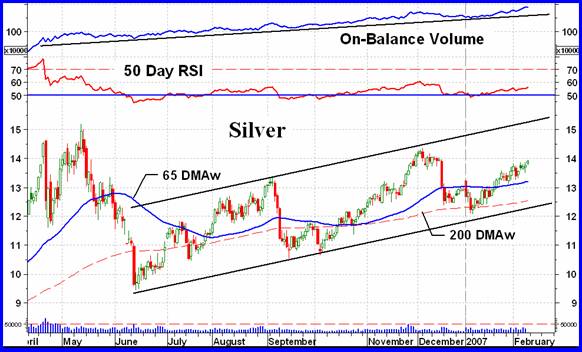 Although silver seems to have been having a better performance than gold it is still below its Dec rally high and below its May high. The steady higher highs and higher lows is encouraging while the volume indicator is showing a consistent positive trend and is well into new high territory. The one laggard, as in all other Indices, is the momentum indicator. It is a considerable distance from its April/May high and moving higher very slowly. We need more gusto in this indicator. But still, one must rate silver as bullish for both time periods.
MERV'S QUAL-SILVER INDEX
The Qual-Silver Index is the only other Merv's Index (other than the Gamb-Gold Index) that is moving higher into new all time high territory. Even so, like all the others its momentum indicator is not following in prices footsteps. Both momentum indicators are in positive territory but are not showing a great deal of strength behind the recent rally. Which will dominate, price action or momentum, is still open for question. In the mean time the Qual-Silver Index is still bullish for intermediate and long term.
MERV'S SPEC-SILVER INDEX
Depending upon which time period one chooses the Merv's Spec-Silver Index is either the best performing Index or the second best (in competition with Gamb-Gold Index). This week, however, it was the only loser in the bunch, if only by 0.8% Three double digit losers in the Index was what did it. Despite its normal superior performance this Index is still just below its all time high from last April but could breach the high any week now. The momentum indicators, showing the strength of the price move, are still under performing. Although the price is above both moving average lines and above its previous rally high from November both momentum indicators are still far below their April highs and are still below their November high. Something has to give, either momentum perks up or price will turn around and move lower.
STOCK CHART
From time to time I get asked to show more stock charts during the commentary. These are normally reserved for subscribers to my Precious Metals Central service but I do show the occasional chart. I will try to include a stock chart more often but the analysis will be limited and the recommendations are, of course, left to subscribers. Should you be interested in the stocks shown I would recommend you enquire about the company with your investment advisor or better yet, think about a subscription to the Precious Metals Central.
This week's chart is that of FORTUNA SILVER MINES LTD. (V-FVI). It shows up as the second best short term performer in this week's table of technical information and ratings. It is the intermediate term tenth best and long term fifteenth best rating this week, out of the universe of 160 stocks. The number one best rated stocks for this week were Northland Res for short term (even though it lost ground this week) and MAG Silver Corp. for intermediate and long term.
On the chart of Fortuna below I have located a green arrow to show the location when Fortuna turned POS in my intermediate term ratings (my preferred time period). It is up 96% since turning POS. MAG Silver turned POS in my ratings table on 28 July 2006 at $2.35. It is now ahead 247% since going POS.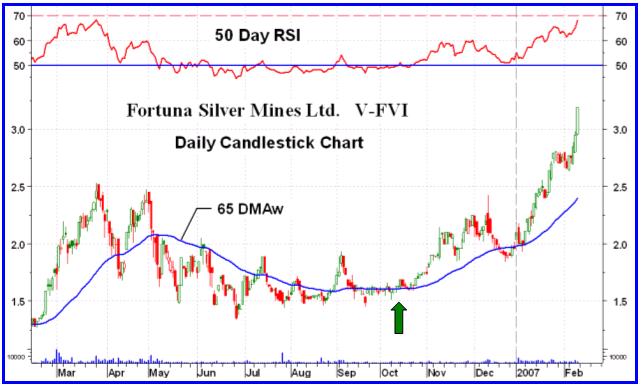 MERV'S PRECIOUS METALS INDICES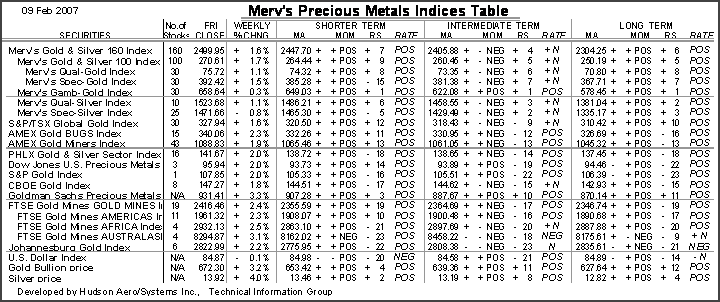 Well, that's it for this week.
Merv Burak,
CMTHudson Aero/Systems Inc.

Technical Information Group
for
Merv's Precious Metals Central
Web:
www.themarkettraders.com
e-mail:
merv@themarkettraders.com
During the day Merv practices his engineering profession as a Consulting Aerospace Engineer. Once the sun goes down and night descends upon the earth Merv dons his other hat as a Chartered Market Technician ( CMT ) and tries to decipher what's going on in the securities markets. As an underground surveyor in the gold mines of Canada 's Northwest Territories in his youth, Merv has a soft spot for the gold industry and has developed several Gold Indices reflecting different aspects of the industry. As a basically lazy individual Merv's driving focus is to KEEP IT SIMPLE .
To find out more about Merv's various Gold Indices and component stocks, please visit www.themarkettraders.com and click on Merv's Precious Metals Central . There you will find samples of the Indices and their component stocks plus other publications of interest to gold investors. While at the themarkettraders.com web site please take the time to check out the new Energy Central site for the most comprehensive survey of energy stocks on the internet.Before you invest, Always check your market timing with a Qualified Professional Market Technician
© 2005-2019 http://www.MarketOracle.co.uk - The Market Oracle is a FREE Daily Financial Markets Analysis & Forecasting online publication.

Only logged in users are allowed to post comments.
Register/ Log in